If you're a grown-ass hip-hop fan—and if you're reading this newsletter, you very well might be—this past Friday offered an abundance of new music for your listening pleasure. Buffalo's own Benny The Butcher dropped his Hit-Boy produced project Burden Of Proof, my pick for the best Griselda Records release of 2020. Indie rappers Open Mike Eagle and Homeboy Sandman respectively put out emotionally fraught albums that tackle personal traumas with considerable depth. Additionally, the weekend also presented full-lengths from trap godfathers T.I. and Gucci Mane, the latter framed as a compilation from "The New 1017." And if all that weren't enough, The Roots' resident lyricist Black Thought delivered a third Streams Of Thought installment to pore over too.
For everyone looking sideways at that list on some musty oldhead shit, well, you've got the new Bhad Bhabie song, "Do It Like Me." Even still, the latest single from the daytime talkshow meme turned major label rapper relies heavily on hip-hop's past. The beat samples the 1996 Quad City DJs hit "C'mon N' Ride It (The Train)," which loops Love Unlimited Orchestra's 1974 "Theme From Together Brothers." Considering that the Jacksonville booty bass smash dropped seven years before Bhad Bhabie was even born, her single traffics in a nostalgia that the teen didn't even live through.
While interpolation and sampling is nothing new in hip-hop, the inherent novelty of "Do It Like Me" feels like a frantic Hail Mary from the folks over at Atlantic Records. It's been more than two years since her last Billboard Hot 100 single "Gucci Flip Flops," which spent three weeks there and peaked at No. 79. While simply appearing on the all-genre singles chart is no small feat, the other two Bhad Bhabie singles that made it there—"These Heaux" and "Hi Bich"—didn't last all that long either. She's subsequently released no fewer than seven tracks since then, with only the Kodak Black collab "Bestie" faring all that well. To put it another way, her viral load appears to be decreasing.
And while some might nobly argue that Bhabie doesn't need Billboard chart smashes to be successful, that's not quite true in her case. As we've frequently seen, labels that snatch up viral artists who blow up in unconventional or unlikely ways—Dr. Phil guest appearances, online dance crazes/challenges, Vines (R.I.P.) and TikToks, etc.—aren't necessarily bringing them onboard for the long term. Instead, these signings exist primarily, and perhaps exclusively, as short-term wins, to catch these sensations while they're hot and offload them when they're, well, not.
Look, for example, at how shabbily the major label system treated Trinidad James, who scored two RIAA platinum-certified Hot 100 hits in the early 2010s. As "All Gold Everything" went viral, he inked a deal in 2012 reportedly worth $2 million with Def Jam. The track and his Don't Be S.A.F.E. mixtape got repackaged and digitally re-released as Def Jam products, with a remix of the popular single featuring 2 Chainz, Jeezy, and T.I. tacked on as a bonus. (Some will recall a similar strategy was used by Epic Records when they signed Bobby Shmurda off of "Hot N****," reissued the track digitally, and then slapped together a version with Fabolous, Chris Brown, Jadakiss, Rowdy Rebel, Busta Rhymes, and Yo Gotti.)
Not long thereafter, James jumped on his labelmate August Alsina's 2013 track "I Luv This Shit," which gave him back-to-back hits. He was hot enough at that point to feature alongside A$AP Rocky, French Montana, and Schoolboy Q on A$AP Ferg's "Work (Remix)." That same year, he logged tons of guest appearances on mixtapes as well, including Big K.R.I.T.'s K.R.I.T. (King Remembered In Time) and Wale's Folarin. But in 2014, less than two years after "All Gold Everything" first started popping, Def Jam unceremoniously dropped him. They got what they needed out of him, and as soon as it became time to move to the next—and much trickier—stage of artist development, it was a wrap.
It's worth noting that James had been the subject of a bidding war purported to include Interscope and Rick Ross' Atlantic-affiliated Maybach Music Group. In retrospect, this can only really be seen as predatory behavior on behalf of these labels, less the nuance and tastemaking that good A&Rs ought to represent than a cynical cash grab. Did Def Jam or any of these labels truly believe James was their next big star with a long and commercially lucrative career ahead of him? With all due respect to the man, that seems highly unlikely.
This system is designed to fail viral artists. That doesn't bode well for Ambjaay or Calboy or even Lil Nas X, all examples of current major label signees whose biggest hits are almost assuredly behind them. This isn't to say that they can't continue to cultivate an audience or eke out modest wins, but that's not what operations like Columbia and RCA exist to support. Once the revenue stream goes from gush to trickle, these once ballyhooed acts can expect increased resistance in the form of pushed-back release dates, shelved projects, and, if they're lucky, the termination of their burdensome contracts. So if a single as contemptuously commercial and stinking of executive desperation as "Do It Like Me" ultimately flops, especially after a run of relative duds, 17-year-old Bhad Bhabie will potentially enter adulthood a free agent.
---

Growing Concerns Poetry Collective, Big Dark Bright Futures
As the nursery rhyme plink-plonk that opens "Shout Across Mountains" swiftly evolves into transcendent lucidity, it becomes clear that Big Dark Bright Futures isn't your typical hip-hop album. The Chicago-based trio aptly named Growing Concerns Poetry Collective have little interest in convention or norm. Sociopolitically aware and artistically inclined, Mykele Deville's vivid verses and McKenzie Chinn's spoken word soliloquies pack more meaning and mindfulness into each of their songs than most would dare. When paired with the intricate soundscapes of Jeffrey Michael Austin, it yields exploratory and introspective cuts like "Come To Me Open" and "Decide." Merging sex positivity with justified kleptomania, "First You Need A Body" astounds.
Kosha Dillz, Nobody Cares Except You
Without a doubt the only album you'll hear this year with features by Matisyahu and Gangsta Boo, Nobody Cares Except You evokes a mood of celebration and fun as its author simultaneously comes to accept his lot. The singsong titular intro smacks down rise-and-grind online posturing with a smile and a sneer, setting an irreverent tone for the rest of the project. "They Know What My Name Is" sums up the warts-and-all indie rapper experience well, both generally as a category and specifically to his own career. As befitting the Kosha Dillz moniker, he leans into his hebraic heritage on "Schmoozin'," clearly having the time of his life while delivering its clever bilingual wordplay.
Fatboi Sharif & Roper Williams, Gandhi Loves Children
Those who revere Flatlinerz and Gravediggaz but bristle at anything overtly juggalo have just found themselves a new Halloween mixtape. Indeed, the horrorcore vibes of this New Jersey duo's "I'm Buggin" and "Smithsonian" suit the spooky season to a tee. Roper Williams' never-garish productions buttress Fatboi Sharif's maladjusted albeit lyrical bars on new bap standouts "Arsenic" and "Tragic." There's a vintage Wu-esque creep to the Michael Myers nodding "Nasty Man," refracting John Carpenter through a RZA lens. Lest you wrongly assume this all amounts to shock value gimmickry, "Murder Them" thrusts listeners into ACAB territory and reminds that the classic 6 Feet Deep was as much about real life horrors as it was cinematic scares.
---

Three questions. Three answers. That's a wrap.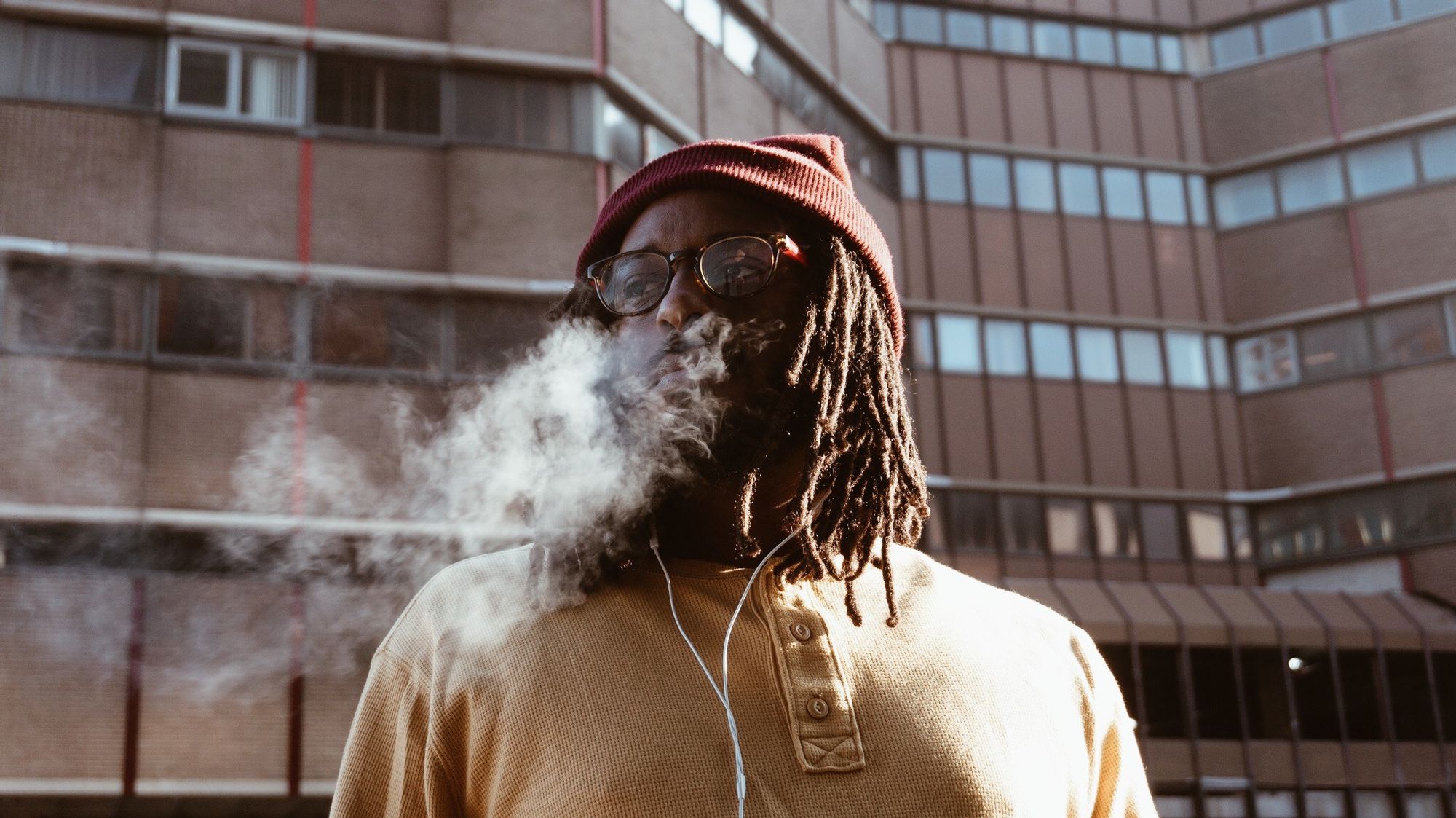 Photo credit: Ahmed Arasah
As both a rapper and a producer, Quelle Chris has kept heads ringing for over a decade now. Whether making beats for the likes of Danny Brown and Pharoahe Monch, or keeping them to himself as he did on 2017's stellar Being You Is Great, I Wish I Could Be You More Often, the prolific artist proved a vital figure in independent hip-hop. His latest project is Homeboy Sandman's new Mello Music Group full-length Don't Feed The Monster, which he produced in its entirety.
You featured on "Lookout" off Homeboy Sandman's 2019 album Dusty and even toured together, but how did you end up deciding to work on Don't Feed The Monster with him as a one-rapper-one-producer effort?
A lot of it was centered around the Dusty period and touring together. While he was working on Dusty we took some time to actually kick it together one day. Up to that point we were fans of each other's with many mutual friends but more pen pals. Internet and phone stuff. Doing more work together was an idea in the air since Being You Is Great and Sands was like, "swing by and play some beats" and I was like, "cool." So we already started some songs by the time we did "Lookout."  At that time I was splitting beats between a project I was working on with [Your Old] Droog and what ended up being Don't Feed. So Sands would send me refs he'd record at the crib with notes like, "and this is where the chorus would go" and shit like that. It started as a whole different type of album. Real similar to Dusty in content but Dustier. Then it started to shift as Sands' outlook on the impact of his words shifted. By the time the first leg of the Dusty tour (the east coast leg) ended, I think the album was really starting to move in the direction of Don't Feed. By the time we got to the second leg of the tour I think the only song that was added was "Straight" and after the tour "Trauma" (forgive me if I'm wrong about that). So in short that period of time is, in itself, how I ended up deciding to work with Sands on the album.
Including this new project, in recent years you've done joint albums for Mello Music Group with Jean Grae and Chris Keys. As an artist, what draws you to these types of full-length collaborations?
Alchemy. Creating new and unexpected things with people I love and/or respect. I also have the tendency in life to disappear into rabbit holes. So in a way "album mode" time is when I can trick my brain into actually spending time with my friends, which is fucked up but kinda true. I love album time because I can mash up my hyperfocus with my social time. But for the most part I just like making music with muh frawnds.
In the early 2010s, you produced some songs for Danny Brown's breakthrough album XXX. What did you learn from that experience that you've brought to your subsequent projects?
Creatively I'd say, not much. Nothing much has changed since then. It was "doing some joints with/for the homie" then and it's still "doing joints with/for the homies" now. I rarely make something for someone style wise. I like to bring folks to my world. Whatever that world is at the time. Not much has changed in that respect. I like when artists are willing to take that ride. Most folks are looking for a certain thing or sound, "something like" or "something like." I hate "something like." Go out on a limb. Rock with some shit. Make the new "something like."
Purchase or stream Don't Feed The Monster here.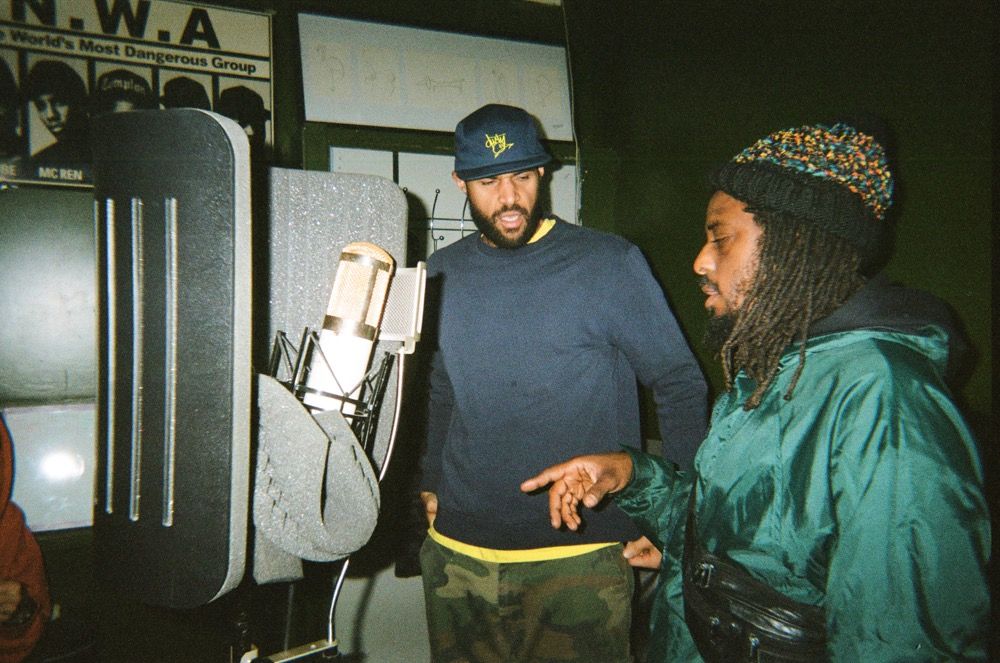 Photo credit: SPORT CAST
---

M.I.A.'s recent Hot 100 chart-topping feature alongside Travis Scott and Young Thug on "Franchise" sent me back into her catalog, which contains several of my favorite tracks of the 2000s and 2010s. Before long, I returned to another one of her notable guest appearances, the Rye Rye cut "Sunshine." Released via the Interscope-affiliated N.E.E.T. Recordings imprint back in 2010, the Baltimore rapper's bass heavy track certainly benefits from having M.I.A. on both the beat and the hook. Yet it's Rye Rye's undeniably popwise mic appeal that makes the track work.
---
See you next Sunday.
Follow me on Twitter at @noyokono and on Instagram at @noyokono too.