This newsletter marks the twenty-fifth installment of Irregular Vegetables, a weekly series of CABBAGES emails where I share links to recent writings from other hip-hop/rap journos and critics, squeezing in my own work as I see fit. These midweek editions hit inboxes every Thursday. Enjoy this week's reads and keep scrolling for an interview with rapper Fat Tony. After that, make sure to check out the latest Crudites, a feature where I recommend three new singles/videos from hip-hop artists you may not be familiar with yet.
---

What Incarcerated Rappers Can Teach America
For the 26-year-old Drakeo, seeing such intense interest in holding law enforcement accountable for alleged abuses is bittersweet. When we spoke on the phone later that month, he expressed ambivalence about the priorities of some racial-justice advocates. "People, just in general, they always wait until something bad happen. It's never like, Oh, we should stop this before it goes too far. It's, like, either Somebody got killed or This person did 25 years in jail!" he told me. As he speaks, he's interrupted by an automated voice that tells us, "This call is being recorded." (Read more at The Atlantic)
We Can Hold Azealia Banks Accountable And Still Acknowledge The Dangerous Repercussions Of Misogynoir
Azealia's contradicting thinking and impulsive reactions without care for the consequences mirror her disorder – although, it goes without saying that the homophobia, racism and xenophobia often expressed by her are not mental health conditions which can be excused. Still, the lines of accountability become blurred, especially when the neglect and negative treatment of the artist after her outbursts have seemed to only exacerbate her mental illness. Does this then contribute to the further marginalisation of dark-skinned black women? (Read more at gal-dem)
Why Hip-Hop's Indie Economy Has Taken Off
Indie rap isn't new. We can break it down in phases. Phase 1 was in the 80s and 90s. People like DJ Screw and Master P made bank independently. They were direct-to-consumer before 'DTC' was a keyword in pitch decks. They paved way for Phase 2, when unsigned artists hopped on the internet. Services like MySpace Music and SongClick were key for DIY rappers. In 2007, Soulja Boy inspired a generation with the YouTube sensation, "Crank Dat." The era led to success stories like Nipsey Hussle on TuneCore and Chance the Rapper on SoundCloud. (Read more at Trapital)
In the 2010s, Sean hit the ground running with a string of increasingly sharp studio albums and guest spots, matching wits with heavyweights like Drake, Nicki Minaj, Jay-Z, and Ariana Grande and shining on solo singles like "Guap" and "Bounce Back"; deep cuts like "Bigger Than Me" and "One Man Can Change the World" balanced the upbeat mood of the singles with heartfelt emotion. Sean has slowed down a bit since doubling up in 2017 with the release of his fourth album, 'I Decided,' and a collaboration with Metro Boomin, 'Double or Nothing.' He has taken his time working on 'Detroit 2,' the sequel to his critically acclaimed 2012 mixtape and love letter to his home city, out September 4. (Read more at Vulture)
Nas' 'King's Disease' Gets Derailed By Petty Misogyny
Nas has vehemently denied Kelis' allegations, as well as those made by his ex Carmen Bryan, who wrote of their relationship in 2006: "The next thing I knew I was being hit in the face with a closed fist. The impact of the blow was so fierce that I saw stars." On 'King's Disease,' he doubles down on these denials and advances a bizarre sense of male victimhood. Less than a minute into the album, he goes off on cancel culture and takes aim at Kelis, whom he believes fabricated her stories of abuse out of spite. On "Til The War is Won," a performative tribute to Black women, he disavows "coward men that were beating on you," then mutters, as an aside—"Never me." (Read more at Rolling Stone)
Revisiting 'Late Registration' And Kanye's Telethon Moment, 15 Years Later
Ironically, West's Black vision for 'Late Registration' was heavily cultivated by Jon Brion, a white film composer who scored Boogie Nights, Magnolia, and Punch-Drunk Love. West—a fan of Fiona Apple, whom Brion had worked with on the singer's When the Pawn ...—sought out Brion after hearing his work on the movie Eternal Sunshine of the Spotless Mind. West called a mutual friend, Rick Rubin, to make the introduction. At the time, West was about 75 percent done with the album, but he was largely unsatisfied with the project, which he felt needed a more thematic feel. Brion and West clicked immediately. (Read more at The Ringer)
Juicy J Tells Us Why He's The Michael Jordan Of Rap Music
"I always felt like Three 6 Mafia could make a comeback," he says. "But it always had me kind of nervous and scared to even do that. Because we've done so much in music that I didn't want it to be like, 'Aw, they're not good enough.' Or 'Aw, they got old.' Or they're not creative like they used to be or things ain't the way they were. We never really went down that road to bring the group back." (Read more at Uproxx)
When ATLiens Dropped, The Game Was Never The Same Again
It wasn't 'Ready To Die' or 'Illmatic.' It was a ride through the East Point section of Atlanta. It was Braves jerseys and earnest calls to avoid drugs and chase dreams. Outkast was dope then and it would only continue. It is interesting to consider Outkast as overlooked then because they really aren't now. Outkast is a lot of people's choice for the degrading sentence "I don't listen to rap much but ___." "Ms. Jackson is sung at birthday parties with no mention of "Gasoline Dream." "International Players Anthem" might be the most universally beloved hip-hop song there's ever been, but the people who hold it in such high regard have never sat with UGK's 'Super Tight' or Outkast's best album, 'ATLiens.' (Read more at Finish Line)
The Rap World Isn't Anti-Carceral Enough For Me
One would think that rappers would be the main drivers of the police abolition conversation. They're the most targeted figures in their cities. Buffalo rapper Conway was just harassed at a funeral in his hometown. New York City has a hip-hop task force specifically funded to surveil artists, and Miami, another rap hotspot, had one as well. In 2018, NYPD's 72nd Precinct Deputy Inspector Emmanuel Gonzalez issued an edict for his officers to shoot 50 Cent on sight. Prodigy said in his 'My Infamous Life' autobiography that cops detained himand asked him to plant guns or drugs in 50's car. For his part, 50 said in 2019, "I knew they were not going to do anything about [Gonzalez], so I stop talking about it. NYPD is hands down the toughest gang in New York." (Read more at More Fire)
The Billionaire's Lament: How The World Changed Around Jay-Z
His music, once full of lines like "I'm not a businessman / I'm a business, man" that we repeated ad nauseam, has been replaced with mantras about entrepreneurship that sound more like "pull yourself up by your bootstraps" than revolutionary. When he rapped a tribute to Nipsey Hussle, he opened with "gentrify your own hood before these people do it." The verse wrestles with the nature of "home" in light of the fact that Nip was killed in his own neighborhood he was trying to improve — but the idea of trying to turn "gentrification" into something positive when the very nature of gentrification is rooted in disenfranchising Black folks just didn't fly. Especially when receipts show how Jay's partnership with the Brooklyn Nets damaged Black neighborhoods and brought about its own form of gentrification. (Read more at Level)
---

Three questions. Three answers. That's a wrap.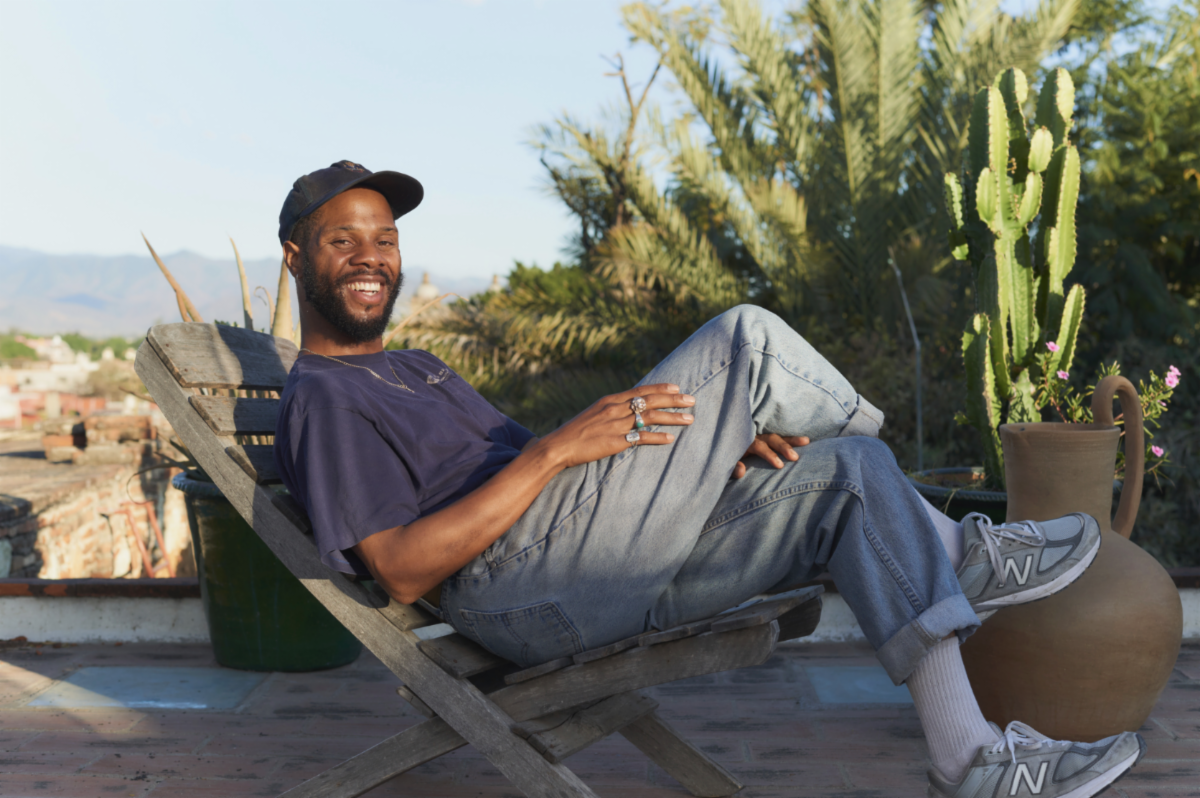 Photo credit: Aileen Son
One of the most intriguing figures in contemporary hip-hop, Nigerian-American rapper Fat Tony has often served as a bridge between Houston and New York. Begun in Brooklyn but completed in Kingston, Jamaica, his forthcoming album Exotica is due out next month via Carpark Records, the label that released his previous project Wake Up this past February.
What is it about Kingston specifically that compelled you to travel there to complete Exotica?
My longtime producer GLDNEYE lives in Jamaica, and after visiting him in 2018, I knew I wanted to come back to make music. In 2019 I lived in Brooklyn. That October, he joined me there for whirlwind writing sessions at Steel Tipped Dove's studio. We spent a week meticulously crafting each character, story, lyric, and every musical moment, building the world of Exotica.

In turn, that December I journeyed to Jamaica to join him for recording sessions at a studio in the cloud-ridden hills of Kingston. After this last trip, I understand why Jamaica attracts music lovers worldwide. There's a magic that draws foreigners to record music there, no matter the genre. Exotica, my most visionary work yet, was meant to be recorded in a place that felt otherworldly.
You've described the album as "rap short fiction," which allows you to use your voice to bring characters and their narratives to life. That said, how much of your own life and experiences are woven into these stories-as-songs?
None of the songs are autobiographical, but I could play each character in a movie. I understand their perspectives and motivations, flaws and all. All of us can see ourselves or someone we know in the tales of Exotica.

After writing so much about my life on my last two albums, I wanted to go in a different direction. An album of rap short fiction felt more compelling as a writer. You can learn more about me through my imagination than just hearing my life story. The only time I speak as Fat Tony is on the album's intro song, "What Wake You Up" featuring Bun B.
Your fans will no doubt be pleased to hear you reunite with Bun B here. How has your relationship with him changed or evolved over the years?
I first met Bun B at a radio station when Matt Sonzala invited me to come on his show Damage Control. Bun happened to be there, and my 15-year-old ass was geeked. I was a big UGK fan, still my favorite rap group today. A week after I released my first album RABDARGAB in 2010, he coined me "Houston's best kept secret" on Twitter. After that, we started to chat more. He came to my birthday party/release party for the OG Ron C remix of my album called SCREWDARGAB. We kicked it most of the night and talked about UGK's backstory before "Big Pimpin." He guested on my 2012 mixtape Double Dragon but getting him on Exotica was a doozy.

Bun saw I was in Jamaica and messaged me. He was there too, celebrating his wife's birthday. I wanted to get him on a song, but he was on the other side of the country in Montego Bay. Not letting that stop me, I rented an Airbnb, and GLDNEYE drove us across Jamaica to link with Bun. He stepped away from his wife's celebrations for half an hour and came over. I played the song twice and explained the concept while his eyes were glued to his phone, writing incessantly. Soon as the song finished a second time, he was ready. He nailed the verse in minutes, chatted a bit, then walked back to his hotel. We must've replayed his verse a hundred times that night.
Pre-order or pre-save Exotica here.
---

Three new tracks for you to snack on...
C.S. Armstrong, "GODDIDDAT": A harrowing meditation on the perils of backsliding, this Houston native's latest brings his bluesman's burden to grapple with this eerily familiar dilemma.
Capriisun, "Celeste": An Oregonian emcee perhaps better known abroad than at home, he capitalizes on his recent work with CLBRKS and Morriarchi with a heady piano-laden new bap single of his own.
GQ, "Big Lutha": Blessed with a full-throated cosign from the formidable 9th Wonder, the Oakland rapper eases into a soul groove for this promising preview of his forthcoming Jamla Records EP.
---
See you on Sunday.
Follow me on Twitter at @noyokono and on Instagram at @noyokono too.