The Best Hip-Hop Albums Of 2020
25 full-lengths from a pandemic year. This is Cabbages #051.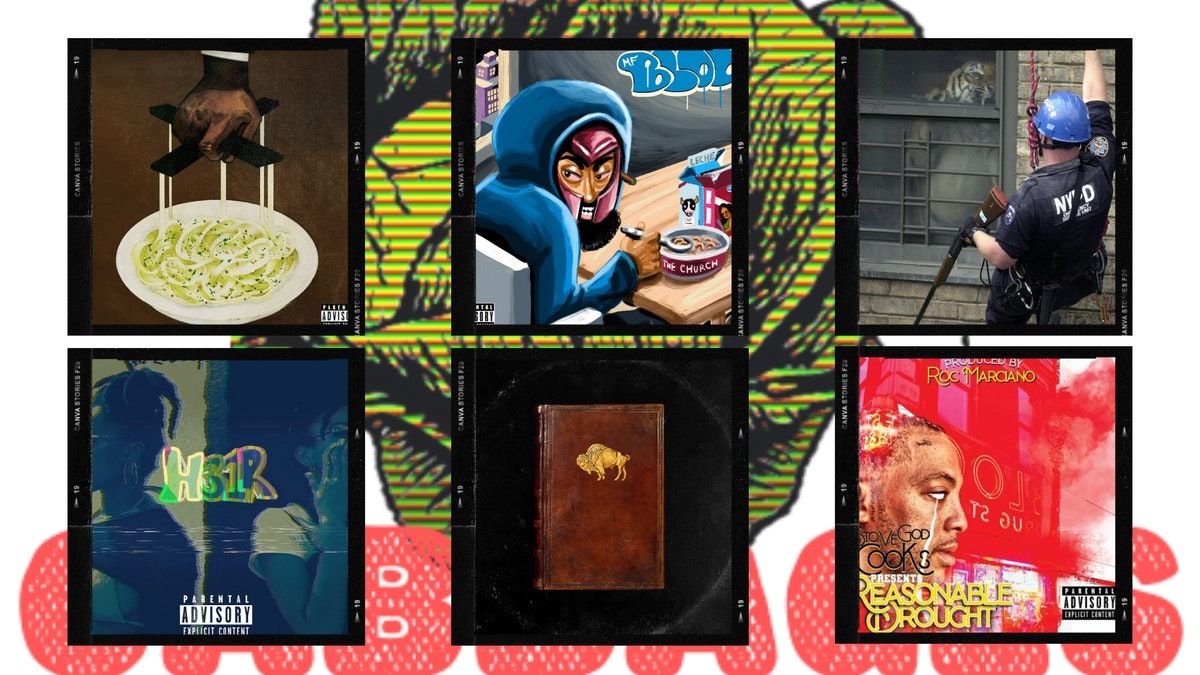 For about as long as I've identified as a music critic, I have danced along the spectrum of thought concerning year-end lists. Depending on my mood or my mindset, I've gone from thinking they're worthless clickbait to affirming their immense value (and then back again, and so on in that manner, until I get sleepy). The very idea of doing a "Best Of 2020" bedevils me to some extent, knowing that I can't dole out participation trophies in a year where so many people suffered. I didn't really want to do this, but in the end I felt like I should.
As you furiously scan this list to see if your fave made it, the main thing worth keeping in mind is that I've deliberately left off major label hip-hop releases, their pseudo-indie front equivalents, and, to the best of my abilities, those that had distribution and/or marketing deals through those companies. Yes, that means I've excluded projects from Sony, Warner, and Universal—along with 300 Entertainment, Alamo, Hitco, etc.—that I enjoyed and even wrote about this year, both here as well as at other publications. (I also left Bad Bunny's trio of albums out of consideration, because, well, if you read this newsletter with any frequency then you know how strongly I feel about El Conejo Malo.) Rest assured, the corporate-owned music media outlets pretty much have those releases covered.
Placing such restrictions on this list might seem ridiculous to some, especially those who skipped over this introduction. Please try to understand that it all goes back to my earliest days as a critic at Brainwashed, where we were given license to write about any album we wanted to, provided that it wasn't a major label record. That experience shaped me as a writer, put me at odds with the establishment music press that, institutionally if not intentionally, has conditioned its editorial staffers otherwise. Even now that I am, much to my surprise, regularly writing for publications in said establishment, it's an impulse I have little desire to dismiss.
Call it what you will, but the whole point of CABBAGES since the January jump hasn't been about giving shine to the rappers with the biggest marketing budgets or the most industry-connected teams. This newsletter exists to raise up those who make excellent music without access to such resources, for whom putting out an album is an undertaking born of passion and creativity and, more often than not, personal debt. There is considerable risk, material and emotional, involved in putting their art out into the world. These are types of the people whose full-length work I've chosen to spotlight today.
---
25. Cargo Cults, Nihilist Millennial
Def Jux vet Alaska and Wrecking Crew producer Zilla Rocca comprise this grown-ass duo, the former doling out self-deprecation and scathing societal critique over the rollicking boom bap of the latter.
24. ShrapKnel, ShrapKnel
More props due to the Wrecking Crew, as Curly Castro and PremRock dropped their eponymous full-length under this moniker, brimming with lyrical intricacy and boldly executed beats by ELUCID and Willie Green.
23. Blimes & Gab, Talk About It
With battle rap energy and finely honed mic skills, this perfectly complementary pair bring the noise and the funk, with both emcees coming with the confidence they've earned from their solo efforts.
22. Michael Christmas, Hiding
Don't call it a comeback for this Boston rapper. As before, his affability and humor lures the listener in and lulls them into complacency until they realize they're actually in the presence of one of the most remarkable spitters of his generation.
21. H31R, Ve·Loc·i·Ty
New York and New Jersey come together for this interstate collab between rapper maassai and producer JWords, the former's provocatively poetic rhymes affixing themselves to the latter's elegantly askew and often deceptively warm instrumentals.
20. Namir Blade, Aphelion's Traveling Circus
A hip-hop space opera that stays riveting from beginning to end? That's the feat this Nashville artist pulls off with this time-warped Afrofuturist odyssey that employs sci-fi framing to showcase his unmistakably present-day vision.
19. CLBRKS and Morriarchi, Microwave Cooking 2000
The dextrous yet fiendishly laidback spitter from London sounds so secure in his skills over the producer's Wu-reminiscent beats splattered with samples about Jackass copycat mishaps and the joy of microwave cuisine.
18. Quakers, II: The Next Wave
No 2020 release captures the seminal spirit of the mixtape format quite like this second installment of the saga, as its core trio of studio dudes set an eclectic table for a diverse series of dope emcees to feast upon.
17. Bub Styles and Ace Fayce, Very Sucio, Muy Picante
New York's raspiest returns with yet another outstanding album, impressively aggro in his signature delivery and exceedingly grimy over Ace Fayce's positively filthy production.
16. Quelle Chris and Chris Keys, Innocent Country 2
Hands down one of the most innovative pairings ever to come out of the Mello Music Group, the duo use this sequel to their 2015 outing to bring their work together officially to opus level with wit, wisdom, and wellness.
15. Open Mike Eagle, Anime, Trauma and Divorce
A stroke of genius from one of rap's most thought-provoking creatives, this personal and oft witty outing tours the emotional brutality of a collapsed marriage, finding flowers amid the relationship ruins.
14. Boldy James and The Alchemist, The Price Of Tea In China
Beatsmith extraordinaire ALC reunites with his 2013 Detroit rap connect for a project that demonstrates the long underrated emcee's growth, emerging now as a distinctive artist equally credible with complex rhyme schemes and grind narratives.
13. Pounds, There Is No Mafia
An upstate maestro of gangster gloom, the Rochester rapper snarls and growls his way through the stygian bap of this album with stick talk borne of brick weather, his throat all the while brimming with lungies.
12. Ka, Descendants Of Cain
The pride of Brownsville's underground delivers another fantastic full-length teeming with labyrinthian lyricism spit with Ghost Dog-esque zen over subtle and subdued beats by Animoss, Preservation, Roc Marci, and his own damn self.
11. Bloo and Spanish Ran, MF Bloo
A fist-bumped homage to the O.G. vaudeville villain, these two Bronx bombers use DOOM's aesthetic as a jumping off point for comic book new bap cool of the highest order, with Bloo's knotty bars and Ran's opulent beats making Marvel mosaics.
10. Fat Tony, Exotica
Comprised of a series of short fictions rapped and set to music, the Houston native's latest explodes anything resembling doubt about the profundity of his artistry via precise prose and insightful character studies.
09. Apollo Brown and Che Noir, As God Intended
An immense burgeoning Buffalo talent, Che Noir reps for her city with lyricism that moves beyond the Griselda gaze, her hometown hardships and biblical reflections unspooling over the veteran Detroit producer's sublime boom bap business.
08. Armand Hammer, Shrines
As demonstrated repeatedly over the past seven years, billy woods and ELUCID bring great things out of one another and their exquisite fourth album under this moniker thrives as vocal collaborators build upon their already densely layered approach.
07. Shabazz Palaces, The Don Of Diamond Dreams
Two-and-a-half decades removed from his historic hip-hop Grammy win with Digable Planets, Ishmael Butler eagerly explores the musical universe mapped out by Sun Ra and George Clinton with his improvisational curiosity and undeniably catchy quirks.
06. Roc Marciano, Mt. Marci
Largely self-produced, this Rushmore-sized album from the underground demigod represents the latest triumph in a career defined by triumphs, exhibited via nimbly delivered bars stuffed with guerrilla wisdom and contemplative truths.
05. The Koreatown Oddity, Little Dominiques Nosebleed
This refreshing and conceptual set from the longtime Stones Throw signee associate finds the previously wolf-masked talent revealing personal anecdotes and complicated emotions about his life and the corner of the city he calls home.
04. Stove God Cooks, Reasonable Drought
This Syracuse dude spits supremely on this Roc Marci-helmed debut, its dozen breathtaking beats providing a cinematically gritty base for all the snowblind brick talk and narco innuendo.
03. Amani and King Vision Ultra, An Unknown Infinite
An independently gifted rap legacy and a local legend with Atoms Family pedigree team up to encapsulate the dystopian NYC NOW of it all, making clear—sonically and thematically—that it's been Hell in this town for a lot of people for a long time.
02. Freddie Gibbs and The Alchemist, Alfredo
Working with Madlib on two brilliant records may have thrust the experienced Gary, Indiana rapper into the critical gaze, but this accessible yet uncompromisingly carb-heavy union with ALC transcends those artful prior successes and definitively puts the self-described Skinny Suge on a G.O.A.T. path.
01. Moor Mother and billy woods, BRASS
A late entry from the Backwoodz Studioz camp steals the whole damn year, believe it or not. Though rightfully credited to the two vocalists—one, an unpredictable yet consistently dynamic poet, and the other, one of the greatest rappers alive—the superbly executed BRASS is very much a family affair. Child Actor, Mach Hommy, Sons Of Kemet, Steel Tipped Dove, and many more add their formidable talents to this simply tremendous endeavor that throws down the gauntlet for hip-hop as an art form.
---
If you've made it all the way to the end, congratulations!
Here's the link to a form where you can tell me what your favorite hip-hop albums of 2020 were.
I'll tally up your responses for the first annual CABBAGES Readers' Poll in next Sunday's issue.