I don't remember what was in my Discman on 9/11. That morning, I did what I had been doing for the previous two months, donning oversized headphones while riding the express bus from the outer reaches of Queens into midtown Manhattan. It was my my first office job out of college and I was making something resembling real money, enough to hit up a Sam Goody on my lunch break to cop a new release. On weekends, I'd head back in to visit comparatively cooler downtown shops like Mondo Kim's and Other Music.
So that day it might've been Aaliyah's Aaliyah, or Basement Jaxx's Rooty, or Bjork's Vespertine. But most likely, it was RZA's second Bobby Digital outing Digital Bullet, which had dropped just two weeks earlier and became an obsession for me. Though many listeners were growing more wary about their Wu-Tang purchases following crushing solo disappointments like Raekwon's Immobilarity, I jumped at the opportunity to hear what the Clan's spiritual leader was up to. Though it sounded nothing like the prior year's triumphant Wu-Tang Forever, 1998's Bobby Digital In Stereo whet my appetite for RZA's 2001 sequel with its off-kilter, keyboard-heavy vibes. From "B.O.B.B.Y." through "Domestic Violence," he proved to be a far stranger cat than the more overtly odd Ol' Dirty Bastard, who appears in true manic form on "Kiss Of A Black Widow."
So when Digital Bullet hit stores, I didn't hesitate. Well, I may have waited for my check to arrive that Friday, but I definitely got my copy in the first week of release. Still, my material support for the RZA at full suggested retail price wasn't enough to get the album to debut above its No. 24 Billboard 200 peak, what with Mary J. Blige's No More Drama, Slipknot's Iowa, and Aaliyah's aforementioned eponymous set appearing in that same frame. But the bizarre, insular brilliance of this record—which I promise to devote an entire newsletter to someday—hooked me from the start, and kept me coming back to it on my weekday commutes again and again in the days and weeks to come, hoping to better understand it.
[Part of me wants to stop writing this essay right here, in my blissful oblivious public transit slumber, before I woke up irritable and confused just outside the Midtown Tunnel, before I pulled off my headphones and learned why rush hour traffic was so especially backed up that day, before I went to an office two blocks from the Chrysler Building and a short walk from the U.N., before I had to trek uptown and cross the 59th Street Bridge on foot and see the black smoke over the East River with the rest of my fellow outer-boro escapees, before I had to hear a bunch of fucking emcees try to rap about it.]
There are plenty of songs that reference 9/11, particularly in the immediate handful of years that followed. I wish I could say any of them were all that good, and I'll concede that Talib Kweli's somewhat nuanced synthesis "The Proud" did it well enough. But even some of better ones of the bunch failed to adequately meet the moment. With the whole city's eyes on him, 50 Cent couldn't even muster decent bars about it on the Get Rich Or Die Tryin' cut "Patiently Waiting." Jadakiss lamentably spoiled his otherwise thought-provoking exercise "Why" by tossing in a flippant conspiratorial line that accused then-President Bush of knocking down the towers. As New Yorkers grieved and first responders and their surviving families struggled to receive help from our government, the last thing our rap scene needed to contribute was validation of such truther bullshit.
Music writer Andre Gee wrote a poignant piece last year for Okayplayer about the Diplomats, who alongside G-Unit have the unique distinction of being one of the two NYC-based rap groups to come to visible prominence in the wake of the attacks. On "Okay Okay," part of Juelz Santana's 2003 major label solo debut From Me To U, he self-identifies as a 9/11 survivor in one breath and "a young Mohammed Atta" in the next. That part ended up getting muted out, but you can easily find YouTube clips of the original. And that wasn't even the first time he'd favorably likened himself to the terrorist hijacker, having previously done so on a version of Diplomatic Immunity's "I Love You"—and getting censored in that case too.
Maybe it's better that we were spared the hip-hop equivalent to Bruce Springsteen's The Rising. Because the closest we did come to that—Wu-Tang Clan's Iron Flag—is considered by many rap fans as one of their absolute worst. Released on December 18, 2001, with the smoldering Ground Zero "Pile" now firmly imprinted on the American brain, their fourth full-length didn't hit like The W had just a year earlier. For starters, the unit simply wasn't the same, with Ol' Dirty Bastard absent and Cappadonna voided. At times, it felt like certain members were holding back their best bars for solo projects. (Ghostface Killah's Bulletproof Wallets came out in late November.) As a producer, RZA had clearly moved on from the classic Shaolin style, and cuts like "Chrome Wheels" more closely resembled what he was up to on Digital Bullet.
Most egregiously, though, the 9/11 references on Iron Flag felt shoehorned in. Assuredly, no small portion of these recordings were made prior to 9/11,  so one can't fault them entirely on that front. Even still, these men had documented and soundtracked the city for years with their diverse voices and personalities. Part of what had made the unit great was their range, clearly brought on and made better by a competitive spirit within the collective. As a New Yorker, being a Wu fan didn't just amount to merely ranking your favorite Clan emcees in order of illness, but rather to identifying with them, seeing yourself in them, imagining a camaraderie with them based upon the way they presented themselves and represented their city.
So we expected a helluva lot more than the feckless fist waving of Ghostface's opening "Rules" verse. He tells Bush to put him "in charge of the war" and claims that, were his neighborhood the target as opposed to the Financial District, that he would somehow have stopped the terrorists in mid-air. Given that they were suicide bombers, who died upon explosive impact with the Twin Towers, it's both ironic and crass that Tony Starks would have had them "blown to bits."
Clearly Ghostface recorded that part—and his "Back In The Game" one—well after the rest of the Clan, none of whom so much as acknowledge the attacks on their "Rules" verses. Foreshadowing Juelz's lyrical mishap, Raekwon's glib line likening the group to "nine Bin Ladens" got the backmasking censorship treatment. Though one must account reasonably for their own grieving and shock, the existence of these tone-deaf, insensitive, clumsy mentions demonstrate that at least some members had the chance to speak to what had happened, then went ahead and squandered it.
Yes, World Trade Center and Wu-Tang Clan have the same initials. Cute. It's that kind of superficiality that makes Iron Flag such a disappointment, a missed opportunity to unify the city at a time when so many of us felt adrift and uncertain. The title and cover art of a militarily-garbed Wu suggested something visionary in store, its evident homage to the iconic 1945 Iwo Jima flag raising photo. But no matter how attractive the stocking, Iron Flag was some straight up Christmas coal.
---

Pounds, There Is No Mafia
From the opening Sopranos sample of Meadow confronting Tony, you already know what this Rochester rapper's latest has in store. An upstate maestro of gangster gloom, Pounds snarls and growls his way through the stygian bap of There Is No Mafia, doling out stick talk borne of brick weather. The self-produced "Play 4 The Money" reminds of G-Unit at their most thrillingly bleak, while the inventive bars of "Jenga" borders on battle rap acrobatics. His throat brimming with lungies, he snaps on "Matchstick Men" and crushes "T.I.N.M." On the guest front, 38 Spesh scoffs at pandemic panic buying on "Food Savers" and JoJo Pelegrino raises the pressure on "War Report."
Airplane James, On Everything I Love
Part of Problem's Diamond Lane Music Group, this L.A. native brings a tuneful take that provides much needed high-quality contrast with the glut of sung-rap wannabes on the scene today. With On Everything I Love, Airplane James soars his way through a brisk half hour of loverman business meted out with a certain built-in toughness on the exterior. He draws from the gospel well for the somewhat sacrilegious "Righteous" and from the snappiest R&B for the flossy "Impress Me." On the 808 groover "Favors," he rejects the titular crutch in favor of satisfyingly hard-fought wins and an overall ethos of self-determination.
Bub Styles & ARXV, Get Rich Or Go Broke
Having jibed so well with one another on the summer's Very Sucio Muy Picante, rapper Bub Styles and producer Ace Fayce invite a third into their quarantine bubble. With ARXV in play, New York's raspiest gets a complementary vocal to mesh with his on this veritable sequel to the Villains United vets' 2018 Sauce Awards EP. Given their shared history, it comes as no surprise just how strong they are here, exhaling bars effortlessly on smokescreened cuts like "Never Settling For Scraps" and "Westin." Ace keeps the beats dolorous yet vibey, the sparse piano chords of "Scorcese Freestyle" and airy echoes of "Blue Sky" oxygenating the spitters.
---

Three questions. Three answers. That's a wrap.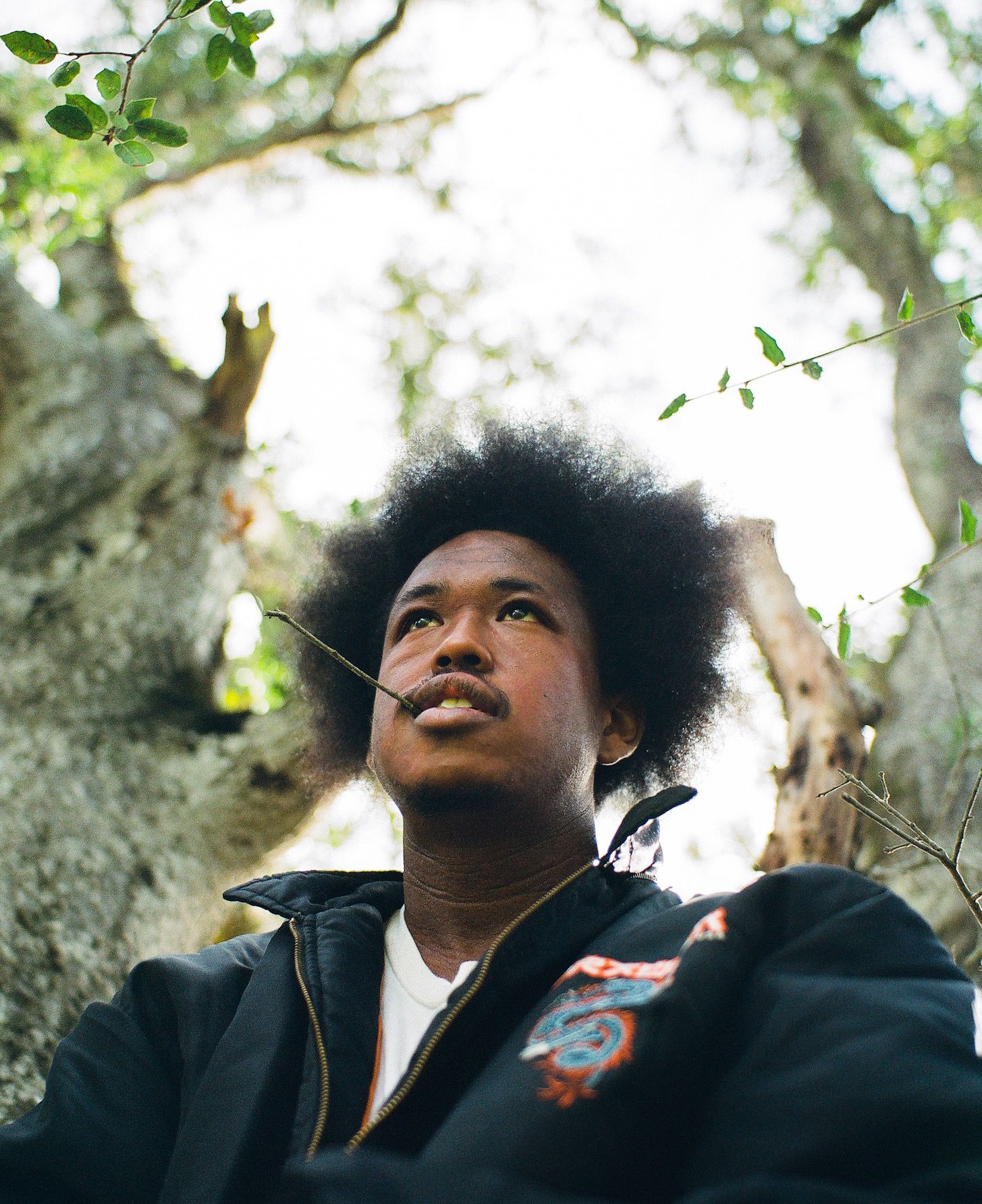 Photo credit: Connor Barrett (link)
Judging by their Bandcamp activity, self-described hip-hop / darkgospel artist Alfred. stayed busy during the pandemic. Based in Virginia, they've shared three projects since March, two of which serve as the proverbial A-Side and B-Side of their One Trick Pony concept, which blends a natural storytelling approach with inventive beats.
You've dropped all these different projects in 2020, in the midst of the pandemic no less. What compels you to share so much of your work during these difficult times?
The only project I truly made in 2020 was the B-Side [Adventure Mode] to One Trick Pony. A Side and Leviathan are two ideas I've had time to juggle for a little bit. I'm not sure if I'm compelled so much so as it was time to let things go and see how they change as they're experienced by others. Times are indeed difficult, however I want to separate my need for sharing expression / experience from the idea that artists must create an immediate relevant response to our ever burning world.
The A-Side and B-Side of One Trick Pony came in collaboration with producer clwdwlkr. What were you trying to convey or accomplish with these parallel records?
Logan (clwd) labeled almost all the beats for the B-Sides with a word in front of "Fred." I like the concept of giving different songs very specific feelings or isolated chapters of feeling. The A-Sides feels as if I'm processing distrust in myself and others, where the B-Sides feels more like a Reclamation of boundaries, where my sorrow and aggression feel more coherent and intentional. I think the B-Sides conveys my desire to express but perhaps my exhaustion having to perform persona, a lot of my music has been a steady journey of me processing how much I enjoy or am confused by my need to convey to others. A blessing and hindrance.
Leviathan (Book One) is billed as a set of demos. What is it about this material that you consider incomplete and, if you had the desire, what would you do to these tracks to "finalize" them?
I have been holding onto these beautiful ideas and feelings for so long, for maybe collectively five years. I had no "right" way of presenting these? But I guess the pressure people put on the word "EP" or "album" can be intimidating and leaves space for a specific, unnecessary kind of scrutiny that I do not seek out. "Chartreuse" is the newest song to date that I've made, and probably the most mature on that project, it felt like a catalogue of my growth w Fitz (Solomon Wexley) over time.
Purchase or stream One Trick Pony and Leviathan here.
---

Erick Sermon protege Keith Murray only spent a brief time on Def Jam. After a three album 1990s run with Jive ended with his ill-timed incarceration, he graduated onto the legendary rap label from Def Squad member (alongside Redman and Sermon) to a solo deal. Produced by Just Blaze at the height of his Roc-A-Fella powers, the 2003 single "Yeah Yeah U Know It" preceded its corresponding album He's Keith Murray, charting modestly that April on the Hot 100 while building momentum towards its July release. A promising sign, he'd even appeared as a playable character on Def Jam Vendetta, the label's successful foray into the video game world. But an in-office altercation, of which the details remain disputed, that occurred between him and at least one Def Jam employee, promptly got him unceremoniously dropped right around when the album was due out.
---
See you next Sunday.
Follow me on Twitter at @noyokono and on Instagram at @noyokono too.