This newsletter marks the twenty-sixth installment of Irregular Vegetables, a weekly series of CABBAGES emails where I share links to recent writings from other hip-hop/rap journos and critics, squeezing in my own work as I see fit. These midweek editions hit inboxes every Thursday. Enjoy this week's reads and keep scrolling for an interview with hip-hop duo Cartel Madras. After that, make sure to check out the latest Crudites, a feature where I recommend three new singles/videos from hip-hop artists you may not be familiar with yet.
---

Big Sean's Detroit 2 Is A Career Best
On record, Sean used to be a jokester with an unexpected serious side, good for motivational anthems and elaborate sexual puns, an obvious ward of his G.O.O.D. Music label boss Kanye West, patron saint of the disorienting mix of high and low brow themes in rap music. On the early mixtape highlight "Supa Dupa," Sean landed on — some say invented — a punchline flow with a pregnant pause that was run into the ground by popular rappers like Drake in the 2010s. (Read more at Vulture)
Underground Memphis Rap Tapes, Gangsta Boo Verses, And Horror Movie Samples
When Paul sampled J. Peter Robinson's "Nosebleed" from Wes Craven's New Nightmare for Lil' Fly's (later renamed Playa Fly) '94 banger "Funkytown's in My Brain," it quickly became a staple within the Three 6 Mafia circle. Paul and Juicy J went back to the song a year later on Part 3 - Spring Mix, further adding bells from Robinson's "Script/Freddy's Attack" for the menacing Crunchy Black and Gangsta Boo assisted "I Thought You Knew." Boo—a Memphis pioneer and former member of Three 6 Mafia and affiliate ensemble Da Mafia 6ix—was a mere 15-16 years old when they recorded the track, yet she sounds as comfortable as a seasoned veteran on the mic. (Read more at Micro-Chop)
What Do Black Women Need From Hip-Hop in 2020?
Admittedly rap is, like so many other cultural products, a symptom of the rest of the world. But while arenas are awakening — or being forcibly awakened — to their deep-rooted misogyny, hip-hop has avoided a true reckoning. The easy and most obvious reason for this is that, for the most part, the women feeling the wrath of rap's worst traits are Black. The least appreciated, protected, and valued among us. Let's be clear about this: The onus of making hip-hop culture a space that values Black women lands on the men in charge. (Read more at Level)
She Who Struggles Is A Warrior: How BL Shirelle Went From Inmate To Record Executive
An affinity for writing struck BL Shirelle around the age of 5. She would go on to enter poetry contests, and one of her teachers actually published her first poetry book at 8. However, by the time she was 12, due to her at-home circumstances, she dove into the world of drug dealing. According to her, her house was one of the top drug spots in the area and she watched a few hustlers come in and make millions selling crack in there. She decided to take over the operation to take control of the "gold mine" and shield her family from the perils of any potential beefs that outside dealers could bring to their doorstep. (Read more at Philadelphia Weekly)
If Only You Knew: Grime & Drill For September Reviewed
Last month the Godfather of Grime, Wiley, became the latest star to add a permanent stain to his legacy, after a series of antisemitic tweets led to a police investigation following 12 officers being sent to his house, the Home Secretary wading in, him being banned on all major social networks (including YouTube) and his music being removed from major streaming services. But while the majority of us would agree that there is no defence to be made for Wiley's comments, there is still a wider conversation to be had surrounding his social media de-platforming. (Read more at The Quietus)
Too $hort's 'Short Dog's In The House' Turns 30
In the late '80s, Jive Records signed Too $hort after he made some serious noise in the Bay Area, creating its scene and defining its early sound. He sold tapes out of his car, featuring tracks with bass heavy slaps and dirty raps delivered with an undeniable panache. He became infamous for songs like "Invasion of the Flat Booty Bitches" and "Freaky Tales." Fortunately, Jive figured out that it was best not to mess with success and allowed Too $hort to be himself. The record sales and the accolades followed. (Read more at Albumism)
Lord Apex Is East London's Meditative Rap Swordsmith
The haze of 'Supply & Demand' rises to the ceiling like thick smoke rings from only the finest of blunts. Lord Apex feels like a medicinal fixture in hip-hop. Listening to his flows summons images of MF DOOM, and his very favorite, Lord Quas. More than anything, though, listening to Apex's raps will make you feel centered, whole, and altogether better. In these times, that's all we can ask for. (Read more at DJBooth)
The hallmarks of bbymutha's lyrics are fairly straightforward: kiss-offs to ain't-shit dudes, flexing on other women, reflecting on trauma, and a plethora of sex talk. Her style borrows from the blueprint laid by fellow raunchy Tennessee rap titan Gangsta Boo, but bbymutha is no carbon copy. Her rhyme schemes are elastic, her thick Chattanooga drawl stretching rhymes like taffy across entire songs. The run of songs from "Holographic" to "Cocaine Catwalk," in particular, is deliriously entertaining, with bbymutha constantly topping her own braggadocio. (Read more at Pitchfork)
Coi Leray Talks New 'Now Or Never' EP, Her Top Collabs, And Black Lives Matter
"I have a really great label, shout out to Republic Records. As an artist, we're always eager to drop music. You have to always figure out how to meet them halfway. Sometimes, if they feel like we've got to take certain steps to get to the next level to be a superstar, then we've got to do that. At the same time though, I've still got to be an artist and drop music. It's either now or never, we've got to apply pressure. Not now or never with them, more so either we drop this music nowor we're never going to be able to. F**k around and probably lose our chance." (Read more at Revolt)
"My Eyes And Ears Are Waiting": Headie One Reveals His New Record Label
Last year, the Tottenham rapper made history, scoring the then highest charting drill single in Britain with his Dave-assisted track '"18HUNNA," which peaked at number six on the UK Official Singles Chart. Eighteen months later, Headie dethroned his former feat by dropping his surprise Drake collab "Only You Freestyle". With the Canadian superstar declaring Headie to be the ​"best drill artist in the world" and referencing Maya Jama on a distinctly UK-sounding beat, "Only You Freestyle" sent social media into a frenzy, landing at number five in the Singles Chart. (Read more at The Face)
The narrative thrust of Big Sean's career has always been about his proximity to fame. The word defines his discography: three volumes of 'Finally Famous' mixtapes, 'Finally Famous' (the album), 'Hall of Fame.' The hero's tale that got him here — being plucked from obscurity by Kanye West after a well-timed freestyle — is inextricable from his legend. When 'Detroit 2' takes Sean's examination of fame to its gruesome, but logical conclusion, it's a genuine shock. (Read more at Rolling Stone)
---

Three questions. Three answers. That's a wrap.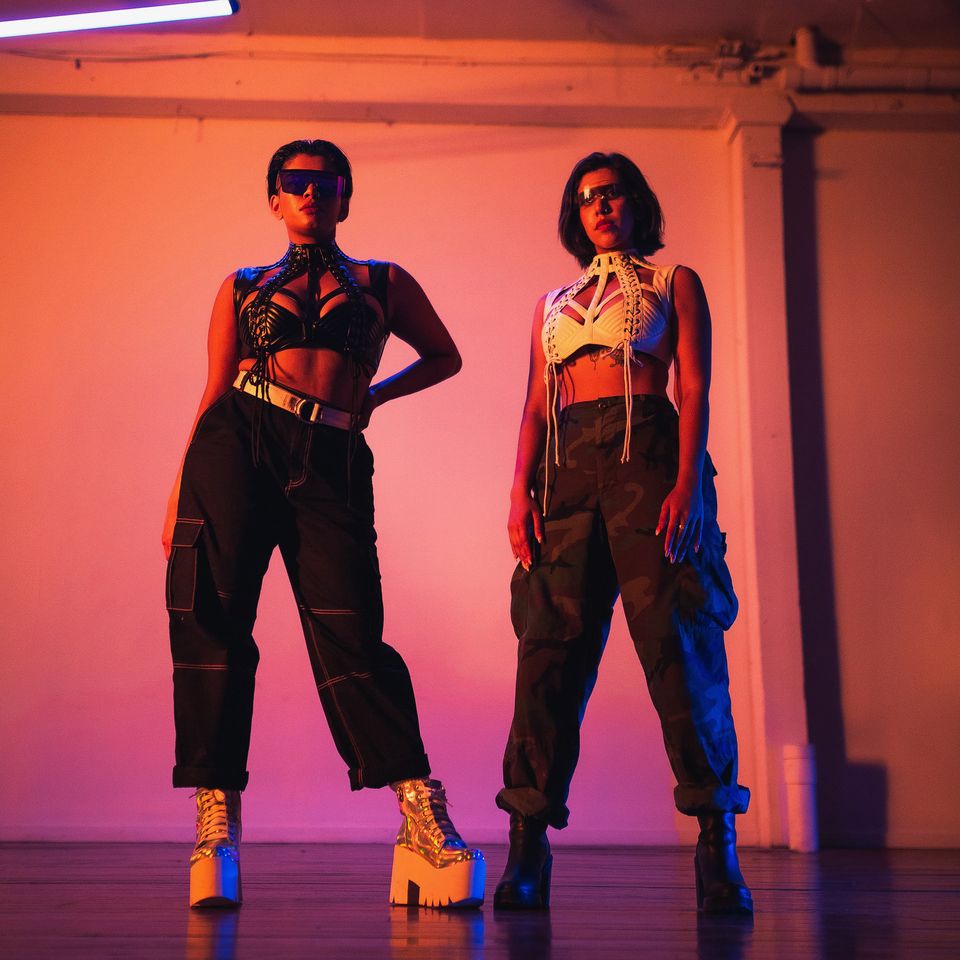 Photo credit: Oliver Whitfield Smith
Queer, female, and Desi, Canada-based duo Cartel Madras have been bringing their distinct perspective to hip-hop via their Age Of The Goonda and Trapistan EPs (available on cassette and digitally through Sub Pop Records). Their recently released single "Working" revives the hip-house subgenre format, with their modern verses pushing the retro style forward.
Your first two Sub Pop EPs seemed intent on reclaiming the term "goonda" and putting it in an empowering light. How does trap music and its aesthetics serve these apparent aims?
Goonda has this really versatile and expansive quality to it. It is all at once playful, aggressive, troublesome, loud, and a bit funny. All of these things really make up Cartel Madras. We hear the term Goonda a lot, usually as slang referring to a troublemaker in a casual way, or in its more serious form, a criminal. We've used the word to ruminate on our own conflicting, varied, and unique identities. Bringing several stories together in our music. While it's a term that others might see as static, it's been very fluid for us—allowing our rap to be everything and anything. Goonda rap can bang in the whip, it can be a party track, it can be political, it can be liberating, it can be radical. It's also been a way to pay homage to the hip-hop we've grown up on and also pioneer a new space in contemporary hip-hop, in not only what we rap about and who we rap about, but also sonically; mixing together trap, punk, and house. Trap music was the right fit for us—it had the energy and sound to move forward the narratives we were trying to present, and in a way it's a playful genre, one that can establish that Cartel Madras is not always so serious either.
Your latest single "Working" draws from dance music traditions in both North America and Europe. What is it about this type of house music that appeals to you as listeners and artists?
There really isn't anything better than an amazing House beat. A garage infused, Azealia Banks-esque house sound with dense lyrics packed over it is something we always wanted to do with our sound; you can sort of hear it in our first mixtape with "Housey," so we wanted to bring it back. It was just a matter of waiting for the perfect beat and the right producer to work with. Jide, who grew up in the UK and has a deep love of house, knew exactly what type of track we were looking to create and made the perfect beat.

Before we were Cartel Madras, we were always avid show-goers. We loved to party and loved going to a loud, sweaty, at times overwhelming show. House music really has a way of capturing that momentous, giddy feeling of being in a nightclub, looking fresh in some new drip and flexing.
The pandemic has hindered so much creativity and productivity. How have you been able to work around this and find the inspiration to create over these past few months?
When the pandemic hit in full force and the lockdowns were called, we were literally walking off stage from the Bowery Ballroom after an incredible set in NYC. We flew back to Canada in a panic and Eboshi ended up in Toronto, Contra in Calgary. We were sort of stuck in opposite ends of the country and initially in a lot of shock as we were about to go on several international tours in 2020. Seeing those get cancelled in front of our eyes was a lot, but then we sort of went into a manic haze of writing and recording and sending each other snippets and demos. It was all very Postal Service. The spring was a creative burst of energy that we usually would spend on stage but we had to focus it back into our craft, our aesthetics. In some ways, the isolation paved the way for reflection, and really looking into our influences. Long nights of joints, wine and fried rice that led us down rabbit holes of the films and music we grew up on. Re-visiting Bonobo albums, rediscovering Chungking Express, staring at Toronto from the 27th floor of a highrise and letting that all bubble into a new sound for a new Cartel project.
Purchase Cartel Madras' music here or stream it via your preferred platform.
---

Three new tracks for you to snack on...
AV Dummy, "Brave New World": This UK duo bring some seriously frenetic energy to this feverish sonic mix of post-industrial bass shards, IDM squelch, and urgently gasping poetics.
Bub Styles & ARXV, "Get Rich Or Go Broke": A pure taste of the Brooklyn pair's new EP, the title track off that project exists in the unseemly nexus between the city's drug scene and its rap scene.
Good Greene, "Ultra Mango": Taken from his recent Dreams Don't Keep The Lights On project, this narcotized cut finds the Detroit rapper riding dirty and referencing Larenz Tate over a rubberized funk groove.
---
See you on Sunday.
Follow me on Twitter at @noyokono and on Instagram at @noyokono too.