Chip The Black Boy sits motionless. Dressed in a colorful rugby on a nondescript porch, he gazes out at nothing as if pondering the answer to one of life's great and wondrous mysteries. Suddenly, he shares the question rolling around in his addled young mind—am I weird?—and then proceeds to reframe it with Socratic sharpness, swiftly turning the tables to reveal the galaxy-brained grimness behind his evasive eyes.
These are the unnerving opening moments of Chip's breakout music video, the 2016 single "Am I Weird" from his eponymous rap album. Delivered in a high, almost childlike pitch, the lyrics express decidedly dark thoughts that border on Lovecraftian horror. A stark contrast from his innocent appearance—the puppet version of a small boy—his worldview recalls doomsday cult rhetoric and cosmic consequences.
"As time has progressed, my flesh has coalesced," Chips explains to me over email, insistent on communicating in apparent verse. "As the shadings and degrees of my designs become manifest, I don't question the voices of the spirits choosing my choices, mastering your language to destroy it."
It wasn't always this way. For years, Chip appeared as one of several in a menagerie of movable characters in the care of David Liebe Hart. Though best known for his indelible appearances on the Adult Swim program Tim and Eric Awesome Show, Great Job! and its related offshoots including last year's I Love David, the 63-year-old puppeteer originally plied his talents on public-access cable and the streets of Hollywood. Through televised performances on the Junior Christian Teaching Bible Lesson Program as well as through his paintings and musical endeavors, he has maintained fixations on alien lifeforms and Christian Science alike, often using Chip, Doug The Dog, and other puppets to convey his largely wholesome, albeit peculiar, messages.
"Well, I'm shocked and disappointed in Chip," says Hart of his creation's subsequent shift towards the macabre. "He's become a very dark and disobedient child, but I have faith that it's just a phase, that he'll overcome his sins and be a good boy."
Based on the just-released Multiversal War, that seems unlikely. Chip's full-length sophomore set doubles down on the tenebrous and irreverent gloom of its predecessor, ramping up the wickedness with devilish intent. As works of horrorcore, the oft-misunderstood hip-hop subgenre popularized by the Gravediggaz and perpetuated by the Insane Clown Posse, death-obsessed tracks like "A Dangerous Line of Questioning" and "Culling Song" fit neatly into with the spooky rap oeuvre.
Though clearly not voiced by Hart, whose distinct singing style diverges from anything on the album, the provenance of Chip's densely-packed verses is shrouded in mystery. (Production credits here are scarce too, though online speculation points to Jonah Mociun, Hart's manager and not infrequent collaborator, as a possible contributor.) While he recognizes his wooden son's aptitude as an emcee, Hart is on record as having never been much of a fan of the genre.
"I like rap music that teaches positive messages, not destructive messages. I like rap music that teaches people to work hard and be good. I still don't like the rappers that disrespect women, that disrespect society, and are always running from the law. They should be running to the law to do right and live right and set a positive example for humanity."
A big part of what sets Multiversal War apart from its predecessor are the features from indie rap notables, including Kool Keith on "Plaything" and Freestyle Fellowship's Myka 9 on "Midnight." (Open Mike Eagle, another one of the album's guests, did not respond to requests for comment.) When prompted about how he secured such a high caliber selection of rappers for the project, Chip responds with baleful bluntness.
"I've allied with witches, wizards, demons and angels; each integral steps toward achieving my angles. Weapons makers, big pharma, opium farmers, each to fill a role in my big black hole. I've bribed bankers, platformed politicians, and outfitted militaries in my dark missions. Infecting incisions, re-routing religions for the impending interdimensional colossal collision."
Perhaps most disturbing is just how much Chip's grim message seems to be resonating with listeners. The "Am I Weird" video has amassed more than half a million YouTube views, while others shared on Hart's channel like "Black Candles" boast tens of thousands of plays.
What Chip does with that platform goes well beyond music. On his website, he currently sells bottles of something called Dr. Chip's Cure-All. The pills purport to fix everything from COVID to cooties, though the active ingredients are all forms of poison, indicating in no uncertain terms that the cure for life is, well, death. Chip defends peddling these suicide capsules (which look suspiciously like activated charcoal supplements) thusly.
"The human condition is a supermax prison. I, your savior, offer exit in an instant. Existence is meaningless and tragic, so your solitary hope is Black magic."
Whether we're dealing with a mischievous imp or the next Marshall Applewhite remains to be seen. But either scenario is a far cry from the wide-eyed Pinocchio type who once sang religious hymns on cable.
"Every parent just needs to be patient while their children are learning right from wrong—Jesus had to do that with mankind," a hopeful Hart says, chalking this all up to a rebellious period in adolescence. "I pray every day that Chip is reformed to become a positive light again."
---

Darko The Super, There's A Horse In The Hospital
If you're familiar with the titular reference, you're likely a fan of either John Mulaney or Kool Keith. For Philly's Darko The Super, this is obviously the case, as he pays explicit homage to both the beloved standup *and* Dr. Octagon while reflecting on the last four years in a way only his delightfully deranged mind could. "Greasy September" takes it back to November 2016, following with the ominously Orwellian coda of "People Are Weird When You're A Weirdo" and the ACAB bars of "Crack Smoking Donkeys From Outer Space." Over the course of cuts like "Glass Eyes" and the Donuts nodding "A Little Piece Of Plastic," Darko's idiosyncrasy only amplifies the hardiness of his mic skills and lyrical prowess.
Fat Tony, Exotica
From at least as far back as 2013's diverting Smart Ass Black Boy, it was evident that Houston native Fat Tony would do great things in hip-hop. While 2018's 10,000 Hours arguably fulfilled that prophecy, Exotica explodes anything resembling doubt about the profundity of his artistry. A series of short fictions rapped and set to music, the GLDNEYE-produced set employs precise prose, a 2020 remix of Raymond Carver and Slick Rick. From the chronically poor decision-making of "Gambling Man" to the doomed candidate naïveté of "Jeremy Bixby," he shares character studies that provide insight into aspects of American life not typically expressed in the genre. The project's sole guest, rap legend Bun B "What Wake You Up" offers some motivational bars.
Kuya, Where The Sun Rises
Queens' rich hip-hop tradition prospers still to this day thanks in no small part to how its artists reflect the boro's unparalleled cultural diversity. It's how we got the likes of Big Baby Gandhi, Cool Calm Pete, Heems, Worlds Fair, and, now, Kuya. The Filipino-American emcee gives food for thought throughout the engrossing Where The Sun Rises. In line with his oft overdriven vocal recordings, his woozy productions will assuredly appeal to those who seek "lo-fi" or Earl Sweatshirt type beats in their playlists. On "Bangsamoro," he spits bloody history over a dusty jazz groove, while, assisted on the mic by his associate Dunn, he layers a Houston screw aesthetic over "10fold Pt. 1&2" and standout "Kapit Bisig." Stick around for the short "Outro" too.
---

Three questions. Three answers. That's a wrap.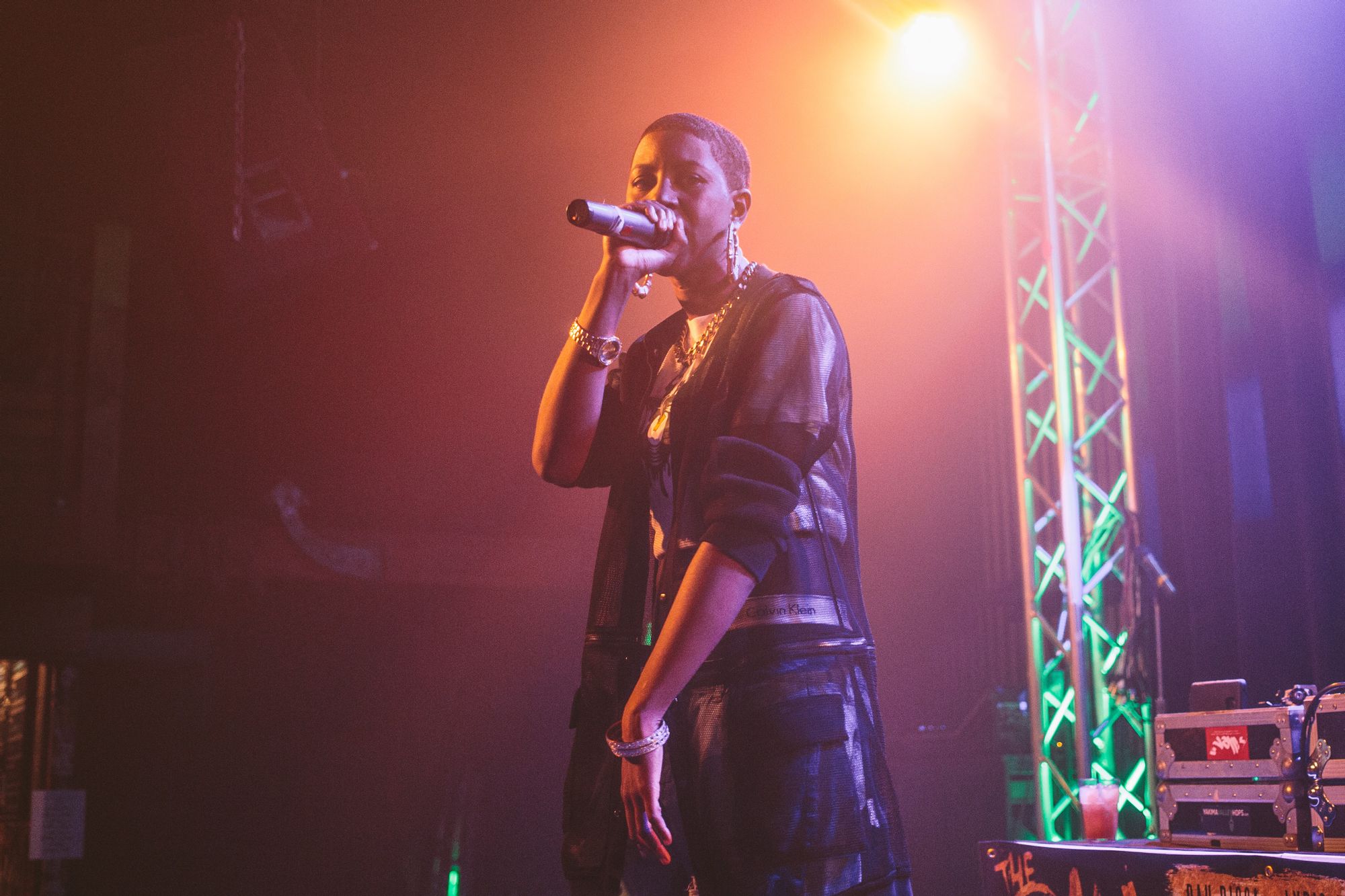 Boston-bred and Los Angeles-based, rapper Lyric Jones has been on her grind for some time. But with cosigns by the likes of Rah Digga and Phonte, she stands to see her star rise considerably with the recently released project Closer Than They Appear, which includes features from both Little Brother and Vic Mensa.
You've been putting out music for close to a decade now. How do you feel you've changed or evolved over the years as an artist?
My pen got sharper. My ear got more keen. I've become more drawn to wanting to create on the spot than getting beat sent to me. I've learned more and more about how I like to create and with whom. And, of course, my experiences over the past decade have a different tone that adds to my overall point of view. Nowadays, I'm way more intentional with my artistic moves.
How did Phonte come to be involved with your music and what was the process like working with him remotely on this album?
After building with Phonte last November backstage at their Little Brother concert, life changed forever. I learned quickly that he had intentions of reaching out to me before seeing me at that concert which gives me butterflies to think about. After a handful of deep and nourishing music conversations, Phonte said, "That's it, I'm executive producing your next album."

We got started on "Objects In Mirror" and "Angelina" in Raleigh back in February. I planned to make another trip in March but Covid happened and detoured our whole plans. The remote process had its ups and down for me as I hate engineering myself and prefer to create in person but it gave us time to sit with and demo ideas to each other which ended up working best for us in the end.
Your song "Face To Face" speaks directly to the pandemic of violence against women. What role do you feel artists can or should play in raising awareness and working towards actionable solutions?
I think artists today forget how important our voices are and also dismiss that there's room for every angle and point of view. For me, I feel a responsibility in my music to be relatable on all human issues and just things that are on my mind period. I dont think it's necessarily our "job" as artists to raise awareness but it's the "HIP HOP" thing to do (speaking on emcees). This genre and artform was born out of that. For me, I just always want to add to the discussion and elicit a reaction or thought. It's important to me for the listener to see themselves in my music no matter the topic.
Purchase or stream Closer Than They Appear here.
---

Typically, I reserve this space for throwback rap music videos, something sweet and familiar to finish up the plant-based feast that is CABBAGES. Well, it's my newsletter and I can put anything I damn well please at the end of it. So this time, I'm gonna put you on to Javier Santiago, the pianist / keyboardist / producer / bandleader behind one of the best jazz albums of 2018, the Ropeadope date Phoenix. He's performed across genres with heavyweight talents like Lauryn Hill and Theo Croker, and his latest EP ReBirth harkens back to the hip-hop energy of his old beat tape days. I can't recommend his music enough, but if my recommendation somehow isn't good enough for you go check out the single "Ancestors' Blues" below, which features rapper Wonway Posibul and critically acclaimed flautist Elena Pinderhughes.
---
See you next Sunday.
Follow me on Twitter at @noyokono and on Instagram at @noyokono too.