From his early SpongeBob sampling fare on, Chucky73 has operated outside the established bounds of New York drill. His Bronx environs a fair distance from the scene's Brooklyn epicenter, the young Dominican spitter didn't jump on the same outsourced U.K. beats that propelled his peers Pop Smoke or Smoove'L to success. Instead, he chose productions that spoke more to his experiences, as well as his broader musical tastes, leading to tracks like the funereal "Wili" and the booming standout "Wini." Thick with insular slang, Chucky's Spanish bars made entrée into his world conditional on more than just speaking his language. ("Benediciones," a remix of Calboy's hit "Envy Me," was especially nice.)
But the audience was clearly there, helping several of his music videos cross the million views mark and securing as much as seventeen times that number in some cases, enough to lure Capitol Music Group's Caroline unit in for a distribution deal back in March. After first putting the wider Sie7etr3 set on the following month with a crew-branded EP co-billed with cohort Fetti031, Chucky began dropping new singles at a fairly prodigious rate. First came "Nili" with Fivio Foreign, bridging the drill gap between their respective boros. Shortly thereafter, "Mili" arrived with fellow viral sensation ABG Neal. The former did exponentially better quantitatively than the latter, but his next team-up outperformed them both.
A highlight of the just-released De Chamaquito Siempre Cabezu album, the following single "Palos" paired Chucky with rapping reggaetonero Ñengo Flow. Even setting aside their interplay over the ominously narcotized beat, the move to collab with a respected and seasoned Puerto Rican rapper signified a link even more significant than the one with Brooklyn drill—that of Latin trap. In just a month and a half, its corresponding music video has logged more than 3.7 million YouTube views. Two weeks ahead of the album, Chucky let out another single called "Tutu," this time partnering with trapero Jon Z (best known among English-language rap fans for his feature on YG's "Go Loko.") The beat here sounded 100% U.K. drill-derived, a full circle moment that leaves no doubt of his original connection to the style.
No surprise given the abundance of collabs that preceded it, De Chamaquito Siempre Cabezu contains plenty more of them. (The ABG Neal and Fivio Foreign cuts are conspicuously absent.) Pablo Chill-E helps open the album with "Pili," while the surging star Myke Towers joins both Chucky and Fetti for the violin trap of "Zili." He revives his danceable breakouts "Brazilera" and "Colombiana" with the totally solo "Dominicana," as uncompromisingly unique as the original iterations and, again, defiantly distinct from Brooklyn drill's study-abroad instrumentation. As Latin trap stars Anuel AA and Bad Bunny successfully navigate pop spaces through reggaetón, Chucky's poised to take their place in the underground.
One of the downsides of drill's ongoing global expansion is the way it has shifted attention away from its homeland, Chicago's south side. Of course, locals know the scene remains teeming with both emerging and established acts, though the city's infamous violence described in their songs imperils them on multiple levels. With Chief Keef essentially banished by police state overreach along with the untimely deaths of Fredo Santana and, more recently, FBG Duck, most music press outlets and major record labels alike appear to have moved on from coverage beyond things tabloid or tragic, even as they embrace the U.K. and Brooklyn variants.
One exception to this apparent media blackout is Lil Durk, a veritable Chicago drill elder at the ripe old age of 28. After finally breaking free from his ill-fated Def Jam deal, he's gone on to make some of the best music of his career. Moving to Atlanta, he concurrently raised his profile considerably, to the point where younger listeners likely know him best from his 2020 features with Nav and Drake than from the "Dis Ain't What U Want" days. That clout was hard-fought for and, as it turns out, benefits not just Durk but some of his pals as well, evidenced by his Only The Family imprint's late 2019 compilation Family Over Everything, which peaked at No. 93 on the Billboard 200.
Undisputedly the breakout artist of Durk's label roster, King Von ascended online like so many before him. The viral series of "Crazy Story" tracks and a handful of others made a convincing case for putting him at the top of the Chicago drill rookie roster. With the release of his long-awaited solo album Welcome To O Block, he sets out to step into a more senior slot—and does so successfully. Its title about as direct as humanly possible, the project portrays him and his surroundings as unremittingly dark, with pleasures derived primarily from pain, generally that of his opponents.
"Gleesh Place" puts things into perspective swiftly, spouting a blasphemous litany of felonies as a warning to anyone who'd dare to step on his streets unarmed or otherwise uninformed. Set to beats by ChopsquadDJ, the brutal truths of "Armed & Dangerous" and "Demon" make Von a villainous figure, an antagonist disinterested in trying to change himself for anything as unworthy as the music industry. When he deigns to let others join his ranks, he typically draws from the proverbial block, tapping locals Dreezy and Prince Dre alongside Durk. Still, as a sign of mutual respect, he connects with Fivio Foreign and briefly indulges in Brooklyn's drill's flavor on "I Am What I Am" before returning home.
---

Billy Dean Thomas, For Better Or Worse
A Harlem native who later relocated to Massachusetts, the formidable emcee Billy Dean Thomas builds with their Bostonian hip-hop community for this critically-minded follow-up to 2018's Rocky Balboa EP. Brief yet compelling, For Better Or Worse is the product of a multifaceted talent whose pen matches their execution. On "Trump Vs. Biden," they address the madness of the presidential election season amid a social justice movement not served by either candidate. Even as its tempo creeps along, "Stressin & Flexxin" finds Thomas more and more righteously agitated as the song progresses. In addition to working exclusively with local producers, they tap His Excellency Michael Christmas for "Xan For Xan."
Lyric Jones, Closer Than They Appear
Though by no means a newcomer, having built over the past decade with the likes of J-Live and Rah Digga, Lyric Jones comes into her own here. Executive produced by the inimitable Phonte, Closer Than They Appear slips the Boston-bred rapper/singer's dextrous, dare-I-say lustrous flow into some perfectly fitting beats. "Face To Face" gets out in front of our #BLM moment, sidestepping COVID to speak plainly on the vaccine-resistant systemic violence faced by Black women. She waxes poetically about the time she's logged in the rap game on "Want To Say" and about matters of her hesitant heart on "Waitaminit." Intermittent features by Vic Mensa and, yes, Little Brother themselves serve to lure in the curious, but none outshine this rising star.
Ray West & AG, Nyluv
With one-producer-one-rapper sets all-but de rigueur, both sides of the transaction must step up to bring out their collective best. A DITC Crew legend whose first record dropped some 30 years ago, AG commits to this fully on his latest with underrated beat workhorse Ray West. Following an opening benediction by none other than O.C. himself, their Nyluv is a head trip that subverts oldhead expectations to make something befitting hip-hop's history of sonic futurism, evidenced by the sci-funk declamations of "Light Speed" and "Do You Want Me Back." Sample soul cuts such as "Can't Forget" keep the project closer to the block, as do ill guests like L-Fudge and Sadat X, but the uplifting spirit of their sessions consistently levitates the proceedings.
---

Three questions. Three answers. That's a wrap.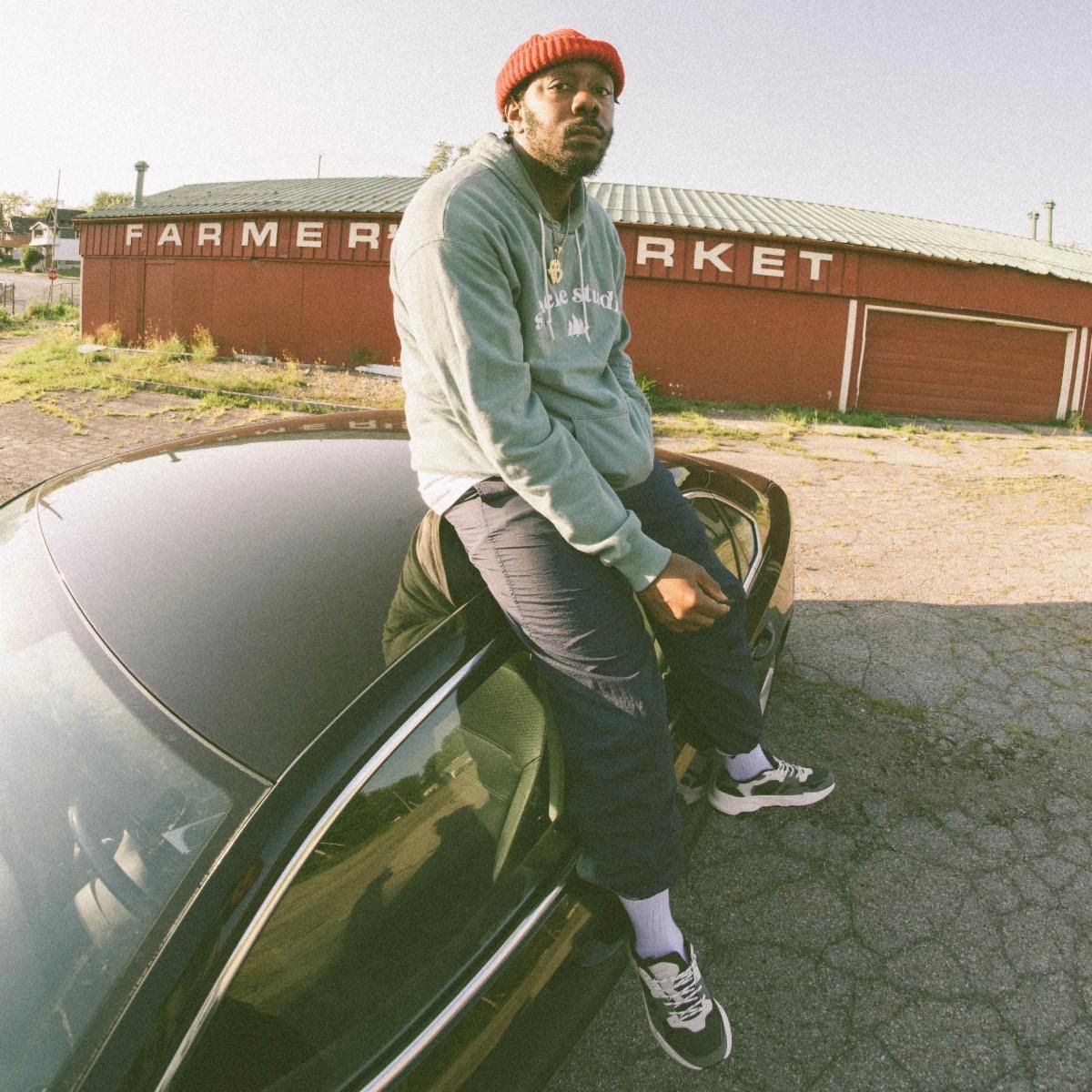 Photo credit: Lonell "LJ" Swoope
Representing East Cleveland, Kipp Stone knows full well that he's a relative underdog compared to those with proximity to the veritable industries existing in better known rap cities. None of that matters, or at least it shouldn't once people hear his latest album HOMMÈ. A confessional and revealing project, its songs show off not only his skills as a storytelling rapper but his depth as a human being.
How has being from East Cleveland shaped you as an artist / emcee?
There are layers to it because, on the one hand, there's a running joke about Cleveland and always has been. And then to be from the hood in Cleveland is like a double negative, lol, so the need to prove myself is crucial. When you come from a place like this, your success seems fleeting because it's not a major city like an LA or New York or even Chicago, so you have to stand out, or you won't make it out of here. And rightfully so because who the fuck is coming to visit East Cleveland—there's no connection for real. But being from here helps me with my bluntness. The honesty I try to give in my music is meant to be like me and the listener just having an organic straight-from-the-hip conversation.
The intro track on HOMMÉ goes into unapologetically autobiographical detail. What prompted you to open this project with such explicitly personal content?
Honestly, I wanted to go way deeper, but that's kind of what came out at the time. Looking back, I wish I would have gone deeper. I wanted it to be like one of those moments where it's overwhelming because that's what it felt like writing that. I've never spoken on some of those topics because I was just scared of what people would say, but I guess I just got to a point where I was comfortable enough to let loose. I have my homegirl to thank for that because she always be pushing me to express myself musically and just in general, so I let it all hang out. It's the only song I've ever cried writing and cried while performing. Anybody that knows me knows I don't cry often. This project is pretty much autobiographical, so I looked at it like I had to share these things. Otherwise, it's just another aimless project with no personality behind it.
As an essential worker in the midst of a pandemic, and considering the conditions under which you recorded the music, what were some of the challenges you faced while trying to make this album and how did you overcome or work around them?
I actually recorded this album like two and a half years ago, or at least it's been done since then, so the only new material I put out was "Cheap Sangria," and "Sprague Street," which made the album. Me and my bro had just moved into a new spot deeper in the hood than we were before with no studio equipment or anything, basically starting from scratch. So with everything closed, trying to hunt down studio equipment and everything else we needed during a pandemic while starting a new job in a new house was EXHAUSTING. So much so that, for the first two months of having equipment, I couldn't even make anything worth hearing. Other than that, the extreme boredom did not help at all, but we making it through and making what we got work.
Purchase or stream HOMMÈ here.
---

This year Halloween fell on a weekend… I mean, it did, right?
---
See you next Sunday.
Follow me on Twitter at @noyokono and on Instagram at @noyokono too.