Some ten years ago, hip-hop unleashed an audio epic of movie monster proportions on the world. Immaculately produced and blessed with essential verses from some of the finest spitters in the country, this groundbreaking project tied together the loose threads of multiple regional genre fiefdoms to unite the genre in theretofore rare fashion. Though headlined by one man, a charismatic leader of the pack, the resultant piece of work reflected the diverse contributions of an exceptional ensemble of talents that brought their A-game every step of the way.
I'm talking, of course, about French Montana's Coke Boys mixtape. Preceded the year before by the seminal Max B team-up effort Coke Wave, the 2010 project and its companion set Coke Boys Tour put the titular movement on the map. With representative verses by Chinx Drugz, Cheese, and Flip and beats by Harry Fraud, the classic core of the crew was firmly established here, setting the stage for sequels and spinoffs galore over the subsequent years. Yet even as Montana's career trajectory subsequently soared with Billboard-charting major label hits "Ain't Worried About Nothin" and "Pop That," the fate of the Coke Boys proved bleak.
From his beloved Cocaine Riot series and the standout radio single "Feelings," Chinx seemed like he had next in the set, only to be murdered in his prime in a 2015 drive-by shooting in Queens. Though Fraud remained connected to Montana's growing discography of albums and tapes, the other members soon mysteriously faded from those higher profile next efforts, including 2016's stellar Wave Gods, hosted by an incarcerated Max B, and the 2017 solo LP Jungle Rules. By the time last year's semi-eponymous and underrated MONTANA dropped, the Coke Boys presence had gone from pure bricks to veritable residue.
So it came as quite the surprise when, nearly seven years after Coke Boys 4, Montana announced a fifth volume dubbed CB5. Over the course of its 19 tracks, the hourlong project offers spiritually unitarian features that line-up with the previous installments' guest-heavy ethos. Once again, former mixtape mainstays Cheeze and Flip are conspicuously absent. However, from early on, there are some strategically significant appearances, first by Dipset member Jim Jones on opener "Too Late." Coke Boys connoisseurs will no doubt recall the infamous and lengthy beef between Max B—also, concurrently, Montana—and his erstwhile ByrdGang ally, which has thankfully been quashed. And while Biggaveli doesn't join on that particular cut, he graces a handful of others including the triumphant "Phenomenon."
Following that momentous reconciliation, the next one comes from Lil Durk, who depending on what blogs you've read was at least a semi-official Coke Boy at one point during his career. The two fell out at some stage, which makes his repeat appearances here almost as notable as Jones' sole spot on the intro. Of these, "Brothers" hits closest to the heart of the matter, alluding strongly to their tumultuous history as well as their shared and lived-in sense of personal loss. In that same vein, the posthumous verses from Chinx on the trap bap cut "Could It Be" and Pop Smoke on the drill banger "Double G" respectively remind that both talents were taken from us far too soon. Admittedly, Montana sounds more at home over the former's bellringer beat than the latter's 808 Melo production. But given the broadness of the hugely popular Shoot for the Stars, Aim for the Moon, it's a forgivable misstep, albeit one he repeats with Durk on "Yes Sir."
Less justifiable is "Paradise," a flaccid dupe of his Hot 100 hit "Unforgettable" that subs out Swae Lee for a cringeworthy copycat take courtesy of Rafi Malice. Older fans like myself romanticize the earlier tapes, often to the detriment of Montana's album outings. But if we're being honest with ourselves, each of those projects took some risks that didn't quite pan out or, in retrospect, demonstrate some fairly blatant trend hopping. So when CB5 revisits the exultant sounds of the Coke Boys canon, as on "Wave Blues" with Benny The Butcher" or "Straight For The Bag" with shouty Philly rising star LGP Qua, that makes it all the easier to overlook throwaways such as the ill-fitting pop ditty "How We Doin It" with Lil Mosey. No matter what, you gotta love when he's in that distinctive Harry Fraud pocket for "In The Sun, Pt. 2" and "I Know."
---

Roc Marciano, Mt. Marci
There isn't enough credit in the world to bestow upon Roc Marci for what he's given to the rap game. From his entrepreneurial repudiation of the streaming model to his prescient contributions to both the musical and lyrical direction of underground hip-hop, his impact has been nothing short of seismic. So it seems only fair to erect a damn mountain in his honor. Largely self-produced, the Rushmore-sized Mt. Marci represents the latest triumph in a career defined by triumphs, exhibited via nimbly delivered bars stuffed with guerrilla wisdom on next-level dope cuts like "Spirit Cookin" and the contemplative "Steel Vagina." Bridging generations to reflect his reach, he shines his maglite upon streets disciple Stove God Cook$ for "The Eye Of Whorus" and terrorizes Manhattan on "Broadway Billy" with the legend Kool Keith.
Chore Boy & Brad Kemp, Surrealistic Brillo
Whether or not you picked up on the titular Jefferson Airplane pun, there's a lot to like in this short, moody offering from Chicago emcee Chore Boy. On the mic, he favors a desert dry, matter-of-fact monotone, making him the ideal foil for producer Brad Kemp's subtle soul beats. An end-of-days vibe drives Surrealistic Brillo, evidenced by the apocalypse pondering of the Wu-apropos "Lactose Intolerant" and the self-aware check-in "Too Weird To Live, Too Rare To Die." Addressing the COVID elephant in the room, "Like Me" cuts through the bullshit over thumping lowpass filter funk. Still, "Killing In The Name" glitters more than it grimaces, snatching the refrain from a Rage Against The Machine classic as its coda.
GILA, Energy Demonstration
As the production half of 2010s hip-hop duo Gorgeous Children, GILA pushed grim yet immersive soundscapes underneath Face Vega's bars. Now on his own, the Denver native continues to build compelling sonic structures informed by—though not beholden to—that bit of his recent past. Released on Lex Records, the same imprint behind DANGERDOOM and the recent Pink Siifu x Fly Anakin collab, Energy Demonstration generates chills and other visceral sensations as it trudges through the post-trap stylings of "Death Slump" and the title track. A breathtaking disquietude binds these rhythmic instrumentals together, as "Buffalo 2 Miami" dismantles the proverbial 808 bump and the technoid "Whoalotta" evokes a purple syrup dystopia.
---

Three questions. Three answers. That's a wrap.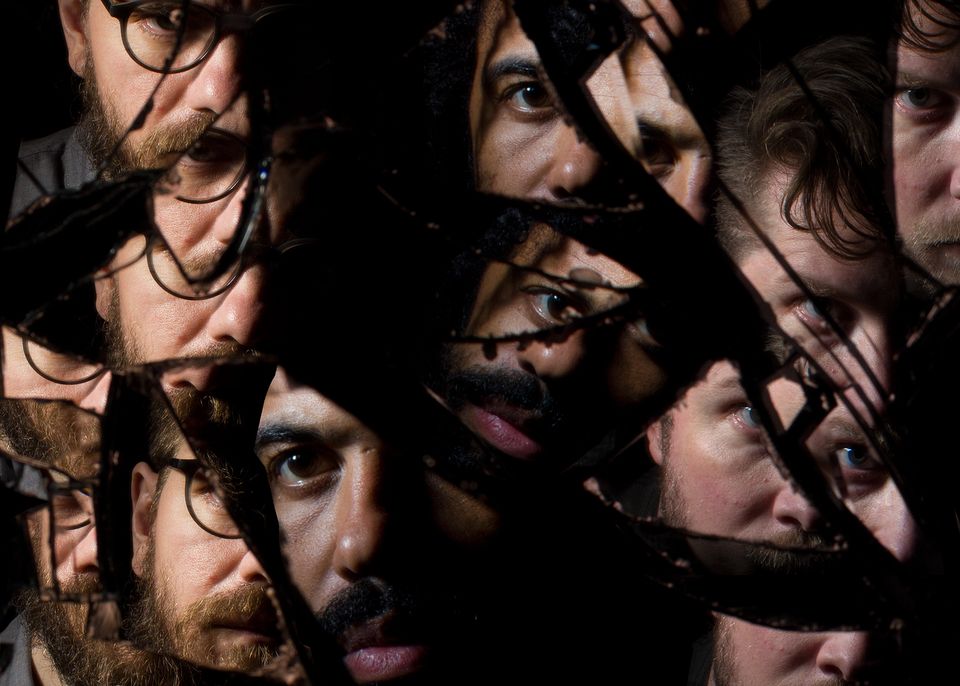 Weaponizing noise and hip-hop with nuclear results, the Los Angeles trio clipping. has upended genre expectations with every project. Effectively the second half of an apparently extempore dyad, the recently released Visions Of Bodies Being Burned for Sub Pop Records continues to blend horrors real and imaginary, both lyrically and well as musically. A co-founding member, producer William Hutson speaks to the latter below.
Was it always the intention to release There Existed An Addiction To Blood and Visions Of Bodies Being Burned as a two-part project, or was that something that happened more naturally in the process of making these songs?
It was supposed to be one album but we made too many songs. Once we realized that, we decided we could either cut half the songs and use them as B-sides to the singles, and give them out to compilations, or we could split into into two albums. The plan became to drop the first album in October 2019, and because [Daveed] Diggs was shooting Snowpiercer he couldn't do any shows, we'd drop the second album as a surprise the moment we were able to go out on tour. But then COVID hit and all our tours were cancelled. So we held the second album until October 2020. And we still can't tour.
Industrial, noise, and power electronics have long played a role in shaping the aesthetics of your music. How has the application of these (sub)genres and their techniques evolved over time as the group's work has progressed?
I think we've gotten better at using noise and experimental techniques to make music that is both weirder, and more catchy at the same time. A song like "Pain Everyday" uses much more unusual techniques than anything we did on our first few projects, but is, at the same time, a more approachable, "listenable," traditionally catchy song. Same goes for "Eaten Alive," I think—the choice to have two free improv players just go to town is an odd one, but we've learned how to hold everything together so that the song structure is still legible underneath. We tried something similar, in fact, in 2014 (it's only on the B-side to the "Ends" 7") and it ended up sounding like slam poetry instead of rap. What we talk about a lot is trying to push in both directions at once—weirder, more complicated processes refined into recognizable songs that make sense to people who don't necessarily understand noise, or care about experimental music.
What was it like working with Michael Esposito to integrate electronic voice phenomenon (EVP) into the track "Pain Everyday"?
Michael is a friend of my friend Sarah Brady, who has a music project with Michael and Adi from Clock DVA. I had always admired Michael's work, and think what he does is fascinating. Knowing that he often collaborates with musicians, and that he comes from that underground scene, I just reached out and asked if he'd be interested in contributing some EVPs. We discussed themes, and he went out and recorded some stuff that he thought would fit, conceptually.
Purchase or stream Visions Of Bodies Being Burned here.
---

This week marked the tenth anniversary of Nicki Minaj's Pink Friday, her debut album for YMCMB. In a move that will delight the Queens rapper's day ones and ride-or-dies, the label dropped an expanded version of the album dubbed The Complete Edition. It expands the original 13 song offering to a grand total of 21 tracks, at last gathering the loose songs from the various retail and e-tail editions that contemporaneously existed into one cohesive unit. While in principle the release celebrates this hip-hop milestone, there's a glaring gap that prevents it from truly being "complete," namely the exclusion of its would-be lead single. Produced by Alex da Kid and featuring Sean Garrett, "Massive Attack" first appeared as audio and as a music video in April of 2010 and was originally intended for her album. Though it never made it onto any Pink Friday edition, Minaj's discarded track continues to receive love from fans, who've given it more than 75 million YouTube plays to date.
---
See you next time.
Follow me on Twitter at @noyokono and on Instagram at @noyokono too.