This newsletter marks the thirty-sixth installment of Irregular Vegetables, a weekly series of CABBAGES emails where I share links to recent writings from other hip-hop/rap journos and critics, squeezing in my own work as I see fit. These midweek editions hit inboxes every Thursday. Enjoy this week's reads and keep scrolling for an interview with the one-and-only Beans.
---

How Ringtone Rap Influenced Modern Hip-Hop
Ringtones were one of the first examples of hip-hop's early mover advantage with new technology. It happened with YouTube, Twitter, Vine, digital streaming, Cash App, and now Clubhouse. The list goes on. There's an eagerness to check for the latest thing. It often stems from an entrepreneurial spirit. But it also stems from a lack of faith in the traditional system. That extra hustle is how hip-hop got to where it is now, and that won't change. (Read more at Trapital)
It may seem jarring to lay all this out at the beginning of the story, to start with a sudden cold plunge into a life-fracturing subject. In a year marked by undeniable success of Megan's own making—the viral moments and omnipresent bops and joyous social media antics—this lone and shitty incident (that she didn't create) has loomed persistently. Instead of sinking into the muck of a bad situation, Megan has chosen a way forward—not only by continuing to live her Hot Girl life, but also by transforming the ugliness of it all into an urgent message about how Black women in this country should be treated.(Read more at GQ)
OutKast Was At The Helm Of Black Expression In Fashion
In the 1980s and early '90s, rap groups like Run-D.M.C. and Public Enemy mostly wore correlating looks, but OutKast knew early on that they were the misfits of the industry. Big Boi, exuding a cooler-than-life persona by rocking braid-outs or sleek perms, would pair his flamboyant hairstyles with what we would consider now a vintage sports jersey. Andre 3000 from the outset was more experimental with his style. In the video for their first single, "Player's Ball," his '90s rapper uniform consists of an oversized baseball jersey, jeans, and a gray fur Kangol. Pointedly, both men's fashion statements and personae refused to conform to fit into narrow boxes. (Read more at Harper's BAZAAR)
Lo-Fi Hip-Hop Has Become One Of The Internet's Most Popular Subgenres; Is Slowed & Reverb Next?
Both lo-fi hip-hop and slowed and reverb are derivatives of some of rap's most prolific sound shifters, the former owing itself to the soulful samples and unquantized, boom-bap drums of J Dilla, and the latter to the hypnotic slowness of DJ Screw's chopped and screwed. The two subgenres have faced similar criticism because of this: both are seen as diluted, palatable, and simplified versions of the original sounds they're replicating, as well as appropriative, with most of the producers — and YouTube radio show operators — representing the lo-fi hip-hop subgenre being white men. (Although slowed and reverb has also faced this criticism, it's important to note that fans of the subgenre consider Slater, a Black man, as its originator.) (Read more at Okayplayer)
DJ Spinbad Recorded 'Rock The Casbah' On A Broken 4-Track
Like so many innovative DJs and producers before him, he embraced the paltry limitations of his initial setup and made it work. Using three-track recording capability, two turntables, a mixer, and a stack of records, his love letter to the 1980s expertly rode the line between accessibility and technical mastery. Every section of the tape included enough beat juggles, scratches, and DJ tricks to wow technical nerds while simultaneously keeping the casual listener's interest. (Read more at Micro-Chop)
A History Of Jeezy And Gucci Mane's Beef
When Jeezy and Gucci Mane recorded their first collaboration, Jeezy was under the impression that it'd land on his debut album, 'Let's Get It: Thug Motivation 101.' Instead, Gucci used it for his first independent album, 'Trap House.' Later, a pissed off Jeezy would claim that he was never even paid for his appearance. "Icy" went on to peak at No. 46 on Billboard's R&B/hip-hop chart, while having a larger impact across the South. (Read more at Complex)
---

Three questions. Three answers. That's a wrap.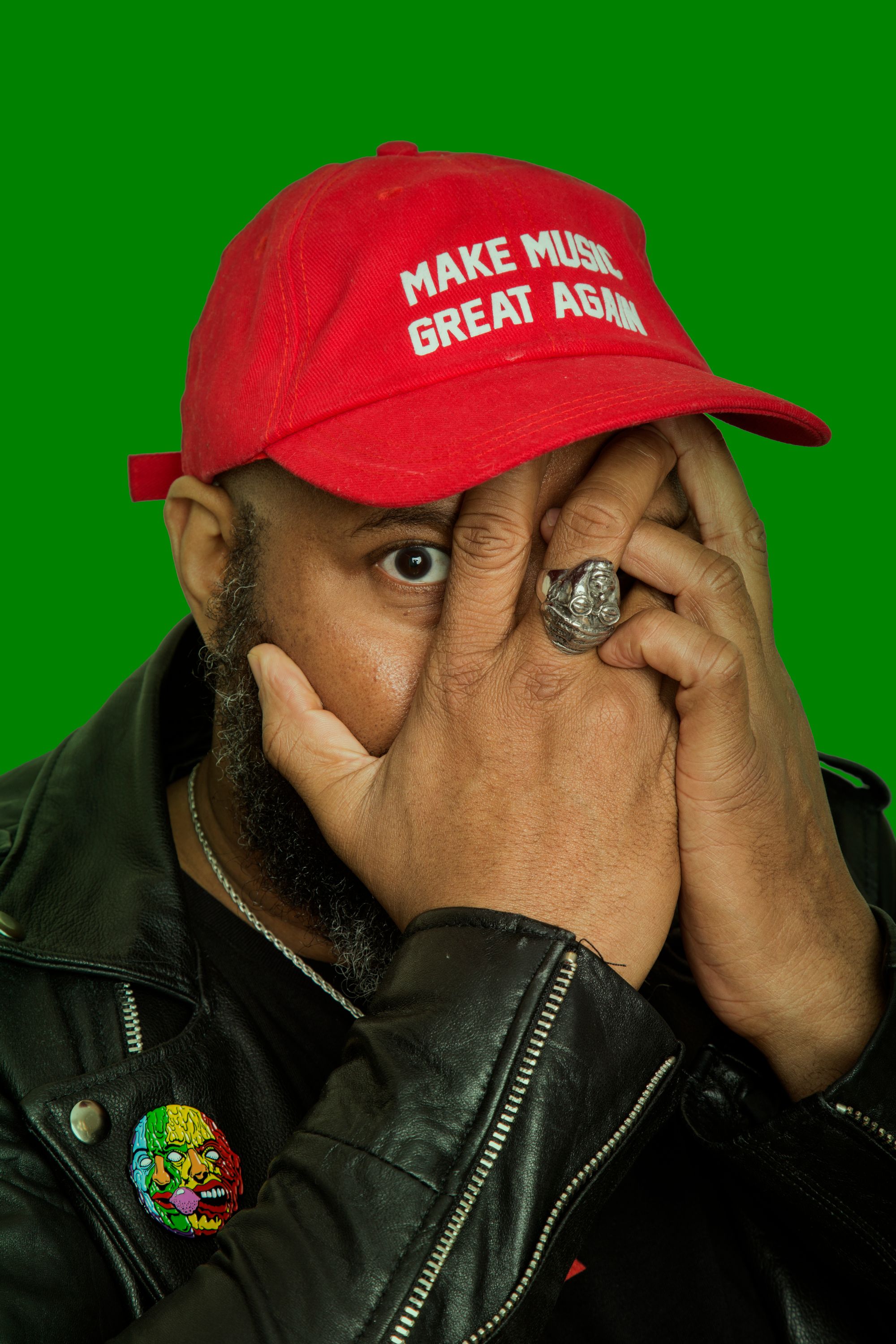 From his seminal work in the NYC underground group Antipop Consortium to his subsequent succession of solo albums for Anticon, Warp, and his own Tygr Rawwk imprint, Beans has long been the emcee to beat. His latest album is Venga, another testament to his astounding microphone prowess and left-of-center visionary aesthetics.
Venga opens with the song "A Dark," during which you rap relentlessly for six straight minutes. How did you develop that kind of stamina as an emcee and how do you maintain it at this stage in your career?
There's a quote that Benny the Butcher says on his latest album, Burden of Proof, about how this game is a man's sport and that men don't get better at it until you hit middle age. I always felt that was true with the artists that have been influential to my own work. Stan Lee & Jack Kirby were in their 40s when they created the Marvel Universe as was Miles when he did In A Silent Way then Bitches Brew. I feel that as an artist who's getting older that I'm at that point right now where I'm wayyy more comfortable with who I am creatively and then where I was when I first started out.

On my albums, I always wanted to experiment with a shorter number of songs but have those songs be longer in length like "A Dark" and "Lyedecker" on Venga and "Catch My Sick" on Nibiru Tut. The influence of wanting to stretch out in that way comes from jazz where somebody would solo on a record and just rip it. That same soloist approach is how I view those types of songs you can blackout on. Even in my listening taste, sometimes I just want to hear a dude just spit.

Who don't love that?

In the days of old & pre-pandemic, where there were live shows, I always hated when the performer started talking to me. As a member of the audience, I don't want to have a conversation with you. I just want to hear and see you on stage just killing it. That's what I came to see. Just because I've reached a certain age doesn't mean that my perspective on being an MC has deteriorated with time. As I keep putting out my own material on my own imprint, Tygr Rawwk, I don't necessarily have to incorporate choruses all the time either. On certain joints, I can just bar down.

To me, it's not the pen that ages you but your approach to it. My personal mic is named Larry. As long as I have the physical strength to pick up Larry or a pen, that mic and pen are my bitch.
In recent years, you've worked not infrequently with producer Ay Fast (of Schematic fame). Can you tell me a bit about what draws you to him as a collaborator and the nature of your creative process as a duo?
I first met Ay Fast at the Grog Shop in Cleveland where he opened up for Anti-Pop as we were on tour doing shows to promote Fluorescent Black. It was his birthday that night and he was crazy drunk. He had invited us to celebrate it with him at a house party that we didn't attend. Years passed and I had just moved to Cleveland and was starting to look for producers to work with me on an album for a concept that I had, which later became HAAST. The engineer that I was working with at the time had given me a list of 3 or 4 producers to reach out to in the area and Ay's name was on that list.

When I was investigating Ay's joints on Soundcloud, I thought what he was doing musically would work with what I had in mind for HAAST, so I called him. The night we spoke, he recalled us previously meeting at the Grog Shop. I didn't remember meeting him that night, but we've been working together for a few years now since that phone call 5 years ago.

Also on that list was another producer named Christopher Auerbach-Brown, an extremely talented multi-instrumentalist who's done all the string arrangements over Ay's production. Chris was once Ay's music teacher in college. The strings that you hear on my joints are not samples. If it's a joint of mine that Ay has produced and has featured strings on it, Chris arranged and produced all of the string parts that you've heard on joints like "A Dark" on Venga and "Decapathon" on HAAST.

In Ay Fast, I found a producer who could create hard percussive experimental or even extreme electronics in the vein of Autechre, but has a large percussive swing to his joints that an MC could still get busy on. Ay used to play in this noise band, Jerk, but has been doing hip-hop production since he was in high school. His more extreme material he saves for his side project, Icky Reels. Another reason why I like working with Ay is because he's pretty open minded when it comes to trying new approaches to his very distinctive sound. Ay doesn't always produce tracks with a vocalist in mind, so there's been times where I had to figure out ways to make his instrumentals work for me lyrically. When Ay Fast sends me a joint, I sometimes admittedly don't always know how to approach them.

Over the years, there's been some serious challenges in trying to figure out what I was gonna do over his beats. One of the biggest challenges that he's presented to me as a producer was "I Don't Play," which you can hear on Nibiru Tut. I can't even lie to you that I was so intimidated by that joint when I first heard it. I loved it immediately with all of the change progressions and how unwavering that it was. At one point, I contemplated leaving it as an instrumental. I thought I was gonna fuck it up rhyming over it and, to this day, I still question myself whether I did it justice. I tried. I love that beat so much and I hope that love comes across on it lyrically. After all these years, Ay makes joints tailored to suit me but each track he sends retains its own unique challenges. You'll soon be able to hear those newer challenges from myself and Ay on the next 3 upcoming releases Pleaser, Tradecraft, and Beans Is Wack.
This year marks the 20th anniversary of Tragic Epilogue, the first Antipop Consortium album for 75 Ark. Looking back on those days, what experiences or lessons did you take away that apply to your work today?
Stick to your guns!

When APC first started, we faced a lot of opposition from traditional hip-hop gatekeepers. We were told by Rawkus that they didn't want to sign us because we didn't make records specifically for the Fat Beat kids. After independently pressing the vinyl for "Disorientation" on Priest's label, Anti Pop Records, we tried to get our record into the Fondle'em shop, but Bobbito wasn't having it at the time. To his credit, he ended up playing the record a year later, but it took a chance purchase from Gilles Peterson overseas to be the first person in the world to break APC. We raised our own money and booked our own 2 week tour in London.

It was during that tour where we met Roger Robinson, poet and author of A Portable Paradise, as well as being a third in the trio, King Midas Sound with Techno Animal's Kevin Martin. Roger introduced us to Attica Blues, which later led us meeting DJ Vadim, and eventually us recording The Isolationist album with him.

Before the creation of The Tragic Epilogue, I was touring with Vernon Reid and had just finished a month long tour in Europe. I decided to stay for 2 weeks as a mini vacation to myself. I ended up staying in London with Roger for half a year. While I was over there, Priest came to visit for a week and that's where I first heard the seeds of what was to become The Tragic Epilogue. Some of the material for The Tragic Epilogue was previously released material from a series of mixtapes that we had put out called the Consortium Tapes in volumes 1-3. It wasn't until Priest came over to London before I heard songs like "Laundry," "Rinseflow," "Your World is Flat," "Smores," and the foundation for what would become "What Am I?"

After I got back from my excursion, we finished up Tragic Epilogue and started sending it off to labels. Gilles Peterson had wanted to sign us to Talking Loud and was actually in the studio with us when we recorded the beat for "Lift." One of the first labels earlier on that we thought would be a good fit for us was Warp Records. Warp hadn't put out nor signed any hip-hop acts, but the roster was incredible. All the artists on Warp were all individually interesting and making such amazing music. I was always and will always remain a fan of the label, even after the end of my professional relationship with them.

75 Ark picked us up because of DJ Spooky's connection to Erik Gilbert when he left Asphodel to found the label. Years later, I met Steve Beckett, one of the founders of Warp, in New York during the label's anniversary celebration. I was introduced to Steve via his girlfriend, Anna, who was friends with Roger that I had previously met when I stayed in London. After we had already signed with Warp, I remember we were in London at the Warp offices going through a box of demos that were sent to the label. After listening to a few not very good submissions, we stumbled upon the demo that we had sent to Warp for The Tragic Epilogue. We found our demo collecting dust at the bottom of the box of their demo tape submissions.

A year or so after APC parted ways and I was promoting Shock City Maverick, I was doing a show in Vegas with Holy Fuck as my backing band. I didn't know it at the time, but we were being considered as an opener to tour with The Flaming Lips. Backstage at that show, I met Wayne Coyne and he told me that no matter what's happening now, stay weird. That people will catch up to you and eventually, they will do so because you stayed true to your aesthetic and given time, it'll work for you. We didn't get the opener slot for that tour but I was able to walk away from our meeting with that tidbit of wisdom.
Purchase or stream Venga here.
---
See you on Sunday.
Follow me on Twitter at @noyokono and on Instagram at @noyokono too.