2021 Is The Year Of Myke Towers
+ an interview with Erick The Architect. This is CABBAGES #053.
Back in December of 2017, most American hip-hop fans had no idea who Bad Bunny was, nor what he would become. That month, the Billboard Hot 100 debut of his single "Krippy Kush (Remix)" with reggaetonero/rapper Farruko was credited more to its Nicki Minaj feature than to the burgeoning Latin trap movement. Six months later, the former supermarket bagger had the No. 1 song in the country, his verse flanked by Cardi B and Colombian popstar J Balvin on their shared boogaloo banger "I Like It." (Don't say I didn't warn you.)
Not obvious to those who passively accept whatever the still predominantly major label fixated music industry funnels into their ears, the signs of Bad Bunny's imminent and inevitable rise were evident to those who followed Latin music. Weeks before the bilingual "Krippy Kush" dropped to the delight of Barbz everywhere, he already had a hit on the Hot 100 with Becky G, who was actively paving a post-Dr. Luke career path for herself, with the Spanish-language single "Mayores." The reggaetón-pop hybrid gave Bad Bunny space to safely spit his lightly lascivious bars, a formula for success that other traperos including Anuel AA would adopt in the years to come.
If anyone mastered this approach in Bad Bunny's cottontail wake, it's Myke Towers. Hardly a newcomer to the scene, the 26 year old Puerto Rican rapper has been on his grind for years, championed by genre stars like Arcángel and De La Ghetto for some time. His 2016 single "Inverso" with NYC-based Latin trap pioneer Messiah carries all the hallmarks of the street-centric sound, as does much of his material released through 2018. A turning point year, 2019 was when he scored his first Billboard Hot Latin Songs hits, namely the slinky reggaetón single "Si Se Da" with Farruko and the peppy pop-rap cut "Dollar" with Becky G.
From the tropical trap of "La Playa" to the reggae inflections of "Inocente," his genre-fluid ability to mix singing and rapping a la Bad Bunny and Anuel—not to mention many charting English-language hip-hop acts of the time—showcased Towers as a versatile artist. In a singles-crazed Latin music scene defined by intense competition and one-upmanship week-in and week-out, that made him a power player. Case in point, his rising star power found him on the Hot 100 three times in 2020, the highest ranking of these being the "Caramelo" remix (No. 76 peak) with Ozuna and Karol G, two well-established hitmakers on the all-genre chart.
Though sonically and stylistically distinct from Bad Bunny, whose latest album El Último Tour del Mundo brought Latin hip-hop its big emo rap moment, Towers stands to become 2021's biggest new Spanish-language superstar based on many of the same metrics that portended El Conejo Malo. He currently boasts four tracks as a lead or featured artist in the Hot Latin Songs top ten, three of which also concurrently appear on Billboard's not-infrequently prophetic Bubbling Under Hot 100 chart: "La Curiosidad" with DJ Nelson and Jay Wheeler, "La Nota" with R&B reggaetoneros Manuel Turizo and Rauw Alejandro, and "Mi Niña" with Los Legendarios and Wisin. All those songs are actually 2020 holdovers, their popularity propelled by robust radio airplay as well as digital consumption.
It bodes well for Towers that his singles—one dating as far back as July of 2020—are poised for Hot 100 crossover in the first month of 2021. His growth as a commercially viable act over the past two years puts his newest tracks in line for relatively more rapid chart movement, including a few that skew more towards hip-hop than pop such as "Bandido" and "Los Bo." The latter in particular is a pure trap team-up with Jhay Cortez, who has had the biggest Latin single in the U.S. for ten weeks running with Bad Bunny's "Dakiti," and serves as a sharp reminder that Towers has Drake-esque mic appeal and, perhaps, similar potential.
---

Lukah, When The Black Hand Touches You
Representing South Memphis is no small task in hip-hop. Yet Lukah does so with fidelity and precision on this trend-defying full-length. Not content to follow anyone's lead, his When The Black Hand Touches You flows for 45 minutes with filmic finesse, standing out like a regional rap mobster saga amid the city's already plentiful trap tales. The beats, the bulk of which are self-produced, provide heritage soul comfort to warm the rapper's ice cold calculations and righteous kills on instantly engaging songs like "Black Water" and  "Shutters." Free from features, his voice booms with a narrator's authority and omniscience over the sour n' sweet switch up "Ammo / Pearl" and the Cities Aviv helmed "Spree / Filthy." Griselda heads: you need this.
Paavo, Crumble A Paper Man
As hip-hop's sonic borders prove more and more porous in our digital present, there's still plenty of nostalgia for an analog era. Presented as tribute to the East Coast Golden Age, Crumble A Paper Man finds rapper Paavo and producer Burnt Bakarak paying a virtual pilgrimage to the boom bap of yore. Still, this ought not be considered some reductive or dated effort, given how downright fresh tracks like the lively "Anything With A Pulse" and the delightfully spartan "Salary" sound. The emcee shares a refreshing raison d'être on "Dumb Bastard," its dismissive title a thwack of common sense to the dome. Scratches by DJ Navin Johnson on "Desire" and LMT Break on "Hex" add classy vintage touches to these thoroughly enjoyable proceedings.
OG Swaggerdick, Flaccid Rap
When we last left our hip-hop anti-hero, he was suspended precariously from the ceiling with only a microphone and a helium balloon to fend off Eric Andre and his cattle prod. OG Swaggerdick's brave appearance on Adult Swim's abusively gonzo talk show would have endeared me to his latest project even if it wasn't packaged as a parody of Chance's agonizingly hyped breakout tape. And while the Boston-bred rapper's leftfield sense of humor makes Flaccid Rap an easy breezy listen, these ten tracks are anything but disposable. The maddeningly catchy "Let Out Boyz Anthem" absolutely lives up to its name, while the bleepy "Might Get Rich" plays up the proverbial come-up with a clever couplet referencing J-Kwon and Lil Wayne classics.
---

Three questions. Three answers. That's a wrap.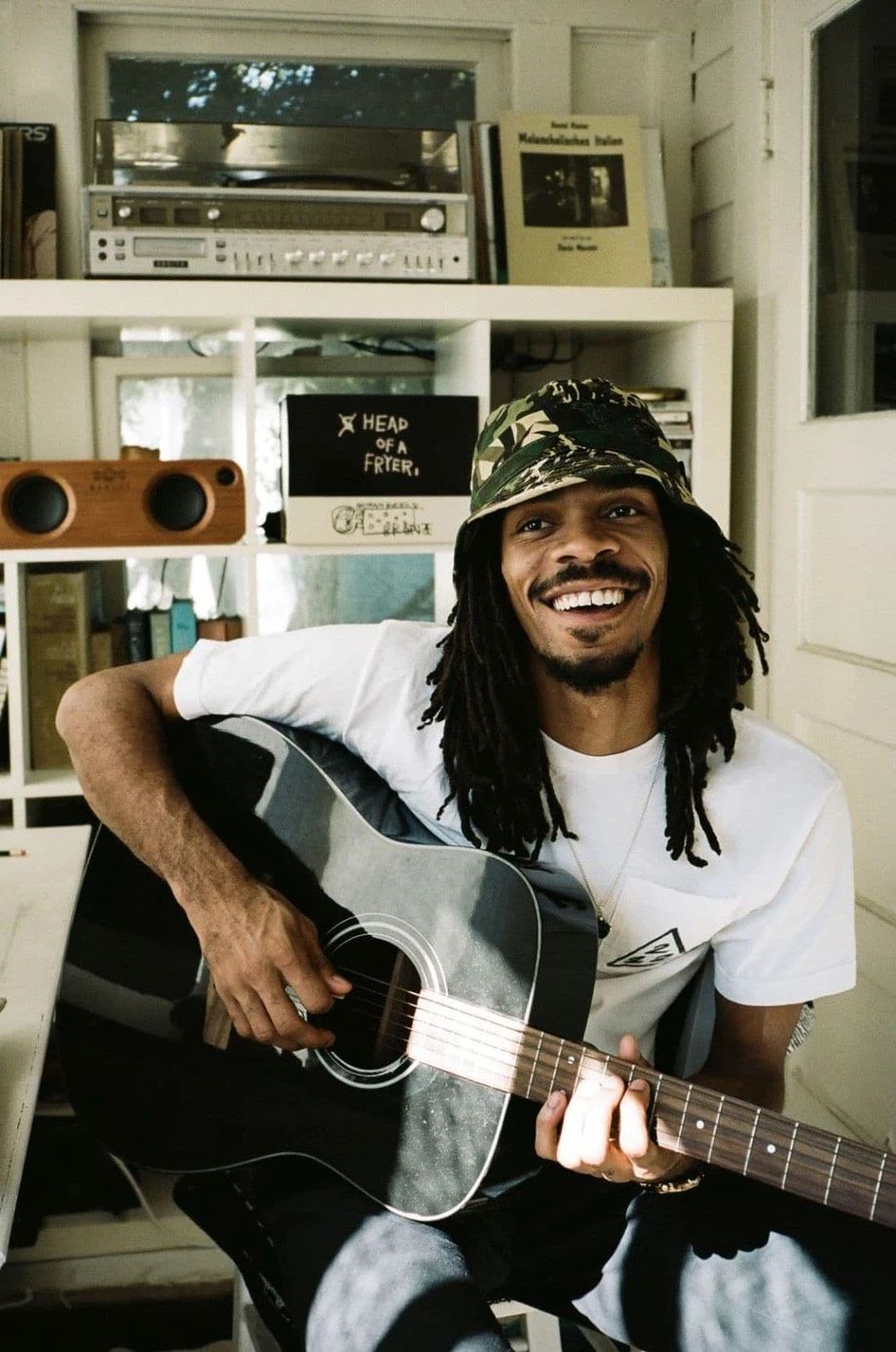 A core member of the New York group Flatbush Zombies, Erick The Architect has spent roughly a decade honing their darkly trippy sound. That said, fans of the trio's discography or even his work with A$AP Twelvyy and James Blake might be surprised by the music presented on the soon-to-be-released solo effort Future Proof, a record that showcases different and diverse sides of his artistry.
The songs on Future Proof have a distinct sound, one divergent from the work you've done with Flatbush Zombies. What do you feel like you were able to accomplish with this project that you couldn't or haven't with the group?
I think that, when you are in a group, you sometimes sacrifice an individual message in order to tell a singular story. The music I do alone is a lot more intimate and personal. It gave me an opportunity to say a lot of the things I've hinted at in some of the music I've done in the past with FBZ—but I think any real fan of FBZ could tell that there was another side to what they were witnessing for all these years.  With Future Proof, I was able to focus on writing and steering the songs with my words without having to think about the production as much.  Linden did a great job at feeding me beats that fit like a glove.
Has it been challenging for you to create during these past nine months of pandemic and, if so, what strategies have you used to combat those challenges?
I'd be lying if I said I didn't struggle over the course of the last year, but I think I found a way to focus that discomfort into an energy that's productive and positive. I wanted to make songs that would be a time capsule for the time we are all experiencing right now.
Your recent single "WTF" deals head on with extremely pertinent issues of our time, on both a local and macro level. What role do you think artists like yourself can play in making their cities and this world more just places?
I think every artist (ones with big platforms or not) should be forward about helping the community they were raised in flourish. Once you have the support of your neighborhood, you are now the ambassador for anything that goes on in or around it. With that power, a lot can be said in terms of how to change things (especially) if it's dealing with issues the rest of the world may not be aware of. You can be that voice. "WTF" was my offering to show where I stand on some of the issues that have been present in our country systematically, and what I think needs to be done in order to "Future Proof" ourselves for the years ahead.
Future Proof releases on January 22. Visit his website for more information.
---

Two months ahead of Gucci Mane's 2011 largely Drumma Boy produced The Return of Mr. Zone 6, which proved his last major label album project until 2016's post-incarceration comeback Everybody Looking, the trap god was feeding the streets with yet another mixtape in his prolific run. Produced by an ascendent Southside, the title track off Gucci 2 Time offers up that seminal 1017 Brick Squad vibe that helped him win—yeah I said it—his recent Verzuz battle against Jeezy. This weekend marks the tape's 10th anniversary, as good a reason as any to revisit this particular cut.
---
See you next time.
Follow me on Twitter at @noyokono and on Instagram at @noyokono too.