In a perverse yet predictable turn of events, Pop Smoke's untimely death has only expanded his reach. While his absence during what promised to be 2020's biggest ascent in rap has opened doors for a slew of his Brooklyn drill peers, his legend continues to grow exponentially in the weeks and months since his as-yet unsolved murder. In addition to posthumously soaring up the Billboard Hot 100, his "Dior" became an unlikely part of the George Floyd protest soundtrack reinforced further by a Gunna featured remix on the deluxe edition of the Meet The Woo 2 tape. Incredibly, Pop Smoke's first proper album was originally expected to drop this past Friday. But with civil disobedience and record label reckonings underway and ongoing, the release got punted to July 3rd.
While there's little information as to what will actually appear on this presumedly full-length effort, we do know at least one of its guests for sure now. Republic Records shared its first single "Make It Rain" (fka "Woo Weather") with none other than GS9's Rowdy Rebel, currently serving out a prison sentence that effectively began with his 2014 arrest and could potentially end with his parole as soon as the end of this year. The "Computers" rapper hopped on the phone to record a verse that, even with the relatively low audio fidelity, reminds us nonetheless that he was once considered next on deck.
Incarcerations have long derailed rappers' careers, stifling their promise or otherwise preventing them from achieving their goals. In some cases, they serve their time ahead of making it big, as in the cases of Conway The Machine and Westside Gunn of Griselda. Then their sentences speak to credibility during subsequent come ups. But for those who find themselves ensnared by law enforcement operations after their breakouts, jail or prison time disrupts momentum so much so that, depending on how long they're away, they might never recover. For every Anuel AA or Gucci Mane, there are countless artists who don't get a second chance at hip-hop stardom.
Thankfully, with powerful studio technology in the hands of more and more people, as well as the freedoms afforded by streaming services and digital distribution, there's a greater possibility for some to keep recording bars while behind bars. For Rowdy's friend and cohort Bobby Shmurda, that's translated to a brief, choppy feature on 6ix9ine's "Stoopid" that made it to No. 25 on the Hot 100 last year. "Make It Rain" might be on its way to the Billboard charts too, considering it was the 19th most played song on Spotify domestically on Friday when it debuted.
While some make do with a rare feature to excite the streets, others take things to another level. The other week, Drakeo The Ruler dropped Thank You For Using GTL, a Joogszn-produced album with the vocals recorded entirely via a titular phone service used in the Los Angeles facilities like the one he's in awaiting a new trial. Songs like "Quit Rappin" not only bear the tinny hallmarks of telephonic receivers, they also have the automated this call is being recorded interruptions intact. The rapper comes prepared to work, but a number of the tracks wrap up with ad libs and asides kept intact to maintain an unapologetic stance for music so clearly recorded under extreme conditions.
Similarly, we've seen a lot of activity in recent years from Max B, who's been incarcerated for more than a decade. In addition to appearing along the departed Chinx on French Montana's "Coke Wave Boys" off of MONTANA, he dropped his own project House Money on the same date. The final quality of the vocal recording there and on the preceding Coke Wave 4 tape is a product of Paul Couture's efforts, which by his own admission involves layering and other techniques in line with Max's wishes. But that studio alchemy means even the telephonic noise can be overcome, and listening to the single "Goodman" from his soon-to-be released Charly makes his rumored 2021 release from prison feel like more of a possibility.
---

GF Anon, Canvas Of A Radiant Child
Darnell Little may have crossed your radar with his J Dilla tributes or last year's jazzy Ropeadope deep dive Flipped. But for his latest effort under the GF Anon moniker, he relinquishes control over production and just lets the rhymes flow. With a talented handful of new bap practitioners in tow including GFA and Statik Selektah, Canvas Of A Radiant Child ought to be a major record for the Camden, New Jersey rapper given the caliber of his lyrical content on cuts like "Masterpiece At The Basel" and "Soliloquy At The Armory." Peppered with speech snippets from notables in both art and music, about half of the tracks wrap up around the two minute mark, allowing him to present himself succinctly before stepping to the next groove.
John Jigg$, Jigganometry
A Long Island native who has shown and proved over the years on records with Benny The Butcher, Nature, PMD, and Recognize Ali, rapper John Jigg$ opens his latest project with deserved confidence on "Smoothie." From there, Jigganometry maneuvers the lyrical emcee through a variety of productions including the Digable flip "Cool Like That [Everyday]" and the Theo Huxtable throwback "Gordon Gartrelle." Adding to the already strong appeal are a solid series of guest appearances, from Illa Ghee's reliable bars on the scratch-tastic "Oprah" to Gifted Gab's counterpoints on the rocky relationship reenactment "Front Door."
Black Josh, Mannyfornia
One of Blah Records' best, this Manchester rapper teams with maximalist producer Metrodome for a tight album that showcases both artists' sizable skills. A versatile emcee, Black Josh deftly navigates the twisty uncertainty of "Demon" and the lithe breaks of "Locals." The title track and "King Of Trash" pack all the arena rock explosiveness of Run The Jewels at their best, while the glitchy slickness of "Pretty Faces" presents a subtler approach. No matter what Metrodome throws Josh's way, the results never cease to be engaging and repeat-worthy.
---

Three questions. Three answers. That's a wrap.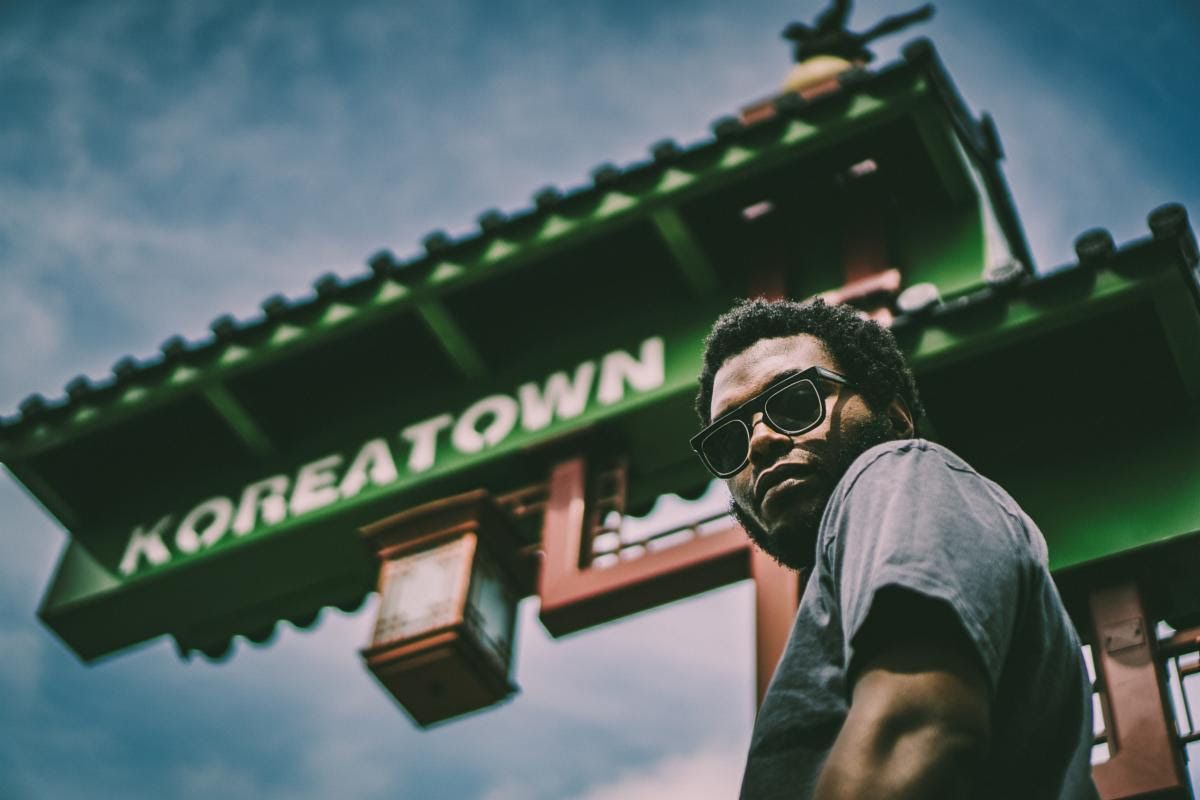 Photo credit: Mark Bijasa
Stones Throw heads know The Koreatown Oddity from his collaborative work with Mndsgn, Ras G, Vex Ruffin, and Zeroh, as well as his propensity towards taking the stage wearing a Creep-esque wolf mask. Roughly three years since his Finna Be Past Tense album for the label, the Los Angeles artist returned with a self-produced set called Little Dominiques Nosebleed, a long-gestating passion project and his fourth overall solo album by his own count. As he explains in his detailed answers below, his discography as a rapper and beat maker spans a full decade, including a number of self-released and hand-sold projects.
While much your prior mixtape and album-length works have come in tandem with other beatmakers, Little Dominiques Nosebleed is entirely self-produced. Why did you opt to helm this project both musically as well as lyrically?
Lemme break it down like this for the full scope:

The first piece of material that I put out was called Eat A Dead Goat in about 2010. Recorded straight to cassette before it was a super poppin thing to do again, I hand dubbed them and pushed them hand-to-hand. It was like a variety show. A combination of beats, raps, skits, and other nonsensical tomfoolery. I did all the production and it featured a few homeys makin vocal appearances.

Following that, the next cassette I put out was a one hour instrumental mega mix of beats I made called Buzzmixers Revenge. Also dubbed one-by-one and pushed hand-to-hand. Neither of these tapes were available on the net. Once I ran out of the physicals of both of these projects I was like, well shit I better throw these on joints on SoundCloud for the peeps that will never have a copy of their own.

In 2013 I put out Exit The Dragon's Mouth. It was the first tape in a continuing instrumental Chinese New Year Zodiac Animal series. There are 12 animals and one tape for each has come out every year on the tape label Strictly Cassette. This series will end in 2024. The tapes are beats & sounds themed/curated around the energy/vibe I felt of that animal. The same year I released my first solo album called No Health Insurance. All raps & beats by me and no features. I made tapes and put it on Bandcamp. Towards the end of the year I put out a tape called Pops 45s. All the beats on this one were made from a stack of 45s my pops gave me that year. I would consider it like a mixtape.

My second solo album called 200 Tree Rings was released on a label called New Los Angeles. That album was the first time I didn't do all the production myself. I got beats from a few peeps: Ras G, Giovanni Marks, Luke Cage, HouseShoes, Jeremiah Jae, Kone, AshTre Jinkins, and I did a couple. This album I wanted to put together in a different way than I ever have so I selected multiple producers to complete this vision.

The next album I did was a group called 5 Chuckles [with] Ras G on all the production and me on the raps. This project happened as simple as G sayin, "Yo lets do this 5 Chuckles thang" and I say ,"Bet let's do it." We did two albums as 5 Chuckles. G and I were always kickin it watchin movies at space base, goin to get Ethiopian food, smokin trees, crackin jokes, and listenin to music. So a lot of the time we would just be chillin hangin out not even makin music. So those projects just developed naturally. I wouldn't consider this one of my solo albums.

In between the first 5 Chuckles album and the second I recorded a project called Vivians. Vivians is a group as well [w]ith Mndsgn handling the production and me on the raps. Again one of those projects that just came together organically when you just kickin it ya homey watchin shit, crackin jokes, listenin to music, just hangin out. I wouldn't consider this a solo album either. It's a group.

After all this I release my 3rd solo album called Finna Be Past Tense produced by Vex Ruffin. Vex and I were talkin bout collaborating for a minute. We were both fans of each other's music. I was thought it be dope to rap on his shit and wondered how come no rappers had yet. We eventually started building. This being my 3rd solo and first project on Stones Throw, I wanted to highlight my and Vex's versatility while putting together a specific world for the listener to engulf themselves in.

Now we are here with my 4th solo album Little Dominiques Nosebleed. Once you listen to this project in its entirety and process it you appreciate all my other pieces of work much more. I am spiritually guided through the music I create and all my work reflects that. When the time has arrived for creative decisions, the universe literally speaks to me and I flow with that as an attentive listener. So this long winded response is just to say "I" don't opt to do anything. I'm guided by signs and visions. When you listen to how Little Dominiques Nosebleed is crafted, it will be an experience you can feel and see like 4D Movies.
How do you feel you've grown as an artist between Finna Be Past Tense and this new one for Stones Throw?
Well let's see: Finna be Past Tense came out January 2017 and when I started recording Little Dominiques Nosebleed it was Fall of 2017. My daughter was born January 1st 2019. And now it's June 2020. You know babies be talkin jibberish but I feel like in their heads they believe they are havin a conversation with you. But it's like their mind is way ahead of the words. That's how I would describe where I'm at. I've seen this project in my subconscious mind for so long but the timing was not matched yet for me to deliver it. A lot has changed in the world and in my personal life in such a short time that aligned the stars for this album creatively.
Once a limited edition cassette and digital effort, your 2015 Mndsgn collab Vivians just saw a remastering and vinyl version drop last month. What prompted the revisiting of this project in this manner?
Vivians finally came out on wax because the people requested it for five years straight. So we worked it out and delivered it. Thank you to all the people who appreciated what we created. It's definitely a special piece of work.
Pre-order Little Dominiques Nosebleed here.
---

Well before making rap masterpieces with MF Doom and Freddie Gibbs, Madlib did the rapping himself. When first introduced in the mid-1990s via privately issued tapes, it wasn't clear that the emcee called Quasimoto was in fact the Oxnard, California producer's mischievous mic persona. But twenty years ago this weekend, The Unseen left little doubt that they were one and the same. Lord Quas' impish, pitched-up vocal tone gave Madlib plenty of room to play with lyrically and stylistically, to say nothing of the playful inventiveness of the album's beats. Though the chain-smoking yellow muppet-like mascot doesn't appear in its video, the "Come On Feet" clip serves the illusion well.
---
See you next Sunday.
Follow me on Twitter at @noyokono and on Instagram at @noyokono too.