"Who the fuck can you get when I'm ready to spit / When you hear my name I make you hit spaghetti and shit / Spit and aim with the fifth, if I get caught in a lie / Ten shots light you up like the 4th of July"
Greetings once again from the couch, where I can see the pigeons on the building next door plotting against me.
This past weekend marked the 20th anniversary of Eminem's The Marshall Mathers LP, the second-biggest con job in hip-hop history. A number of music critics took a stab at commemorating the RIAA diamond-certified album, as is their wont. The content machine rewards anniversary coverage by default, and fans of Slim Shady's unrepentantly sophomoric, frequently homophobic, and generally misanthropic "classic" assuredly gave these thinkpieces and essays the desired clicks, possibly even reading them. By the way, do you know what else came out on May 23, 2000? Sauce Money's Middle Finger U. Give that a listen sometime. Just sayin'…
Anyway, this newsletter marks the eleventh installment of Irregular Vegetables, a weekly series of CABBAGES' emails where I share links to recent writings from other hip-hop/rap journos and critics, squeezing in my own work as I see fit. These midweek editions hit inboxes every Thursday as we all self-quarantine and try to protect the most vulnerable among us from COVID-19. Enjoy this week's reads and be sure to scroll down to check out a bonus Lettuce Wraps Q&A with Chicago rapper JAMS The Flava Child.
---
Cuban Links
How Music Videos Get Made In The Time Of The Coronavirus
To prevent the possible spread of COVID-19 on his sets, Drew says he provides hand sanitizer, wears a mask, and tries his best to maintain some space between himself and his subjects. But not all artists are that careful. Watch Jackboy cavort with a pair of nearly naked twins in the video for "Pack a Punch," and it's obvious that not everyone is concerned about social distancing protocols. Some of the artists Drew has worked with have erred on the side of caution, but others haven't seemed concerned. "A lot of these artists, I feel like they wouldn't believe it until they got it," Drew says of the coronavirus. (Read more at The Ringer)
Gunna Drips By With A Little Help From His Friends On 'Wunna'
The beats on 'Wunna' underscore the envious extravagance and comfort of Gunna's lifestyle. Many of these beats recall the restraint, buoyancy, and soft edges of Young Thug's 'Barter 6.' It is the production, rather than Gunna, that dictates the album's mood swings, which appear almost as seasonal fluctuations. The weightless single "Skybox," produced by Taurus, evokes springtime with synths that flit like hummingbirds. "I'm On Some," produced by Wheezy and Turbo, is spare, cavernous, and unhurried in a way that evokes wintertime stillness. "Argentina" and "Met Gala," both produced by Wheezy (who notched 10 production credits on 'Wunna'), evoke a languid, endless summer. (Read more at Rolling Stone)
How Three 6 Mafia's 'Mystic Stylez' Became A Southern Horror Classic & Provided A Blueprint For 2010 Underground Rap
'Mystic Stylez' — and to a greater extent the Memphis rap scene ⁠— drew from a city that became notorious for its murder rate, robberies, and pimp culture, as well as the gang and project wars that terrorized Black Memphis. Horrorcore rap was starting out at the time, and DJ Paul and Lord Infamous were lovers of the occult, horror flicks, and real-life serial killers. These elements, infused with dirty, eerie lo-fi production, triplet flows, horror movie and soul samples, pulsating bass, and 808s, resulted in the southern horror classic that is 'Mystic Stylez.' "It spoke to a different generation of Memphis," rapper 8Ball said of the album while appearing in the Netflix series Hip-Hop Evolution. "It was, like, this young, cocaine-snorting, gangsta-ass Memphis shit. There's no God. It's all debauchery." (Read more at Okayplayer)
'I'm the Kween of New York': An Interview With Young M.A
She began writing songs for the project in April, and the whole process wrapped up in a matter of days. "I was up all night working until 4 a.m., getting right back up at 10 o'clock in the morning to finish recording," she recalls. "We actually knocked out the EP in a weekend." While her 2019 debut album 'Herstory in the Making' received praise for its honest and vulnerable subject matter, M.A reveals she's taking her music in a different direction on 'Red Flu'—one her longtime fans might recognize. She says she's "bringing the old M.A out on this one," explaining that she focused on tapping into the frustrated energy people are feeling in the midst of a pandemic right now. (Read more at Complex)
Is 50 Cent's Rapping Ability Overlooked?
Consider that mixtapes of that nature have essentially gone extinct. These days, mixtapes are basically albums, albeit generally more free-flowing and lax. Back when 50 was carving out his lane, attempting to crack into an industry that was essentially too fearful to do business with him, he was spitting with a hunger not often seen in this era. Unafraid to call out names and make enemies, Fif's intensity carried into his early music—the aforementioned 'Power Of The Dollar,' his classic mixtape 'Guess Who's Back.' His reputation as a wild card allowed him a certain presence on wax, one who seemed willing to back up any threat made. For a gangsta rapper, that's an invaluable tool. (Read more at HotNewHipHop)
KOTA The Friend Wants You to Manifest 'EVERYTHING'
As KOTA has the entirety of his music career unaccompanied by the power of a major label, he knows how ambitious it is to achieve commercial success as an independent artist. Despite the organic growth of his profession and fanbase over the last three years, the MC still faces major challenges when it comes to releasing new material due to the lack of financial support most artists get from their labels. Simply put, "You have to work for everything you get." This self-determining mindset, however, is exactly what pushed the rapper into the spotlight, proving that it's more than doable to make it as an independent musician. (Read more at Hypebeast)
Run The Jewels Is Rewriting Rap's Rules
Across three albums, and this fourth due June 5, the rappers born Michael Render and Jaime Meline have chronicled the running adventures of Killer Mike and El-P, lovable outlaws and best friends tasked with guarding each others' backs in a world gone mad with corruption and greed. They threaten exaggerated new ways of visiting justice upon criminals (the unlovable kind) and the deeply corny, and spit passionately over adrenalizing, glitched-out production about the importance of remaining clearheaded inside our normal American nightmare. (Read more at New York Times)
How Lil Mosey Became One Of Hip-Hop's Youngest Platinum Phenoms
Since then, the team has made it their mission to turn Mosey, now 18, into a global phenom. Mosey's 2018 debut, 'Northsbest,' spawned a double-platinum single in "Noticed," and set him up to produce his own festival, Northsbest Fest, in Seattle the following year. Still, Marshall and Glover set out to accrue even more accolades with Mosey's sophomore effort, 'Certified Hitmaker.' Since its November 2019 release, the album totaled more than 1.3 billion combined global audio and video streams, peaked at No. 12 on the Billboard 200, and birthed the now-platinum single "Blueberry Faygo" - currently sitting at over 250 million U.S. streams, according to his team.  (Read more at Forbes)
Key Glock's 'Son Of A Gun' Presents An Unapologetic Flex On The Heels Of A Grim Youth
Presenting a rags-to-riches story with plenty of riches still left to be made, Key Glock makes it clear that his confidence and authority are nailed gunned into himself and his music. "Money Talks" finds him silencing the competition and the suggestion that the talking should only be done by the dead presidents they all claim to have all by asking, "Money talk, what the f*ck is you talkin' 'bout?" The celebration of a prosperous life continues as Glock gets lost in his braggadocious bag on "Flexxxin" and "Go Get It." Both tracks present the Memphis rapper in a proud pile of materialist earnings, with the former being a near-obnoxious celebration of money, cars, fame, and more, while the latter features much of the same tied into a message of relentless hustling and a tunnel-visioned approach to getting money. (Read more at Uproxx)
"Hindsight 20-20 Is Very Psychic:" An Interview With Zeroh
While Zeroh grew enamored by the mutual respect between him and the young jazz cats taking over LA, he still relied heavily on his stable of beat-scene associates to help will 'BLQLYTE' into existence. Jeremiah Jae's fingerprints are all over the album, and AshTreJenkins provides the cover art. Jonwayne handles the mastering, and both Low Leaf and Busdriver's FR/BLCK/PRS have features on the record. The album was created over six years, but it still feels urgently new. It taps into the Black diaspora, a yearning for connection that eludes many in modern society. (Read more at Passion Of The Weiss)
Buffalo Hip-Hop Is More Than Griselda. Meet 7xvethegenius
With a conversational flow and soulful instrumentation, Buffalo's 7xvethegenius (pronounced: Love The Genius) showcases another side of the city's overwhelming talent. 7xve, 30, fell in love with music immediately, starting her career in the studio as early as age 10. In the last two decades, then, 7xve has gone through several iterations to find her voice in hip-hop, which was shaped by her coming into consciousness of her expressive power, and the highly artistic side of the city of Buffalo. (Read more at DJBooth)
At The Dawn Of Reggaetón's Boom, Tony Touch United Latinx Hip-Hop
Of these still quite collectible tapes, his ambitious "50 MCs" series (aka Power Cyphas) ranks highest for featuring dazzling bars from a wide range of artists, from G.O.A.T. contenders like Black Thought and Guru to relatively unsung spitters who were out and about in those days. The retrospectively awe-inspiring endeavor and related tapes notably included a number of Latinx acts on the regular, including Terror Squad heavies Cuban Link and Triple Seis. That standard of representation would carry over to 'The Piece Maker,' one of the most important if often overlooked albums in the history of hip-hop. (Read more at Remezcla)
---

Three questions. Three answers. That's a wrap.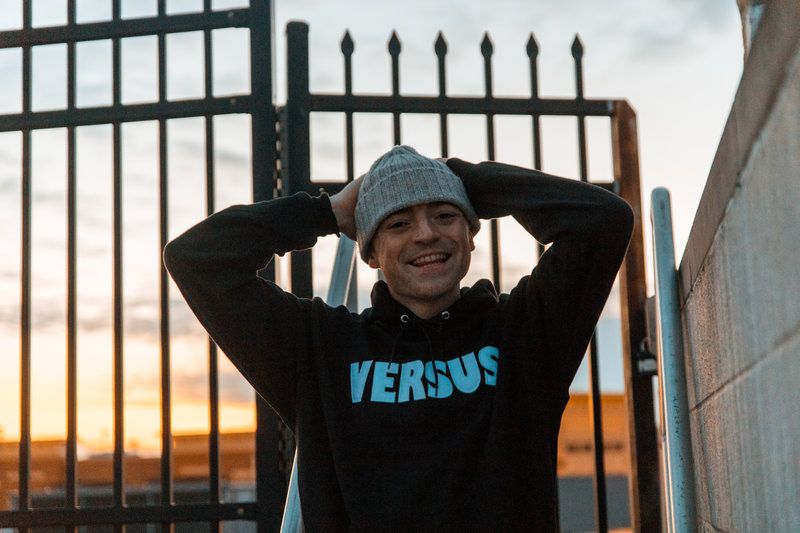 Photo credit: AP.mov
Part of what's great about rap music is the ever-increasing range and depth of subject matter being covered by its artists. We still thankfully have stories of the hustle, politically charged soapboxing, poetic ruminations on the streets, and battle bars that all emerged or thrived during the Golden Age. But more than ever we now have rappers willing to delve into their emotions and discuss existential matters that matter to them. Chicago's JAMS The Flava Child is one such artist, and his new album Clarity tackles big picture issues with a personal lens.
Who were the artists whose music inspired you to start rapping?
Nobody inspired me to start rapping. I've always been a writer. I always had a lot on my mind and a lot to say. Once I found rap, it was like the engine to my pen. The first dudes I heard just lit a flame under me—Wayne, Andre 3000, Atmosphere, Cole, Big Sean, Drake.
Your latest project Clarity frequently deals with some fairly heavy themes, emotionally and existentially. Did you find it challenging to write lyrics that convey these complex thoughts and feelings of yours?
It was a really pure process. I came home from tour in September, it was fall in Chicago which is always my favorite time creatively. I just got out of like a 5 year relationship and I was focused on turning a new page in my life. I had so much anxiety from not making this project already, I was underwhelming myself. So Clarity all came out in a stream of consciousness. There was a lot happening in my life. I was honest with myself, vulnerable with myself in my day to day life and it translated to the music. I kinda made this project for myself with no one else in my mind.
Nedo is responsible for the production here. What was it that he brought to the table that you feel pulls the whole project together?
I'm happy you guys asked this question. %he producers need more credit!!! So me and Nedo are family, his mom is my second mom, that's my brother brother. We got the type of relationship I dreamed of having when I was kid. We kinda executive produce everything together. Nedo brought his touch. I call that the NEDOsound. He puts that extra love into the details. He re-mixed this whole project a few times until he was satisfied. He doesn't take short cuts and he puts real love into every decision. That's my dawg.
Purchase Clarity here or stream it here.
---
See you on Sunday.
Follow me on Twitter at @noyokono and on Instagram at @noyokono too.