About a week or so ago, I had the privilege of hopping on the phone to interview Prince Paul and Don Newkirk. To those of you who don't know the history, these two Golden Age greats met back in junior high school out on Amityville, Long Island and  helped to define and shape hip-hop's sound of that era. They continue to produce interesting work together to this day, including crafting the soundtrack to the Netflix documentary mini-series Who Killed Malcolm X?
During our chat, Paul cited Stetsasonic's "Talkin' All That Jazz" as the first instance where he was able to get longtime friend Don on one of his records as an instrumentalist. Released on the seminal group's sophomore album In Full Gear, the 1988 single was a response to criticism over sampling in hip-hop by percussionist James Mtume, who had parlayed his time in Miles Davis' band during the early-to-mid 1970s into a namesake jazz-funk project of his own. Lashing out at charges of he rhymes remain as cutting and clear as ever, but the knowledge that Don played the bassline on this one might be the strongest argument against the old-guard's claim against rap's artistry.
While the irony of Mtume's "Juicy Fruit" becoming the basis for a Biggie Smalls classic is lost on no one in the know, his preexisting beef with hip-hop now seems even more premature. The artistic growth and heterogeneity of the genre only broadened as some of its most talented practitioners enhanced their skills, giving subsequent artists jumping off points to make their own original and compelling works.
Take Ishmael Butler, for instance. His group Digable Planets relied extensively on jazz samples on the 1993 debut album Reachin' (A New Refutation of Time and Space). Its hit single, "Rebirth of Slick (Cool Like Dat)," borrowed from the late 1970s Art Blakey & The Jazz Messengers date Reflections In Blue, specifically its closer "Stretching." Had Butler stopped there, or even after the 1994 follow-up Blowout Comb, he'd be in the position of so many Golden Age also-rans, albeit with the added distinction of a Best Rap Performance by a Duo or Group Grammy on his mantle.
But fast forward to 2020 and you've got a mature, vibrant, and creatively ravenous endeavor called Shabazz Palaces, which for more than a decade now has been pushing boundaries sonically and topically. With respect to 2011's simply brilliant Black Up, this year's The Don Of Diamond Dreams may very well be the project's masterpiece, connected spiritually to Butler's jazz-rap roots but unrecognizable to the era he came up in.
Nearly a decade and a half Butler's junior, Flying Lotus architect Steven Ellison has a jazz connection of his own. He counts Alice Coltrane as his great aunt, which may have something to do with the spiritual and musical direction his albums have taken over the years. His ties to the Los Angeles beat scene remain intact across his Warp discography, but last year's Flamagra in particular makes clear how tight he is with the city's jazz community as well.
Those who get off on reading liner notes will see encore appearances on the record from prior collaborators like keyboardist Brandon Coleman and bassist Stephen "Thundercat" Bruner. Both of those players contributed to FlyLo's Until The Quiet Comes, arguably his first true tour de force album. The 2012 set brought a jazz sensibility to the fore of his leftfield programming prowess, blurring the lines between organic and electronic. It set him apart from the competition, as did its successor You're Dead! in 2014. A CliffsNotes version of The Tibetan Book of the Dead, that one brought Kendrick Lamar and Snoop Dogg into the fold, which reinforced the hip-hop foundation. From Flamagra on, he's free of genre and of history.
How do ya like that, Mr. Mtume?
---

Hus KingPin, Gunpowder
When you open up a project with a sample of Nas talking that talk circa "Ether," you'd better be ready to keep that same energy throughout. Thankfully, this is a Hus KingPin record. Gunpowder's opener "The Bucketlist" details just how far he's come over the years, in case you've been sleeping on his wave. From there, it's a veritable buffet of bap beats and bars laid out by the hardened New York spitter and his rugged collaborators. His longtime partner in rhyme from Tha Connection, SmooVth makes a solid appearance on "Shadow Chess," while Ghana's dueling expert Recognize Ali does the same on the Ghosta Nostra produced "Running With Clouds."
Mother Nature, Portalz
The Chicagoan duo of Klevah Knox and T.R.U.T.H. don't play by anyone's rules or up to anyone's expectations but their own. Their compact Portalz project adheres just enough to modern hip-hop not to be branded with any particular scene or style, all the while managing to sound very comfortable in their own sound. Whether rapping or singing, Mother Nature's interplay feels electric and honest. "Q'z" dazzles as it bounces through its modes, while "Rotationz" drops the tempo and hastens the flow for something scintillatingly trap-adjacent.
Sleep Sinatra, Sleeper Effect
Arriving six months after his ANIMAL///GOD, the lyrical Lincoln, NE rapper's latest might be the one to beat. Sleeper Effect has a manifesto quality to it, a succinct yet current summation of everything that's made Sleep Sinatra underrated and great. He's both affable and street savvy, a scarce combo that plays well on the catchy lite-soul of "Mirages" and "King Soul" as well as the poetry-amid-minimalism of "The Middle Ground." Anything but uniform, the beat selection here is exquisite too, from SADHUGOLD's ethereal drift on "Cannon Like Delores" to Stu Bangas' jagged chops on "En Vivo."
---

Three questions. Three answers. That's a wrap.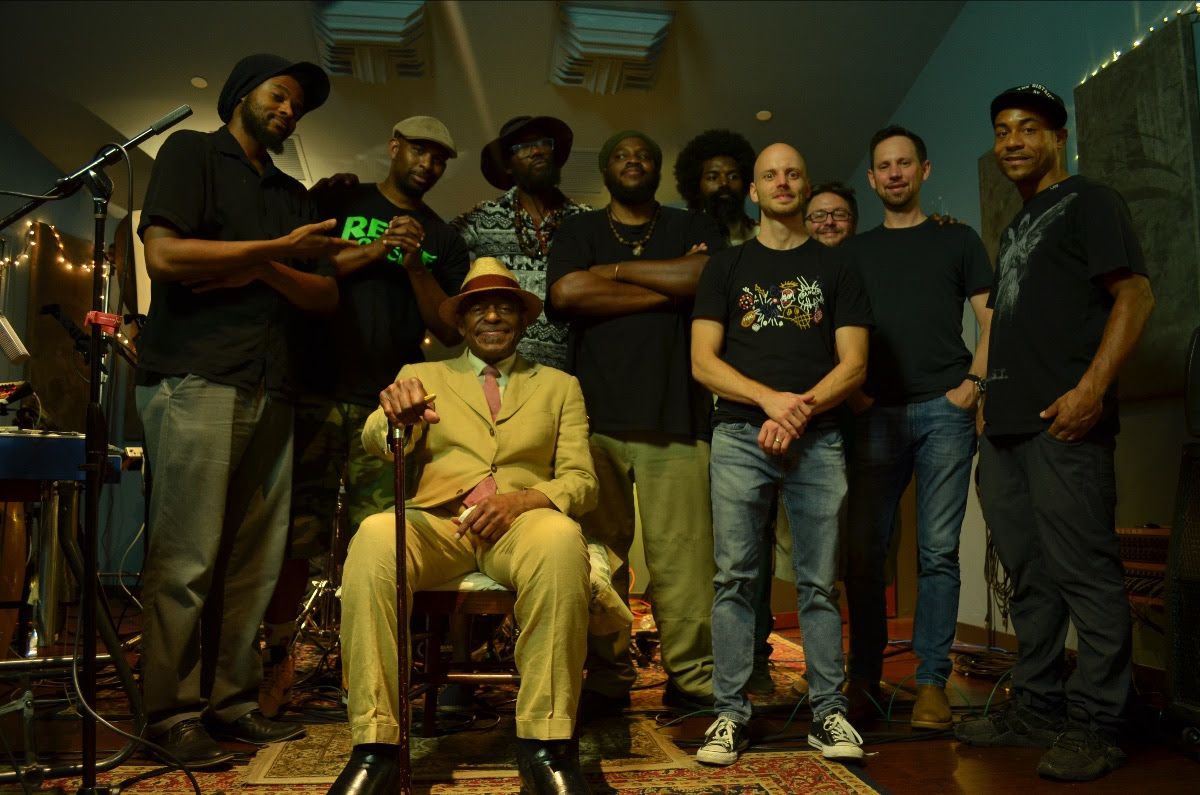 Photo credit: Earl Davis
Throughout hip-hop history, jazz has proven a frequent source of inspiration for producers, DJs, and rappers alike. Then there are those, like Raw Poetic, for whom this music is simply in their genes. The Philly-bred emcee came to underground prominence as part of the Washington D.C.-based late-period Rawkus act Panacea, though over the years his familial connection to avant-garde saxophonist Archie Shepp remained relatively privileged information. For Oceans Bridges, his latest effort in tandem with longtime collaborator Damu The Fudgemunk, the generations come together at last as the octogenarian joins forces with his nephew for a genre-hopping experience.
At what point in your life did you really get wise to the music of Archie Shepp?
Raw Poetic: Probably around the age of 14. With Archie being my mother's brother, I always knew that he played music. But in the 90s when I really started getting into music and collecting CDs, I would pick his up at Tower Records and just listen to them. Then in the early 2000s when he came to visit the family, that's when I got to sit with him and really get a lesson on what this music is all about.

Damu The Fudgemunk: In my teenage years I became familiar with him through my own music exploration, which was based around a strong interest in jazz music. At that time I was collecting records in context with the hip hop DJ/Producer culture. I knew a few titles, who he was and what he played, but it wouldn't be until in my mid-late 20s that I was able to distinguish and appreciate his contributions to music in comparison to his peers. Also [in] my late 20s, I discovered he was Raw Poetic's uncle, so my interest in his music and collecting his records grew. Up to this point I had known Raw Poetic almost ten years. When he first told me, I was thinking how do you not share that fact with with a music lover?  Raw Poetic was very nonchalant about it too. Pretty funny to reminisce on that moment.
What was it like, process-wise, in the studio composing and creating alongside Shepp, someone with six decades worth of recording credits?
Raw Poetic: I sat around and played along with him a little. I was more in the engineering side. I told my guys just to follow along and play. Let the magic happen. And they did. It was a beautiful thing to watch all of my favorite musicians with my uncle just create a new sound. It was a dream come true. I think it lead them toward new unknown territories. We brought a hip hop element to it that is very underground. Very DC! He brought the Philly-born/ Coltrane-influenced, over half a century worth of experience and stories to it. It was amazing.

Damu The Fudgemunk: We all were honored to be in his presence and, not only that, be able to collaborate with him. Leading up to the session, I personally was a little intimidated, but by the time it was over, I felt confident. As legendary as Mr. Shepp is, there was no ego present at all. Between all the contributing musicians and crew, we all had different backgrounds and experience levels. Mr. Shepp's energy was extremely welcoming and encouraging to all of us. We all got the feeling that he wanted to be there with us too. That was very important in making the session what it became. We all were comfortable and excited to communicate with each other on our respective instruments.  I think the recordings capture that and we're very proud of what we collectively accomplished.
What do you feel that you've learned as an artist from the experience of making Ocean Bridges?
Damu The Fudgemunk: We learned so many things during the week or so with Mr. Shepp. Most of Ocean Bridges was made in a five-hour studio session and this was biggest takeaway from that day. Raw Poetic and I have always seemed to be adventurous. I'd say Raw Poetic even more than myself. About six months leading up to the conception of what would become Ocean Bridges, Raw Poetic and I had already been exploring our creativity in new ways and recorded about two albums worth of material that we felt really challenged our potential to date. All of those recordings were just between Raw Poetic and me. That material would be the main catalyst in inspiring Mr. Shepp to record with us. Once he agreed, we knew we would be embarking on a different path from previous efforts.  As a producer deeply rooted in hip hop production, I noticed a lot of my process is spent working isolated at a home studio by nature of the process and the nature of technology. In embracing more live elements, guest musicians and employing the use of traditional recording studios, we discovered a newfound love for that process. There are a lot of spontaneous and improv elements that take place daily in my routine that never are documented and released. Being in that atmosphere with all of the band and playing that style of music, I learned I should incorporate more improvised ideas and be more open to collaborating with others because the results on Ocean Bridges are one of a kind. There's something special about that. Everyone present in the session contributed in some way. I look forward to more experiences like that in the future. It is definitely a new benchmark in our catalog.

On a personal level, I learned to have more confidence in myself and capabilities. I never would've imagined doing an album like this, but I have the results to prove that it was possible all along. In mixing the album's 150-plus tracks and putting it all together as a storyteller really taught me that I'm qualified beyond being a "hip hop producer & DJ." Mr. Shepp was very vocal in sharing his respect for my ear and my talents. That means a lot moving forward.

Raw Poetic: Any and everything is possible. It brought a new love for what we do to the table. I can't wait to get back in the studio and do it again!
Purchase or stream Ocean Bridges here.
---

My allergies are off the charts. I've written enough words this week. Go watch "Jump Around."
---
See you next Sunday.
Follow me on Twitter at @noyokono and on Instagram at @noyokono too.