"I sit alone in my four-cornered room staring at hammers / Ready to go bananas / Two vests on me, two TECs, extra clips on me / I know my mind ain't playing tricks on me"
-Beanie Sigel, "Feel It In The Air"
Greetings once again from the couch, where I can open the window and best appreciate a pollen-laden breeze guaranteed to exacerbate my seasonal allergies.
This past Sunday marked the 15th anniversary of Beanie Sigel's The B. Coming. The Philadelphia rapper and State Property 2 star helped define Roc-A-Fella Records in its heyday, and in the label's messy aftermath he stuck with Dame Dash. Released during a period of his own compounding legal woes, his post-Roc single "Feel It In The Air" has become the quiet classic of his 2000s solo catalog, a downright claustrophobic cut that captures the hardscrabble beauty of his bars over a melancholy beat by hip-hop legend Heavy D (R.I.P.). The lyrics excerpted above cite and interpolate the Geto Boys' seminal "Mind Playing Tricks On Me" scarcely three years after he had joined Scarface on the Kanye West-produced "Guess Who's Back" off 2002's Def Jam South LP The Fix. Breathe it in.
So here's the third installment of Irregular Vegetables, the weekly series of CABBAGES' emails where I share links to recent writings from other hip-hop/rap journos and critics, squeezing in my own as I see fit. These midweek editions hit inboxes every Thursday while we all hunker down and try to protect the most vulnerable among us from COVID-19. Enjoy this week's reads and make sure to scroll down for a bonus Lettuce Wraps Q&A with Lazerbeak and Sims of the recently reunited Minneapolis rap crew Doomtree.
---
Cuban Links
On his long-awaited debut, Jay Electronica is still a mythical emcee, but his perspective is no longer that of a rapper with something to prove or with promises to make. He doesn't rap over any movie scores or switch into any of Biggie's flows. There's nothing as world-stopping as "Exhibit C" or breathtaking as "Dear Moleskine," but his famous wizardry is present. Jay, 43, didn't miss a step, per se, but there's something different about him as if he decided to move in a different formation. (Read more at DJ Booth)
Conway the Machine and Alchemist Talk New Project 'Lulu'
"I don't really mind the jokes about my skinny jeans or my face being twisted up. But when you say somebody is better than me, you're out your fucking mind. Nothing else really bothers me on the internet. I'm not emotional like that. I really don't care what nobody think or say in an internet world. That's not a reality. That's just nerds with fingertips and time on their hands." (Read more at Complex)
Ol' Dirty Bastard's 'Return to the 36 Chambers: The Dirty Version'
Wu-Tang's world of Wuxia iconography, lifted from overdubbed kung fu flicks, was the result of an obsession RZA and ODB nourished with regular trips to watch triple features on 42nd Street. ODB took his name from the 1979 film Ol' Dirty Kung Fu, which was given the title Ol' Dirty & the Bastard in U.S. syndication. At the center of the plot is a drunken eccentric whose aberrant behavior never compromises his mastery of martial arts, and even seems inherent to his form. ODB was drawn to the character and others like him, often taking the moniker the Drunken Master, after the 1978 Jackie Chan movie that spawned the archetype. (Read more at Pitchfork)
J Balvin Reports From Quarantine, Talks Radiant New LP 'Colores'
"Felíz cuarentena, everybody," Balvin tells Rolling Stone, however sardonically, from his home in Medellín, where he's been camped out for days. It's not lost on the 34-year-old that he dropped his fourth studio album, 'Colores,' in the midst of a global health and humanitarian crisis. In lieu of throwing the usual album launch bacchanal expected of a reggaeton star, Balvin has instead invited all 37.6 million of his Instagram followers inside his luxe home in Colombia — but only virtually. In the week since releasing 'Colores,' he's hosted meditation sessions and video chats with friends via Instagram Live. (Read more at Rolling Stone)
Slaughterhouse Should Have Been Huge
It didn't work. Sales were abysmal. Moving 52K units in its first week, 'Welcome To: Our House' sold like whatever the opposite is of hotcakes. [Editor's Note: It's important to remember that the album was released pre-streaming era. In 2020, 52,000 first-week copies sold would be a fantastic total.] For a Shady Records release in 2012, 52K first week sales are like if Avengers: Endgame only earned $22 and a Panera gift card at the box office. (Read more at DJBooth)
Slim Thug On His Coronavirus Diagnosis, Holistic Remedies And New Album, 'Thug Life'
As conspiracy theories permeate through social media, the 39-year-old is focused on keeping fans informed about the virus. His social distancing wasn't the best as he got a haircut a week before he was diagnosed, which is why he's firm on it today. "It's real and people should take it seriously," he said. "Especially for young people. You could pass it on, it could be deadly to somebody you love. You have to be a human and say, 'I have to protect others by not being reckless.'" (Read more at Vibe)
Denzel Curry and Kenny Beats Pay Homage to the OG Toonami Generation on 'Unlocked'
Curry enters the room charged up. "I just cleaned my whole house," boasts the Dade County-raised rapper as he paces the Greenwich-bred producer's setup. At first, Kenny can't even handle his Spongebob-esque energy. But after a quick bong hit by Kenny and a YouTube search of Ceddy "The Sumo Rapper" Bu (RIP) to use as a sample, the two get to business. "I just came in here to make some hard-ass shit. A lot of Wu-Tang shit, Ol' Dirty Bastard type shit," Curry proclaims as he leans back and forth in Kenny's black leather chair. (Read more at POTW)
PARTYNEXTDOOR Embraced Vulnerability and Made His Biggest Record Yet
His collaborations with Rihanna, stemming from an impromptu writer's workshop at her home, resulted in two of her biggest hits with "Work" and "Sex with Me." On 'PARTYMOBILE,' the duo reunite for a surprise single, "Believe It." It was rumored to be in production over a year ago, but as PARTYNEXTDOOR tells it, he had to be reminded by Drake that it was still on his personal hard drives. (Read more at Hypebeast)
How Horrorcore Became A Forgotten Sub-Genre
'6 Feet Deep' was both the beginning and the end of horrorcore in the mainstream rap conscious. It was the first genuinely accessible horrorcore album, peaking at #6 on the Billboard 200 and even heralded by the likes of The Source as "creating" the sub-genre known as horrorcore. But while the album may have been the most visible for the sub-genre, Gravediggaz owed the foundation for the music to others who had mixed fright and horror with rap many years prior. (Read more at Okayplayer)
The day after the CTM performance, I find Bbymutha curled up in her sweats on a couch in a photo studio directly in the shadow of Berlin's TV Tower. She's scrolling through her phone, and doesn't look up as she greets me upon entering the room – which is weird, because at the same time, she's radiating a warmth that feels almost palpable. She has a wide, toothy grin. A tattoo of a black crescent moon adorns her forehead, behind a cascade of beaded locs. (Read more at Crack)
DJ D-Nice Just Had The Best Quarantine Week Ever
"I didn't think it was going to become more than it did, it was literally me sitting at home and feeling isolated and missing my friends. I just felt like I needed to do something and I was going stir crazy in there. I had never used IG live. ... [Re Oprah and Obama] I'm used to being in their world and now I'm here in my world they came over to see what I'm up to. It was amazing they were coming to see what I was up to." (Read more at Forbes)
How a Gang Peace Treaty in The Bronx Helped Forge Hip-Hop
Many cite DJ Kool Herc's August 1973 "Back To School Jam" party as the official birthdate of hip-hop, but the genre's conception happened nearly two years earlier. Herc's seminal celebration could not have been held if not for what became known as the Hoe Avenue Peace Meeting. The agreement made it possible for African-American, Afro-Caribbean and other Latinx members of these groups to congregate amicably together to enjoy the music and the company. (Read more at Remezcla)
---
Lettuce Wraps with… Doomtree
Three questions. Three answers. That's a wrap.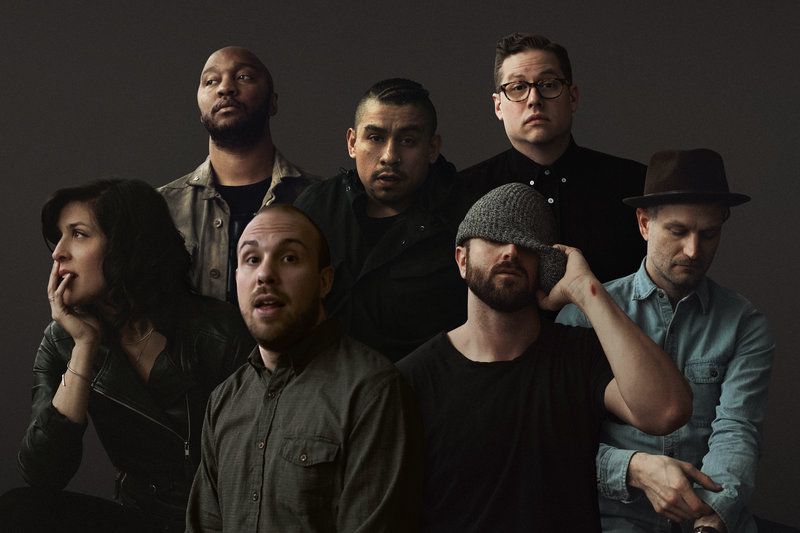 Photo credit: Bill Phelps
For nearly two decades now, Doomtree have been repping hard for Minneapolis. In the years following 2015's Billboard 200 charting All Hands LP, however, the Twin Cities indie rap collective spent some time apart, with splinter groups and related endeavors like Shredders fortunately filling the void. But now, they're reunited (and it feels so good) with a new full-crew cut called "Five Alive" in tow. With their planned springtime hometown gigs on hold for now for obvious reasons, I connected with longtime members Lazerbeak and Sims about where they stand.
While "Five Alive" is the first Doomtree track since 2015, it's not as if you all have remained inactive in this period. How did the Shredders side project inform this proper group reunion?
LAZERBEAK: After All Hands came out in 2015 we all agreed to take an extended crew/band hiatus for everyone to work on solo and side project stuff. At that time it just so happened that P.O.S, Sims, Paper Tiger, and myself had all wrapped up solo albums and were itching to keep creating. Shredders was born out of that and I think that collaboration has lit a fire under all of us to try and make music again as a collective, one song at a time.

SIMS: We've all been actively collaborating with all types of different people throughout, so luckily we were all still sharp at doing that. It's definitely a skill unto itself. In terms of this song ["Five Alive"] specifically, the beat was made during a Shredders session, as was the chorus. The coolest thing is how the song grew and took on a whole new life once it became a Doomtree idea.
Minneapolis has remained Doomtree's spiritual (and physical) home since the beginning. How does the city and its people inspire you artistically or creatively?
SIMS: There is a place to be creatively daring here, and still find support. And there are hundreds of musicians who are more daring than us to draw inspiration from. So I'd say the freedom to be risky is amazing.

LAZERBEAK: Aside from living in an incredibly talented and fruitful artistic community of creators, we're also blessed here with an incredible supportive community of music lovers who seek out local music at all levels. I really believe this what sustains the entire thing and keeps this scene so collaborative and prolific. I'm completely biased, but I've never seen anything quite like it in all my travels.
Assuming we all get through this COVID-19 crisis and quarantine in the coming weeks/months, what can fans expect from Doomtree in 2020?
SIMS: We just launched a Patreon, so that we can help bring Doomtree into the new decade with even more agility. We're trying to forgo the traditional record label model and create a more direct channel with our listeners. We've got a bunch of creative ideas that we're working on to do that. New Shredders, new solo albums from a bunch of us, beat tapes, all types of stuff.

LAZERBEAK: Tons of new releases coming in 2020, whether or not we'll be able to perform them live in a sweaty room with people  or not. New projects from Shredders, Night Stone, Cloquet, Dessa, and Lazerbeak for sure, and everyone is working on solo material all the time. Fingers crossed we might even see another Doomtree single at some point given how fun this "Five Alive" track was to make. Lots of love and strength to everyone out there. We're all in this thing together and we'll get through it together too.
Purchase Doomtree's "Five Alive" via Bandcamp or stream it here. To support or read more about Doomtree's Patreon, click here.
---
See you on Sunday.
Follow me on Twitter at @noyokono and on Instagram at @noyokono too.