Maybe you're playing Animal Crossing. A lot of people are, with the New Horizons update proving incredibly popular in the midst of the COVID-19 lockdown. Like Black Mirror's San Junipero filtered through a sexless Disney+ lens, the low stress Nintendo Switch sim feels for many like an escape from the harshness of our new reality and a trip into a world of G-rated joys. Hell, I haven't owned a gaming system since PlayStation 2 and just reading about it kinda got me on some wholesome FOMO shit.
Hip-hop's got a funny history with gaming, as anyone who ever purchased 50 Cent: Bulletproof no doubt knows. From nostalgic faves like Def Jam Vendetta and PaRappa the Rapper to the as-yet unrealized Kanye West project Only One, video games have drawn from the rap world for inspiration and vice-versa. The rise of Twitch only seems to have expanded this connection.
I don't really care about all that, but I do happen to like when rappers are transformed into video game characters for music video purposes. Ever since A Tribe Called Quest went Microsoft Windows 3.0 on our asses with the "Scenario" visual, I've had an affinity for the approach to bringing computer and console concepts into the hip-hop artist space. Taking cues from Grand Theft Auto III, 50 Cent's Get Rich Or Die Tryin' single "Heat" came close to scratching that itch when it put a real-life Fiddy inside a hilariously violent game replete with flamethrower attacks on SUVs. Later, Das Racist properly took it back to the old-school for their "Who's That? Brooown" video, which found Heems and Kool A.D. navigating a pixelated city, engaging in Double Dragon-esque punch 'em ups and pulling Frogger leaps of faith in search of hype man Dapwell.
Erstwhile Jet Life rapper LE$ recently went this route to promote his recent LoFi EP, with a mock playthrough of a retro Nintendo type side-scroller soundtracked by the song "Pit Lane." The cute 16-bit avatar and puppy friend featured in the clip also adorn the cover of his just-released LifeStyle tape, adding a synergistic twist that bridges the two self-produced 2020 projects. A welcome respite from the all-but templated format of most modern-day rap videos, The Adventures of LE$: High & Lost is well worth a brief and entertaining watch—and would make for a diverting game to smoke an afternoon away with.
---
Treacherous Trio
Crimeapple, Jaguar On Palisade (buy it / stream it)
Música urbana gets the ink these days, but this Colombia-born spitter from New Jersey is more about bars than perreo. Verbose, bilingual, and even a little vitriolic, Crimeapple drops straight-up elegant flows throughout the hood pageantry of Jaguar On Palisade. Over simply exquisite beats by The Purist, Sadhugold, and others, he bobs and weaves with technical complexity, with highlights including refitted soul drippers "Too Close" and "Walrus Blood." On the Michaelangelo-produced "56," he spins a street narrative as rich as a Richard Price novel.
Big Moochie Grape, Eat Or Get Ate (buy it / stream it)
Young Dolph has done a lot for Tennessee trap, both as an artist and as a label owner. Following a feature on Jay Fizzle's single "Now & Next," the latest Paper Route EMPIRE signee makes a great first impression here. There's the funereal darkness of Three 6 Mafia on "Eat Or Get Ate Intro," the snappy hooks of his label boss on "Uh Huh Uh Huh Uh Huh," and a flow not unlike classic The State Vs. era Gucci on "Big Juice." Nashville's BandPlay provides the beats, but Big Moochie Grape gives them that East Memphis realness.
Over the past few years, FMB Dz kept dropping quality projects representative of that contemporary Detroit sound. His latest, the third volume in The Gift series, is no exception, with 80s-meets-808-funk-inflected tunes that hit on the block. His nimble, deep voiced delivery adds considerable weight to his already grave verses, as evidenced by menacing cuts like "Ape Activities" and "Same Shit." Fresh off his own excellent City On My Back project, Flint's Rio Da Young OG makes a memorable appearance on the escalating "High Speed," while Sada Baby himself shows up twice.
---
Lettuce Wraps with... 1000Words
Three questions. Three answers. That's a wrap.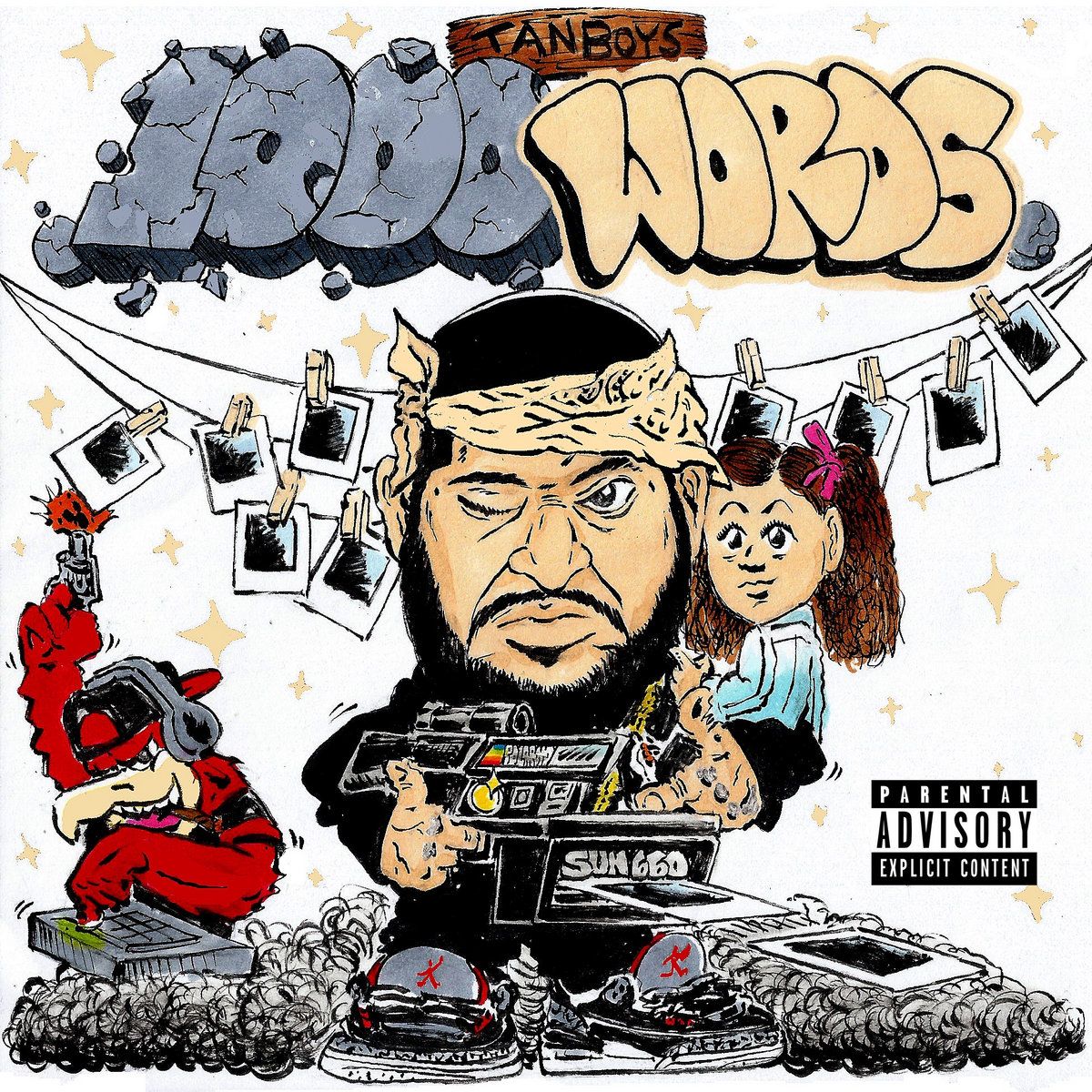 TanBoys affiliated photographer 1000Words has one of the best Instagram accounts out there right now. The self-appointed Polaroid Pope has taken pics of local NY-area hip-hop heroes and universally known rap stars alike, the likes of which regularly appear in his feed like little gifts. This weekend, he officially transitioned to another level in the music space as the executive producer behind a namesake compilation album with beats courtesy of Rochester's own 38 Spesh and the handpicked lyrical talents of Bonnie B, Flee Lord, Nature, and Vic Spencer, among others that should be familiar to #CABBAGES readers. I took a few minutes of his time to ask about the 1000Words project's origins and ethos.
Your photography showcased on Instagram focuses primarily on artists and figures in the world of hip-hop, ranging from rappers and DJs to streetwear icons and so on. Why did you choose to make this community your focus as a photographer?
I just try to document the entire culture from a fan and artist's point of view, because I love hip hop. I kind of picked up the role just showing up to events I ACTUALLY wanted to be at. It went from just trying to get next [to] the people I'm always listening to and appreciated for their contributions to the culture, to making a personal gallery I felt I should share with the world.  It would go from a photo at a show, to a photo at a gallery or personal party,  to streetwear and even a presidential candidate if you look far enough. I just keep my ear to what I love and show up to where I see fit. I also want to put people on to what I listen to, and what better way than to show you a Polaroid of the artist.
How did the idea for this 1000Words album project come about and how did you know 38 Spesh was the one you wanted to handle the beats?
I was with my homies Bodega Bamz and Ohla at my boy CakeMoney's house in the East Side of Harlem. My boy Cake Money has a Violator plaque, RIP Chris Lighty, that his father bought from a crackhead for 50 cash. So with all the photos that I already had in my collection, I thought to myself wow there's no more mixtapes, there's no more compilation albums, so I was feeling nostalgic. From there the idea formed to put the ideas in to fruition. I wanted to see if one of my homies would produce a project for me and one of the first people I reached out to for a verse was 38 Spesh. & he said, "how about I produce the whole joint for you, think about it" & I hit him back with "Brother, there's nothing to think about." The rest is history.
You've curated an impressive collection of truly talented rappers to spit here. I'm sure you're happy with everyone's part, but are there any particular performances on the project that truly blew you away, threw you for a loop, or otherwise pleasantly surprised you?
To me, my album is perfect. It's my baby, everyone involved played their part.  This album is like a smooth ride through the hood that you can play straight from start to finish. I don't have a favorite verse as everyone's contribution was amazing. I'd also like to take this opportunity to thank everyone involved in this project from my friends, my family and most importantly this conglomorate of artists that came together and helped me create what I think will be the start of something bigger than me.
Purchase 1000Words' album via Bandcamp or stream it here. To visit his Instagram, click here.
---
We Out
Nearly all of your favorite rappers have become Instagram fixtures over the past few weeks. To be fair, most of them already spent quite a bit of time content creating over there long before we all sequestered ourselves in our homes. Still, there are holdouts for whom not even pandemic boredom see fit to update their social media incessantly.
Among those abstainers is Ka, a Brownsville rapper beloved by underground heads and lyrically-minded music critics alike. In his continued absence from platforms he only scarcely updated in good times, one can only wonder what these extreme circumstances have done for his pen. For now, visit/revisit his 2012 Grief Pedigree single "Cold Facts" below for a taste of what he was capable of a mere eight years ago.
---
See you next Sunday.
Follow me on Twitter at @noyokono and on Instagram at @noyokono too.