This newsletter marks the thirty-second installment of Irregular Vegetables, a weekly series of CABBAGES emails where I share links to recent writings from other hip-hop/rap journos and critics, squeezing in my own work as I see fit. These midweek editions hit inboxes every Thursday. Enjoy this week's reads and keep scrolling for an interview with Open Mike Eagle. After that, make sure to check out the latest Crudites, the recurring feature where I recommend three new singles/videos from hip-hop artists you may not be familiar with yet.
---

The Inside Story Of How Ice Cube Joined Forces With Donald Trump
The White House engaged in a weekslong courtship of Ice Cube, a transformational figure in the rap world as well as mainstream Hollywood. Trump aides had invited Ice Cube's representatives to the White House and heard them out on conference calls, at least one of which included the performer. There was a lunch at the president's Bedminster golf club with Ice Cube's manager. The endeavor underscores the extent to which Trump has made outreach to Black voters a centerpiece of his reelection bid. The president is waging an uphill effort to improve on 2016, when he received just 8 percent of the African American vote. While Trump's advisers concede he's unlikely ever to win a substantial amount of Black support, even a small uptick could sway the outcome in a close swing state or two, they say. (Read more at Politico)
From Prince To Whitney To Nicki: The Plight Of The Black Pop Star
Beginning with her 2010 debut album, 'Pink Friday' (with tracks like "Check It Out" and "Super Bass"), and peaking on its follow up, Roman Reloaded (with its slew of quirky records, including lead single "Starships" and "Pound the Alarm"), fans who insisted on keeping her in a pure rap box were miffed by her forays into the bubblegum world of pop. Minaj came to exist in a perpetual state of tug-of-war, where questions of authenticity collided with her own aspirations as well as fans' desire to lay claim to her. For Black artists, "crossing over" into pop fallaciously suggests that one has made a choice about who one's people are—a predicament not shared by their white peers, no matter how much those peers dabble in hip-hop or R&B. (Read more at Vice)
The Making Of Domino's "Getto Jam" And "Sweet Potato Pie"
It's perplexing because Domino, born Shawn Ivy, had debut singles that were bigger than Snoop's; "Getto Jam" outperformed "Who Am I (What's My Name)" on almost every level, charting nationally and worldwide, holding on to its positions longer as well. As a transplant from Missouri, Domino first made his mark on 1993's 'Bangin' On Wax,' an aggressive release that had suburban housewives clutching their pearls. An overt street project, it was credited to none other the Bloods & Crips. The release was actually meant to be a peace treaty, marketed as an attempt at calming tensions through music. (Read more at Passion Of The Weiss)
Everything I Know About Business I Learned From E-40
Since 1986, the Malcolm Gladwell of macking hasn't just gone from slinging self-released tapes out of his trunk in Vallejo to dropping platinum albums on major labels and guesting alongside a who's who of rap royalty. He's also consistently reinvented himself for generation after generation of listeners while launching entrepreneurial ventures from restaurant franchises to alcohol brands — and virtually writing the roadmap for modern-day indie success along the way. Luckily for entrepreneurs looking to follow in Charlie Hustle's footsteps, E-40 Fonzarelli has never been shy about breaking down the blueprint for DIY accomplishment or sharing the gift of game. (Read more at Level)
"Any motherfucker counting me out can't count. I feel like you're only as good as your last display. As far as putting a lot of songs together, a motherfucker taking their life experiences and telling stories from their perspective, and still having the material to be jamming like a motherfucker, I don't think nobody could do that shit the way I do it. And I think every album that I put out is a clear example of that, [never mind] the record sales. I'm so fortunate and blessed and happy as hell that I don't have to worry about that." (Read more at Vulture)
Iann Dior Is Strategically Blurring Pop, Rock And Hip-Hop
At a time when alternative rock has also never been more influenced by hip-hop — and when it makes perfect sense that artists like Juice WRLD and Machine Gun Kelly are on rock radio — dior is capitalizing on the moment. His genre-hopping tendencies have led to all types of collaborations. In the last month alone, he has guested on MGK's thumping track "nothing inside," channeled his inner grunge-pop kid on Carlie Hanson's "Ego" and tapped into his R&B-pop ballad capabilities on Jack Gilinsky's "Lose Somebody." His own debut studio album, last year's 'Industry Plant' (which raked in 296.2 million on-demand audio streams, according to Nielsen Music/ MRC Data), featured Travis Barker, Trippie Redd and Gunna. (Read more at Billboard)
"Cloud Rap" No More: Squadda B Of Main Attrakionz Returns Recharged
Initially, they embraced the "cloud rap" designation, shouting it out in their verses and working it into their song titles. But by 2013, as they were preparing to release their debut album, Squadda began to resent the fact that people were fixating on their use of Imogen Heap samples rather than the full picture of who they were. That reductiveness had consequences for the duo: They were pressured to work with predominantly white producers, something Squadda B calls a "gentrification" of their sound. "It didn't feel like home to me," he says. "It felt like I was being asked to not be myself." (Read more at Bandcamp Daily)
Bezel's ascension into the limelight is a direct result of his smash-hit, "Big Duffy", which notably gained traction after being selected to be in the latest version of NBA 2k20, the famed basketball video game, by superstar Kevin Durant and business-mogul Steve Stoute. This was not only a monumental moment for Bezel, but the Connecticut hip-hop scene as a whole. Connecticut hip-hop has radically redefined itself in the past few years, and Lee Bezel is now at the epicenter of this metamorphosis. "Big Duffy" has emerged as the seminal Connecticut hip-hop record of late, and for Bezel the song will never run stale, "For me this literally is all I ever wanted in life, to be a rapper." (Read more at Cut/Break)
Revisiting Lyn Collins' "Think (About It)"
[Rob] Base said in a 2018 Las Vegas Magazine interview by Matt Kelemen that he first had the idea to sample "Think" after hearing "a breakbeat album that all the DJs used to get." He was very likely referring to Volume 16 of 'Ultimate Breaks & Beats,' though he didn't name the series specifically. "It Takes Two" remains the best-known sampling of Collins' record over three decades later. It was also a career defining record for both Base and his late collaborator D.J. E-Z Rock and an important sample source in its own right.(Read more at Micro-Chop)
We've Reached The Depths Of Celebrity Activism
On Wednesday, Trump aide Katrina Pierson tweeted gratitude to Ice Cube for helping the administration craft Trump's Platinum Plan, which promises access to $500 billion in capital for Black people. Cube clarified that the administration merely called him and asked to look over his CWBA for possible points to include in the Platinum Plan. But few of Cube's demands are reflected in Trump's initiative. The administration merely wanted to use their discussion to frame Cube as their ally and ingratiate themselves to Black voters, as Trump did with Steve Harvey, Ray Lewis, Kanye West, and others. Cube should have known that an administration that doesn't believe systemic racism is real wouldn't have taken his requests for reparations seriously. (Read more at More Fire)
Benny The Butcher Flexes His Street Cred On The Star-Studded Burden Of Proof
When Benny said that 'Burden of Proof' was to be produced in entirety by Hit-Boy, that was an interesting choice for some people. Hit-Boy has made bangers, but when you think Benny the Butcher, you think Daringer and Alchemist up to this point. Hit-Boy is something different, and it works. The beats are a combination of loud drums meant to hit you in the chest and then start some beef with the clown in your neighborhood. The intro, "Burden of Proof", sounds like a song that will become Benny lore. Every great rapper has a classic intro song, and Benny just found his. (Read more at Consequence Of Sound)
Interview: Gary Suarez's CABBAGES Is An Oasis For Indie Hip-Hop Lovers
"I'm a native New Yorker, and to this day I still live in Queens. I like to say that I grew up with hip-hop rather than on, since I'm about the same age as the Sugarhill Gang's 'Rapper's Delight.' I spent the first 12 years of my life in Corona, home at one time to Kool G Rap and N.O.R.E., among others. I used to spend summers down in Florida, and my eldest cousin was a DJ. He filled in the gaps of my NYC-centric hip-hop education with the Southern rap sounds of that time, which included the Geto Boys and 2 Live Crew. So hip-hop was always a part of my life." (Read more at Popdust)
---

Three questions. Three answers. That's a wrap.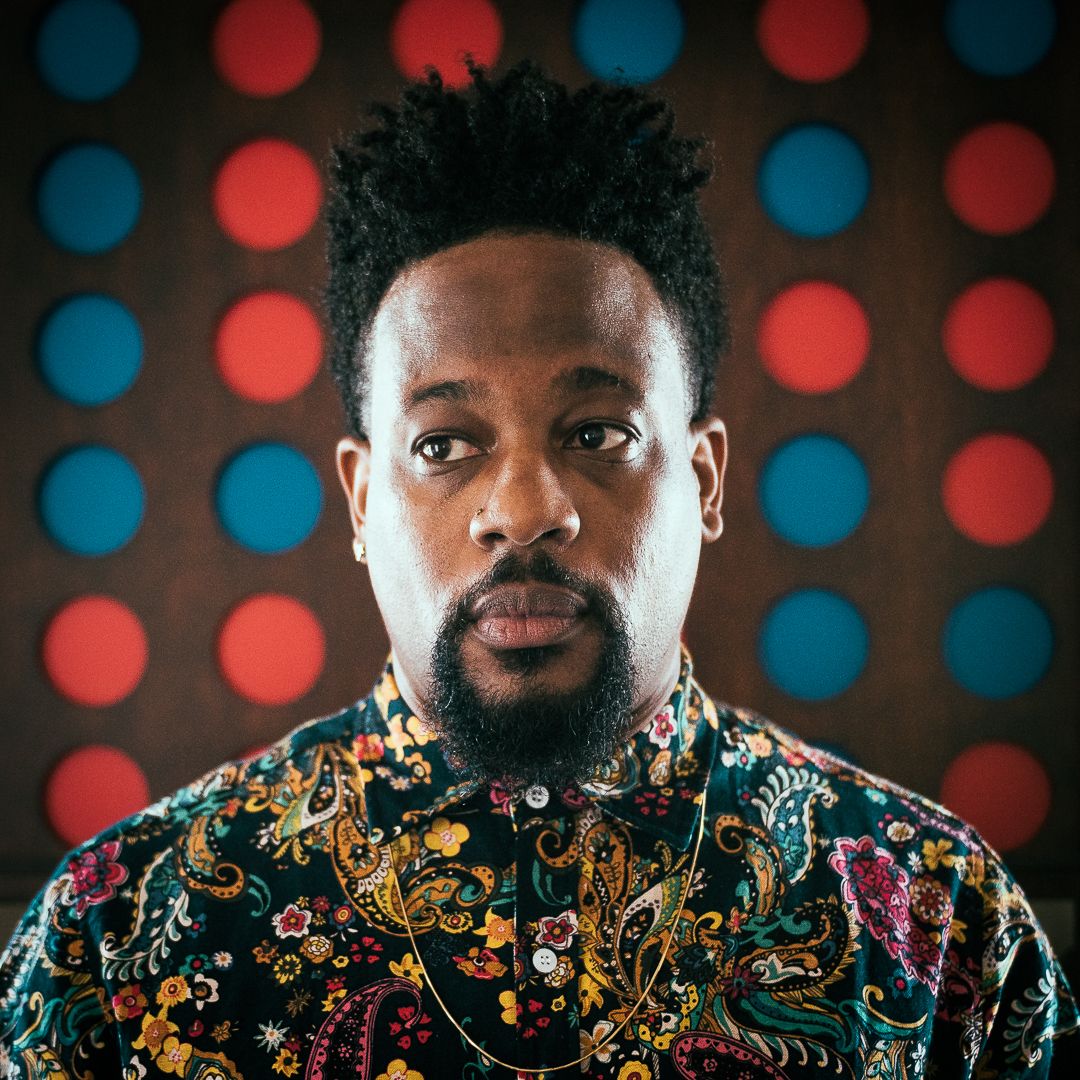 Photo credit: R. Gardiner
One of the most fascinating rap artists of the past decade, Open Mike Eagle has outdone his already impressive catalog with his new album Anime, Trauma and Divorce. Released via his own Auto Reverse imprint, the personal and oft witty outing follows a string of memorable and critically acclaimed projects for Mello Music Group and Mush Records. His podcast network, the Starburns-affiliated Stony Island Audio, launched earlier this year, bringing the new program What Had Happened Was with living legend Prince Paul as well as signing up existing hip-hop shows like Dad Bod Rap Pod and Super Duty Tough Work.
Your new album delves into some pretty heavy personal stuff. What made you want to channel all of this so explicitly in the music?
I really just wanted to try to use the medium to help me deal with my shit. I was truly overwhelmed emotionally and I needed any means available to help me process my feelings. Processing does not come easy for me.
What did executive producer Jacknife Lee, primarily known for his work with rock bands, bring to the album?
He really turned my demos into SONGS in a way that I hadn't experienced before. Like painstakingly adjusting every element of every beat and every frequency in every vocal. He really produced the album in the traditional sense. Not something I really see in hip-hop a lot.
2020 marks a decade since your Mush Records debut Unapologetic Art Rap. With the benefit of retrospect, what did you take away from that experience?
I learned that half of what will happen will be a quarter of what you wanted to happen and the other half of what happens is a bunch of shit you couldn't even imagine if you tried.
Purchase or stream Anime, Trauma and Divorce here.
---

Three new tracks for you to snack on...
Michael Christmas, "Nissan Altima": The Boston native and erstwhile Fool's Gold artist returns with a self-released groover full of his signature humor and humility, backed by one of the slickest hooks of his career.
Lukah, "Spree/Filthy": Over a hallucinatory beat by Cities Aviv, the Memphis rapper spits a dizzying stream of knowledge before pivoting to Livin's soul flip on the back half for some equally observational bars.
Pap Chanel, "Gucci Bucket Hat (feat. Future and Heroin Young": Nayvadius sets the tone, but the star of this three-way collab is the self-described "pretty and paid" Atlanta rapper whose strong section suggests she deserves a place in Southern rap history.
---
See you on Sunday.
Follow me on Twitter at @noyokono and on Instagram at @noyokono too.