Nobody Cares, Moby. Nobody Cares.
+ an interview with Growing Concerns Poetry Collective. This is CABBAGES #043.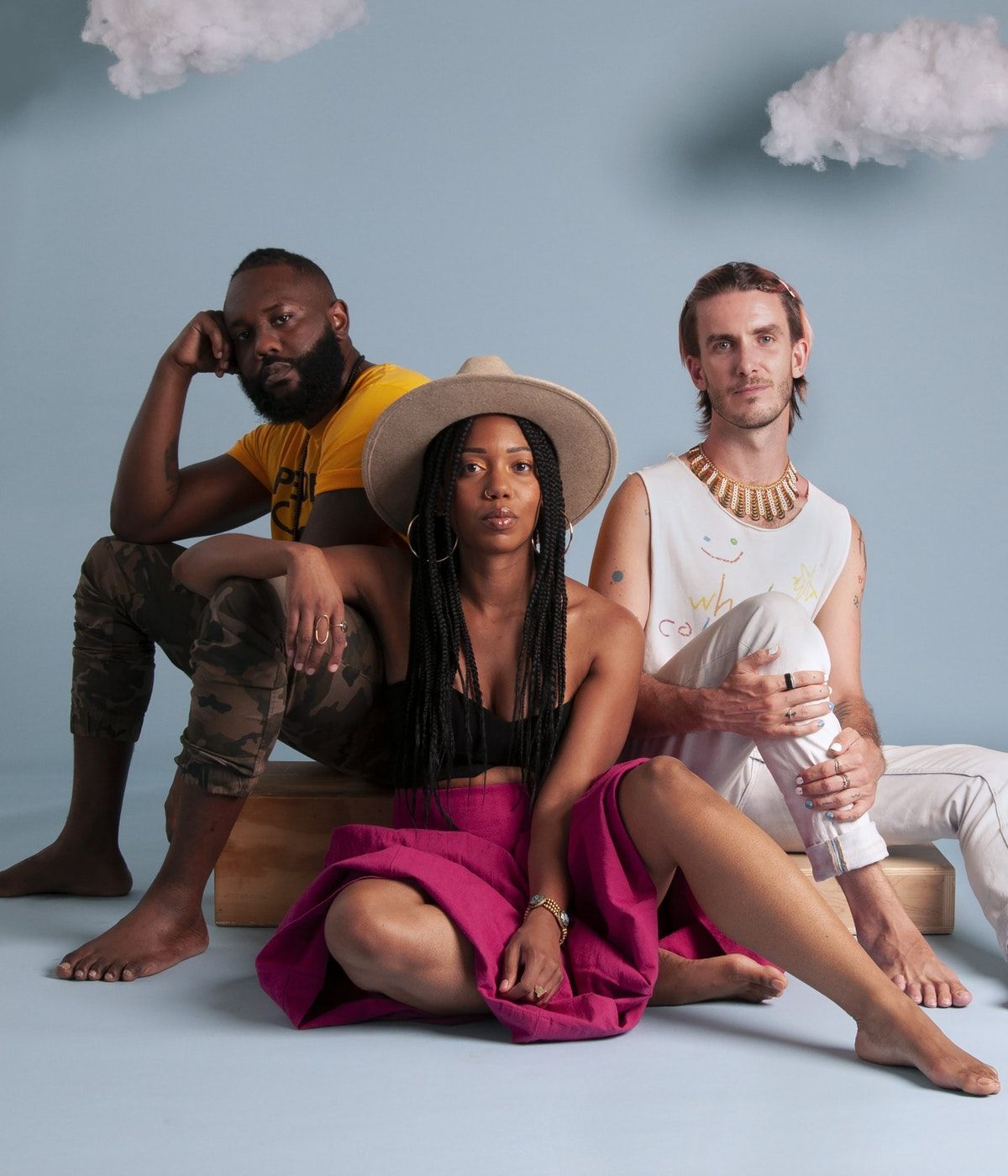 I've gotten the impression over the years that Moby isn't someone I'd wanna get to know personally. Even before he was out here conjuring up imaginary relationships with a teenaged Natalie Portman and dodging blame when called out for it, his strident persona was a matter of public record. Apart from the instantaneous accessibility of today's social media landscape, anyone curious enough to go beyond listening his albums at home to read his "journal" or watch someone interview him likely got the sense that he was, well, a militantly smug vegan scold.
If you spent any time in the rave scene, you can see how that sort of personality could thrive there. Here you were, on the bathroom floor trapped in a K-hole while some sinewy dude you met minutes earlier in the chillout room made you his unwilling human sounding board. Somewhere in the distance, you might even have heard Moby's hi-NRG happy hits like "Every Time You Touch Me" and "Feeling So Real" off 1995's Everything Is Wrong playing, a vague reminder that you'd be having fun if you could only somehow regain control of your body and get the hell away from this guy.
Lodged in between that same subgenre-hopping album's spurts of aggro-techno and cinematic ambience was "First Cool Hive." Though it would achieve greater prominence as part of the soundtrack to the 1996 horror blockbuster Scream, the laidback track reflected Moby's roots in 1980s New York hip-hop. By his own account, he'd been an early adopter of the genre, first hitting up clubs in the city as a teen. By the end of the decade, he was DJing the music himself as a resident, though found himself humbled after witnessing the seminal turntable rocker Clark Kent do his thing.
Self-admittedly, Moby's tastes in hip-hop and rap congealed around this localized mid-to-late 1980s sweet spot. While praising the period's legendary emcees like Big Daddy Kane and Rakim, he cites Long Island's own JVC Force specifically as underground heroes whose work rang out in the New York hip-hop clubs he frequented. If you strip out the rappers' voices, it's not hard to hear how much the era's breakbeats informed "First Cool Hive" and, just a few years later, his multi-platinum certified album Play.
Though not as hip to trainspot as the tracks off DJ Shadow's Entroducing…, Pete Rock's PeteStrumentals, or RJD2's Deadringer, Moby's slew of singles in 1999 and 2000 brought the feels of retro hip-hop careening back, embedding them deep into the mainstream. Much fuss was made about Play sprucing up dusty vintage vocals on "Natural Blues" and "Honey," both of which borrow liberally from Black women—Vera Hall and Bessie Jones, respectively. With an Alan Lomax boxset as his guide, Moby traveled through time and retrofitted their voices with synth textures and dope rhythms. Indeed, the album's greatest feat came from making hugely popular fare out of the kind of decade-old breakbeats that a then-contemporary rapper would've shunned.
The technique used on these and other Play tracks like "Run On," which extracted the gospel harmonies of Bill Landford & the Landfordaires, was nothing new. Drawing from Camile Yarbrough's 1975 record "Take Yo' Praise," Fatboy Slim's "Praise You" appeared on the 1998 album You've Come A Long Way, Baby, though it didn't get single treatment in the U.S. until the following February. Furthermore, between his connections to hip-hop and rave, Moby obviously had no qualms about sampling. In a June 1999 interview, he attributed the inspiration for the piano part on "Honey" to Boogie Down Productions' 1987 classic "The Bridge Is Over." With the context of U.K.-based big beat practitioners like The Chemical Brothers and The Prodigy, the Spoonie Gee and The Treacherous 3 derived "Bodyrock" speaks to this moment in music where (mostly) white producers found success in mining rap's archives.
Though Moby and his contemporaries largely avoided much scrutiny for their approaches at the time, there's something off about the way Black voices (mostly those of the departed) were shoehorned into Play's 1980s New York redux, inspired of course by yet another predominantly African American musical form. One assumes, given both the known provenance of the source material and the massive commercial success of the album, that rights holders received compensation for this usage. That said, there's no guarantee that monies made their way into the hands of the artists, their children, or their estates. And even if they had, if they were hypothetically released today many of Play's tracks would be subject to righteous woke scrutiny and prompt accusations of appropriation.
What's especially telling here is that Moby's interest in integrating Black artistry throughout Play is entirely past-tense. On the handful of tracks where non-sampled vocals exist, they were white voices—mainly his. He mumble raps over the scratches of "If Things Were Perfect" and disinterestedly croons over the pretty trip hop of "Porcelain." (The latter would find its way into the hands of Black creators eventually, when A$AP Rocky built his track "A$AP Forever" around it. It credits Moby as a featured artist, no doubt a condition of clearing the sample.) A once-redacted vocal from master appropriator Gwen Stefani later found its way back into "South Side," catapulting the single into the upper reaches of the Billboard Hot 100 for the first and only time of Moby's career.
And why would it be any other way? Yes, Moby had collaborated with Black artists before and, in subsequent years, he would again. Both Angie Stone and MC Lyte appeared on his 2002 album 18, and he teamed up the following year with Public Enemy for the standalone protest single "Make Love Fuck War." On his 2020 full-length All Visible Objects, Dead Kennedys drummer D. H. Peligro and rapper Boogie feature on the lead single "Power Is Taken."
The sound of hip-hop around the turn of the century couldn't have been further from Play's romantically longing nostalgia for the 1980s New York groove. About a decade later, he wasn't bashful in his sentiments about 21st century rap music, writing in his journal, "there's a lot of creativity in todays hip hop, but i really don't know if anyone needs to hear another song about rims, champagne, clubs, and money…" Once again, there's that smug scold persona, blithely dismissing subject matter he couldn't relate to while taking a broad brush to the genre he once purported to love. Ultimately, Play—and its B-sides companion album released 20 years ago this week—remains a fetish product of Moby's myopic isolation, the sound of shutting the windows and sealing the doors to keep the ghosts he liked in and the modern world he didn't out.
---

Kipp Stone, Hommè
After the one-two punch of Homeboy Sandman's and Open Mike Eagle's respective October projects, I didn't think I could take another traumatic hip-hop album intro. But that was before I heard Hommè by Kipp Stone, an East Cleveland rapper who will probably blow up before I finish this sentence. After unloading so much familial pain on listeners in the first four minutes, he lightens up considerably with the detailed storytelling of "Caravan" and the horny-on-main "Pedestal." It's this ability to bob and weave between light and heavy, often on the same track, that makes him such a rare talent in today's competitive rap landscape. Stone does more on an "Interlude" than many of his peers do on their entire mixtapes.
Junglepussy, Jp4
Sex positive and positively New York, Junglepussy makes her mark in 2020 with the same energy she gave us on earlier works like Pregnant With Success. Her confident, oft cutting bars on cuts like "Telepathy" and "What You Want" make the far too brief Jp4 a start-to-finish thriller of a listen. Smatterings of soul / R&B like "Spiders" and the luxurious Ian Isiah feature "Out Of Window" don't diminish the severity of her pen in the slightest, but instead serve as reminders that her range really has no bounds. Though her credibly larger than life personality hardly needs augmentation, the Gangsta Boo appearance on the "Stamina" acts like a sacred anointing oil bestowed upon the younger rapper.
Spectacular Diagnostics, Divine Exhibition
Back in February, this Chicago producer dropped Raw Unknown, a dynamic showcase with features by indie faves such as billy woods, Quelle Chris, and Vic Spencer. As 2020 creeps towards its end, his latest passes the mic to a group of emcees handpicked by Divino of the Living Envious Styles radio show. These agile underground rappers on Divine Exhibition show and prove over Spectacular Diagnostics' labyrinthine new bap beats. Staten Island's Squeegie O gets first dibs, spitting bars worthy of the title "Superb Excellence," while Dango Forlaine out of Detroit caps off the set with the standout "What's Ya Life." Cise Greeny and Eff You do Queens proud on "Freshmarker" and "Millennium Falconry," respectively.
---

Three questions. Three answers. That's a wrap.
Photo credit: Ashleigh Dye
The Chicago-based Growing Concerns Poetry Collective are not your typical hip-hop trio. In line with the legacies of Gil Scott-Heron and The Last Poets yet undeniably informed by contemporary rap music, Mykele Deville, McKenzie Chinn, and Jeffrey Michael Austin explore the genre's boundaries freely, mixing provocative spoken word verse and insightful lyrical bars atop an adventurous sonic foundation. Released earlier this month, their album Big Dark Bright Futures engagingly approaches topics of race, sexuality, and much more.
No small part of Big Dark Bright Futures deals with issues around heritage and identity. Through making this music, do you feel like you've come to a greater personal and sociological understanding of the subject matter?
Mykele Deville: No doubt. As artists and sensitive individuals living in an increasingly hostile world, I think we are now forced daily to reckon with who we are and who we want to be. Personally, my way of seeing through the burning of today and the fog of the future is immersing myself in the clarity of the past. Books, jazz, classic hip-hop, etc.—all of these things act as a curriculum to knowing the arc history for black folk. The better informed I am affects the potency of the rhyme, the immediacy of the message. The more I know myself and the actions taken against my people in the past, the better my argument is in the indictment of America our music aims to pursue.
How has being in Chicago shaped your approach to creating your music?
Jeffrey Michael Austin: When I try to draw a connection between the nature of my music and Chicago, I think about the seasons and sensations of this city. I often find myself trying to create compositions that feel like a rich, textural film score to another place—an interior landscape you're being invited to escape to. After spending much of my life in a city where, for so much of the year, our solace and culture and community is thriving in a kind of collective defiance of the harshness of our environment, it makes sense to me that I would be over here approaching music composition like the building of a shelter.
While the material was written between 2017 and 2019, your album resonates amid the ongoing protests in the wake of the murders-by-cop of Breonna Taylor and George Floyd. What role do you feel artists—specifically musicians and poets—ought to play right now in this movement?
McKenzie Chinn: Nina Simone said, "An artist's duty is to reflect the time." Similarly, I feel that the role of the artist in this movement is to witness and reflect this moment with as much truth as possible from their particular vantage point, and through the lens of their own will. I believe that art should be enjoyable. If it can't be enjoyed, it has already failed. But just because a piece of art is enjoyable doesn't mean it can't also be challenging. Right now, escapism. We (artists as a whole) are uniquely suited to craft beautiful experiences that reflect the full complexity of this moment in time—the rage, the tenderness, the despair, the love, the chaos, the hopefulness—without ignoring the difficult truths of this moment. My goal is to do both—to elate and agitate simultaneously.

Personally, I want to feel like my art has contributed to the realization of the world each of us deserves while remaining true to my perspective and courageous within it. I know that's not every artist's goal, and that's okay! But that is the place I create from, and I think the most useful, impactful, and lasting art also originates from that desire.
Purchase or stream Big Dark Bright Futures here.
---

For two nights in the summer of 2014, Yung Lean had the attention of the New York music press. You couldn't walk ten steps in any direction inside Webster Hall's moderately sized Marlin Room, host of the Swedish cloud rap phenom's first ever U.S. shows, without bumping into a critic, editor, or local rap blogger. In that sense, it was a reflection of just how much this teenage outsider had piqued the curiosity of the A$AP-primed tastemaker set. Beyond these lookie-loos, of which I was admittedly one, the sold out room spoke to Jonatan Leandoer Håstad's appeal with a generation of his peers, young people eager to connect with a version of hip-hop that had seemingly little to do with its American ancestry. The highlight of the setlist was "Yoshi City," wavy to the point of woozy, a spiked Arizona iced tea tallboy sipped into melancholic oblivion and belched back in a shared catharsis now frozen in both memory and time.
---
See you next Sunday.
Follow me on Twitter at @noyokono and on Instagram at @noyokono too.