Irregular Vegetables, Vol. 46
new songs you oughta know + CABBAGES' weekly hip-hop links roundup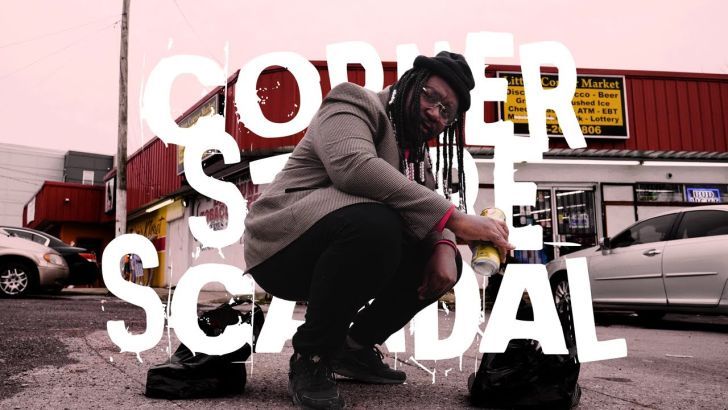 This newsletter marks the latest installment of Irregular Vegetables, a (semi-) weekly series of CABBAGES emails where I share links to recent writings from other hip-hop/rap music journos and critics, squeezing in my own work as I see fit. These midweek editions hit inboxes on Thursdays. Enjoy this week's reads and keep scrolling for another edition of Crudites, a feature where I recommend three recent singles/videos from hip-hop artists you may not be familiar with yet.
---

Should Images Of Black Trauma Be Portrayed In TV Performances and Concerts?
Lil Baby's Grammy night rendition of "The Bigger Picture" is the most talked about performance from Sunday night's show. But the response to his Killer Mike and Tamika Mallory-featured protest performance isn't all positive. There were many viewers who thought the performance, which depicted the Wendy's restaurant where Rayshard Brooks was killed by police, as well as a demonstration which mirrored still-ongoing anti police actions, was a powerful way to raise awareness about police brutality. But Samaria Rice, the mother of the late Tamir Rice, spoke for many others when she exclaimed "FUCK A GRAMMY WHEN MY SON IS DEAD," giving a thumbs down to Tamika Mallory and the performance as a whole. (Read more at Complex)
Eladio Carrion Has Seen The Future Of Latin Trap
On 'Monarca,' the Puerto Rican rapper Eladio Carrion stretches the bounds of trap en español without ever abandoning its core. The follow-up to his 2020 debut, 'Sauce Boyz,' Carrion's latest album riffs on spiky trap corridos, drippy emo-rap, and bludgeoning drill sounds while pulling an unexpected roster of collaborators into its orbit: Reggaeton icon Yandel slides across the drunk desolation of "Discoteca," while J Balvin barges in out of nowhere for the record's drill moment, "TATA." (Read more at Rolling Stone)
Unexpected Sample Source: M.C. Twist And The Def Squad's "I Like It Loud"
"I Like It Loud" utilizes speaker-distorting basslines, sparse drums, and electric guitar scratches to build one of the record's standout cuts. The track also takes on a somewhat dark and menacing tone when the unique hook comes in. Unbeknownst to M.C. Twist and Kay Jay, "I Like It Loud" would eventually catch on in Memphis and become important sample source for Three Six Mafia and DJ Squeeky. (Read more at Micro-Chop)
Flohio Is Rap's Sonic Revolutionary
Off the back of releasing her stamina-defying debut mixtape 'No Panic, No Pain', her most ambitious and self-defining music to date, it's no surprise that the rapper's on a high. She's proving to be one of the most relentlessly creative and incendiary voices that UK hip hop has produced to date. Since emerging on the scene, Funmi Ohiosumah, AKA Flohio, has made inroads into sonic territory that few other rappers would dare to move in. Fuelled by a fierce DIY aesthetic and disinterest to pander to the hip hop normative, she clocked underground clout alongside UK techno-inspired duo God Colony on her pummeling breakout single 'SE16', not only paying homage to her ends but equally shoving a proverbial dagger in the map. (Read more at Mixmag)
Buffalo Rapper Elcamino Writes Rhymes Drawn From His Life Story
Back in Buffalo, he started taking his craft more seriously, dubbing himself Meechy Elcamino. In high school, he linked up with a crew called the Local Residents. "Them was my boys," he says. "I just came and joined what they already had going on. It wasn't something we all built together. I just became a part of that, 'cause I was really trying to be a rapper, and they was already into it, recording all the time and shit." By 2015, he was dropping a steady string of projects including '716,' 'The Natural,' 'Doxa,' and '1996.' "Them was like when I first really started trying to record. They my lil' mixtapes I did with the homies." (Read more at Bandcamp Daily)
Why Ice-T's Body Count Grammy Award Win Matters
The surprise on Ice-T's face was palpable, clearly not having had expected much from the Recording Academy. Yet sure enough, when the envelope was opened, his long-running heavy metal/hardcore punk band Body Count had won for Best Metal Performance with the song "Bum Rush." With his five-year-old daughter Chanel beaming pride beside him on the couch and his wife Coco filming his reaction, he ran through his thank yous for the Grammy pre-show ceremony livestream. When it was done, he stood up and, still stunned, exuded joy just behind his typically gruff exterior. Ice-T had good reason to get emotional. Though not his first Grammy, the rap icon's long road to his second award had been a fraught one, marked by a harrowing experience as the target of a campaign intended to defame and destroy him. (Read more at Okayplayer)
---

Three new tracks for you to snack on...
L'Orange & Namir Blade, "Corner Store Scandal": Two of Mello Music Group's dopest artistes drop a cinematic one teeming with pop culture nods, funk rock grooves, and a little Japanese 101 to tease their forthcoming joint album.
Honey Dip, "He Loves Me Not": Late night lounge vibes meets intimate boudoir bap in this heady single from the Brooklyn rapper, her cool floetic flow drawing you in like word jazz.
Cold Medina, "TORO": This Oakland rapper with Nicaraguan and Mexican heritage spits that Spanglish with a gold grill and a silver tongue over a silky beat reminiscent of classic Jet Life mixtapes.
---