The Return Of Rowdy Rebel
This is CABBAGES #062.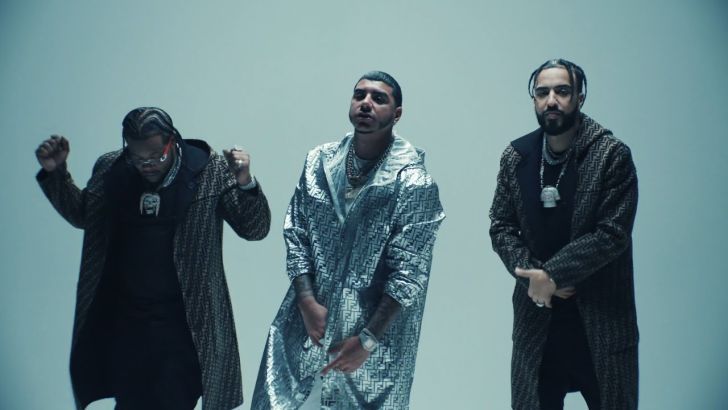 Well, there's a remix of CJ's "Whoopty" out now. Of course, that was an inevitability given the massive chart performance of the original, though who's on it may surprise you. French Montana, who served as executive producer of the Staten Island drill rapper's recent Loyalty Over Royalty EP, claims the opening verse of this first official attempt to repackage the runaway hit. As a longtime Coke Boys aficionado, I can't say his vocal additions really blew me away, though they fall reliably in line with his recent entry into the popular subgenre on CB5 and otherwise.
Rowdy Rebel's part, however, left a big impression. A little over two months since his release from prison, the Brooklyn rapper has slowly but surely begun rebuilding his career, verse by verse. To put it mildly, he outshines his quantifiably more famous and commercially successful counterparts on the track, swiftly making his presence and personality known. Even after all that time away, he sounds more energetic and boisterous than he did on the RIAA gold-certified "Computers" alongside his recently freed GS9 compatriot Bobby Shmurda.
While a musical reunion between those two remains highly anticipated, Rowdy's return has proven nothing short of a revival. No less than Funkmaster Flex cosigned the first-day-out banger "Re-Route," not only a reintroduction to the rap game for the 29-year-old but also a credibly formidable entry into his home borough's thriving drill scene. The pivot has been many months in the making, made evident back in June of 2020 when he featured via a jail phone verse for Pop Smoke's posthumous "Make It Rain." The style clearly suits his flow, but it also provides convincing evidence that the contemporary Brooklyn sound, while musically indebted to the UK and its proprietary production preferences, owes no small debt to what GS9 were up to before the Feds shut them down.
But Rowdy's not just sticking to drill. For "Jesse Owens," his first proper solo single for Epic Records since getting out, he linked with proven Billboard hitmakers Nav and Pro Logic, with some thrilling and chilling results. Most notably, the beat skews closer to Good Intentions than, say, Meet The Woo, something that becomes more obvious once Nav's comparatively lighter verse kicks in. And beyond the music, Rowdy's making all the right media moves. He's gone sneaker shopping with Complex and showed off some of his custom-made jewelry by Eric Da Jeweler for GQ, the latter offering a close-up inspection of the now-signature iced-out zombie skull piece he sports in the "Jesse Owens" and "Whoopty (Remix)" videos.
As a New York native, my local biases are always on display. That said, it's hard not to root for Rowdy given that he's come back to us so rejuvenated, and making such shrewd choices about who to work with to boot. Though his pre-incarceration profile no doubt helps the comeback campaign, he's pulling off his veritable reinvention better than some of the Brooklyn drill spitters clamoring for attention and mainstream crossover these days. And though aligning with CJ (and to a lesser extent, French) may lead to some disapproval from certain circles, it will assuredly serve him well in the short term. Still, even that safe bet isn't a surefire strategy for Rowdy's greater overall success.
Naturally, the "Whoopty" placement instantly puts him on the radar of a subset of listeners who may have been too young for "Computers" or Shmurda's "Hot N****" the first time around. Similarly, teaming with Nav does good things for his profile as well, and one hopes that the two continue to collab in the coming months in one way or another, ideally on one of Nav's projects. (See: Lil Durk.) Provided that Billboard bundles the "Whoopty" remix's first week plays with those of the original, Rowdy will technically have two Hot 100 hits to his name, the second being the aforementioned "Make It Rain." Conversely, though it has logged a more than respectable three million YouTube plays globally, "Jesse Owens" has yet to chart anywhere domestically, nor has it cracked Spotify's U.S. weekly top 200. Ultimately, if he's going to transcend this opportune moment of intense and genuine interest in his music and parlay it into something bigger for himself, he'll need to make a hit that's unequivocally his own.
---

Nappy Nina & JWords, Double Down
A Bay Area talent blessing us from Brooklyn, Nappy Nina grows ever more powerful on the mic as she beams out of Double Down, an alliteratively apt follow-up to the preceding Dumb Doubt. New Jersey beatmaker JWords—some five months off an incredible collab with maassai—proves that she's one of the most innovative producers in hip-hop today on this fresh and frenetic team-up. The duo outdo themselves track after track, keeping it underground clubby on the glittering "Is Me A Star" and the Dilla-esque post-bap "Scrd." As before, Nina's lyrics nimbly balance poetry and prose, airing it all out for the thumping "Table Set" and ascending astrologically to the astral plane with Stas Thee Boss for "Real Tea." Self-identifying Brainfeeder and Stones Throw heads should cop this one immediately lest they be chasing it a year from now when these two are rightfully dubbed indie hip-hop stars.
Sankofa, The Most Delicious Gold
Two decades into a dedicated rap vocation, his recording history adorned with moments alongside no less than the CunninLynguists, this Fort Wayne emcee knows what the fuck he's doing. Produced entirely by fellow Midwesterner Burnt Bakarak, his new full-length effort The Most Delicious Gold bursts with bountiful bars for boom bap buffs. A verbose wordsmith carrying on a proud lyrical tradition, Sankofa leaves little space in his lungs for any breath not otherwise immediately convertible into speech, dropping wild streams of narrative consciousness on vibrant cuts like "Art Supplies" and "Mark Price." On highlight "The Hoosier Way," he calls out and clowns the emboldened Trumper racism that he sees congealing all around him in Indiana.
Estee Nack & True Cipher, $1000 Plates Of Mangu
By now, every self-respecting Griselda stan on this planet must know the name Estee Nack. The Dominican spitter out of Lynn, MA left tongues wagging with his verse on Westside Gunn's packed 2020 posse cut "Frank Murphy," hopefully driving more listeners to his own coke dust catalog. Billed as a "remixtape," $1000 Plates Of Mangu is a breezy yet bangin' set blended with special herbs and spices by True Cipher, its Spanish track titles inviting you to the spot only locals know about. Estee's free-flowing verses are pure and uncut for the streets, a bilingual blur of mad metaphor and savory slang on "Chivo Guisado" and "Papita Frita." He enthralls and entertains with the relentlessness of "Habichuela Con Dulce" and "Locrio De Pollo," all over in a flash.
---

Whether or not you're into his drill dalliances, French Montana's "Sanctuary" remains his masterpiece. Initially appearing on 2012's Mac & Cheese 3 project before making a reconfigured reprise on 2016's very fine Wave Gods tape with the illustrious Max B, the Black Metaphor produced cut captures the rapper's Coke Boy as Sad Boy energy with devastatingly hooky bars like Bring your love baby, I'ma bring my shame / Bring the drugs baby, I'ma bring my pain. Video game dorkuses will no doubt drool over the Kingdom Hearts sample, but even if you've never tried to guide Donald Duck through some magical mystery quest (or whatever the hell that damn game is about) the song will likely catch you in your feelings.
---