This Ain't Funny, So Don't You Dare Laugh
Thoughts on The Koreatown Oddity + reviews of Mickey Diamond, Torito & Small Professor, and John Wells. This is CABBAGES #108.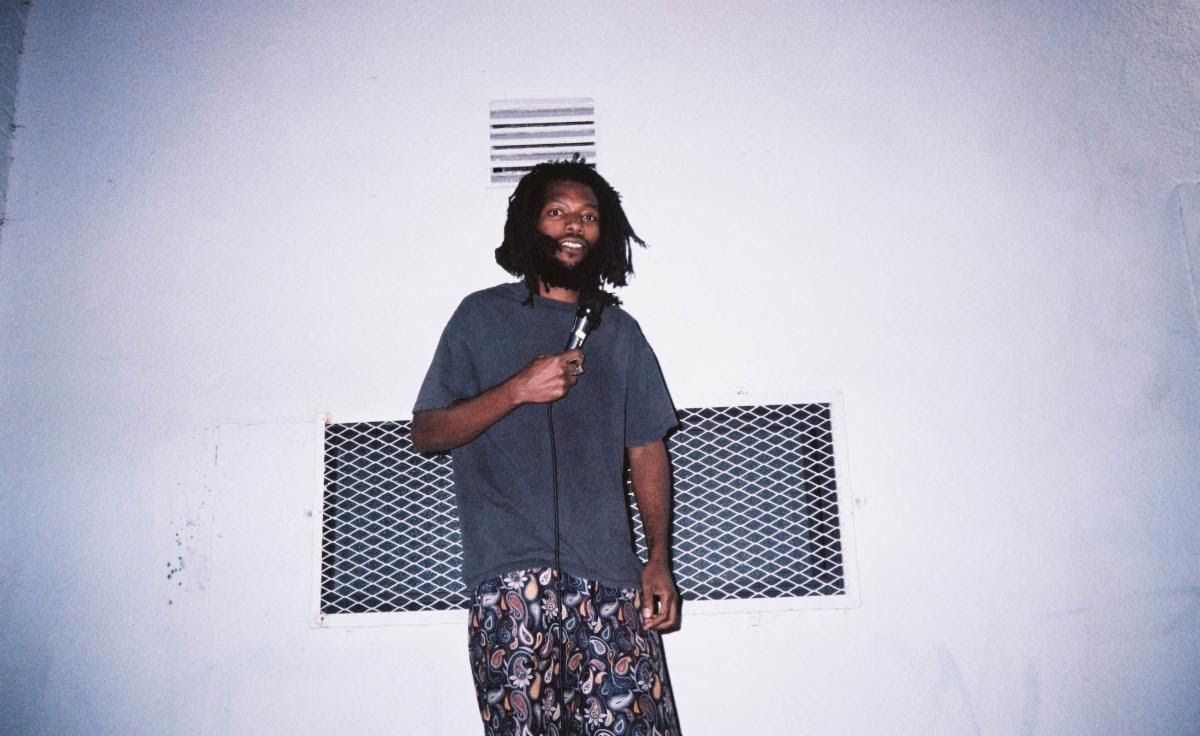 The Koreatown Oddity's sense of humor skews towards the alternative. Though hardly some mere punchline rapper, the Stones Throw artist born Dominique Purdy seems more interested in what he thinks is funny rather than what an audience might. As evidenced by the Los Angeles native's projects like 2016's Ras G collab 5 Chuckles and the critically acclaimed Little Dominique's Nosebleed from 2020, he's likely going to be laughing whether or not you get the joke (or the meta-joke behind the joke). Of course, both things can be true and, in his case, often are.
Yet the conceit behind the rapper-producer's latest album ISTHISFORREAL?–that he's actually an Englishman masquerading as an Angeleno–may be lost on those unprepared for Purdy's specialized and not infrequently insular brand of mischief making. (For a time in 2010s, he was known for performing life while donning a wolf's mask, which he purportedly "torched" a few years back.) Beginning with the talk show reveal of "OPENING CONFESSION," the sitcom-length record's overarching bit plays out across various skits. Most of these occur at the tail end of songs already laden with observational social commentary and sharp parodic send ups.
On the surface, this Secret Foreign Man narrative overtly addresses the real-life phenomenon of Black British actors like Idris Elba and Daniel Kaluuya playing American roles so convincingly as to actually dupe a plurality of viewers. It also speaks, perhaps, to the absurdity of Louis Theroux's "Jiggle Jiggle" viral TikTok blip or, maybe even to Rachel Dolezal's identity subterfuge. Either or none of those may apply, but that it leads me to consider such possibilities is a reflection of  precisely why Purdy continues ascending in the theoretical ranks of hip-hop's preeminent humorists.
It's a category that, at least superficially, he appears to share with a relative few these days. The deathly seriousness characterizing much of today's rap music, plus the corresponding expectation that listeners treat it as such, mirrors the compound tragedies of contemporary American life, specifically for Black and brown people. Trap singles regularly jump between declarations of personal extravagance and thinly-veiled threats of violence without losing perceived cohesion or commercial viability. Set to rhyme, the unvarnished stories of personal struggle at any given stages in one's come-up can have potentially lucrative results, as proven by Lil Baby and Lil Durk's Billboard Hot 100 charting "Rich Off Pain" with Rod Wave. Though somewhat softened by the influx of major label money amid the allure of its accessible sample-heavy variant, Brooklyn drill still relies considerably on street credibility and evident gang affiliations, echoed outside the studio by ongoing and volatile intra-neighborhood divisions.
The untimely deaths of JayDaYoungan, FBG Cash, and Trouble, among others this bloody summer, coupled with the 2020s' high-profile murders of King Von and Young Dolph, provide chilling reminders of the inequity and brutality that shape, and subsequently haunt, hip-hop artists at various levels of career success and fame. Yet even with such grisly horrors feeling more and more commonplace, to suggest that rap music either has or is doomed to become a grim domain of joylessness would be empirically false. The exuberant love that hip-hop listeners feel for their genre of choice is largely unchanged by these distressing losses, the instant gratification derived from a vicious verse both undeniable and addictive. Admittedly, there is an inherent dark side to said love, one exemplified by our collective appetite for beef–albeit until we're made to see the slaughterhouse floor, and then only temporarily.
When Slick Rick rapped this ain't funny, so don't you dare laugh at the end of his engrossing 1989 crime narrative "Children's Story," he did so with clear intent. It was a moment designed to jolt the audience out of their complacency, reframing the preceding minutes of his rich storytelling as a cautionary tale. Assuredly, he knew that some of those listening would identify with or even valorize the main character, while others whose own life experiences were sufficiently far from the urban police state would approach the song more voyeuristically. Both probable parties are addressed with this one line, executed at the perfect opportunity.
In contrast to some of the aforementioned rappers and their peers, Purdy is in no way desensitized to ugly realities, as his past and present work as The Koreatown Oddity repeatedly reveals. Armed with a keen wit, he addresses the grand and grave in uncomfortably close proximity to the idiosyncratic and mundane. One minute he's in reflective mourning for the late Ras G and Nipsey Hussle, both men Los Angeles hip-hop figures who died within months of each other, while pondering his personal relationship with the former. The next's, he's oversharing the sado-sexual shenanigans of "MISOPHONIA LOVE" with a totally '80s R&B synth boogie soundtrack.
A disturbingly familiar topic in his discography, the pervasive and aggressive anti-Black policing he encounters and experiences day-to-day returns once more on "HISTORY'S TENSION" ("Yeah I'm Black but how Black do I have to be? / I don't get to live passively / just turmoil that's been passed to me"). Elsewhere, over the bleepy plod of the title track, he points out the ludicrous lessons learned from law enforcement's unchecked racism ("'The Simpsons' got a black actor for the voice of Carl / but only after the police killed another one of us off'").
The parallels between rap's naturally macabre disposition and the cutting tendencies of black comedy (not to be conflated with Black comedy) make them conceptual neighbors and compatible bedfellows. When the two commingle, as they do with expert timing on ISTHISFORREAL?, the results linger like those of a particularly poignant comedy special, one that you laugh at just to keep from screaming or crying.
The Koreatown Oddity's ISTHISFORREAL? is out now via Stones Throw Records. (Buy it / Stream it)
---

---

Two of Philadelphia hip-hop's finest teaming up ought to excite more than just their city's native sons. Though the vividly verbose masked rapper Torito served as primary producer on his prior effort Meat Circus, here he relinquishes control to 2022 MVP contender Small Professor. Together, the wordsmith and the beatsmith collectively craft a concise, filler-free project that clocks in under the half hour mark. It's a decidedly hometown affair, where even the featured guests are locally sourced. Both ialive and Wrecking Crew dude Zilla Rocca solidly step to the mic for the lively "Slaughterhouse Speakers," while odd couple Curly Castro and Darko The Super mix it up on "Stew Bone Pie." Meanwhile, Torito's eloquence fills Small Pro's exquisitely bare ballrooms on "Pharoah Grains" and "Temple Tantrum."
Mickey Diamond, No Liquor Before Twelve (buy it / stream it)
After building an avid audience with the cult Bangkok Dangerous series, the Detroit rapper now takes a deep dive into dipsomania with No Liquor Before Twelve. Through some choice samples and boozy bars, Mickey Diamond conveys a street-savvy perspective with all the clarity of a premium bottle of vodka. While other rappers would get overserved trying to match heavy-handed puns with heavy pours, he thankfully keeps things real and (mostly) in moderation with cuts like "Time Wasted" and "Last Call." On "Happy Hour," he acknowledges the influence of alcohol on his pen while maintaining control. His deep delivery benefits greatly from top shelf production by the likes of Nicholas Craven and Mallori Knox, among others. When pals like Pro Dillinger and Snotty raise their glasses with him on "No Loitering" and "Casamigos," respectively, it's a celebration.
John Wells, i'm just tryn get some money (buy it / stream it)
The name John Wells is likely unknown to most people reading this. That said, the self-produced i'm just tryn get some money marks the Baltimore rapper's ninth project to date, and it caught me my surprise in the best possible way. His unflinchingly honest, oft contemplative verses reflect a lot of life lived in a relatively short time. From the H.O.V.A. nodding introduction "spotless" to the revealing closer "i been countin," the five track EP offers a wide-eyed glimpse into his world, one defined by a family history of hustling, hardship, and grief. On standout cut "everybody good," he details an emergency room visit that puts the grind life into starkly personal perspective for him.
---

---