Ready Playa One
+ the latest from DJ Muggs & Crimeapple, Solemn Brigham, and UFO Fev. This is CABBAGES #080.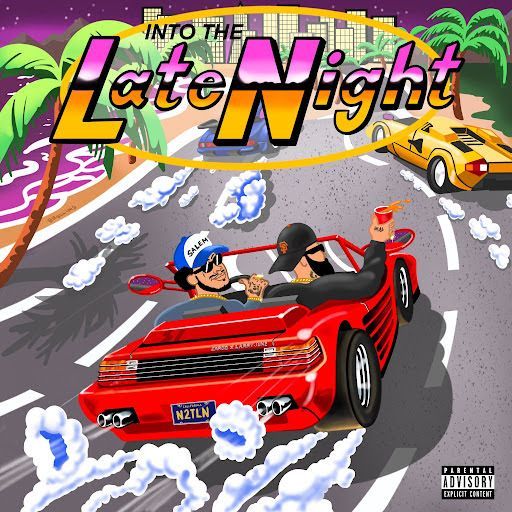 You may not have heard about it, but there's an Outkast video game now. Before you click that link, be aware that it's probably not what you're hoping it is. Roughly timed with the 25th anniversary of the duo's ATLiens album, the intentionally retro side-scroller would have been about as fleetingly fun in 1996 as it is today, its functionality more-or-less limited to jumping over baddies in between wardrobe changes. As interactive marketing content goes these days, it's a decent way to kill four or five minutes before remembering that you own a PlayStation or Xbox.
Still, the aesthetics of retro gaming feel nice and, dare-I-say, comforting in the contemporary hip-hop context. Look no further than Into The Late Night, the latest from Bay Area rapper Larry June and producer Cardo. Much like their 2020 team-up Cruise USA, this one features sleek beats and phenomenal flows. But the car-centric cover artwork, mirrored and enhanced via YouTube visualizers for the project, calls back to the style of racing games like 1994's arcade sensation Daytona USA. These visuals complement the vintage 808 bump of the seven-track EP's sound while helping to boost the streaming numbers that translate to potentially higher Billboard 200 charts debuts.
While gaming-themed visualizers like the one for "Gas Station Run" lack the relative complexities of immersive modern platformers and even older faves like 2003's beat-em-up Def Jam Vendetta, they provide more entertainment than the screensaver reminiscent ones, which many artists still maddeningly toss out there. Just watching these more thoughtful and knowingly designed clips satisfies something in the venn diagrammed nexus of gaming and listening among hip-hop fans. And as we've seen with increasing regularity, these relatively cheap, loop-based motion substitutes for far more expensive music videos play to that crowd without hesitation.
Nobody seems to treat this format with respect quite like Trippie Redd, whose 2021 visualizer output has been nothing short of a gamer's delight. The one for "Betrayal," a single off his recent Trip At Knight that features Drake, pits the two rappers against one another in Pokemon battle. Having already peaked at No. 67 on the Billboard Hot 100, the song has yet to receive an official music video–and likely never will–while the retro looking clip accumulated nearly 3 million views in its first month.
Redd's penchant for lyrics and beats that boast video game characteristics certainly helps as well, evident on the visualizers for  "Molly Heart" and "Super Cell." (Each of these come courtesy of Grade A Films.) The clips for "Matt Hardy 999" and "Danny Phantom" even brings back Juice WRLD and XXXtentacion, respectively, as Fortnite-style toons. Even as some of the approaches predate those favored by the game-playing demographic of his fanbase, these clips nonetheless resonate, with some garnering more views than his more traditional music videos.
---

DJ Muggs & Crimeapple, Cartagena
A hallmark of Crimeapple's catalog has been his production choices. Before exceedingly dope efforts like If I Don't See You In Paradise and Jaguar On Palisade, he made something special on 2019's Medallo with the legend DJ Muggs. The duo reunite here for one of the best projects of 2021, transporting listeners between the grimiest Jersey streets and the titular Colombian city with impactful bars and beats. Whether it's the eerie piano bap of "Bathtub Full Of Veuve," the electric blues breakdown of "Kleenex," or the synthy jazz fusion of "Reputation," the proficient emcee always comes correct with revelatory rhymes that vacillate between clever and candid. Stove God Cooks provides the genuine article on the illustrious "Mermaids" while RLX closes things out on ominous finale "Fly Shit."
Solemn Brigham, South Sinner Street
After steadily making a name for himself in indie hip-hop as the vocal half of Marlowe, this North Carolina rapper now shifts to solo mode. Given how intertwined his voice and flows have been with longtime producer pal L'Orange, hearing Solemn Brigham over other people's beats on South Sinner Street opens up further dimensions of his sound. (L'Orange still gets props as executive producer though.) He switches between conversationally casual and noticeably speedy on Scud One's bubbly "Vantablack" and Quakers member Supa K's "Dirty Whip." His Southern rap bonafides intact, he secures his place in the Outkast tradition on the spaced out funk of "Bigger World," but the syrupy paced closer "Left Feet" makes for a warbly and liberating earworm.
UFO Fev, The Most High
Keeping up with this East Harlem rapper's restless 2021 release schedule hasn't been an easy task, yet each new effort of his reflects the strength of his stride. A collab heavy effort helmed by producer Eric Vanderslice, The Most High feeds the streets while building up the Terror Squad legacy. And, let it be known, UFO Fev plays well with others, packing up the purest alongside Sauce Heist on "Peace 7" and backing up K Like The Letter's patois flow on "The High & I." Half the tracks here feature Red Inf, a lyrically nice Queens emcee who jibes almost effortlessly with his "co-star." They're some stone cold enforcers on "Art Of The Headbutt" and regional representatives of realness on "Brick O' Dope."
---

In the first half of the 2010s, artists like Joey Badass, Action Bronson, and The Underachievers were repping a new wave of independent NYC hip-hop sometimes lumped together as The New New York. One of the leading acts that emerged in this period was Flatbush Zombies, the Brooklyn-based trio Meechy Darko, Zombie Juice and Erick Arc Elliott. Their 2012 tape D.R.U.G.S. served as a psychedelic rap milestone, its heady hallucinogenic themes embracing the deadhead stoner aesthetic while simultaneously adding fresh perspectives to the local rap conversation. A sour diesel paean, "Thug Waffle" became a bit of an anthem in the right circles, setting the group off on the cult path it continues to proudly tread.