I shouldn't be here. I should not be here at this beach, soaking up the sun on one of Florida's many fine barrier islands. Yet, here I am, standing not even waist deep in cool ocean water looking back at the nearby shore with this plaintive awe. With my cell phone safe and dry, further away from me than ever before, I contend silently with a low grade panic over the information I'm probably missing out on, mainly about the virus, this bug that has rapidly upended American society and the rest of the world.
The waves splash against me. I think of friends back home in New York, expressing terror and fear and nihilism and despair over the impact COVID-19 stands to have on day-to-day existence. Here, though, I see children making castles in the sand, people reapplying sunscreen, all of these clear signs of vacation-based normalcy. Life, as the cliche makes clear, is very much going on. From the water, I witness nothing unusual. But I shouldn't be here. None of us should. And this starts feels like a grave mistake.
Jay Electronica's debut album came out this weekend. It is a time capsule of sincere, supremely lyrical, fundamentalist rap music incongruously unveiled amid a climate of chaotic flux. As hip-hop fans, we've wanted A Written Testimony for so much longer than we could utter its name aloud, preceded by more than a decade of anticipation, cynicism, disappointment, and hope.
And it's a great record, almost immediately registering its weight and import in line with its precursive hype. Elec spouts Nation Of Islam pronouncements, spits bilingual switch-ups, drops galaxy brain level bars, and does all of this with Jay-Z himself playing proficient sidekick. (Everything is love, but this ain't The Carters.) He decimates No I.D.'s hauntingly familiar "Fruits Of The Spirit" beat with a tactical nonchalance and grants grand answers to the question of the delays on the apparently Frippertronic opus "Ezekiel's Wheel."
Even as it strives for timelessness, reaching improbably for a state of divine stasis amid a genre incapable of sitting still, A Written Testimony conveniently taps into the Now. Oldheads spent the 2010s bemoaning kiddie rap mumblers and SoundCloud slurrers, as well as the teenaged singsong pop cats who studied at the bejeweled altars of Drake and Ye. But hip-hop's neoconservative resurgence seemed all-but assured by early 2020 after Griselda broke through the boom bap glass ceiling and a septuagenarian Eminem found himself back on top. Elec's album would have had a welcome wagon no matter what, yet it's hard to imagine a more agreeable time for it to arrive.
Judging by social media response, a healthy mix of praises and memes, A Written Testimony is being well-received. For those who've waited him out, hearing "Shiny Suit Theory" in Tidal Master-Quality feels like a blessing from on high. Still, there's a sense of disbelief over its very existence, even while listening. This admittedly absurd notion defies the fully functioning headphones the album plays through, an unintended byproduct of fantasy fulfillment. After all these years of wishing, pleading, and mocking, I can't stop myself from thinking that A Written Testimony shouldn't exist and that I should not be here to hear it.
---
Treacherous Trio
Backwoodz Studioz devotees no doubt caught wind of last year's Cobalt, an EP credited to Curly Castro and PremRock of the Philly-centered Wrecking Crew. With their eponymous full-length under the ShrapKnel moniker, the promise of the prior teaser finds immediate fulfillment with lyrical intricacy and boldly executed beats by Elucid. The record benefits from their interplay, a series of thoughtful one-ups and cold gambits that manifest on the darkly mesmeric "Ghostface Targaryean" and "Fashion Week." Billy Woods drops by for Gravediggaz-referencing highlight "Estranged Fruit," while Henry Canyons and the underrated Googie guest on "Izza Killa."
Prestigious, 50/Fifty Pt. 1 (buy it / stream it)
Let me put it like this: you won't find a feature on 50/Fifty Pt. 1 from anyone under the age of 40. And if you have a problem with that, check your millennial privilege, because this isn't watered down grown folks rap. Coming with the rawness, Brooklyn spitter Prestigious taps outer borough underground heroes like Capone, Royal Flush, and Ruste Juxx for this long-gestating follow-up to 2007's Quarter Of A Century. Still, most of the record eschews guests to let him get these bars off, as evidenced by the rugged rhymes of "Feast Or Famine" and "Get In Where You Spittin'."
Curren$y & Fendi P, Smokin Potnas (buy it / stream it)
Jet Life releases somehow always maintain a high standard of consistency, no small feat a decade in. Chalk that up to Currensy's curatorial oversight and keen ear for NOLA talent like Fendi P (fka Corner Boy P), who features with the label boss as a dynamic duo here on the punny yet potent Smoking Potnas. Opener "Strategize" transmutes the work ethic into a flex of its own, irrespective of which game is being discussed, while Harry Fraud's always welcome tag centers the adrift jazz atmospheres of "Foreigner Outside," the latter another solid entry into a blunted canon.
---
Lettuce Wraps with... Anu Sun
Three questions. Three answers. That's it. Time for another edition of Lettuce Wraps.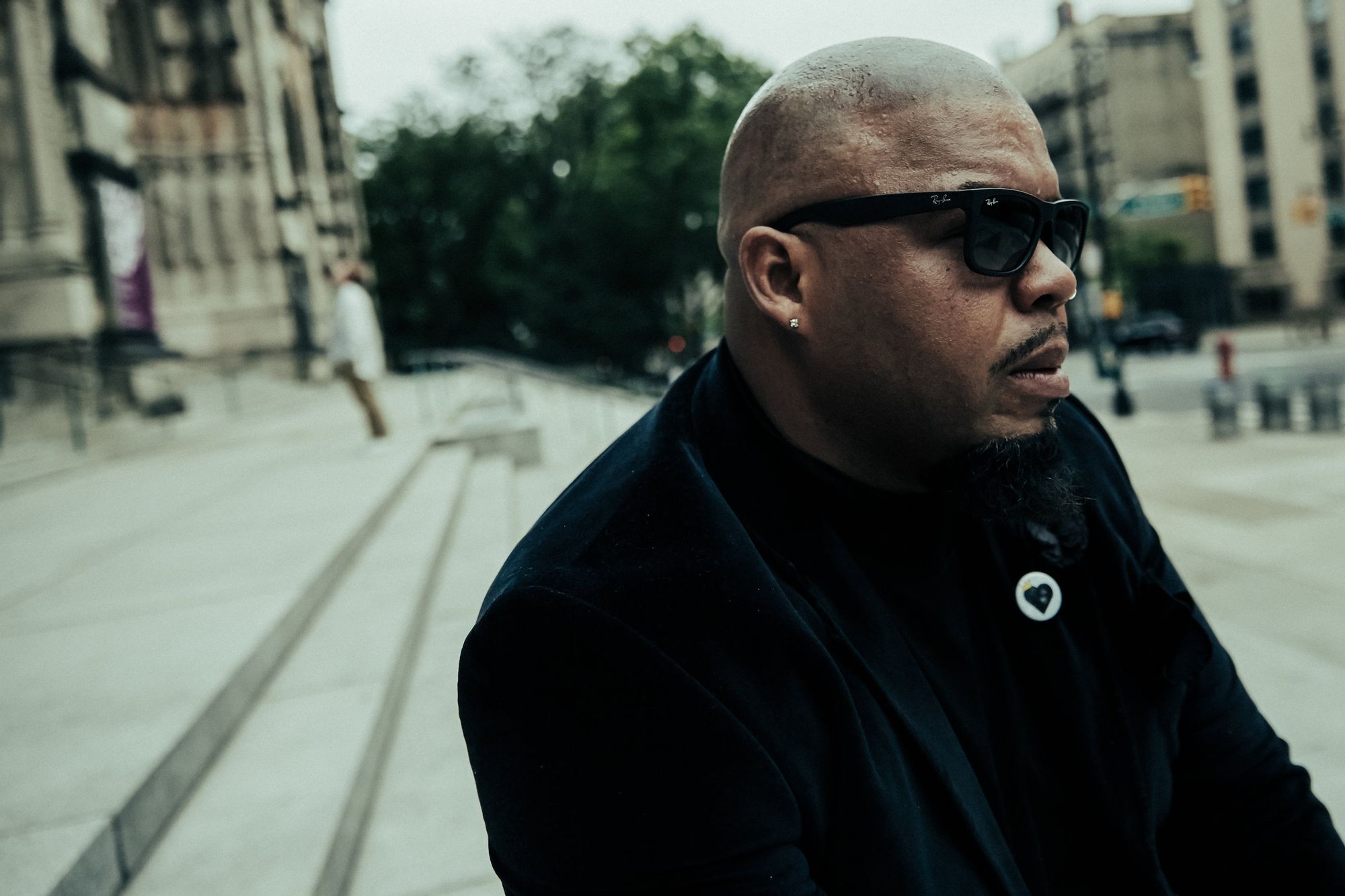 Photo credit: Deneka Peniston
If you've danced your ass off at any of The Shed open jam sessions in recent years at Harlem venues like Ginny's Supper Club or Silvana, you can thank Anu Sun for that. Much like at those live performances, his jazz-meets-hip-hop artistry is in full effect on last year's Ropeadope Records set Sanguine Regum. Having recently wrapped up a weekend's worth of sold-out London shows opening for the similarly genre-defiant Robert Glasper, with whom he's previously collaborated with on Black Radio 2 and the Miles Ahead soundtrack, here are some of his thoughts on Harlem, hip-hop, and social justice.
As a Las Vegas native, how has Harlem—being there generally and putting on your The Shed events at neighborhood venues—informed your creative process?
I feel like the spirit of Harlem has always resonated with me. I feel at home here; it's very familiar yet sacred to me. There's so much rich culture, history, and creative energy vibrating through Harlem's buildings and streets. For instance, the building I currently reside in used to rent rooms and apartments to touring jazz musicians and singers and I feel that creative energy and presence here. For instance, the very first song I worked on in my spot here ("Persevere," on Robert Glasper's Black Radio 2) was on a project nominated for a Grammy. The building across the street was Marcus Garvey's weekly meeting space. The church up the block (Abyssinian Baptist Church) is the oldest African American church in America. And the list just goes on… The energy is fertile and I feel the push, anointing and blessing of our lineage to fight for and find innovative ways to advance the culture.

As far as The Shed's relation to Harlem, as a musician with connections to a plethora of other phenomenal musicians, I felt convicted to ensure that the home of the Renaissance have its own vibrant jam session within the community for seasoned and emerging musicians to play/gather.
Among the various genre elements that make up your Sanguine Regum album, hip-hop is a constant presence. Do you see this as an extension of your work on, or the ethos of, Black Radio 2?
Actually, jazz is an extension of my brand of hip hop and is attributed to my love for the golden age. It's [a] product of my love for Pete Rock and CL Smooth, Gang Starr, A Tribe Called Quest and Dilla. While I grew up shedding to Kiss, Lionel Hampton and Buddy Rich tunes, the jazz samples in the tunes of the golden age of hip hop made me fall in love with jazz and begin diggin'.
A number of Sanguine Regum tracks take on sociopolitical issues and concerns involving, among other things, race. Do you see songs like "KAEPtain AmeriKKKa" as opportunities to start conversations and push for real change?
Totally!! This album was crafted to bring about awareness, spark otherwise uncomfortable conversations, and promote change. The band-aid and numbing agent weren't successfully treating the wound, so I wanted to remove the bandage, scrub away the scab, and assess the trauma in order to promote a true healing.
Purchase Anu Sun's Sanguine Regum digitally via Bandcamp or stream it here.
---
We Out
Growing up in New York in the '90s left a lasting impression on my hip-hop tastes, with a particular lingering fondness for the local sounds prevalent in the first half of the decade. In my defense, 1994 was a pretty stellar year across the five boroughs, yielding standouts like The Beatnuts' Street Level, Method Man's Tical, Nas' Illmatic, and The Notorious B.I.G.'s Ready To Die, to name a few. But while the classics dominate the contemporary conversation about those days, it's important to remember that the city was brimming with great rap music, including some solid records that nobody talks about anymore.
To that end, the duo of Ill Al Skratch deserves your time, and "Where My Homiez?" off 1994's Creep Wit' Me LP evokes the hardcore street vibe of the era so well. I returned to it recently thanks to YouTube's algorithmic rabbit hole, and so I'm paying it forward for you right here. Get ready to nod your head to the beat.
---
See you next Sunday.
Follow me on Twitter at @noyokono and on Instagram at @noyokono too.