March Madness, NYC Drill Edition
This is CABBAGES #063.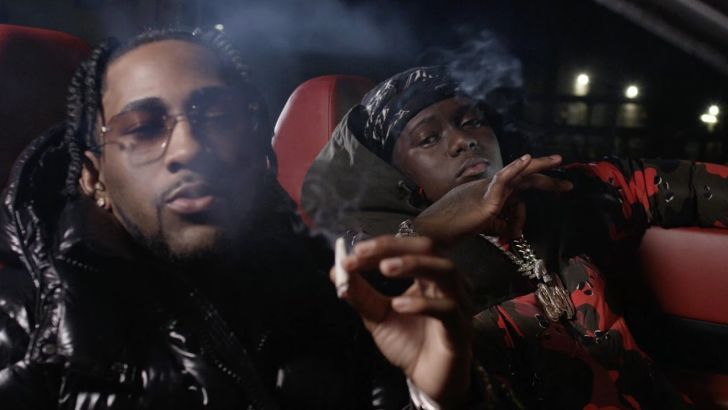 Alright, look: I'll cop to knowing less about college basketball than I do about professional basketball, of which I know basically nothing. But I couldn't let this month draw to a close without opportunistically borrowing the bracket framework as a flimsy excuse to highlight some of my favorite NYC drill tracks of this given moment. So, even if you haven't been riding for the sounds emanating from Co-Op City down to Flatbush, give some of these a try.
Ron Suno & Sheff G, "Winners"
I first caught Ron Suno live at SOB's in the West Village, barely a week after the murder of Pop Smoke. This was pre-pandemic, before the Bronx native dropped the "Pinocchio" remix with Blueface that did good things for his profile. Here, he teams up with one of Brooklyn drill's true progenitors over a refreshingly non-UK-type beat. Halfway through his own verse, Sheff switches to whisper mode, taking it back to the Ying Yang Twins days by keeping some of his darkest boasts and threats on the hush.
22Gz, "Twirlanta"
Perhaps what I appreciate most about this Flatbush spitter is his apparent unwillingness to make that crossover bad boy R&B move that certain others in the drill scene have attempted. To each his own, and far be it from me to tell someone how to secure their bag, but without fail 22Gz represents this music he helped both pioneer and popularize with the breakout "Suburban." A standout from The Blixky Tape 2, this chilling cut seeks to bridge Brooklyn and Atlanta the way certain Chicago drill acts did previously. The production here feels like an evolution too, or at least a permutation worth more of the rapper's time going forward.
Chucky73 & Eladio Carrión, "Nube"
The Dominican Republic and Puerto Rico come together nicely on this inventive track. Well suited to the comparatively more conventional drill style following his apparently Manhattan-based J Balvin collaboration "Tata," Eladio switches boros and turns to The Bronx's supreme supersoaker-sporting rapper for something special. The slang may be too insular at times for some to decipher, but there's plenty here that's easy to pick up on, plus a ivory-tickled beat that adds a little levity to the proceedings.
Sleepy Hallow, "2 Sauce"
After this Winners Circle Entertainment rapper successfully flipped perennial outsider Tiny Tim's bizarro classic into the magnificent horrorshow "Tip Toe," I pretty much trust whatever he happens to have on deck. Not quite so outlandish as that single, his latest takes a minimal yet intriguing beat by New Jersey go-to Great John and uses it to ruminate on his luxe life of high-end automobiles and a rotating cast of love interests. As with all the best hip-hop hedonists, there's no small amount of nihilism embedded deep inside his bars.
CJ feat. Anuel AA and Ozuna, "Whoopty (Latin Mix)"
At the risk of this newsletter becoming The Journal Of Whoopty Studies, I'd be remiss if I didn't include the second official remix of this contentious Staten Island rapper's still-popular single. Following last week's version with French Montana and Rowdy Rebel, this one brings Los Dioses themselves on to bolster CJ's Puerto Rican bonafides. An apparent natural over a drill beat, seasoned trapero Anuel steals the show here, the Staten Island joven surprisingly diminished on his own single to a truncated chorus. As for Ozuna, his popstar rep makes him less menacing than the track deserves, but he does better than expected.
---

Armand Hammer & The Alchemist, Haram
Before working with Freddie Gibbs on Alfredo, The Alchemist was respected for his proximity to Eminem and Mobb Deep. Within the past couple of years, though, he reached the sweet spot where prestige and ubiquity meet. Now, after amassing a following for himself, choosing to collab next with cult indie rappers Armand Hammer reflects his power more than if he'd done so with major label emcees. Sharing the marquee, he brings a subtler albeit experimental approach to Haram than some might have anticipated. But with twin lyrical dynamos billy woods and ELUCID wielding the mics, the backwards jazz of "Sir Benni Miles" and "Peppermill" makes a great deal of sense. With so much to unpack on tracks like "Roaches Don't Fly" and the damning "Robert Moses," the intricate depths of these verses would drown anything that dared to compete sonically. It'll take a dozen more replays before the trio's vision begins to reveal itself to us mortals, the words building worlds.
Caleborate, Light Hit My Skin
This Bay Area rapper knows the struggle well. He conveys it quite convincingly on "Contact," a weighty blues spiel where he unloads frustrations and anecdotes no doubt relatable to countless creatives. Throughout Light Hit My Skin, Caleborate lets listeners way into his feels, the ups and downs not infrequently abutting one another. Far for hyphy purism, the album serves up slick production to carry his contemplative themes, leading to R&B-esque groovers like "Pull Up" and "What U Want." He romanticizes passion and peril in the mixed metaphors of "Untitled (Hit Record)" and exudes a restless ambition amid the digital trilling of "The Game." Guests include Duckwrth and Deante' Hitchcock, in case you need even more reasons to explore this one.
100GrandRoyce & 183rd, Triple Crown
Those who followed this dope duo's progress via last year's Prodigal Sun and The Return projects know what to expect. But for those still tragically unaware, hardened Harlem battle rap vet 100GrandRoyce and Bronx beat bruiser 183rd make the most sublime bap together. The melding of the former's high-level lyricism and the latter's streetwise soul leads to marvelous match-ups in "Can't Do That" and the shimmering "Sorry For The Wait." A familiar to both artists, Smoke DZA features with kush smoke braggadocio on "Never Be," a cut that subversively extends its vocal sample to unnatural semi-dissonant ends. Crate diggers might obsess over some of 183rd's selections, but they best not do so at the expense of appreciating all these bars.
---

Her 2020 Kings Disease reunion with The Firm notwithstanding, it's been too quiet for too long from Foxy Brown. Her voice and her presence feel desperately necessary at a time when so many rappers who grew up with her work so publicly benefit from her contributions to the game. We keep hearing that something's coming, year after year, but to no avail. Considering how many listeners clamor for new music from elusive, seemingly dormant (and typically, male) emcees, her hallowed name should be a lot higher on the lists of desired hip-hop comebacks. For now, rewind your mind to 1998 for this Irv Gotti produced, Hot 100 charting lead single from her RIAA platinum-certified album Chyna Doll.
---