The Voluptuous Horror Of Megan Thee Stallion
+ reviews of the latest from YL, Kenny Segal, and Wrecking Crew. This is CABBAGES #069.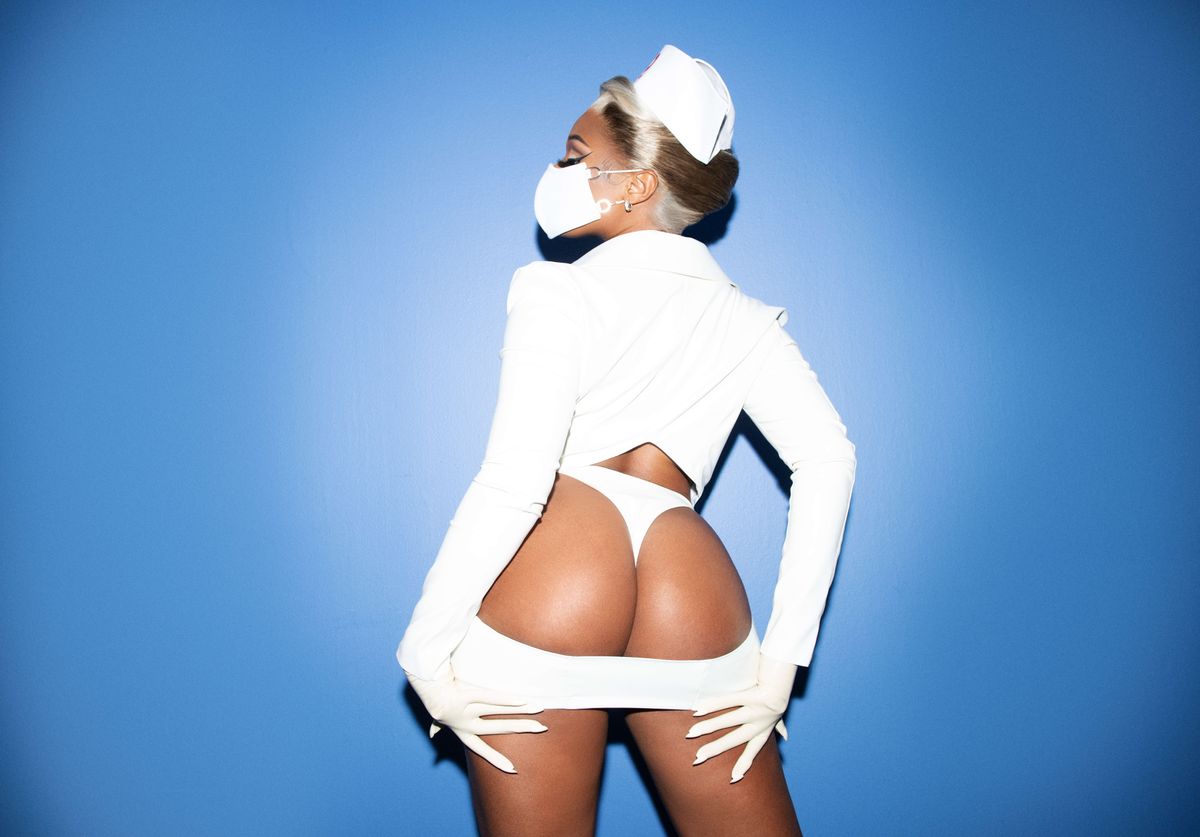 (Photo credit: Marcelo Cantu)
Surely by now you've seen the video for Megan Thee Stallion's "Thot Shit." With direct nods to films like A Nightmare On Elm Street and Fight Club, the colorful clip accompanies the hitmaking Houston rapper's apparent return to her decidedly more raw Tina Snow persona. For those disappointed or nonplussed by her 2020 album Good News, the single and its Aube Perrie directed visual offers plenty of satisfaction and schadenfreude, with Megan's cutting and empowered bars soundtracking the poetically just emasculation of a U.S. senatorial stand-in.
Capturing the zeitgeist, the "Thot Shit" video exists at the nexus of female sexuality and supremacy, both in the hip-hop space and in horror cinema. Obviously, these are timely threads in a wider tapestry covering and challenging myriad aspects of systemically sexist modern life, but nonetheless both such manifestations in popular entertainment are inherently political. Despite its seemingly comical opening premise, in which a hypocritical conservative boomer suffers abject embarrassments and has indignities inflicted upon him by a bevy of gleefully twerking BIPOC hotties, Perrie's five minute short eventually goes down a dark path that's more Midsommar than Who's Your Caddy.
Truly, the moment where the tone changes is better seen than described, a shocking twist on Cronenberg-esque body horror fused with the added moral unpleasantness of French provocateur Gaspar Noe. (Perrie's choice of font on the opening credit title cards should be familiar–and thus a terrible omen–to those who've seen I Stand Alone, Irréversible, or Enter The Void.) No matter how you react to or subsequently ruminate on its final seconds, the "Thot Shit" video is as justifiable a revenge fantasy as any seen on film, given how right-wing politicians and pundits shamelessly turned Megan's sex-positive chart-topping "WAP" collab with Cardi B into grounds for a needless culture war battle.
But it's deeper than that. As a format, the rap music video has frequently served as commentary from Black people on existing in what are considered white-perceived spaces. Typically, that presents itself in a comedic context, with one trope being the there goes the neighborhood gag of a rapper moving into a wealthy community, unnerving and sometimes un-inhibiting the apparently well-to-do whites next door or across the street. It's something that continues to this day, albeit with modern modifications. Pooh Shiesty's "Neighbors" visual from February, for example, turns the template around by having whites play the newcomers. (I'm reminded of the coda to Diddy's "Bad Boy 4 Life" clip, where the nu-metallers from Crazy Town move in.) The family of four find themselves on both sides of suspicion, with either side peering through the blinds at the other. At the end, with the kids corrupted in ways less conveyed than implied, a moving truck takes them away under cover of darkness.
In recent years, viral clips exposing what we all now call Karens being racist on Main have come at a steady clip, sometimes as unintentional reality humor and, increasingly, as potential prelude to violence by either the individual or by law enforcement. We've seen white women and men accuse, berate, and threaten BIPOCs simply for being somewhere or doing something they don't believe they have the right to. We've seen cops arrive on scene and predictably pick the wrong side. We know the results of these interactions have harmful repercussions, up to and including death.
As such, art naturally turns more extreme to respond to these incidents, to their frequency and their visibility and their place in the broader epidemic of American racism–and, in the case of Megan Thee Stallion and other female rappers who exercise their freedom on the mic and in their visuals, American sexism. So while there will inevitably be some sort of backlash to "Thot Shit" from her most disengenous critics, we should anticipate seeing more such snarling satire in hip-hop in the months ahead.
---

---

YL, It Never Entered My Mind
One of the illest operating right now in the New York underground, YL dropped a seminal sleeper last Christmas with Jesus Is My Homeboy. The timing may have kept the project from breaking bigger, but that's a concern his lavishly bleak follow-up It Never Entered My Mind lacks. Working mainly with producers Argov and Noface, the rapper takes it to the streets on the former's "Joe Dirt" and the latter's "Ludacris." He spits speedily over Driveby's downtempo slope on "Slowpoke Rodriguez" and Roper Williams' after hours vibes on "Man On Fire" while basking in Zoomo's AM radio warmth on "Walk It Out." His guest selections are especially sagacious, linking with an ad lib crazed Lord Jah-Monte Ogbon for "Life On Earth" and with Starker and Yungmorpheus for the rap ménage "Bang Bros."
Kenny Segal, Indoors
Though his production credits go back some two decades, Kenny Segal really came into his own via critically acclaimed collaborations with rap geniuses billy woods and R.A.P. Ferreira (fka Milo). For Indoors, he bids the emcees adieu for a weird and wondrous instrumental journey that not infrequently diverges from the hip-hop path. Too interconnected to be just a beat tape, his compositions here exhibit an album mentality, one that plays out in piano lounge chops of "lollllbye," the ambient warble of "little dinosaurs," and the shambling bap of "nuclear winter." He calls back to his drum n bass roots on the placidly pastoral "limited daps" and the rhythmicly skittish "limbic friction," while slicing up experimental ensemble Skyline Electric for the nervy jazz of "oskmdtb."
Wrecking Crew, Steel's Kitchen
The incestuous emcee and producer mix-em-ups that make up this Philly-centered set represent a kind of hip-hop alchemy, in which the permutations respectively pursue rap perfection. Yet the members' eagerness to collectively/respectively divide to create makes the full unit one of today's most cohesive cliques. Paying homage to decades-old Ruff Ryders comps and the movie Juice, this project brings new music from the Call Out Culture podcasters' combos. Alaska, Curly Castro, and Zilla Rocca appear throughout, but are at their best all in together on studio cipher "98 Clue Freestyle." Small Professor deftly handles the beats on five tracks, including the bookend intro/outro instrumentals, while dos4gw's collapsing "Sanford And Sun Ra" features Scorcese (R.I.P.) and Fatboi Sharif on the mic.
---

Among the things that made Open Mike Eagle's first season of the What Had Happened Was podcast so great was hearing Prince Paul discuss De La Soul Is Dead. That episode in particular came back to mind recently as news hit that music rights company Reservoir had acquired Tommy Boy Music, potentially reopening the possibility for some reconciliation with De La Soul to get their four albums on that label onto streaming. Given the history, I remain reasonably skeptical, but listening to this single–perhaps my favorite song from their 1991 full-length–at least raises my spirits.