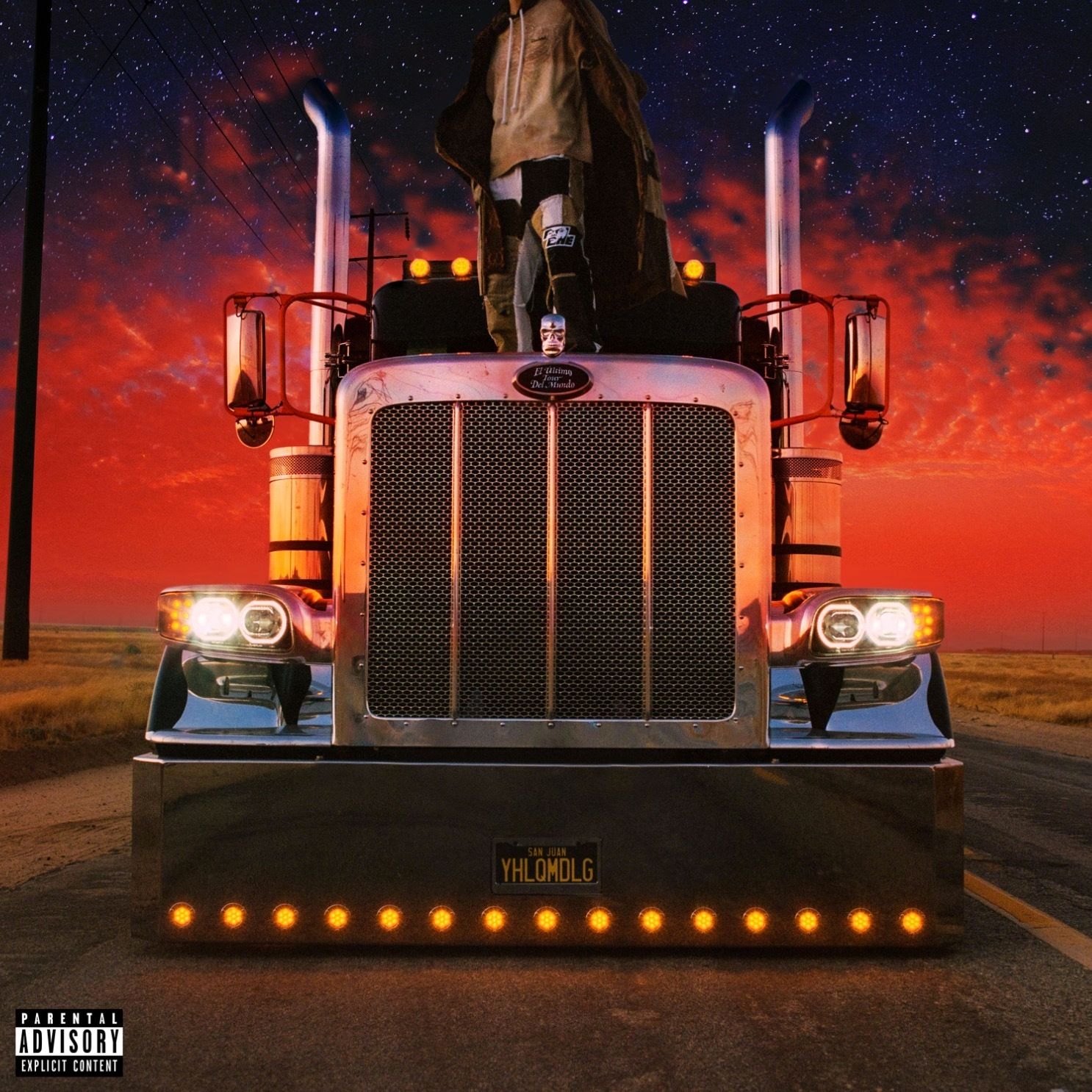 The following conversation with Los Angeles musician/songwriter Mick Coogan took place over the phone earlier this week, just days after the release of Bad Bunny's El Último Tour Del Mundo. Coogan appears on five of the album's tracks—"Haciendo Que Me Amas," "Maldita Pobreza," "Te Deseo Lo Mejor," "Trellas," and "Yo Visto Asi"—in a writing and/or co-production capacity alongside Marco "Mag" Borrero. In addition to discussing his contributions to El Conejo Malo's latest, we also spoke about his work on Danny Ocean's "Epa Wei" and on Trevor Daniel and Selena Gomez's 2020 joint single "Past Life," the latter of which was a Billboard Hot 100 hit and recently received a remix with Lil Mosey.
---
How did you end up in Los Angeles?
I'm from Washington D.C.  I was a high school teacher for a long time in P.G. County, playing in a rock band on the weekends. The rock band got better and better. There was a great scene in D.C. in '06, '07, '08. There was a lot of DIY venues, blogs that were pushing music—there was a culture. We kind of blew up in our small scene and started to play more shows in New York, in Brooklyn. Our band was called The Dance Party. We did a deal with Atlantic in '09. Everybody quit their day jobs and moved out to L.A. to make an album. We went on tour, we did Warped Tour. We were able to survive for three years. Then we got dropped and that's when we started Brett.
And this was with all of the same people, right?
Yeah, same guys at the beginning. We put out some music with Cascine with Jeff [Bratton] to control our destiny a little bit more. Obviously, when you're working by yourself, it's harder and there's not too much income. There are going to be some really skinny years in there. Because we've met a lot of people through The Dance Party and made some good relationships, I was always co-writing with other artists and starting to work on other albums or co-write a song for so-and-so. Every once in a while you'd get a cut and that might pay for six months of rent. So you get back in the lab and make two more Brett albums and keep doing the thing.

I did a publishing deal where I wasn't having to worry about rent anymore. Some of the first people I worked with on that deal with in 2016 was a writer named Caroline Pennell and Sean Meyer. These are writers out in L.A. that are so, so, so talented—Sean's a producer, Caroline's a songwriter. She is a prodigious songwriting talent. We've written together for three or four years and she's taught me so much.
"Past Life" was really one of the times where we started locking in as a team and another buddy of ours, Jay Stolar who's actually a New York City songwriter. We all got in a room one day and that song came out. Immediately, Selena [Gomez] cut it right away. We knew we had a special one with that. It didn't make her album. Interscope still loved it and Trevor [Daniel] put it out, was about to go on tour, was about to go on Fallon, was going to open up for Camila Cabello. He was going to launch his career. He had a number one song at the time; it was all happening for Trevor Daniel. We were all excited. Of course, COVID hit, shut everything down. Everybody was kind of bummed, but we knew that Selena loved the tune. In the summer, she got on the remix. The song gained some traction and they put some weight behind it and went to radio. Everybody's really proud of that song. I feel like we captured a really unique, most emotional output that day as friends and as writers.

Interscope really believed in the song. They got Finneas [O'Connell] to finish the production and he is a really talented dude. We were so pleased with those small choices that he made. He's a great producer and he can do the big things and the little things really well.

It's funny. I'm still able to work with a lot of songwriters in the Los Angeles community because that's song meant a lot behind the scenes. The demo was kind of like a folklorish cult figure of a demo within this small community that, that part of it. So it was nice when I get to work with somebody, on like a blind zoom date, they go, dude, the first time I heard "Past Life…" And you're just like, oh man, that's cool. It's nice when it works out, but also you see how many forces are at play to make a record go, and how rare it is. In order to make a living at this business, you have to do that consistently.
I heard the Bad Bunny album and was just like, this is something else. There's a lot of talk about Mag [aka Marco Borrero] and what he brought to the table.
I look at this album and I know it is a drastic change from what people are expecting from Benito. With Mag, he's been a close personal friend for a long time. My manager for The Dance Party who got us signed to Atlantic is his manager, so we met six or seven years ago. We have a lot of shared interests. We're both East Coast guys—he's from Brooklyn. We both love the NBA and we just hit it off. For four or five years, we never even worked together. Mag had a huge hit with [Flo Rida's] "My House." I was still trying to get to that space where I was gonna work with people of his quality. And then we started working in circles and getting some nice cuts. Then COVID happened. I saw the dominoes falling and I go, my business better change or else this is going to be one of the last rides I'm going to have.

So I was like, okay, I'm going to start making guitar riffs, I'm going to start building guitar parts. Because I know that's something that I'm good at. I'm just making a bunch of things that I think are cool, that I would use for a Brett song, something that's cool. I started sending them immediately to my close producer friends, because I know that they needed beats, that part of the beat. And so with Mag, I was like, hey bro, I got some tunes for you. I send him a bunch of stuff. This was like in March. The guy in Brett, Scotty, my dear brother who I play all the shows with, he started working. I'm like, bro, trust me, this is the time to like, get in your studio and make cool guitar shit. Obviously, it's happening at radio, you know, [with Lil] Peep and X[xxtentacion] and Juice WRLD and Post [Malone]. That had been happening.
What happened with Mag [was] he got inspired by them and he told me in March, keep feeding me this stuff, I got some shit cooking, this is going to be ill. He would send me little voice memos, back and forth, of what he's working on. So I kept sending him, sending him, sending him, sending. Later in the summer, he tells me about the Bunny project. That's extremely exciting. I'm honored that Benito is singing to our stuff.  I didn't hear any of this. It was obviously the most hush stuff. I kept sending him stuff and they would cut more records. Mag was doing a lot of work, him and Benito. And they started sending me more production work on the songs that I'd worked on. "Maldita Pobreza," they were like, can you start fleshing out some production ideas here? Let me play some more guitar stuff, let me give you all these options. Mag and I are just close, so it's easy communicating, editing, and all those things. I heard "Trellas" and I was like, dude, this is Blonde. This is the coolest shit I've ever heard. So I do what I'm going to do, just layer this with like Pisces Iscariot shit and gnarly feedback and whatever I think is cool and here it is. They started really fucking with it.

I had a day where we all got together in L.A. with Benito. We got to bro it down. He saw that I was a chill person. I've been to PR three times, so I can talk the talk. It was a fun day. We game planned and he was like, here's what I need. We pow-wowed and did some more production stuff. I did a guitar solo, just helping the tunes however I could. If they keep the stuff, they keep it; if not, not. And it turned out that Benito was stoked on the stuff that I was doing. It was good teamwork and you just try to like be open, make changes, and try to bring something fresh to it.
That day when we all worked in the studio, I heard some of the songs. I was like, fuck, man, this is going to be big. I mean, it's automatically big with Benito. It was so different. I heard "Maldita Pobreza" and sounded like Maná, classic Latin-American stadium rock. And I just couldn't believe the wheels that were turning for him. It was really exciting.

I've been listening and drinking beer to this album for like 96 hours straight. It's been delightful. I'm on FaceTimes with my bros in LA and drinking with my brother. This is the coolest shit ever. And it started in a very small way with me and Mag, hitting a good spot where he was inspired by the work I was doing. I was able to keep feeding the beast. And then obviously Benito was getting inspired by Mag's stuff, by our stuff. That kind of spawned "Yo Visto Así," and from there you have this melding of so much different stuff.
You mentioned Pisces Iscariot, and, as a child of the '90s, I picked up on Smashing Pumpkins and that sort of thing in there. With Mag, are you speaking that same sort of language? Are you speaking in terms of artists and touchpoints, or is there's a different way of communicating with him?
I think with Mag, he likes that I'm not a great guitar player. From our community in L.A., you're working with Grammy winners. And Mag has that catalog where it's like Grammy winners every day. These are the most trained, most skilled, one take. I'm not that kind of a guitarist, but I know the vibe of the stuff that I've been listening to my whole life, like Pumpkins and The Cure. I think that I have a good melodic sense and that Mag is drawn to that. That's why we've connected well creatively over the years. We connect with the melodies and the tempos and the small things that are instantaneous. For this project, he was liking kind of the rawness of what I was sending.

Benito was telling Mag all these inspirations. Benito, he's just like galaxy brain. Listening to this album and knowing how he works, this person is the top five melodic writer in the world, a genius person. I didn't know how he was going to write to these types of songs. Like, "Te Deseo Lo Mejor," it sounds like Pedro The Lion or something. What I was going through was so dark, you know? And he opens up this huge melody on it, and you're just like, fuck, man, this is like so exciting.

Mag was trusting me to bring whatever I've been, for 20 years, playing. And he's like, that's what I like and this is kind of what Benito likes. That's what I do. I can't do the cool, perfect stuff at all, but I can do this ratty, fuzzed out stuff. I think it's like (Sandy) Alex G being on Blonde or HudMo on Yeezus. These great artists, they can get any of the Grammy guys to do it. That doesn't challenge them, I don't think. Maybe the challenge of the imperfect stuff, maybe those are the things that inspire something different from the artist, you know?
I've talked to HudMo. I've interviewed him and Machinedrum and Jimmy Edgar, all these guys. They're writing, they're producing, they're connecting to these people in ways that are different from this Grammy community that you described. Was this your first time working with a Latin or Spanish language artist?
It wasn't. My publisher had a studio in Miami, and in 2017 I did a couple of days with an artist, Danny Ocean. He's amazing. He's amazing. And this was literally as "Me Rehúso" was blowing up. I think at the time it had like 500 million streams on Spotify and he didn't even do his label deal yet. He was just winning. We got together and made some cool stuff. One of the things that we did ended being one of his songs that he did with Skrillex called "Epa Wei." So I've worked in the Latin community a little bit, with other artists in Miami, but not as extensively as on this project.

Obviously, Mag is that bridge where he loves Latin music and understands it and has worked in that realm before and, at the same time, loves pop music and is really, really good at that. I came from that zone and Benito came from his huge tidal wave of like a reggaeton and trap. All of a sudden, you have what we have here. It's like super unique. I know of some of his fans are like, what is this?, and I hope maybe there's a new fan that says, wow, this is new and cool.
I think what sets this album apart is what you and Mag did, finally making a connection in a high profile way between what's been happening with artists like Post Malone and Lil Peep with this Latin scene. That's a huge accomplishment, because there's always been this disconnect where we feel like we have put the word Latin in front of trap to describe what Bad Bunny does, versus just saying that it's trap or emo rap. This helps move things in the right direction.
Yeah, I think you're right. If there's anybody that's going to be a spokesperson for this melding of culture, he's the one to do it. He's one of the key voices right now. It's a real honor to be able to see how he works. This is like, right place right time. But if you're in the business long enough, there's a lot of it. If you're doing 200 sessions a year, a year, working really hard, eventually you're going to have these great shining moments.

This is just the product of a tireless worker, who is extremely creative and an extremely inspired person, with some time to dig in and float. And he's just floating on every song. I've listened to the album like 20 times, exploring these new little parts all the time. I'm exploring it with Mag's production, with Tainy's production. It's awesome to be a part of it.

I'm putting these tunes in the same playlists that I have with all my Grateful Dead and my Tom Petty and my Cure and Beabadoobie and all this shit—the only music that I listen to. I'm making music that goes into the Turbo Hang Suite. That's my playlist and that's the only music I listen to. I've never made a song that's gone in there. It's only been other people. So, that's amazing. That's insane. That's awesome.
---
See you next time.
Follow me on Twitter at @noyokono and on Instagram at @noyokono too.