I'd be lying if I said I had that purple cassette tape. When Only Built 4 Cuban Linx… dropped on August 1, 1995, I definitely wasn't first in line to cop it. Enter The Wu-Tang (36 Chambers) had done a number on my NYC teenage brain, but even then Raekwon was not my favorite Shaolin emcee—not even in the top three. Of course I respected his "C.R.E.A.M." verse, that iconic opening couplet burrowing into my psyche. But I was far more fixated on Method Man's gravel pit hook. Tical had been somewhat of a letdown, and my pockets were thin while working a minimum wage job after school five days a week. I wasn't going to get burned twice.
I rode around Queens in late 1995 in a hand-me-down hooptie belonging to my Romanian bestie Bogdan. A towering and excitable young man, he had a copy of Liquid Swords and was fixated on the title track. We rarely flipped the tape to Side B, which means "Investigative Reports" didn't get a ton of play. Lyrically speaking, I thought GZA was the true genius (no pun intended) of the Clan, but when I'd get home and watch The Box—Music Television You Control—what I really wanted to see on my tiny bedroom set was ODB's "Brooklyn Zoo" video.
In high school, I didn't hang with a lot of hip-hop heads. I'd gone from the New York public school system to the private Catholic one starting with 9th grade. I didn't understand these kids, many of whom lived like Long Island suburbanites in actual houses instead of co-ops in the shadow of LeFrak City, and nothing made sense to me anymore. Admittedly, it was for the best that I was no longer getting into mischief in the vicinity of 99th Street, having moved from Corona after a shooting incident in the neighborhood hit a little too close to home. Instead, I was tutoring kids in Forest Hills at the community center, a hub designed to keep at-risk area youth on a good path.
The Wu, however, was something I carried with me into the new. The diversity and complexity of their sound and respective personalities kept me tethered to this music even as I explored various genres. Still, Only Built 4 Cuban Linx wasn't part of my experience, and I went to college a few years later still having not even heard it. In fact, the first Raekwon album I bought was 1999's Immobilarity. The disappointment was palpable, my devastation remaining visceral to me to this very day. Departing from RZA's sonic temple felt like a personal betrayal in that way young people indoctrinated in narrative are inclined to feel. A few months later, Ghostface Killah's Supreme Clientele provided necessary salve and salvation, which no doubt contributed to my longstanding belief in it being the superlative Wu-Tang solo effort.
But look: you can't hear Raekwon's verse on "Apollo Kids" and not feel like that dude is 100 feet tall, towering over you with those bars. So, I yielded. I forgave The Chef for the folly of Immobilarity enough to go back to Only Built 4 Cuban Linx. Given my mid-'90s admiration for Method Man, I'd obviously heard "Ice Cream" before, but in my mind had unofficially credited the posse cut to Ghostface thanks to that opening verse. But it wasn't long after my first album playthrough that I saw the Wu Gambino vision, having not only devoured the cinematic prequisites like The Godfather and Goodfellas but also by benefit of having an extended Italian-American family by way of my Cuban aunt's marriage. "Incarcerated Scarfaces" hit differently, to say the least.
My eyes had been opened with A Clockwork Orange precision. Suddenly, I needed the whole set. I went to one of the used CD spots I frequented and picked up Ironman and Cappadonna's The Pillage. The rest, as they say, is history.
---

Eto, Eto Brigante
A creative homage to Brian De Palma's Carlito's Way, the latest project from this Rochester artist basks in the blur between fact and fiction. Defined by short tracks and Eto's world weary smoker's flow, its songs like "David Kleinfeld" and "Latin Scene" build up his formidable new bap catalog. A treat for criminals and cinephiles, samples from the film are liberally applied throughout, but Eto Brigante treats the source material with far more respect than your typical rap album. You can hear the spitter weaving his own narratives around those of the protagonist, and by "The Last Call" it becomes clear it's been his movie all along.
Daddy-O, G.O.A.T. Antidote
Far too few in this Stetsasonic vet's generation have extended their discographies into the 2000s. As such, we should be grateful that Daddy-O can still throw down and share his wisdom with his spiritual children and grandchildren in hip-hop. A testament to timelessness, G.O.A.T. Antidote dismisses any wrongheaded notion that an emcee pushing 60 shouldn't be rhyming. He brings a classic flow into a contemporary context on "Go!" and nails his resume to the game on "The Takeaway 2." You can't help but feel the funk of "I Heard That Rappers Rent Cops" and embrace the lessons of "Spotify & The Memes." Poor Righteous Teachers' Wise Intelligent continues to educate on "Be Yrself," as does Houston's Big Mike on the gospel-tinged "All I Need."
Saucy Santana, Pretty Little Gangsta
Combining New Orleans bounce and hardcore Floridian brashness, Tallahassee rapper Saucy Santana comes out flexing on this hourlong set of threats and smackdowns, all dripping in designer. From the "Try Your Luck" intro onwards, his shouty aggro approach suits the swinging 808s behind "If It's Up" and the anthemic "Money." As evidenced by the single "Fuck It Up" and the murder-on-my-mind "Bang," Pretty Little Gangsta operates in a space where the party vibes can turn violent on a dime. A foray into drill, "Nada" extends his sonic range. A predominantly female set of guests including Jucee Froot and Mulatto match his uncompromising energy with their own.
---

Three questions. Three answers. That's a wrap.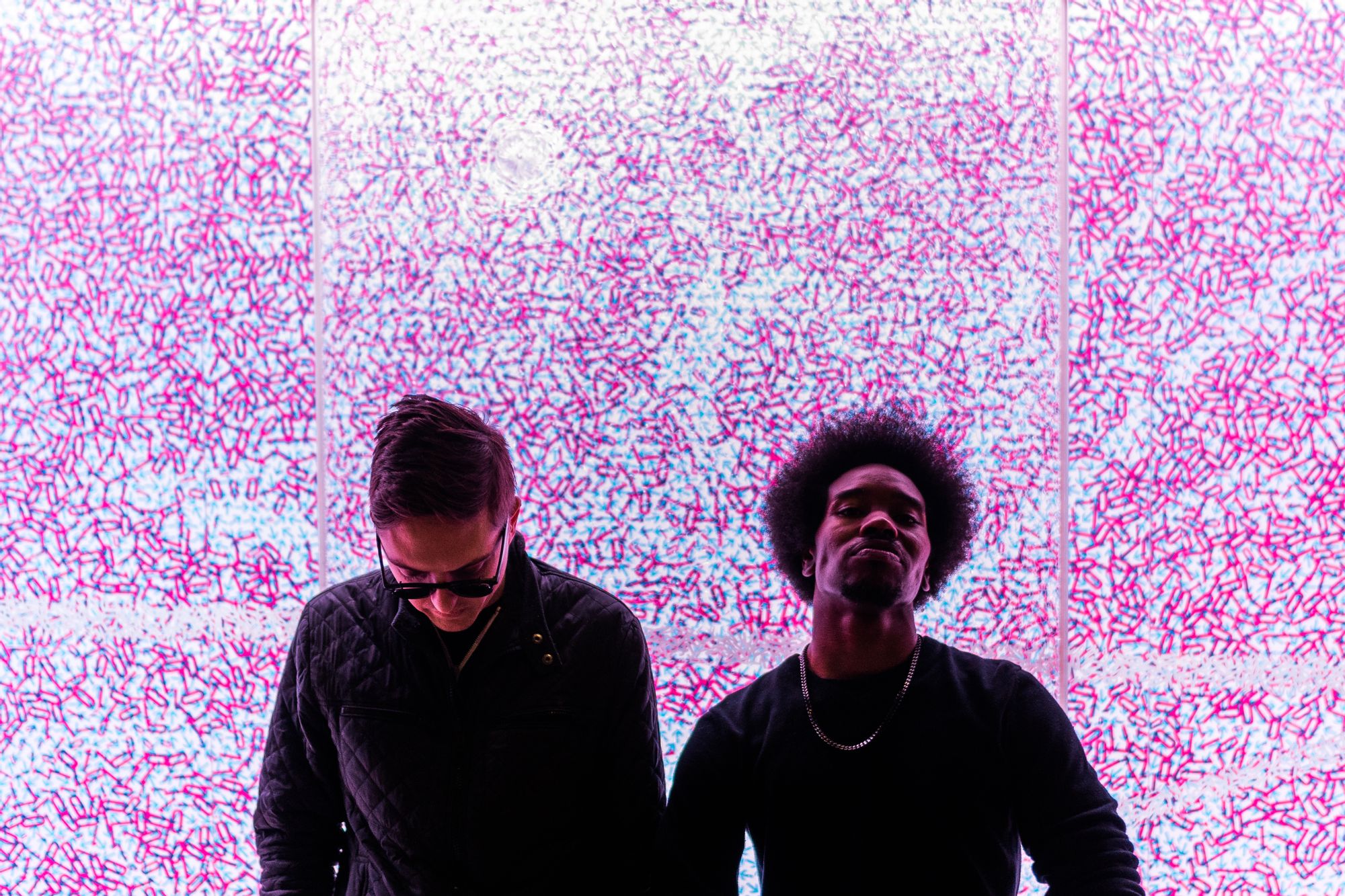 Photo credit: Sam Fu
A joint venture between producer L'Orange and rapper Solemn Brigham, Marlowe left a hot crater in independent hip-hop with the release of a heady eponymous set for Mello Music Group back in 2018. Two years later, the duo returns with Marlowe 2, more knowledgable and formidable than ever before.
What did you learn or otherwise take away from making the first Marlowe album that informed or influenced how you approached this second one?
Solemn Brigham: Patience was my takeaway. The first album was very instinctive which made it raw and exciting. Now it's cool to trust your instincts, but you gotta have the patience to check yourself. Sometimes the heart of the song is deeper than that first wave of inspiration. This album is exciting, instinctive and deliberate at the same time.

L'Orange: The first album was all about us reconnecting and figuring out what Solemn and I sounded like. It had been a long time since we had worked together so it was a lot of experimentation. I tried to help Solemn with what it takes to make an album from start to finish and he pushed me creatively. This album was about trying to embrace the artist that Solemn has become.
One-producer-one-rapper projects like yours have become increasingly common these days. From your perspective, what are the benefits—creatively, logistically, etc.—for these one-on-one collaborative efforts?
Solemn Brigham: You can never beat that sense of familiarity that comes from working with your producer consistently. It just makes everything more comfortable which is great for creativity. Me and L'Orange definitely benefited from knowing each other closely and that took time. When it comes to one-producer-one-rapper projects, sometimes there's more to showcase than you can do on a single song, so you gotta smash a whole album!

L'Orange: Having two people in the room creatively is a perfect dynamic to me. Usually I can be most creative when I'm alone, so being able to reach out to my friend and run ideas by him turns the process into an ongoing conversation rather than work. He can come stay at my house and work on music and we end up with concepts, themes and a vision for the album rather than singular songs.
How did A-F-R-O get involved in Marlowe 2 and what do you feel he brought to "OG Funk Rock"?
Solemn Brigham: L'Orange actually put me onto A-F-R-O throughout the process and my first question was, is his Afro more poppin than mines? I'll leave that up for the people to decide but when it comes to "OG Funk Rock" it couldn't have been better without him. I think his approach to that song was perfect. He brought an energy that matches well with the albums intensity.

L'Orange: I've had a friendship with A-F-R-O for a long time now. Way back in the day we were mutual fans of each other. We knew we were only going to have one feature on the record, if any. So, when I pitched Solemn the idea of bringing on a feature for a song that's so traditional, I knew we needed someone that embraced the fundamentals of rap.
Pre-order Marlowe 2 here.
---

Countless hip-hop creators pride themselves on keeping it real, even when they're really not. So many of this kingpin fantasies and luxury brand brags pale in comparison to a song as brutally honest and outright confessional as Jean Grae's "My Story." Taken from Jeanius, her overlooked 2008 full-length collab with 9th Wonder, the track compounds its personal revelations to great effect. Whether describing depressive episodes, medical indignities, and existential concerns, she tackles the subject matter in a way that dwarfs the dope boy chronicles and compels the listener to carry some of her weight.
---
See you next Sunday.
Follow me on Twitter at @noyokono and on Instagram at @noyokono too.