This newsletter marks the twentieth installment of Irregular Vegetables, a weekly series of CABBAGES emails where I share links to recent writings from other hip-hop/rap journos and critics, squeezing in my own work as I see fit. These midweek editions hit inboxes every Thursday. Enjoy this week's reads and keep scrolling for an interview with Buffalo rapper Ché Noir.
Additionally, I'm launching a new recurring Thursday feature called Crudites, in which I recommend three new singles/videos from hip-hop artists you may not be familiar with yet.
---

Amid a Racial Justice Reckoning, Pioneers of Rap, Reggae, and R&B Recount Their Struggles to Get Paid
Melle Mel, who with Grandmaster Flash and the Furious Five was responsible for two of Sugar Hill's most important records, "The Message" and "White Lines (Don't Do It)," relates a similarly frustrating experience. "For the most part, none of the artists really never got paid," he says. He recalls being given "decent" advances of $5,000 to $10,000, but he says royalty payments were murky. "Come royalty time, you might have had some money coming, but they would take out the advances, and you wind up owing them money." For all that, Melle Mel points out that his experience isn't especially unusual. "It's not like getting ripped off in the record business was anything new," he says. (Read more at Pitchfork)
Hip Hop's Political Evolution And The Road Ahead
Che Smith, also known as Rhymefest, ran for Chicago City Council in 2011 and came close to winning, falling short by 6 percentage points. When asked about his experiences campaigning, Smith tells REVOLT exclusively, "When I ran for [Chicago] City Council, Lupe Fiasco came in and helped out. He did a fundraiser for me because Lupe comes from community organizing. A lot of hip hop comes from community organizing, but doesn't indulge in politics, which is more expansive than community organizing because it's not just the community. If you're in city council, not only are you a part of a community, you are part of a vote for a city that has different interests." Smith says part of the difficulty of running for office was that the lyrics to his songs were used against him on the campaign trail. (Read more at Revolt)
How @Chartdata Became One of Music's Most Important Twitter Accounts
Under every Chart Data tweet is a barrage of GIFs, memes, and replies like, "We stan!" If you scroll far enough, you'll invariably see someone type: "BTS outsold!" Somewhere along the way to reaching 500,000 followers, Chart Data stumbled into the epicenter of a beautifully strange place called Stan Twitter. In this corner of the internet, everyone's a "legend," any artist who didn't set records "flopped," and hyper-competitive fans are obsessed with tracking sales numbers for their favorite musicians. Chart Data has become their news source of choice, and in turn, these passionate stans have fueled the growth of the account. (Read more at Complex)
Flo Milli's 'Ho, Why Is You Here?' Struts With Infectious Confidence
Born in a state that isn't quite known for birthing hip-hop acts outside of YBN Nahmir, NoCap, Yelawolf, and Mick Jenkins, Flo Milli first hit internet stardom with her daring take of Playboi Carti and Ethereal's track "Beef," one she dubbed as a Flomix. Landing on her debut project, it's easy to see why her take of "Beef" went viral on practically every social media app. An explosion of hair-flipping teenage confidence, Flo Milli shows impenetrable zeal for being the most fly, bougie, top-notch woman around.  (Read more at Uproxx)
How One Woman Helped Clear The Classic Samples On Logic's 'No Pressure'
"There's different ways it starts. Sometimes the artist comes up with what they want to sample, sometimes it's the producer. Sometimes it's collaborative. Once they go into the studio and they incorporate the sample, then they reach out to me. They tell me what they've sampled and how they've used it. Then it's our job at DMG to research the copyright, contact the publisher, contact the label, and then negotiate the [fairest] deal for the use for our client. Once our client reviews the quote—this includes artists, artist management, attorneys, the label; this is not sexy stuff. We paper it, confirm the deal, request licenses, and make sure everyone gets paid." (Read more at DJBooth)
The Samplers and Breakbeats Behind '90s Jungle/Drum & Bass
The fact that many of these DJs and producers experimenting with breaks and sampling were veterans of the soundsystems and England's Black musical community was significant. Shut Up and Dance were members of the Heatwave soundsystem alongside drum and bass pioneer DJ Hype. Marc Mac of 4hero was a member of Solar Zone. These producer/DJs would take their familiarity with Black musical forms to inject the sub bass, toasting, and hip-hop–style sampling that would be integral to jungle's early DNA. (Read more at Reverb)
"It's About Creating Moments That Feel True to Our Lives:" An Interview With Sterling Toles
'Manger on McNichols' however, is an entirely different beast: initially recorded to sampled rap beats over a number of years in the late 00's, the project's music and overall structure were subsequently re-imagined with the help of a number of Detroit musicians, evolving into an album capturing the joy and pain of life in Detroit, as reflected through hip-hop, jazz, gospel, soul, funk and Detroit's legacy of dance music. (Read more at Passion Of The Weiss)
The 15 Best Posthumous Rap Albums Of All Time
In rap, a genre disproportionately affected by deaths of artists, posthumous albums are important commodities because they allow fans to reckon with an artist (at least) one last time before they can look forward to no new music. At that point, their messages become memorialized and we can only marvel at the potential found in their last projects.  (Read more at Okayplayer)
The 20 Best Rap Albums By Artists Over 40
In his book 'Outliers,' Malcolm Gladwell theorized that it takes at least 10,000 hours of deliberate practice to truly master one's craft. As time went on, more and more veteran rappers leveraged those countless hours of practice not just to create quality music, but to stay relevant to mainstream audiences. Stigmas began to dissipate. By the time the 2010s rolled around, a 40-year-old rapper wasn't just a possibility; it was a promise. (Read more at Level)
Jimmy Humilde Talks About How Rancho Humilde Is Revolutionizing Regional Mexican Music
As it turns out, Humilde was on the right track with his then-unique love of both hip-hop and Regional Mexican, a musical union that characterizes the popular current movement in the latter genre. "I wanted to be that Puff Daddy," he says. "I wanted to be Russell Simmons, that Master P, that Jay Z. Those are my entrepreneurial heroes." His Rancho Humilde record label deserves a considerable amount of credit for that cultural shift, with acts like Fuerza Regida and Legado 7 appealing to a younger generation of listener with their contemporary and often trap-adjacent themes. (Read more at Forbes)
---

Three questions. Three answers. That's a wrap.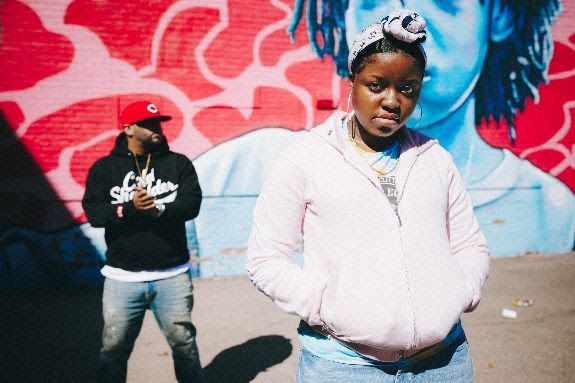 Photo credit: TrilogyBeats. Courtesy of Mello Music Group
While the Griselda rappers get much of the shine, Buffalo has no shortage of rap talents. An Upstate New York native, Ché Noir spits her tremendous gifts to convey her perspective on the region and what life is like for those who grow up and stay in her city. Following strong prior projects with Rochester's 38 Spesh, her latest full-length effort As God Intended links her with the highly-regarded Detroit producer and Mello Music Group fixture Apollo Brown.
There's this connection between Buffalo and Detroit that comes up more and more in hip-hop coming out of either city. What is it that these cities share and how did that bond affect the making of this album?
I think the grittiness of each city is a common thing we share. There's a lot of ugly history behind both. There's a lot of poverty here. A lot of drugs and violence. Detroit shares that same poverty and sense of abandonment with us. That city is still very much affected by the 1967 riots. There's blocks or empty streets and abandoned houses. That created the perfect vibe for this album. My gritty lyrics and his soulful beats were a perfect match.
For the album track "12 Hours," you take on this first-person narrative role, continuing a time honored storytelling tradition in hip-hop. Are there particular artists or songs in this lyrical style that influenced or impacted you in your life?
If I was asked to name my top five rappers of all time and had to name them in order, Nas would be number one. His storytelling took me on a journey growing up. Biggie would be number two. He had some of the best storytelling I've ever heard in my life. The details behind the storytelling makes it feel like I'm watching a movie. That's the kind of vibe I was going for on "12 Hours." It took me three days to do this song. Did one verse a day and each verse was like a different scene in a movie.
Spiritual metaphors and street themes commingle throughout the album. As a lyricist, how do you draw from these two seemingly disparate areas to put together songs like "Money Orientated?"
I look at spirituality as the only way to truly survive the crazy environment I grew up in, so I don't really see them as disparate. Most of my family and friends that I grew up in these environments with were raised in church. Spirituality has always existed in the streets. With this song, I just wanted to express my views on money and how it should never be praised and put before your morals and God. I never pray for money, I pray for wisdom. Wisdom last longer then money. Money don't secure a legacy, wisdom does. Your words stands firm even after death.
Purchase or stream As God Intended here.
---

Three new music videos for you to snack on...
Bad Lungz, "Salvo (feat. G4 Jag)": With unpretentious bars referencing DeBarge and mangú, this Paterson, NJ spitter teams up with the gravel-throated New Yorker to flow over a fluttering bit of boom bap business.
Fresy Franklin, "Piky Piky": A likely breakout cut for the Puerto Rican trapero, the track's rubberized Mustard-esque beat suits his effervescent flow as he shouts out Kendo Kaponi and references Reggie Miller.
They Hate Change, "Stunt Cams": With roots in Deathbomb Arc, the anarchic imprint that brought us clipping., this Tampa Bay area duo make the move to the similarly subversive Godmode with a bassbin crushing single.
---
See you on Sunday.
Follow me on Twitter at @noyokono and on Instagram at @noyokono too.