It's amazing what you can get your thoroughly washed and obsessively sanitized hands on during quarantine. Provided you're not in a state of economic free fall, which infuriatingly is the case for the tens of millions of Americans who've lost their jobs over the past seven weeks, operators are standing by to send all kinds of shit to your house. You can cop nice fresh fits from many of your favorite clothing companies online and contact-free. Once the purview of busy executives and homebound seniors, getting groceries delivered to your door without having to step foot in a store is a lot cooler than shopping at the supermarket. But the real Internet flex is getting a whole damn make-your-own-Reuben kit from Katz's Delicatessen.
Two pounds of corned beef. Swiss cheese. Sauerkraut. Russian dressing. Half a loaf of rye bread. No matter where you live in these contiguous United States, the East Houston Street institution will pack it all up and mail it to you for free. This isn't an advertisement (tho, I mean, I'll take a pastrami sponsorship!), but rather a reminder than even in the midst of a societal shutdown, you can get one hell of a sandwich.
Incidentally, Action Bronson's Mr. Wonderful interlude "THUG LOVE STORY 2017 THE MUSICAL" took place in front of Katz's.
As someone who's spent a lot of disposable income over the last decade or so at New York restaurants—versus the prior decade when all my money went towards buying music—I've long been a fan of what might succinctly be dubbed food rap. I'm not necessarily talking about Jay-Z dining out at Tao or Mr. Chow's, nor any number of rappers who casually namedrop Benihana. I'm referring to those who regularly spit about cuisine, even if euphemistically, in such a way that it demonstrates an understanding of cooking and eating as a luxury in and of itself. Ghostface Killah innovated this style, probably birthed it if we're being honest. And when my work-addled brain conjured up the phrase PANDEMIC REUBENS the other day, I immediately heard the words uttered in his voice like it were some forgotten Supreme Clientele morsel.
One of the subgenre's finest purveyors, which partially explains the GFK comparisons that dogged the first half of his career, Bronson initially drew me in with Rare Chandeliers bars about lamb laced with fennel ("The Symbol"), expensive cheeses ("Eggs On The Third Floor"), and Eataly feasts ("Randy The Musical") over artisanal Alchemist beats. Once a commissary chef at Citi Field, home to your New York Mets, the Queens rapper makes culinary nods like Pusha-T makes cocaine quips. It's been nearly seven years now and I still hold some of the references (saganaki!) and rhymes from his Saaab Stories standout "The Rockers" in high regard:
Homie hold me down
Homie throw me phony pounds
The scent of dollars like some crispy garlic golden brown
Addicted but ain't nothing prescripted
Baby clams from Montauk, mix it up with the linguistics
Bitch I'm high
Obviously, a lot has changed for Action Bronson since 2013. He's parlayed his hip-hop persona into a media personality, hosting shows like Fuck, That's Delicious and putting out two cookbooks. (I've made a few dishes out of last year's Stoned Beyond Belief, including fried ravioli.) But he still does food rap better than most, as evidenced by last November's Lamb Over Rice. Named for the signature halal cart menu item typically served in the five boroughs with copious amounts of white sauce and hot sauce on top,  the EP reunites him once again with Alchemist so that he can brag about gulping down oysters in Hawaii ("Accoutrements"), admiring Tomahawk steaks the size of dinosaur bones ("Arnold And Danny"), and making your mom cook stew beef in the buff ("Tear Away Shorts"). He doesn't employ these as liberally as he once used to, but like every good cook he knows the right amount of spice to use to make things taste just the way he likes them.
---

Quelle Chris & Chris Keys, Innocent Country 2
Hands down one of the most innovative pairings ever to come out of the Mello Music Group, rapper Quelle Chris and producer Chris Keys have spent two albums world-building together. A sequel to the 2015 outing of the same title, Innocent Country 2 brings their work officially to opus level, a concept album that deserves excruciating analysis and demands repeat listening for years to come. But for now, we can appreciate this art as one would in a museum, marveling in quiet awe at the wit and wisdom and wellness. And if that sounds like of bunch of pretentious music critic claptrap to you—ayo, they got an Earl Sweatshirt feature.
Slim 400, Shake Back
Despite the TMZ headlines circling his probable demise like buzzards, this Bompton City G perseveres. His first project since the third time he was shot, Slim 400 returns with his hardened gaze very much intact on the portentous chiller "Who Hate'n." He self-assesses his damage on "One By One" and commiserates with Young Dolph on the title track. Lighter fare like "All Access" and "She Want It" with Yella Beezy helps to quieten the growls and snarls of his more grievous material. An exquisite closer, "Martin Luther" relays the existential pain of being incapable of extricating oneself from the streets—and vice versa.
100grandroyce, Prodigal Sun
A New York battle rap bulwark with a cosign by Jay Electronica himself, 100grandroyce comes through with streetwise rhymes that are well worth your time. Here, he employs the mighty uptown beatsmith 183rd for a soul slapping new bap affair that caters to their respective strengths. The cinematic sparkle of "No Pressure" gets battered by his unapologetic truth bombs, while the quiet storm rumble of "Above All" betrays the blunt matter-of-factness of its lyrical narrative. The sheer density of royce's bars on "Angel" is impressive enough, but 183rd's surprise flip of a fusion classic on "Pain 2 Pleasure" made my head spin.
---

Three questions. Three answers. That's a wrap.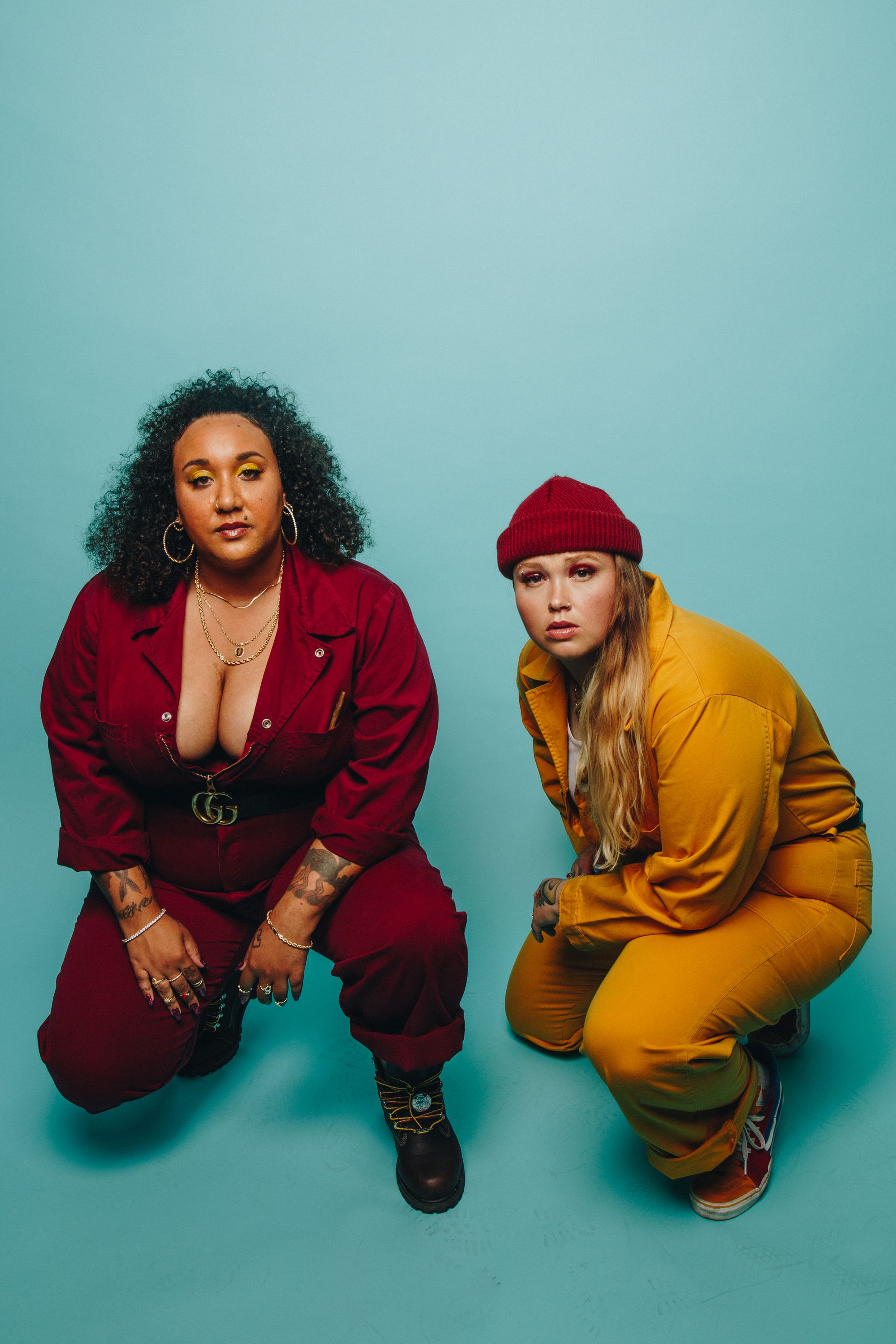 Photo courtesy of The Orchard
In our age of fierce individualism and crowded crews, it's a blessing to have a genuine rap duo like Blimes and Gab emerge. San Fran battle rapper Blimes Brixton and Seattle emcee Gifted Gab first connected online back in 2017, merging their formidable talents soon thereafter for the single "Come Correct." Their 2019 single "Feelin It" features in the new season of HBO's Insecure, and will appear on their forthcoming full-length Talk About It this summer.
From your perspective in the duo, what do you think the other half brings to the table—lyrically or otherwise?
BLIMES: Gab is a maniac with the references. I love listening to her bars and picking out the sports, TV, film, and pop culture references. It's never not entertaining. She's also got an amazing voice and gift for writing harmonies. If there's a harmony in there from either one of us—she wrote it. I'm trying to convince her to find the patience to teach me to harmonize, but she says it's really something you gotta teach yourself. So maybe I'll work on that while we're quarantined-up.

GAB: Blimes comes with a whole different perspective on things. Like how you can look at a painting for hours but someone else comes over and points out something you missed. She's an amazing writer and is way more organized than me. It's basically like a marriage in a lot of ways; what I lack she makes up for and vice versa.
You recorded your first track "Come Correct" together back in 2017. At what point did you realize that you needed to make an album together?
BLIMES: After the thousandth "Where's the album?" comment on that video we thought, "alright, let's give the people what they want!" It's a gift to have people be that engaged in anything in the musical climate these days. I'm grateful we're able to rise to the opportunity.

GAB: It definitely was the pressure from the Internet to get us in the studio and make a full album. Social media made us a duo, we ran with it. Best decision I've ever made.
Your forthcoming album Talk About It has some notable features like Iamsu! and Method Man, but the one that really struck me to see was the legendary Bahamadia. How did this collaboration come about?
BLIMES: She saw "Come Correct" like a lot of legendary pioneers and reached out to Gab... I'll let her take it from here.

GAB: Man, I've always been a fan of her work. I'm big on vocal tones and I tend to like deeper voices whether it be rapping or singing. She has that perfect tone to me and her flow always inspired me. She's just dope. Anyway, like most things, we connected on the internet. One day she hit me saying she's coming to LA and we should record to the beat we sent. Went in the studio, recorded it that night, got tacos afterwards and the rest is history. She's family.
Follow Blimes and Gab—and also Blimes and Gab too—on Instagram.
---

This past week, we lost a New York rapper par excellence to this damn virus. A XXL Freshman back when that still meant something and one of the illest freestylers of his generation, Fred The Godson left this world far too soon. As is custom now, hip-hop took to Instagram to mourn him, sharing photos and messages that made abundantly clear that true legacy in this music has less to do with how many hits you got than how many lives you've touched on the real. Check out this Funk Flex freestyle from 2012 to get a glimpse of his greatness, then let the algorithm guide you further into his catalog.
R.I.P. Gordo.
---
See you next Sunday.
Follow me on Twitter at @noyokono and on Instagram at @noyokono too.