"Meet me up at the W, I'm telling you / Cross me and meet the devil you never knew / Show up at your momma's house shooting / Shot you down at Peter Luger"
-Westside Gunn, "Peter Luger"
Greetings once again from the couch, where I'm catching up on old Griselda videos eating a New York strip steak and buttered snow peas.
The thing about Westside Gunn's "Peter Luger" music video from 2016 is that he doesn't even go to Peter Luger. Instead of visiting the infamous cash-only Brooklyn steakhouse beloved by Action Bronson and Rick Ross, the rapper spends the entire clip in and around Cameron's 24-Hour Store in Buffalo. Decked out casually in Just Don shorts and one of his own Fashion Rebels hoodies, he parks his Mercedes GT S out front and steps inside to buy a couple Dutches. Then he turns around, gets back into his idling sportscar, and drives away. That's it. That's the whole video. And I love it.
Anyway, this marks the sixth (sixth!) installment of Irregular Vegetables, a weekly series of CABBAGES' emails where I share links to recent writings from other hip-hop/rap journos and critics, squeezing in my own work as I see fit. These midweek editions hit inboxes every Thursday as we all self-quarantine and try to protect the most vulnerable among us from COVID-19. Enjoy this week's reads and make sure to scroll down for a quick Lettuce Wraps Q&A with producer Steel Tipped Dove.
---
Cuban Links
The Complicated Truths of Dr. Dre's 'The Chronic'
His royalty payouts were too low, and he felt N.W.A founder Eazy-E and manager Jerry Heller were taking advantage of him. Desperately wanting to start a new label, he enlisted the help of Suge Knight, a former UNLV defensive end and the bodyguard of Dre's confidant the D.O.C. Knight, who had famously hung rapper Vanilla Ice over a balcony to get him to sign over the rights to his hit song "Ice Ice Baby," demanded Eazy-E release Dre, D.O.C., and several others from their Ruthless contracts. When he threatened to hurt Eazy's mother and Heller if that didn't happen, the diminutive rapper reluctantly signed the papers. (Read more at The Ringer)
Steadily the energy behind Griselda has grown, and now it's at an apex that nobody saw coming. Earlier this year, at Virgil Abloh's Off-White fashion show, the designer and influencer played Westside Gunn's gutter rap while models strutted down the runway and a man tap-danced. Virgil's message with the tap dancer didn't connect, but the cosign gave Griselda an unlikely path into fashion and art spaces typically not welcoming to gritty artists like them. (Read more at Pitchfork)
Shabazz Palaces: "Lil Peep Dying Was Definitely A Wake-Up Call"
There's a received wisdom in hip-hop culture that once rappers reach their forties they're unable to stay innovative or keep up with the wave. Butler is a clear counterpoint to this ageist notion: he was 41 when the genre-blurring Shabazz Palaces released their acclaimed debut, 2011's 'Black Up'. Masterminded by Butler but occasionally featuring mbira player Tendai Maraire for live shows, Palaces' work is consistently inventive and capable of transporting you to an escapist, psychedelic wonderland. (Read more at NME)
Rapsody Turns To Tupac Story As A Reminder She's On Right Path
Women are a hot topic, think-piece fodder and chart-toppers. But Rapsody is a unicorn of sorts, having been here for years while seemingly still fresh. The Snow Hill, N.C. native got her big break in 2007, when she lent a verse to mentor 9th Wonder's 'The Dream Merchant Vol. 2' project. The former first lady of the college rap collective Kooley High, she consistently garnered critical acclaim through a series of solo mixtapes and albums, including 2012's 'The Idea of Beautiful,' 2017's Grammy Award-nominated 'Laila's Wisdom' and her most recent release, 2019's 'Eve.' Still, this moment for Rapsody feels like a series of firsts, punctuated with this new acceptance that she's finally blasted past rap's purview of women. (Read more at XXL)
An Overlooked Gem From DJ Jazzy Jeff Showcases Philly in the Early '00s
Designed in the mold of classic hip-hop DJ/producer compilations like Marley Marl's 'In Control,' 'The Magnificent' is a compilation that showcases the talents of Jeff's inner circle of MCs, DJs, producers, and singers, all of whom worked out of his A Touch Of Jazz Studios. In addition to Philadelphia stalwarts like Baby Blak, Shawn Stockman (Boyz II Men), Black Lily lyricist Flo Brown, and a young Jill Scott, much of the music was produced by Kev Brown, and features contributions from Oddisee and Cy Young, members of D.C.'s Low Budget Crew. (Read more at Bandcamp)
Almost There: Atlanta's Enduring Hip-Hop Hustle
I spent time in the city growing up, but I didn't experience Atlanta until I could drive on the same roads BMF used to traffic drugs. That's why men like Big Meech and Michael Vick are mythical to me. Although they were merely men, words can't describe the impact they had on Atlanta's psychology and spirit. One moving drugs, the other moving his feet. The spirit of Atlanta is a hustler's spirit. It's why so much of the music that comes from the city is motivated by the come-up. For every successful rapper and singer, there are hundreds of starving artists. I'm talking rib-touching hunger. Sometimes it's figurative, sometimes it's literal, you never know, but you can feel it here, collective starvation. (Read more at DJBooth)
'He Wanted Something That Sounded Different': Producer DJ K.i.D On DaBaby's New Album
"Intro" was our first song. We made that on a cruise that I mentioned in some other interviews. It was Cardi B, DJ Khaled, Lil Nas X, and a few other dope artists. "Intro" was really the first beat I made, a while ago at my mom's crib. She told me, "The 808 ain't kicking enough." I ended up redoing that 808, and I woke her out of her sleep. She's like, "Yeah, that's the one." I'm like, okay, everyone sends Baby these beats that sound just like "Suge." I'm not against "Suge," but I wanted to be different. I'm not the regular track producer. I like to put my beats and my production in there—what I like to call that Waterboy sound, which is basically those bouncy hi-hats, those bouncy 808s, everything sounding crisp and clear. (Read more at Complex)
From Chamillionaire To N.O.R.E., Michael Jordan's Hip Hop Relationship Has Its Share Of Horror Stories
When it comes to rap lyrics, no other professional athlete has been referenced more than Michael Jeffery Jordan. His company, the Jordan Brand, has partnered with several rappers over the years. But MJ's relationship to Hip Hop as a whole has been a contentious one, to say the least. Although MC's rock his sneaks, compare their greatness in rap music to his adroitness on the court, and admire his capitalistic prowess, the love hasn't always been reciprocated. In fact, Jordan has reportedly been downright rude to a plethora of MCs who just wanted to show him how much he was appreciated and idolized. (Read more at HipHopDX)
Guapdad 4000 Explains How His 'Falcon Fridays' And 'Rona Raps' Campaigns Boosted His Viral Fame
His skills as a scammer have served him well over the course of his precipitous rise — his conspicuous placement on Dreamers is the result of his insistence on being in every room during the compilation's legendary recording sessions and his comfort with hearing the word "no" has given him the confidence to take longer shots than Steph Curry in the clutch — it's his skills as a rapper he wants to highlight with his current social media campaigns. He carries over the hunger though, as well as a genial disposition that has earned his friends all over the industry. It's those friendships he's now leveraging to make Falcon Fridays and Rona Raps must-see Instagram TV. (Read more at Uproxx)
OG Ron C on The Evolution of Slowed and Chopped Music
In early 1998, Pioneer released its CDJ-100S, a turntable system that plays CDs instead of vinyl, but Ron C understood its value beyond simply being able to play music from the latest piece of tech. The CDJ-100S allowed Ron C to pitch music down to -24, three times as deep as he was able to just a few years before. It also allowed for the DJ to start and stop a record at a certain point with more precision, and the CD format dramatically improved the sound quality over cassette tapes. (Read more at Reverb)
Female Rappers Are The Queens Of Quarantine Entertainment
The creativity of female rappers often transcends the stage, but never has this been more evident than in the midst of lockdown. Whereas other artists might rely on music or merchandise alone to connect with fans, women in rap have been choosing from their kaleidoscope of talents to create and provide entertainment. Being able to think on one's feet, inject even serious moments with humor, and ham it up in a skit are all par for the course for rappers, and women are no exception. (Read more at Nylon)
Kanye West Is Still Deplorable — and So Is Defending Him
"I'm definitely voting this time," West says in the latest issue of GQ. "And we know who I'm voting on. And I'm not going to be told by the people around me and the people that have their agenda that my career is going to be over. Because guess what: I'm still here!" After all, he adds, Jesus Is King, which he released a year after his highly publicized Oval Office visit, "was number one!" So let me ask a different question: Which song on that album would inspire the children Trump has locked in cages? (Read more at Level)
---
Lettuce Wraps with… Steel Tipped Dove
Three questions. Three answers. That's a wrap.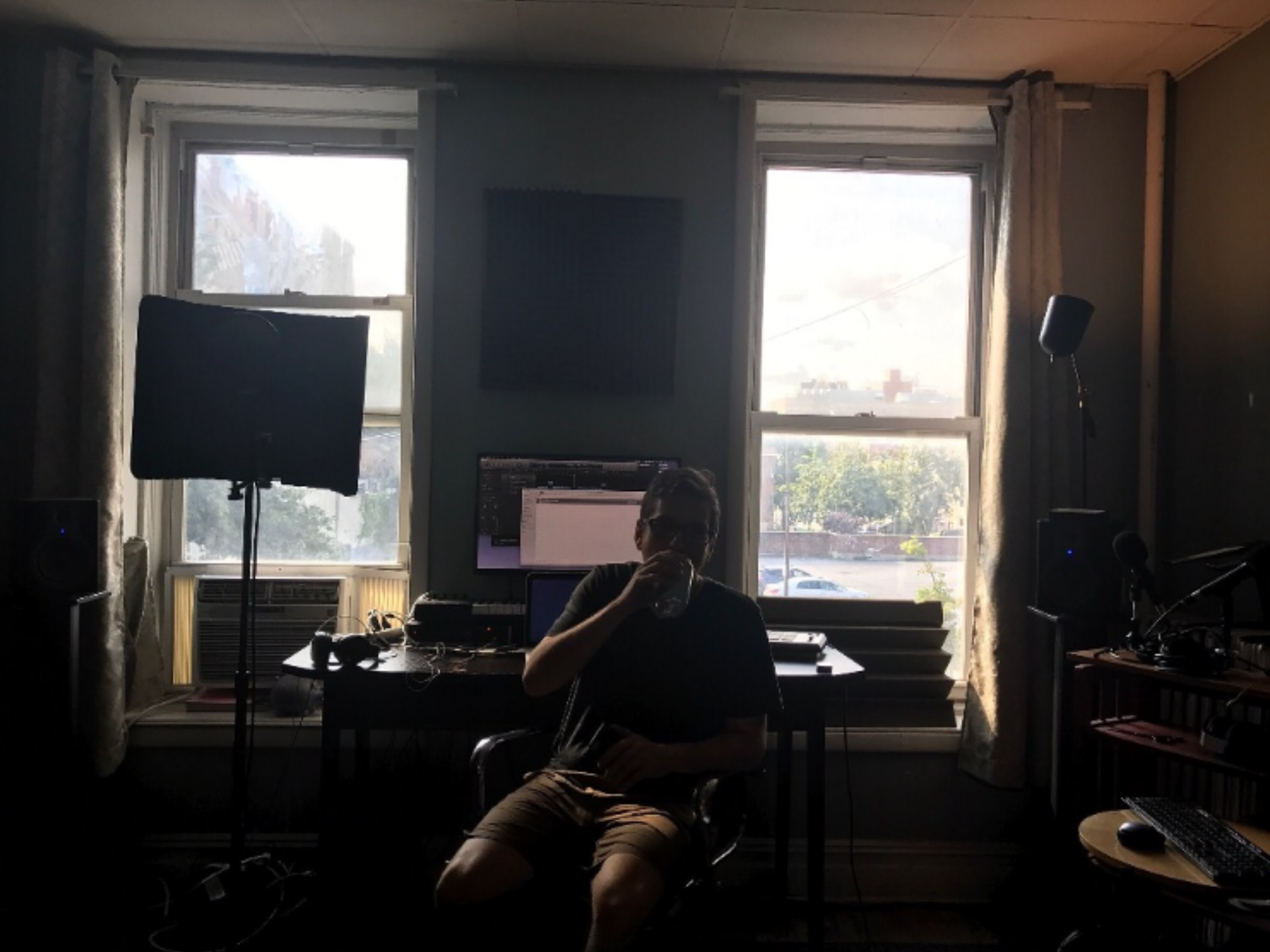 A glance at Brooklyn-based producer/engineer Steel Tipped Dove's client list reads like the playlists of NYC-area indie rap lovers' dreams. Armand Hammer, Big Baby Gandhi, Kemba, Kool A.D., Mr. Muthafuckin eXquire, and countless others have procured his studio services over the years. Notably, he makes his own riveting instrumental tapes and provides unique beats for adventurous rappers. His latest project The Devil Defeated is a collaboration with Darko The Super out of Philadelphia and he hosts a podcast called A Palace From Ruin.
You've made beats for some of the most respected indie rappers of our time, including billy woods and milo. What do you like about working with these unconventionally creative and innovative artists as opposed to spitters who take a more straightforward approach?
I think I like it most because it's the stuff I tend to connect with the most as a listener. I deeply love commercial and wide appeal pop music, and sometimes that hits my soul too. But the unconventional sounds and words pushing past the weird and false boundaries—that's where I wanna live.
One of your recent projects pairs you with Darko The Super. How did the process behind The Devil Defeated unfold?
During 2019, I launched a Patreon, and for people who kicked me $10/month or more, I delivered them a newly made 12 track beat tape every month. Then at the end of the year, I wiped them from online so only the people who got them got them! Darko had them, so he collected his favorites from the series and wrote until he was happy with the project. Then we mixed it together, I mastered it, and we dropped it. I love darko, [it] was a honor to work with him.
If you could do a fully produced project with any rapper alive today, who would you choose and why?
Vince Staples. The why is in the studio session, the beats he chooses, and the way he fucks them up. I know if I just started quickly going through some of my hundreds of joints, there would be nuances he would hear, and then with his direction, some insane lightning in a bottle shit would happen. I mean, obviously I could be wrong, but I'd love to produce something from scratch with him.
Purchase The Devil Defeated here and explore Steel Tipped Dove's catalog on Bandcamp. To support via Patreon, click here.
---
See you on Sunday.
Follow me on Twitter at @noyokono and on Instagram at @noyokono too.