Podcast: Curly Castro On Ghosts Of Mars
The ShrapKnel rapper unearths Ice Cube's red planet genre movie retread from the John Carpenter filmography.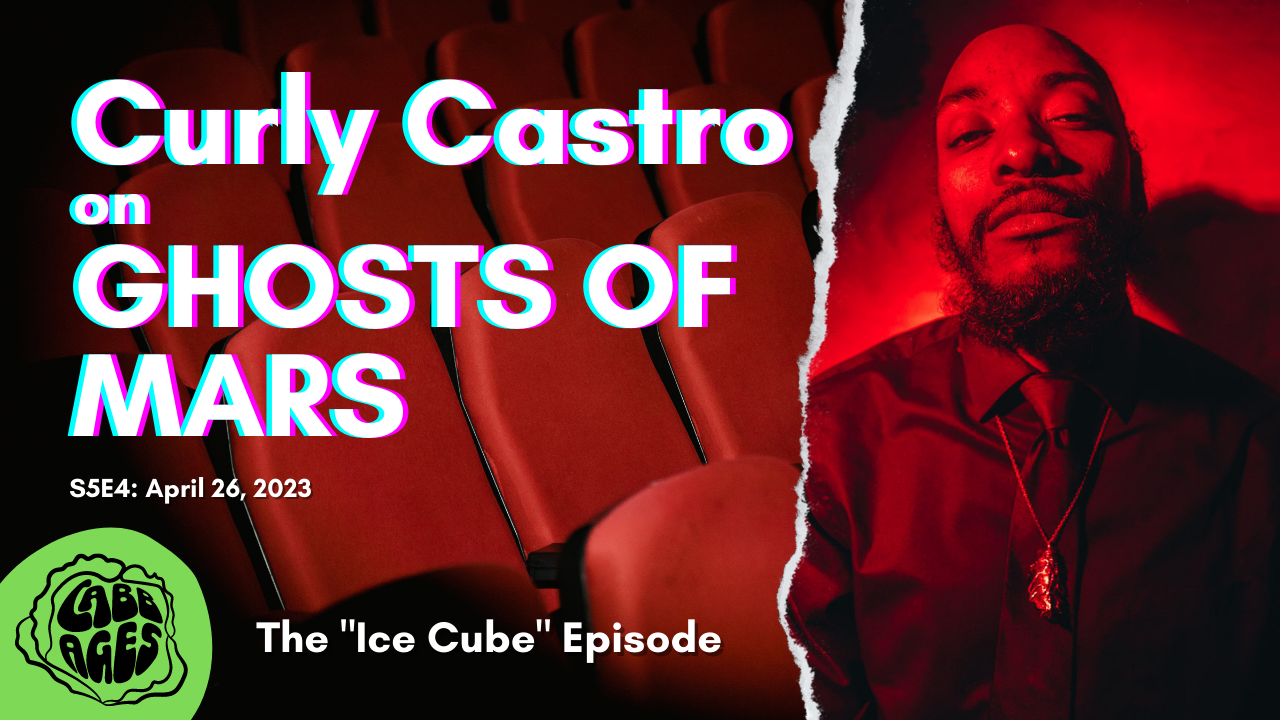 This week on the CABBAGES hip-hop podcast:
This week's guest is Curly Castro, the Wrecking Crew rapper also known as one half of the hip-hop duo ShrapKnel (Backwoodz Studioz). A B-movie aficionado from the VHS era, he joins our ongoing "Rapper Movie Season" discussion to unearth Ice Cube's red planet genre film retread Ghosts Of Mars (2001, dir. John Carpenter).
Listen to the latest episode of the CABBAGES podcast via Apple, Spotify, Stitcher, Google, Pandora, TuneIn, Pocket Casts, or wherever you get your podcasts.
Please subscribe, rate us five stars, comment with effusive praise, and tell your friends.
Shout out to Steel Tipped Dove for supplying the theme music for the podcast.
Check out ShrapKnel at one of their Spring 2023 tour dates:
Apr 27: Ubik Bar - Nantes, France
Apr 28: Cafe Des Halles - Quimperlé, France
Apr 29: La Franco Haitienne - Angers, France
May 12: The Crypt - Olympia, WA
May 13: Vermillion Art Gallery & Bar - Seattle, WA
May 14: Kelly's Olympian - Portland, OR
May 15: The Big Dirty - Eugene, OR
May 17: Neck of the Woods - San Francisco, CA
May 18: Amoeba Music - Berkeley, CA
May 19: 2220 Arts + Archives - Los Angeles, CA
May 20: Trill - Phoenix, AZ
May 21: Moonlight Lounge - Albuquerque, NM
May 23: 502 Bar - San Antonio, TX
May 24: Hole In The Wall - Austin, TX
May 25: Rubber Gloves - Denton, TX
May 26: Resonator - Norman, OK
May 27: Vultures - Colorado Springs, CO
May 28: Seventh Circle Music Collective - Denver, CO
Jun 19: Brooklyn Monarch - Brooklyn, NY
---
Become a Podcast Patron! For just $5/month, you'll get all episodes of the main show alongside exclusive bonus podcasts, including the biweekly ICE-Tuesdays series. Subscribe now.
---