The Contrabulous Fabtraption Of Prefuse 73's 'Failing Institute'
This is CABBAGES #057.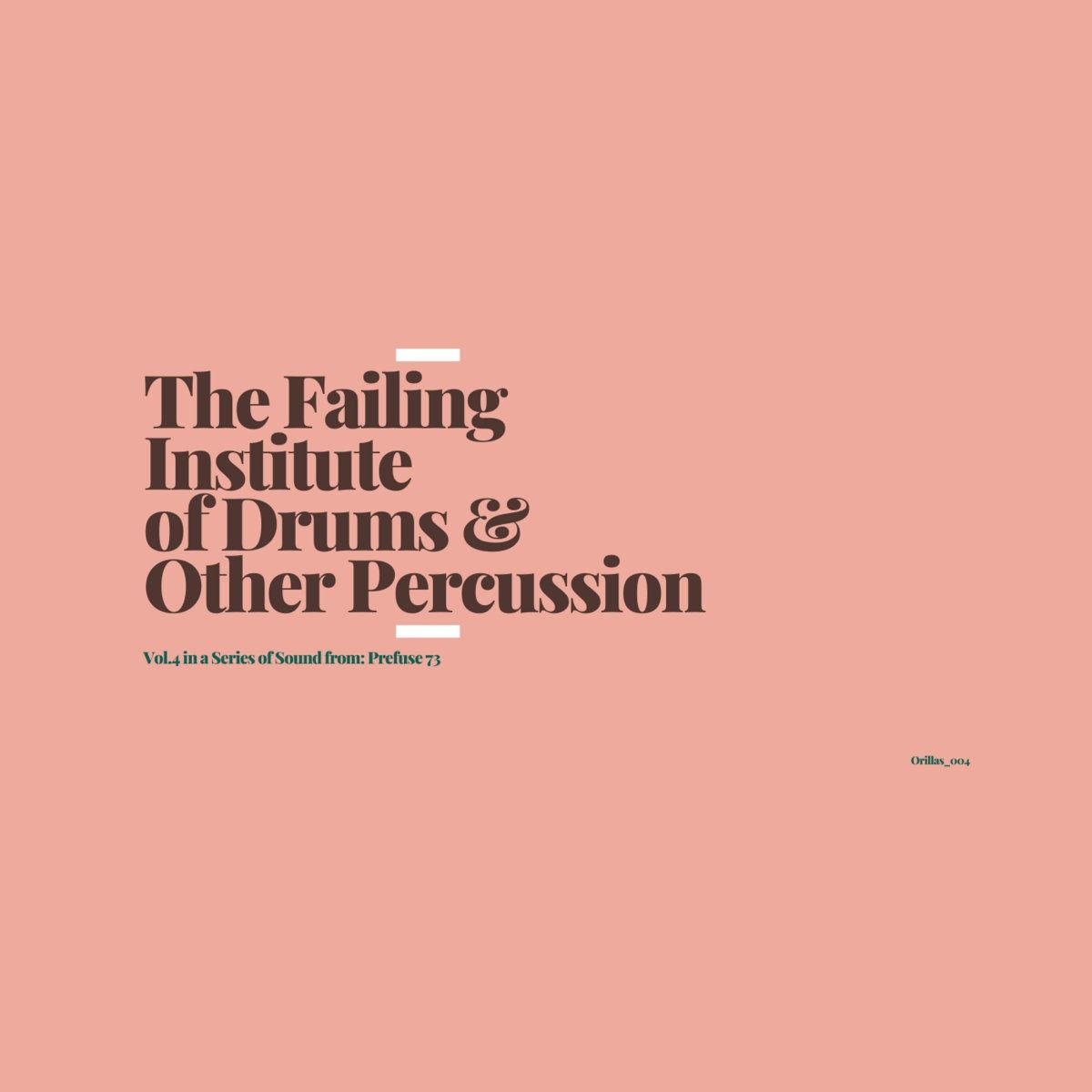 When Prefuse 73's Vocal Studies + Uprock Narratives arrived in the summer of 2001, it did a number of things. Both that record and Antipop Consortium's The Ends Against The Middle later that year signaled a progression at the U.K.-based Warp Records—then primarily known as an avant electronic dance imprint—that more overtly showcased hip-hop as part of its polygamous DNA. It brought the work of Guillermo Scott Herren to a wider audience than he'd encountered releasing previously via respectable albeit smaller stateside indies Chocolate Industries and Schematic. And, perhaps above all, it offered a jagged new perspective on American rap music that, intentionally or not, existed as serrated antithesis to the exceedingly smooth Shiny Suit Era sound prevalent in the preceding years.
Critics and listeners alike largely adored Herren's alchemical mixture of vocal remnants and musical fragments into an aggressive b-boy stance, or philosophy if you will. Accessible yet academic, Vocal Studies + Uprock Narratives tapped the dopamine reserves of left-brain types, but did so with an appreciation for the raw source material. Yes, its innate irreverence might lead some to suspect otherwise, but such a narrative really only serves hip-hop's most conservative keepers. After all, the genre's evolution has come primarily because new generations fiddled with the formulas, and it's nonsensical to gatekeep against someone who secured both Aesop Rock and MF DOOM verses here, more or less contemporaneously with the release of Labor Days and the Sub Verse re-release of Operation: Doomsday.
But as every Prefuse 73 fan with a lovingly scuffed CD copy of that landmark album knows, Herren couldn't be confined to any one sound or style. Records like Everything She Touched Turned Ampexian and his Warp swan song The Only She Chapters expanded his palette into interesting, if under-appreciated places, while his later project Fudge with Boston emcee Michael Christmas leaned even more conventionally into the rap music space. At times, it felt like he was running from Vocal Studies + Uprock Narratives, or at least its ensuing expectations, record after record.
Now fully independent and running his operations through Bandcamp, Herren quietly continues his work. The fourth release under his best-known moniker in just the past five months, The Failing Institute of Drums & Other Percussion marks the latest volume in a series of interconnected projects that continue his mission on his own terms. After launching back in September of last year with The Failing Institute of the Sampled Source, an eclectic display of his production prowess, subsequent installments included a frayed foray into contemporary classical music and a commercial sample pack for producers.
The Failing Institute of Drums & Other Percussion, however, has more to do with jazz, at least from the outside listening in. Befitting its title, the record loops in Nova Zaii (of the post-Donny Trumpet project The JuJu Exchange) and Angelo Outlaw to wield a variety of percussive instruments subject to Herren's manipulations. Opener "Enter As The Birds Do" recalls '70s fusion with its familiar bliss, before giving way to the busy yet beauteous "The Man And Who He Really Is, Pt. 3." Were it not for the use of marimba, xylophone, and their various cousins, melody would be subsumed too often by the prolificacy and prevalence of rhythm. Outlaw's bells and gongs do a fair bit of that rectifying work, though Herren's knack for the vibraphone in particular offers many of the album's finest moments. When his trio exercises restraint, as on "Marimba Mansions" and the stunning standout "Afternoon Drifts," the album soars.
As before, hip-hop makes its way into the mix. "Twin Statues" is organic free-range bap, swinging with subtle complexities. Similar in its approach, "Remembering The Past Through This Riot" presents contemplative dips amid its forward motion, with the vibes taking the place a rapper—or in the Vocal Studies days, a rapper sample—might otherwise fill. The presence of songs such as these, especially amid the distinctively jazzier ones, reveal the twenty year old Prefuse 73 enterprise as a long study in artistic transformation. It's a good thing Herren's set up a whole Institute to monitor not where it's been but where it's going.
---

Saga Asad, New Man
Reinvention is a tricky thing in rap. Too often, artists appear trapped in the themes that got them their initial shine, be that the trap or or the club or the backpack. But to emerge from a place of personal rebirth, as Saga Asad does here, allows for the promise of topical transcendence. New Man seizes on this opportunity, bringing the Brooklyn rapper forward with well-considered verses that engage with his past and his present thoughtfully. "Tefnut" does that the best here, defensive yet vulnerable. On tracks like "Fleaz" and "Rorschach," he scans his scenery holistically. August Fanon's super psyched out soul beats throughout are nothing short of sensational, giving the weighty lyrics increased heft.
Isai Morales, El Lokote
An Ohio-based rapper with Mexican and Panamanian roots, Isai Morales operates in a fascinating and rare space in hip-hop. Aesthetically and thematically, his El Lokote mixes luchador-masked idiosyncrasy with OVO-R&B accessibility. Despite being a relatively brief project, he connects over ten bewildering and oddly beauteous tracks, from the inventive staccato bars of "Catalpa99" to the uninhibited and ethereal thumps of "Mentirosa" and "Notepreocupes." One of the best songs of 2021 so far, "Pancho" is a hypnagogic ear worm, its Jet Life sonics just barely masking a devastating cautionary tale of an uncle's downfall and the collateral familial damage.
Wais P, Sunova
Once affiliated with both Jay-Z and Def Jam, Da Ranjahz were the kind of act you read about with frustration in retrospect, another victim of the music business. Reinvigorated and renamed, former member Wais P now prospers as a soloist, his 2020s run from the Statik Selektah helmed Chinchilla onwards offering street level knowledge and veteran pimpology. Sunova is no exception, satisfyingly unapologetic and explicitly profane on "F.R.E.S.H." and "I Know A Girl." Still one of the best in class, Nitty Scott provides a perfect femme foil for his game talk on "Odd Couple." He even taps seasoned spitter and generational peer Sauce Money for "Blood Of Christ," a seminar in bars.
---

Well over a decade before Fetty Wap fizzled out, Ja Rule was the tri-state area's undisputed thug rap romantic. While Irv Gotti's Murder Inc. had a well deserved reputation, the softer side of its leading man—not infrequently with the blessed presence of Ashanti herself—made for some inescapable singles whose impact remains felt in hip-hop, particular in the R&B vibes creeping into Brooklyn drill today. As many of my readers celebrate Valentine's Day in their own special way, here's something to help soundtrack the festivities with a mix of nostalgia, humor, and heart.
---
See you next time.
Follow me on Twitter at @noyokono and on Instagram at @noyokono too.