Notes On A Unified Theory Of Pusha T And billy woods
+ reviews of the latest by AJ Suede & Small Professor, Dark Lo & Don Gunna, and Defcee. This is CABBAGES #097.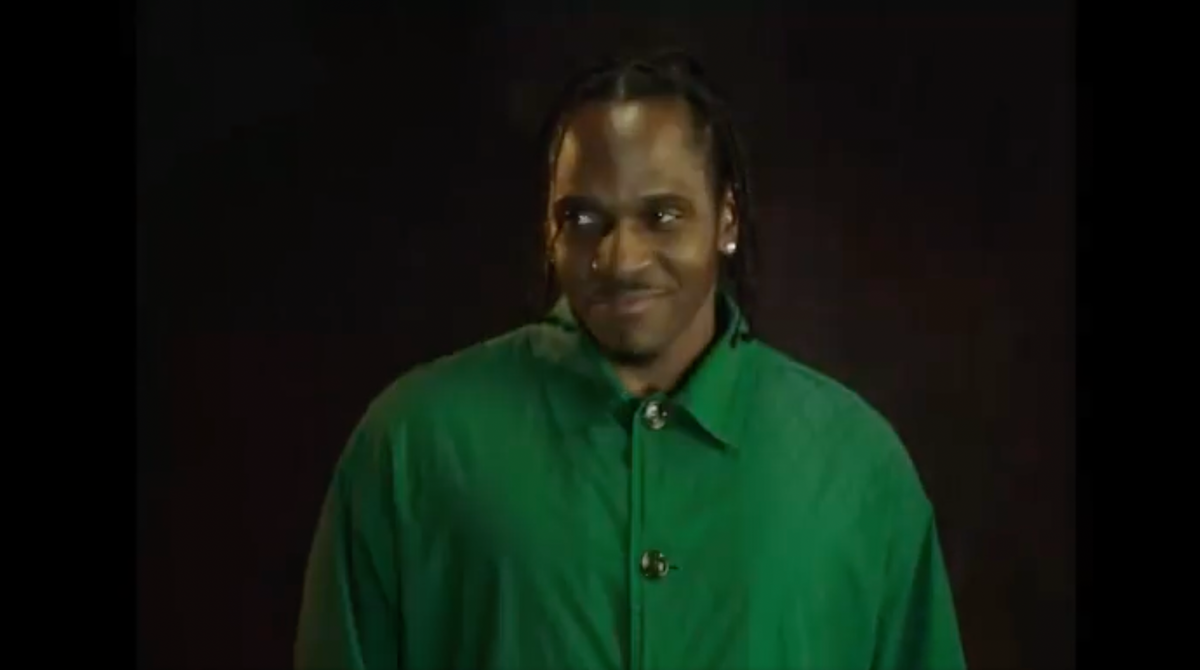 Pusha T polarizes hip-hop heads. Ye loyalists and Drizzy devotees stay largely entrenched in their starfucker camps, forming hardened positions about the G.O.O.D. Music president based largely on factionalization and less on substance. Outside of those comically predictable circles, a longstanding debate over the erstwhile Clipse rapper's status persists. Mainly, the discussion (which, of course, gets tainted by bad faith input from the previously mentioned cliques) revolves around whether or not the Virginia native's talents are limited to/by the subgenre dubbed coke rap, and what that means for his standing in the G.O.A.T. and corresponding Top Five Dead Or Alive tabulations.
Setting aside the obvious subjectivity of this discourse, one often marred already by blind allegiance to a pre-selected handful of grandfathered emcees, and the absurdity inherent to ranking art, you're either a Pusha T listener or you aren't. Beyond his early-2000s hits alongside brother Malice like "Grindin" and "When The Last Time," the likelihood of encountering his music involuntarily out in the world is relatively slim. As a solo artist, he releases projects in three-to-four year increments, most debuting in the top 20. Still, he didn't have a Billboard Hot 100 charting single for roughly the last decade, a gap that began after 2012's "New God Flow" with Kanye West and ended only this month when his Jay-Z and Pharrell aided single "Neck & Wrist" got on at No. 97. His features on other people's records are scarce too, another reminder that the 44 year old doesn't exactly put himself out there with regularity like, say, 2 Chainz or Jim Jones.
The Friday afternoon kerfuffle over a Variety review of his brand new album It's Almost Dry brought the preceding and thus foreseeable complaints back into the spotlight, namely that Pusha hasn't grown enough as an artist or lyricist and that he continues to rely too much on cocaine bars. The writer, Kyle Eustice, faced negative feedback for the piece on social media, some of which was valid and worth raising. (There is something unintentionally cruel about wishing aloud that he'd rapped about the deaths of his parents, a topic no artist should ever be expected to broach.) But a good deal of what I saw in response came off as abusive and, frequently, sexist in a manner that journalists and critics now unfairly face on online platforms.
I won't wade into the quicksand here today about who is allowed to write about or even appreciate this music, as greater pens than mine have explored this subject matter. But in my capacity as a hip-hop/rap critic, I'm qualified to make a case for quashing this tiresome critique of Pusha T The Coke Rapper.
Before J.K. Rowling sullied her legacy with fuming anti-trans rhetoric, the writer was best known for publishing seven Harry Potter books in a ten year period. She followed those with three screenplays in the Fantastic Beasts film series, building on her wider Wizarding World. One of our greatest living genre authors, Walter Mosley has penned over two dozen crime novels with recurring lead characters like Easy Rawlins and Leonid McGill solving all manner of compelling cases. At the age of 70, he remains a literary master, most recently adapting his cerebral yet affecting mystery one-off The Last Days of Ptolemy Grey into an Apple TV mini-series. The Ramones put out 14 punk rock studio albums over the course of two decades. Prior to the death of frontman Lemmy Kilmister, Motörhead released 22 heavy metal full-lengths in some 38 years. Hollywood sequels, reboots, and reimaginings abound on the big and small screens, sometimes simultaneously. A Game Of Thrones spinoff is coming to HBO this August.
A lot of this boils down to what fandoms permit and expect. All of the cited works are intended for an audience, whether the creators intend for them to or not. Take billy woods, an independent rap phenom whose rise in recent years has little to do with charts or trends. Based on the curatorial nature of the output, the Brooklyn-based artist and his niche Backwoodz Studioz imprint seem outwardly disinterested in tapping into the mainstream hip-hop zeitgeist, choosing instead to make and disseminate the art that matters to him. That mission resonates with a significant number of listeners–not as large as those who worship Lil Uzi Vert or Lil Durk, but conceivably large enough for his needs.
So too, albeit in a much more commercially adjacent way, does this operating ethos apply to his woods' contemporary Pusha T. Though the scale differed considerably, their respective full-length introductions occurred more or less contemporaneously. After EastWest shelved 1999's Exclusive Audio Footage, Clipse finally got a debut off in 2002 with the Neptunes-helmed Lord Willin' for Star Trak / Arista. The following year brought Camouflage, outwardly billed as a duo album by woods and Cannibal Ox's Vordul Mega. And while both projects assuredly offer plenty to enjoy in retrospect, their accessible existence quite easily undercuts arguments that these artists haven't honed their craft as soloists in the ensuing decades.
Aethiopes, woods' newest album, shows just how much he has evolved as a rapper over time. On highlights like "Asylum" and "Remorseless," he delivers creative metaphors and overt observations over producer Preservation's tantalizingly twisty, arcanely sourced beats. Previously trod tropics around trauma and family recur on these tracks and more, amplifying that his lyricism often deals more in clarity than poesy for those willing to follow along closely. If he were appreciated as a leftfield punchline rapper, he'd be regarded somewhere circa Bill Hicks and Paul Mooney, but the gravity of his themes and the sermon shouty delivery keep him in rooted in the anti-comic or tragicomedy. If it's not his best work outside of Armand Hammer, it's damn near close to it.
That said, evolution doesn't necessarily equate to being better or best. Cited favorably in Eustice's contested It's Almost Dry review, Jay-Z's 4:44 did indeed show us a side of him different from the streetwise Reasonable Doubt, the flashy Blueprint, or the cinematic American Gangster. The 2017 outing, his last so far as a soloist, gave us S. Carter the billionare capitalist, breathing hotel conference room seminar air over listeners in an album-length GET RICH, STUPID lecture targeting and even scolding those unlucky enough not to be in his financial stratosphere.
Choosing to partner exclusively with No I.D. on production, which granted the record bap-reminiscent intimacy and an aesthetically satisfying cohesion not found on the Timbaland-heavy muddle of Magna Carta... Holy Grail, assuredly helped foster rosy sentiments among critics and fans, as did the personal bits shared on tracks like "Smile." But in our current pandemic era marked by worker upheaval and wider cultural challenges to corporate sovereignty, 4:44 hits like wet dirt. By contrast, woods' fundamental rejection of generational wealth on the aforementioned "Remorseless" feels relatably of its time but also very much in line with his wider discography. The message no doubt resonates with his audience, many of whom are unlikely to achieve aspirational monetization levels in our current stacked deck economy.
The fans aren't mad at Pusha for leaning into nosetalgia and cooking up intricate drug dealer themes on My Name Is My Name, Daytona and now It's Almost Dry. So chiding him for doing so from a critical standpoint seems antithetical and, worse still, trite. Speaking from experience and admitted complicity, calling for artistic growth is sometimes a narrative crutch that critics rest their reviews upon, with the insidious flipside being a scoffing rejection when one doesn't stick a more ambitiously risky landing.
One need not have sold dope to appreciate songs like "Diet Coke" or "Hear Me Clearly" any more than we need to have attended magic wand classes at Hogwarts to enjoy the Potter Cinematic Universe. There's nothing regressive or stagnant about the way in which Pusha spits about his chosen themes on the new record. And when Malice returns to the fold properly on the outstanding closer "I Pray For You" with some of the album's best coke verses, it shows that there's plenty of premium product left in the pot.
The actor behind the mask changes, but Spider-Man always shoots webs and battles supervillains. Even when Wolverine got his brooding, bleeding old man Logan film out in 2017, he fought like a berzerker until the bitter end. Pusha T will rap about cocaine for as long as he wants and do it better than anyone else who dares to try. We as consumers–the target audience–demand nothing less.
---

---

AJ Suede & Small Professor, Hundred Year Darkness (buy it / stream it)
Seattle-based rapper AJ Suede goes bicoastal for his second album of 2022, teaming up with Wrecking Crew producer Small Professor out of Philly. Where his preceding Metatron's Cube with Televangel felt noirish and intimate, Hundred Year Darkness embarks on an epic rhyme odyssey set to exceedingly open and airy bap instrumentals. Packing verses like ballot boxes, he confidently crams unlikely references into one another, executing marvelously on "Full Metal Chimera" and "Maybach Mobile Suit." Though Defcee, Teller Bank$, and Fatboi Sharif each make memorable features, he owns the off-kilter "All Your Base" and "Enterprise" all on his own. Both artists appear to be in the zone here, creatively speaking, with Small Pro revisiting "Apologize Later" and "Drano" with twin remixes at the end.
Dark Lo & Don Gunna, The Graveyard (buy it / stream it)
Prior to his sentencing last summer, Philadelphia's Dark Lo spent much of his remaining free time recording a plethora of new music to be released while locked up. Some of those verses seem to have made it onto The Graveyard, a seven-track joint project with rapper Don Gunna, also presently incarcerated. Over some downright gloomy bap beats by apparent newcomer No Face, the duo trade exceedingly blunt bars on tracks like "Blakk & Deadly" and "Out Of Order." Street code declarations and unvarnished accounts of violence dominate their themes, evident on the lacerating lyrics of "Dark Alley" and "3 A.M." Eto enters the mix on "Graveyards & Skeletons," adding his own coldness to this icy cut.
Defcee & Boathouse, For All Debts Public And Private (buy it / stream it)
While Defcee has been spitting for something like a decade and a half, his 2021 projects We Dressed The City With Our Names with August Fanon and Trapdoor with Messiah Musik saw the Chicago rapper truly come into his own. Continuing that single-producer streak, his latest one partners him with BoatHouse, who provides pristine new boom bap for the focused emcee. Right from the start there's a distinct point of view, as "Even (Intro)" deploys sharp barbs at those who plunder his city and its people. Later, on "Qtna," he poignantly captures the everpresent dread of financial insecurity and living while debt looms. Still, the album isn't all pointed accusations and condemnation, proven by the hip-hop hunger and heart present on "Dunk Contest" and the Wu-nodding "Bubble Coat."
---

---