This week, Nas dropped a new Hit-Boy produced single. He simultaneously announced the imminent release of King's Disease, his thirteenth album if you deign to count 2010's Distant Relatives with Damian Marley. For many of those who've rocked with the Queensbridge legend over the past two-and-a-half decades, the reveal brought on a familiar feeling, an animalistic second sense of dread stirring in the bones. Even before Nasir, the shallow nadir of G.O.O.D. Music's 2018 shoddy summer rush jobs, his bad reputation as an album artist was well deserved. With dismally executed records like Nastradamus and Street's Disciple, the prevailing argument in hip-hop holds up: Nas pretty much sucks as an album artist.
Yes, of course I've heard Illmatic. Hell, I probably heard it years before many of you did, and I'll concede it's as close to perfect as any hip-hop album I've ever heard from that decade. But the inconsistency of just about every other full-length in his catalog—including The Firm: The Album—has cemented his status as a supremely gifted rapper who makes far more bad production decisions than good. 2001's Christmas gift Stillmatic suggested that he'd overcome the mistakes of Nastradamus. But when The Lost Tapes hit nine months later, it came with the unintended revelation that he'd inconceivably left some of his best work of the preceding eight years on the proverbial cutting room floor. After the marginally above-average God's Son, Nas returned to dropping uneven full-length efforts and some straight up stinkers, which felt especially insulting in the pre-streaming era when we were all were expected to pay like $20 an album for the privilege of hearing music.
Tragically, the most notable thing about his new track "Ultra Black," one of the weakest singles to push an Afrocentric message in the wake of George Floyd's murder, is an unwarranted Doja Cat diss. And honestly, naming his new album after gout, a painful inflammatory condition historically associated with gluttony, doesn't instill much confidence. For many fans, though, Kelis' accusations of domestic violence during their marriage, which she shared publicly just two years ago, make the idea of supporting his new music an utterly unappealing prospect to begin with.
As such, fans are justifiably loathe to rank Nas albums online the way they do Kanye West or Eminem or Jay-Z ones. The power of narrative applies to all of these examples, really, with the latter trio benefitting so much from the incessant excesses of G.O.A.T. vomitoria that social media devotees seem incapable of accepting that their faves may be "album artists" yet not the best album artists. Of these commonly cited names, the only one that definitely makes the cut in my estimation would be Kanye, putting aside perhaps the Kid Cudi backdoor pilot 808s & Heartbreak and definitely excluding everything post-The Life Of Pablo. Without reservation, I'd say Ye's pre-MAGA run from The College Dropout through Yeezus recalls similar stretches of full-length greatness as Miles Davis or Led Zeppelin or Parliament-Funkadelic or Prince or The Rolling Stones.
But Jay-Z? Man, that guy hasn't made a great album since The Blueprint. Consider the bloated folly of The Blueprint 2: The Gift & The Curse, the largely forgettable fumble of his Kingdom Come-back, and the desultory slog of the desperately feature-sodden Blueprint 3. Obviously, people have their favorites from these full-length outings, as do I. But you'd have to be a masochist to sit through them all start-to-finish rather than just cherry pick the highlights and move along.
For close to twenty years now he's struggled with his status, certainly from a creative perspective. It's worth remembering that, beginning with the Jaz-O days and up through 1996's Reasonable Doubt, Jay-Z operated with a Golden Age understanding of the genre. Though still in line with that ethos, his subsequent hits on the pop charts in that decade demonstrated an ear for beats and, notably, hooks that most of his stone cold rhyming contemporaries lacked then. Capitalizing on that competitive advantage, The Blueprint aligned his strengths into an uneasy balance, a massive achievement that encapsulated his career up until that point.
Echoing the epic battle attitudes of hip-hop's 1980s glory, he brought his beef with Nas to the fore with "Takeover" and self-confidently invited his presumed lyrical rival Eminem on as a guest for "Renegade." But he countered those authentic capital-R Rap moments with the immaculate novelty of "Girls Girls Girls" and the deeply relatable "Song Cry," both singles that show how well Jay-Z had mastered the moment at the dusk of the Shiny Suit Era and the dawn of Roc-A-Fella's prime. But maintaining that tightrope act was either undesirable or outside of his control, as evidenced by the next couple of decades of middling-to-just-plain-mid album-length work.
Please, don't bother peppering my inbox with Billboard rankings and RIAA award certifications—I have the same Google you do and have wasted too much of my life already on those organizations' respective websites. Sorry to burst your @Chartdata bubble, but commercial success generally has no bearing on an album's artistic merits beyond the quantitative fact of salability. Go look at how many copies of Vanilla Ice's To The Extreme sold in its first six months and then let's talk. And really, once Jay-Z started conscripting cell phone makers / service providers to make his albums instantly platinum, as he brazenly did with both Magna Carta… Holy Grail (Samsung) and 4:44 (Sprint), pointing out plaques proves utterly ridiculous.
Then of course, there's the problematic—then and now—pair of collaborative R. Kelly sets The Best Of Both Worlds and Unfinished Business. Though years ahead of the revelatory Surviving R. Kelly docuseries, the first of their albums together dropped in March of 2002, barely a month after video evidence of the R&B singer's sex crimes involving a minor emerged and circulated. Incredibly, Roc-A-Fella didn't see fit to cancel the release, and doubled down with its 2004 follow-up despite the artists no longer on speaking terms by its release date. The fact remains: one of the biggest figures in music knowingly put out two full-length albums with a credibly accused serial abuser who was allowed to persist in the industry for another 15 years until it became altogether impossible to protect him any longer, not to mention embarrassing. Most fans seem content to pretend these two disappointing and opportunistic Jay-Z records don't exist, an especially convenient tactic when talking up his G.O.A.T. bonafides, when their very existence suggests some overdue accountability on his part.
Oh, and American Gangster is fine, I guess.
---

WateRR, Workshop Of The Mind
This highly skilled Chicago rapper has kept insanely prodigious on the new release front, with Workshop Of The Mind marking his third album of 2020. As effective as a snub-nosed revolver in a pulpy crime paperback, the half-hour project owes as much to The Kurse's cinematically gritty production as it does WateRR's tenebrous bars. The taut baseline of "Sacred Tarot" sublimely jibes with its lingo-laden rhymes, while "War With Self" emerges like a deconstructed Roc-A-Fella deep cut from the late '90s. Complementing the vibes. Planet Asia familiar TriStage swings through as a bubblegoose bully on "Open Portal." If Freddie Gibbs, Roc Marciano, and the Griselda crew are soundtracking your summer, add this one to your rotation immediately.
Lee Scott & Morriarchi, Friend, Come To Me And Be Saved
After CLBRKS dropped two consecutive benchmark LPs this year with producer Morriachi, it makes sense that Blah Records don Lee Scott would want in on the action. Not bound to the microwave-cooking-as-metaphor theme of the prior pairing, this album lives in a space where boom bap slogans and wisdoms flow unencumbered. Scott's free lyricism unspools in deceptively casual spurts, at times almost embittered in execution. Amid exceedingly grim and vaguely jazzy atmospheres, he pays homage to the tradition with frequent and deliberate referential nods on "Oggle Bop" and the essential "Yippee - Ki - Yay." On the Naughty By Nature interpolating "WTCKG2D," he taps in-house talents Milkavelli and Black Josh, eliciting strong results.
They Hate Change, 666 Central Ave.
With a distinct taste for breaks, amen and otherwise, subversive Tampa Bay area duo They Hate Change make the transition from Deathbomb Arc to Godmode with this EP. Opener "Stunt Cams" reignites off-kilter post-Timbaland rhythms as a fiery base to flow over. Twin tributes to Duice's Miami bass banger, the "Dazzey Duks" techstep jungle mash-ups "Burn My Shit" and "Ozone" are easily the finest repurposings of a dancefloor classic this summer aside from "WAP." They continue to connect with Floridian club influences on "Day Ones," which switches up the beat on an all-but schizophrenic whim.
---

Three questions. Three answers. That's a wrap.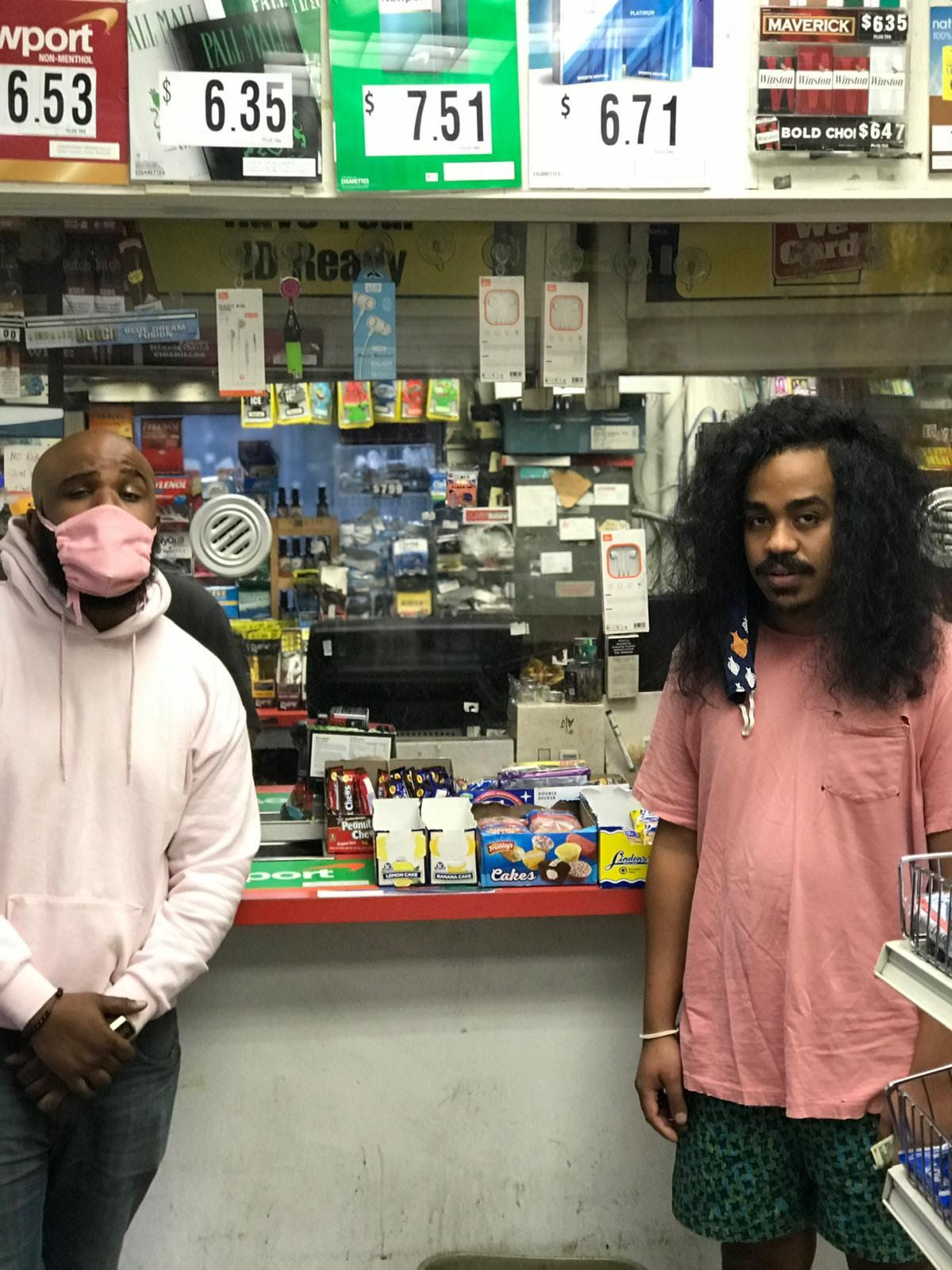 Photo credit: Matt Brown
The Baltimore-based duo of Infinity Knives and Brian Ennals rep for their city in their own distinct and defiant way. Their experimental approach and provocative lyrics do a admirable job of blurring the boundaries of hip-hop without moving too far beyond them. On their recently released album Rhino XXL, they indulge in '80s synth boogie, industrial noise, and abstract pop—and that's just the first three songs.
How did the concept behind Rhino XXL come about, sonically as well as thematically?
Infinity Knives: I wanted to initially invoke loose fascist retro-futuristic imagery, in the likes of the Orwellian INGSOC or The Wall's Hammerskins. I wanted to take brutalism from a sonic approach. I listened to a lot of Wagner (mostly cos he was a bitch fascist) towards the beginning of the project to get an idea for those bombastic minor swells that would give any ethno nationalist red rockets—that's how "The Willower" and "Executioner" came to be. But when the pandemic started, it became less of a joke and more of a reality so I opted for more saccharine throwback jams. That later on degraded into washed out sound  collages reminiscent of Sparklehorse. Sorta like a night on coke—gung-ho at first, then the dancing, then the dreaded come down, I guess sorta like Basinski's tape loop decays, but in rap album format.

Brian Ennals: Tariq (Infinity Knives) kind of had the whole project in his mind already from a production/conceptual standpoint. I had been wanting to push my writing in a different direction for awhile, more narratives, slices of (Black) Americana; and the sonic palette he created gave me the opportunity to do that; particularly with (next single plug!) "Candy". We knew from jump that we wanted to do something that didn't sound like anything. Not just shit that's out now, but not any rap album period.
The death of Freddie Gray looms large over the project, particularly on "The Willower." As Baltimore residents who fairly recently saw the fifth anniversary of his homicide pass, are you able to achieve any sort of emotional relief or even catharsis from channeling that horror into your music?
Brian Ennals: Not at all. If anything, the music keeps the wounds raw. But that's good, because we (and everyone else for that matter) need to stay as angry as possible. Catharsis might be the antithesis of creativity for me. That implies satisfaction/justice, and there's not a ton of that going around right now.
The track "Ken x Karen" with Kotic Couture flips the narrative to somewhat satirically offer the perspective of white fragility and entitlement. Given how much of its micro-aggressions and hostile language has assuredly been directed at you, was it difficult reprocessing and parroting back so much of this hateful speech?
Brian Ennals: Sad to say, it was incredibly easy. I'm pretty sure I could write an entire album from the perspective of a racist. Their ideals have been shoved down our throat in every possible way (school textbooks, pop culture, everything else) so I know how they think because that's the predominant mindset of this country. 100% impossible to escape or not be in tuned to, unfortunately. It's how Candace Owens and Toms of her ilk are able to parrot this type shit so expertly.
Purchase or stream Rhino XXL here.
---

Some of you might still be stewing after those grafs about Jay-Z earlier in the newsletter. But I hope you can understand that my criticism comes from a place of love. I was a resolute Roc-A-Fella aficionado in the early '00s, obsessing over Cam'ron and State Property and the incredible production behind so many of those records. For a minute, Freeway was probably my favorite rapper, his Philadelphia Freeway album from 2003 overflowing with loquacious bars and peak Just Blaze beats. To me, "What We Do" is a top ten rap song—of all time, my guy. And yeah, Jay-Z's verse goes hard as fuck, as does Beanie Sigel's tearjerker of a closer. The music video is one of the Roc Boys' best, like an Oz prequel or if The Wire relocated a hundred miles north.
---
See you next Sunday.
Follow me on Twitter at @noyokono and on Instagram at @noyokono too.