This newsletter marks the twenty-second installment of Irregular Vegetables, a weekly series of CABBAGES emails where I share links to recent writings from other hip-hop/rap journos and critics, squeezing in my own work as I see fit. These midweek editions hit inboxes every Thursday. Enjoy this week's reads and keep scrolling for an interview with rapper Dai Burger. After that, make sure to check out the latest Crudites, a feature where I recommend three new singles/videos from hip-hop artists you may not be familiar with yet.
---

The Woman MC Discussion Is Dehumanizing
Rapsody and Noname, another artist consistently pit against the Cardi Bs of the world — explore their sexuality in their music. They've both extolled praise for Megan and Cardi, and have repeatedly expressed that they don't wish to be regarded as "anti-Cardi B's." But regardless of their desires, they're constantly stripped of their agency to represent ideas they don't believe in themselves. Men presenting these juxtapositions don't see the full humanity of the artists they're supposedly praising. When they weaponize one group of women to police another, they flatten all of them into patriarchal props. (Read more at More Fire)
We Must Honor Raekwon, Rap's Godfather
"When you're in the streets all day," the veteran rapper explains, "that's a job, but that's not a legal job. That job consists of risk. Once we were able to get a record deal, I felt confident that, you know, if the police happen to run up on me, I could be like, 'Yo, I'm not out here throwing my life away. I have a job; I have something I have to do every day that requires my time, and it pays me.'" (Read more at DJBooth)
These Rappers Didn't Make The 'XXL' Freshman List, But You Still Need To Keep An Eye On Them
XXL's annually anticipated list of hip-hop Freshmen has hit the 'net and as usual, garnered a tremendous response as those in the know celebrated their emerging faves and everyone else groused about being out of the loop. Of course, along with those reactions, the list also brought an inevitable third response: Fans expressing disappointment that their own favorite artists didn't quite make the cut. (Read more at Uproxx)
When you climb to the mountaintop so quickly, though, the wind tends to turn against you. In DaBaby's case, he started to get bombarded by online commenters telling him all his songs sounded the same and that he needed to switch his flow up. By the time he released April 2020's 'Blame It on Baby,' his third album in a year, DaBaby fatigue had set in and it wasn't received with as much critical praise as his first two. Meanwhile, legal issues mounted, and he wasn't as universally adored by the public as he was just a few months before. In DaBaby's mind, misconceptions were piling up. (Read more at Complex)
More Contemporary Rap Should Sample Black Electronic Dance Music
Rap songs sampling Black dance music serves as a valuable way to combat this erasure, simultaneously rejuvenating an older song for a new generation and educating the masses of the song's existence, too. Prior to "WAP," the most notable example of this is Kanye West's "Fade." A standout from West's 2016 album 'The Life of Pablo,' "Fade" owes itself to the Chicago house classic "Mystery Of Love," made by Chicago house music pioneer Larry Heard — better known as Mr. Fingers — in 1985. "Fade" slows down the bouncy and syncopated bassline that defines "Mystery Of Love," its already infectious melody even more resonant in West's possession. (Read more at Okayplayer)
Though his highest-profile project thus far is the collaborative 'DIRTIERNASTIER$UICIDE' EP—a release that showcases the "suicide pimpin'" house sound, as Juicy J's adlib describes it—Germ stems from a different stylistic lineage than his peers. He's capable of the tongue-twisting, Lord Infamous type flow that is the bread and butter of $uicideboy$, but it's not his preferred mode of delivery. There's a power to Germ's rapping, but unlike G*59's crown jewels, Germ is pure Atlanta, owing as much to YSL and 1017 as he does to underground internet rap. (Read more at Pitchfork)
Rapper Psalm One's Essential Releases On Bandcamp
After pressing up, self-releasing, and selling out of 50 CD-R copies of her debut 'Whippersnapper' back in 2001, the Chicago-raised Cristalle Bowen, aka Psalm One, decided to scrap her plans to be a chemist in favor of life as an MC. "The thing that got me to be like, 'I can do music for real' was the response I got on campus at the University of Illinois," recalls Bowen, who now lives in Minneapolis. "We burned 50 copies, and I wanted to sell all 50 in a week. And I did. They were $8 each—that's good college money! That was like going platinum! I was like, 'Hang on, people will pay for my music?'" (Read more at Bandcamp)
On it, the Portland rapper drifts noncommittally between several styles of contemporary hip-hop and R&B, resulting in a record that sounds at once in-line with the pop-rap zeitgeist and also slightly ajar from it. Within the first six tracks he adopts a Roddy Ricch flow ("Woodlawn"), invokes the punctuated gravitas of DAMN.-era Kendrick ("Roots"), pulls out a snarling Drake impersonation (the boom-bappy "Shimmy"), and employs a competent yet boring A Boogie sing-rap flow (the murky "Can't Decide"). (Read more at Entertainment Weekly)
Why Men Are So Bothered by Cardi B And Megan Thee Stallion's 'WAP'
It's nothing we haven't heard before. Missy Elliott, Foxy Brown, Trina, Lady Saw, and Lil' Kim — to whom Meg and Cardi pay homage in the video via a stone fountain of themselves posed in the iconic 'Hard Core' spread-eagle squat — were boasty about the power of the pussy and lyrically loose-lipped about their sexual exploits 25 years ago. So was Adina Howard, a self-proclaimed "freak," and before her, a long list of women, including Millie Jackson and Ma Rainey, who were equally explicit about their sexual desires and expectations. (Read more at Level)
Alt And Straight TikTok Both Agree On Rapper Ppcocaine
A Rico Nasty–inspired rapper with a Doja Cat bubblegum pink exterior, rapper ppcocaine (formerly known as trapbunniebubbles) has had four songs out for less than a month and three of 'em are TikTok hits… If you've exclusively been listening to Megan Thee Stallion and Flo Milli this summer, ppcocaine takes what they do and makes it gayer. (Read more at Vulture)
"Old Artists Are Still Crafty:" An Interview With Lord Finesse
Enter 'Motown State of Mind.' Much like Madlib's turn with Blue Note Records, Finesse brings hallowed reverence to the crates of American's most boisterous and time honored record house with his signature ear for arrangement, mood, and funk. Created as a way to keep 45's going and rocking parties from here to Copenhagen, Finesse does more than add new tech to old classics. 'Motown State of Mind' is the work of a humble student getting his chance to re-write curricula. (Read more at Passion Of The Weiss)
---

Three questions. Three answers. That's a wrap.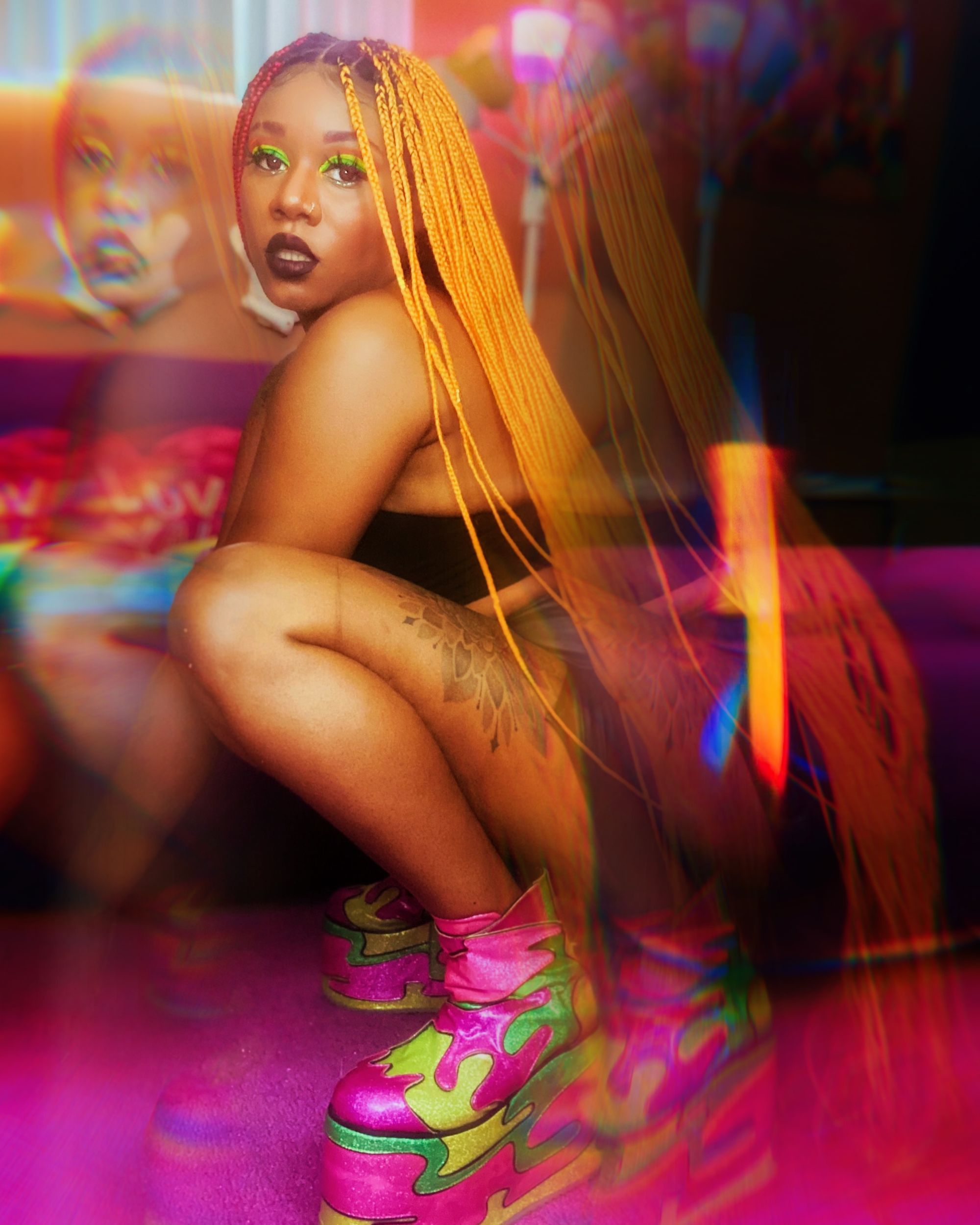 Photo courtesy of Dai Burger / Fancy PR
After making a notable first impression as a Lil Mama backup dancer, the Queens-based Dai Burger formally kicked off her own music career with 2010's Junglepussy-hosted MyMixxxytape and hasn't looked back since. A decade later, she continues with the recently dropped Dessert EP, a short yet decadent project that showcases her bold and dancefloor friendly hip-hop style.
Dessert comes roughly seven months after your Bite The Burger album. As an independent artist, do you feel pressure to create at this pace?
I can't help but create at this pace! I have so much art to share, sometimes it feels like I'm not putting out enough! So I just work hard to stay consistent and keep my craft flowing. When making Bite The Burger, I had sooo many songs to choose from as it had been two years of working hard in the studio since my last release, Soft Serve, in 2017. So as me & my team sorted thru songs and matched up the different vibes, Bite The Burger kept getting longer & longer! I'm like, "Hold up! I think there's room here for dessert!" From there I locked in with Saint to make Dessert a solid sound package. And there it was! First we let 'em "Bite The Burger" then hit 'em with some "Dessert." Full satisfaction.
Much of your catalog seems tailor-made for the club, yet right now the pandemic limits our ability to actually go to these places. Given these extraordinary circumstances, what drives you to keep making and releasing this type of music?
Quarantine has taught us that the new club, office, and school can be right here in OUR HOMES. So I continue to keep my music upbeat & uplifting so we don't get too caught up on the woes of the world. Sometimes you just gotta dance it all off no matter where you're at. We just so happen to be home lol!  With the climate surrounding us with this pandemic, politics and injustices, coping can be really hard. Hell, I find my own anxiety at an all time high. The music is my escape, it's the one place where I can just be in the moment & enjoy myself.
On Dessert, you include collaborations with Kidd Kenn and TT The Artist. Why did you want to work with them here and what do they respectively bring to the project?
I loveeee Kidd Kenn's whole demeanor. He's such a confident and talented youngin, doin his thing, no apologies. So I knew our collab would be crazy. We've worked together recently on another track before "Naomi Walk" so I already knew how much of a pleasure it was to work with his cute and gifted self. That track remains unreleased, but we still had a blast just kicking it & working.

Now, TT The Artist is one of my closest friends and biggest inspirations. Her flow and work ethic are unmatched, and I love collabing with my like-minded sisters. We both exude so much femme power, so it's always refreshing when we come together and just do our thangggg.

This won't be the last you see of any of us...
Purchase or stream Dessert here.
---

Three new music videos for you to snack on...
Amani + King Vision Ultra, "A Not So Fruitful Wealth": As distinctly leftfield as it is unmistakably New York, this eerily sluggish cut off the breathtaking An Unknown Infinite updates the rare Cannibal Ox aesthetic for our uneasy age of quarantine.
NWM Cee Murdaa, "I'm Lovin' It": Teetering on the edge with its vertiginous beat and unsettling lyrics, the St. Louis rising star's latest forcefully appropriates a familiar fast food slogan to soundtrack the omnipresence of violence.
Young Costamado & TDott Woo, "Like Woo": Repping a burgeoning wave of fresh Brooklyn drill signees, the Carnarsie duo dutifully expand the Pop Smoke Cinematic Universe with their audacious major label debut single.
---
See you on Sunday.
Follow me on Twitter at @noyokono and on Instagram at @noyokono too.