What Does A Slaughterhouse Smell Like?
+ reviews of the latest by Fatboi Sharif & LoneSword, OKnice, and Smoke DZA & Nym Lo. This is CABBAGES #092.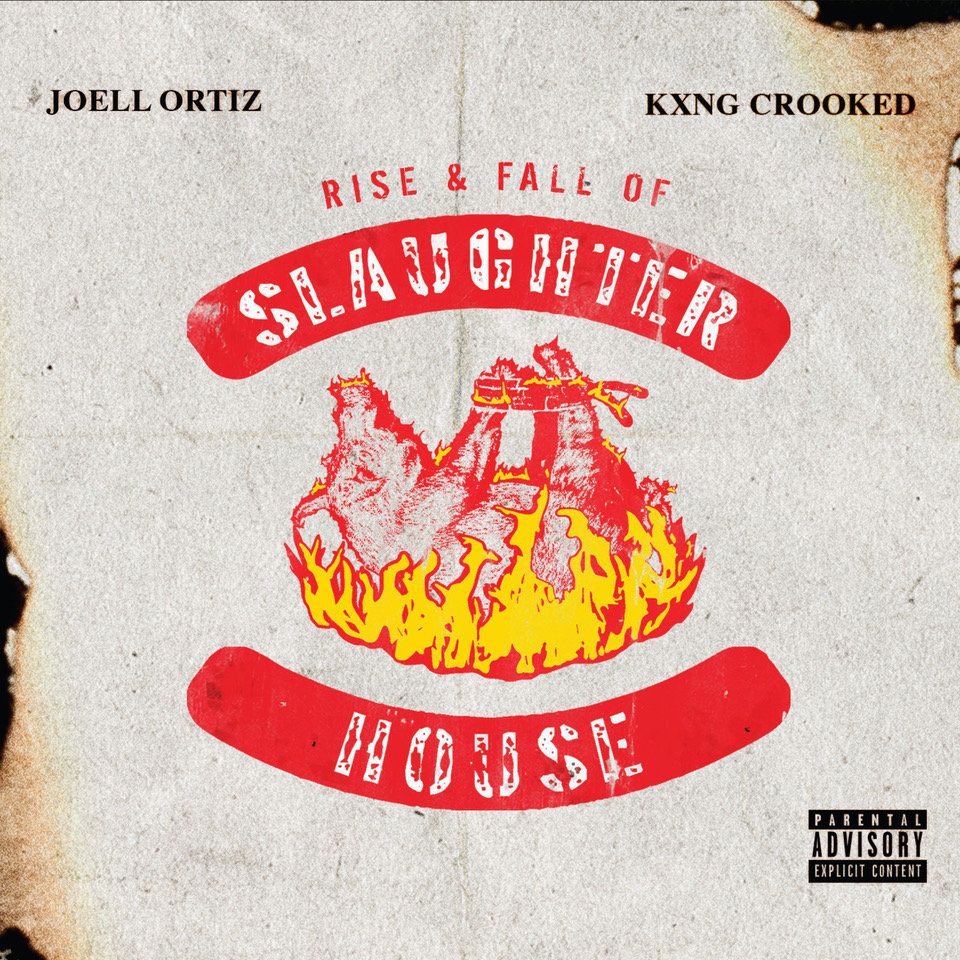 "Just like a hospital has a distinctive smell, slaughterhouses smell like warm blood. There's iron in the air all the time—even over the bleach, you can still smell it... There are always two parts inside an slaughterhouse: a clean side and a dirty side. Animals have to go through the dirty side first, before they go into where they're going to be prepared for human consumption. The dirty side is where all the guts, hair, and skin's removed." ["Working at a Slaughterhouse Is as Gruesome as You Thought," Vice, 2017]
This past Friday, Joe Budden, Joell Ortiz, and Royce da 5'9" got into it on Instagram Live. Ambrosia For Heads did a fine job of documenting the latest in their online war of words, while screencapped clips of the feuding former Slaughterhouse rappers circulated widely on Twitter. But the gist of it was clear: Budden and Royce are not happy with Ortiz and KXNG Crooked–and vice-versa.
Watching these three forty-somethings arguing on social media video is like seeing an abattoir operating impossibly in reverse, the clean side somehow doubling back on itself and making an even bigger mess of the dirty one. The output, completely inedible and fundamentally toxic, serves and satisfies no one beyond those who perversely enjoy the failures of others. (Frankly, we have too many so-called hip-hop fans who fall into that category these days, based on the popular gossipy media currently passing for hip-hop journalism.)
The latest batch of tainted beef from the fellas originates from Crooked and Ortiz's forthcoming album The Rise And Fall Of Slaughterhouse, due out this Friday. Two singles have emerged from it within a week of one another, first "Vacancy" and then "Backstage." The lyrics offer a emotionally charged if perhaps heavy-handed narrative from their perspective of what Slaughterhouse was like when it was active a decade ago, as well as what has happened since. Compounding those already volatile contents are the corresponding music videos, which provide visual pokes and prods at their erstwhile partners with some digs at others in the wider circle such as Shady Records' Paul Rosenberg.
Beyond the accusations and revelations present on both tracks, invoking the name of the quartet in the album's title seemed to prompt some animosity from the absent half. On Instagram, Royce posted a thinly veiled allegory to express his displeasure with The Rise And Fall Of Slaughterhouse, aptly likening the dormant group to a building owned equally by all four men. Effectively retired from rap, Budden saved his scorn for the aforementioned livestream, a format that complements his lucrative podcasting heel turn. By the end, an exasperated Ortiz was all-but pleading with him to "fuck with the album," or to at least not be outwardly opposed to it. The damage, likely irreparable, had been done. And while nobody came out of it looking good, at least it drummed up some additional all-publicity-is-good-publicity for the imminent new record.
Supergroups can't last forever, and Slaughterhouse is no exception. Members come together at a point in time with some considerable amount of clout or fame already, and each member has reason to disband when it suits them. Though it clearly infuriates Ortiz, the Catch-22 of Budden's contentious years-ago departure and Royce's ongoing reluctance to continue without him ended the group well before Crooked publicly quit in 2018. As such, there are merits to the justifications made by the pair who've opted out, their position one that runs counter to the allure of a quickie cash grab. Conversely, there remains an inherently exploitative odor around wanting to keep it going in spite of the other side's wishes.
In recent days, Crooked and Ortiz have cited serving the desires of Slaughterhouse fans as the motivation behind the new record. The latter even claimed during that all-around calamitous Instagram Live session that he wasn't doing it for a proverbial bag. This argument, however, runs risibly counter to presumed reality. A plurality of Slaughterhouse listeners, assuredly, want to see them reassemble in one way or another–a reunion tour, a comeback album, even a farewell cipher. But a project sporting only half the members, a project that based on its first pair of singles appears negatively fixated upon the past, offers no closure to those fans nor does anything good for the group's overall legacy. Yes, even if some part of these men compels them to do it for the love of the art of hip-hop.
Furthermore, Slaughterhouse fans have had opportunities to stay connected with both rappers, and not just on solo projects. In 2020, Crooked and Ortiz linked up for H.A.R.D., a joint album for the Mello Music Group imprint. With beats by The Heatmakerz and J.U.S.T.I.C.E. League, among others, they gave the people the closest thing to a Welcome To: Our House follow-up we'll likely ever see. They did so without blatantly reaching backwards to deface the group's old logo or parody old album artwork, both moves clearly meant as provocations and commercial tactics.
Though H.A.R.D. didn't make it onto the Billboard 200 charts, it nonetheless presented a way forward for the two members who purportedly are committed to progression. Both Crooked and Ortiz know all too well what it's like to be rebuffed by the industry, one by Virgin and Death Row, the other by Aftermath. Through Slaughterhouse, they share their Shady/Interscope experience. H.A.R.D. didn't need to be a commercial smash to vindicate their shared artistry after years of the business and its unkind grind. Nor too does The Rise And Fall Of Slaughterhouse, whose first week sales performance is now subject to even greater scrutiny and the potential for more friction.
Burning Slaughterhouse merch for a music video, as they regrettably do at the end of "Vacancy," is not the symbolism Crooked and Ortiz think it is. There is no phoenix rising from those ashes. The act only further fans the flames, burns the bridges, scorches the earth. Bad blood makes for terrible sausage no matter how well you cook it.
---

OKnice, Have You Tried Being Happy? (buy it / stream it)
Introspection is nothing new in hip-hop. Rappers in the throes of existential crises frequently come out the other side with art, as if a natural sludgy byproduct of handling one's shit. Saint Paul, MN spitter OKnice seems as self-aware as he is self-reflective, which makes his exceptional new album more than a mere catalog of grievances and observances. From the jarringly honest "Split/Screen" to the American Dream crushers "Brick Meets Window" and "Pleasantville," his just-above-monotone delivery conveys hefty ideas straight from the embattled dome. Buoyed by a cabal of solid producers, the optics get apocalyptic on the bombastically familiar "Emergency Broadcast" and the disorientingly mellower "Bad News," each touching the nexus where the personal and political collide.
Fatboi Sharif & LoneSword, Cyber City Society (buy it / stream it)
After shocking the rap underground with Gandhi Loves Children, Fatboi Sharif could have stuck to its splatterhouse themes. But much like spiritual predecessor Kool Keith, the outré New Jersey emcee boasts a curious creative mind. While not a complete departure from his macabre tastes, Cyber City Society stands on its own, an anthology series of sorts. Death cults, drug (ab)use, dystopia, and time travel are all fair game on highlights "Acid Rain" and the doomy "Encrypted." As evidenced by "Plastered," his style can manifest as a laundry list of evocative phrases, strung together like Burroughs' incidental yet conceptual cut-ups. LoneSword meets his collaborator on mutually agreeable terms, creating beatless sonic landscapes of maximum discomfort. In the hands of lesser artists, this would be a junkyard juggalo'd mess, but these two are nightmare fuel auteurs at work.
Smoke DZA, Nym Lo, & 183rd, Driplomatic Immunity (buy it / stream it)
Bronx-bred producer 183rd and Harlem's own Smoke DZA have been feeding the streets together for so long that they deserve a Jeff Bezos Grant. In recent years, they've been often accompanied by Nym Lo, an uptown spitter making moves at RFC Music Group. Mere months after the deluxe edition of their Thanks Again project, the trio returns with another solid set of heavy hitting bap and bars. As usual, the Kushed God comes correct, assuming his patriarchal form on "Coach K" while bragging about transcending hip-hop's blog era over the closing credits of "Godfather." Both him and Nym Lo make their marks on "Ticket Prices," each jumping through topics while 183rd's gleaming instrumental provides show-and-prove prompts.
---

---