This newsletter marks the thirty-seventh installment of Irregular Vegetables, a (semi-) weekly series of CABBAGES emails where I share links to recent writings from other hip-hop/rap journos and critics, squeezing in my own work as I see fit. These midweek editions hit inboxes on Thursdays. Enjoy this week's reads and keep scrolling for an interview with The Bug.
---

The Undying Legacy Of The Hieroglyphics Logo On Underground Hip-Hop Culture
"I was hella into counter-culture. '60s rock…hippie era sh*t and funk. I was into that cause I was born in the '70s," says Del The Funky Homosapien, the eclectic Hieroglyphics MC and the artist behind the logo's original design. "I wanted something like the yellow smiley face, but the way I drew it, with the third eye in the middle and a line instead of a smile, it indicated that you're concentrating or something. I'm into graphic design and I wanted something simple like that. I doodled it on a napkin." (Read more at Uproxx)
The Promising Highs And Chaotic Lows Of Clubhouse
The downside of social media interaction is that unfamiliarity leads to disjointed discourse, which rarely ends with shared understanding. Adding celebrity to that mix leads to the chaos of recent weeks on the app, where celebrities like Tory Lanez, Mulatto, Kevin Hart, Jack Harlow, and Chet Hanks have been the subject of contentious, exhausting chats that they or their team entered to further fan flames. Many of the people who were in the chats expressed in their Twitter commentary that nothing was gained from the spectacles. (Read more at Complex)
Why Drakeo The Ruler's Legal Battle Should Concern Us All
Hip-hop fans recognize Drakeo the Ruler and associated rappers in the Stinc Team as generational talents; the prosecution argued the Stinc Team was a gang and that Drakeo was the leader. The trial resulted in Drakeo's acquittal on the counts of murder and conspiracy to murder, but the jury was hung on the counts of criminal street gang conspiracy and shooting from a motor vehicle. The District Attorney subsequently refiled charges on these last two counts. Leaning on California's Street Terrorism Enforcement and Prevention Act (STEP), the prosecution focused on portraying Drakeo as a gang leader. (Read more at Vice)
Global Superstar Bad Bunny Has Never Won A 'Gringo Grammy.' Will 2021 Finally Be His Year?
Bad Bunny's acumen shows not only in his music but in a surprise release strategy that upends otherwise slow news days. After the 11th hour Thanksgiving release of "El ´Último Tour," which followed the Leap Day drop of "YHLQMDLG" and a B-sides compilation on Mother's Day, "Las Que No Iban a Salir," Bad Bunny became the most-listened-to artist on Spotify in 2020. It's a gigantic feat for a Spanish-language artist to out-stream the many English-language titans who released records in 2020, including Taylor Swift and the Weeknd. "I said I'd do whatever I want," he says. "It just happened to work." (Read more at Los Angeles Times)
Rico Nasty Calls For Black Sisterhood
Rico is in the midst of getting her five-year-old son Cameron ready for school, and as we debate star signs and the mistreatment of idols like Kelis ("the industry fucked her. They fucked her for being powerful and acknowledging her emotions") and Aaliyah ("don't disrespect Aaliyah. She had class, bro"), it feels like catching up with the high school friend you've always admired. The woman known to her family as Maria Kelly holds various identities and lived experiences that exist beyond her rap persona as Rico Nasty. That's a truth Black women know intrinsically: always being something for everyone and yourself; too few spaces to feel deeply. (Read more at The Face)
Beat music can be both political and socially-conscious—by virtue of who makes it, how they make it, and the circumstances of its release—but its enduring appeal partly stems from the inexhaustible range of feelings it evokes. During an emotional, psychologically draining year of social and political turmoil, we needed beats that uplifted us and soundtracked our lowest days, those that seemed born of our interminable present and others that offered an escape from it. (Read more at Bandcamp Daily)
---

Three questions. Three answers. That's a wrap.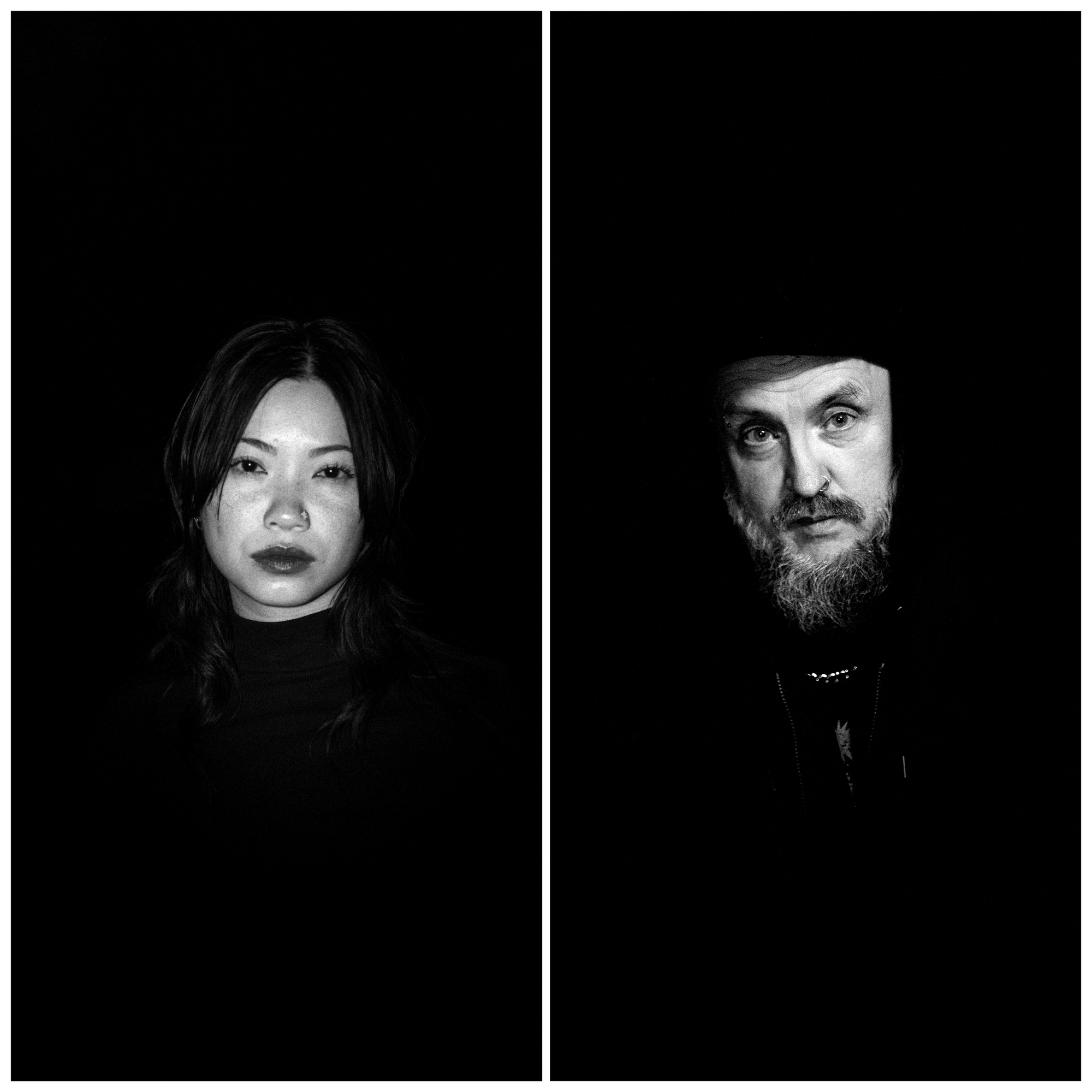 Of the myriad monikers and projects that Kevin Martin has operated under over the past three decades, The Bug remains his most enduring. From 1997's debut album Tapping The Conversation through his most recent effort for Hyperdub with Dis Fig entitled In Blue, the project consistently explores and broadens the definitions of—and boundaries between—hip-hop, dub, and dancehall.
Given your history and reach, you could've worked with any number of rappers or vocalists for In Blue. What was it that drew you to partner with Dis Fig specifically for this project and these songs?
When I wrote the original sketches for the SOLID STEEL Show, and lived with them for a while after the airplay, I realised I wanted to avoid the past Bug assault weapons for this album, and avoid my previous full on fire-in-your-face style. as I wanted to fuck with people's expectations and my own defaults/sound... and leave more room for the imagination. After all, the best horror movies succeed by focusing on what you don't see, and the best dub tracks flourish with what they leave out and the space created therein...

With these blueprints, I wanted to veer away from workin with raw, angry raps, and this time not enlist Jamaican spittas nor grime mcs, as that would just add to the intensity that was already contained in elements of the raw beats. I noticed there was a duality to the tracks, so I imagined if a soft voice rode the rhythms, the tracks could be absorbed and listened to in a totally different way, and that appealed to me for sure. To leave more space and explore more spaciousness was the key I knew could maximise the impact of those riddims. For me, there was a deep atmosphere of sensuality and sci-fi in the backing sketches, and I wanted to amplify that depth of mood and sound. I hoped it might resonate potentially to a different crowd. I dug that idea. Even laughing to myself, thinking if I find the right singer it might piss old Bug fans off in the process and be a gamble to see who if anyone would get the new trajectory. But hey, what better than to challenge yourself and audiences?  But naturally still in the hope that I would still bring previous Bug fans with me on this zoned detour.

When I decided to look for a singer, I had been already been deeply impressed by Tirzah's album at the time, and had been a long time fan of vocalists like Billie Holiday, Nina Simone, Badu, Nicolette, D'Angelo, even Al Green and Marvin Gaye. So I knew i wanted to locate a deviant soul vocalist, and preferably a woman to add a different flava to the beats and expectations. And despite thinking it would be a long haul search to find the 'right' voice, it turned out by coincidence (or not, depending on your opinion of will power), Felicia aka Dis Fig had mailed me an upfront copy of her debut album Purge, whilst asking if she could include a King Midas Sound track on a mix she was putting together. And when I heard "Why" on that album, it was like, WOAH !, Jeez, that's exactly the voice I had heard in my head and was about to start looking for....

I had hoped she would cruise and croon through this linear set of tunes, as I just wanted to concentrate on the one key mood, and go into that mood tunnel style, low on variety, but high on excessive, relentless, single minded, tunnel vision. I was going in heavy on a singlar direction, and hoped Dis Fig would obsessively follow me down that wormhole, by amplifying that mood of carnal tension. As it turned out, she fanned the flames and pushed the aesthetic heat even further. It was a joy getting to know her through the making of this record and constructing this tunnel visioned journey.
In Blue arrives amid a fairly prolific year from you, during which you've released several ambient/drone-based "lockdown" projects including last month's Sedatives and the Frequencies For Leaving Earth series. Given this output, how would you say COVID self-isolation and self-quarantine has impacted and influenced you as an artist and producer?
Like most underground, non-mainstream producers, I have ran on years of paranoia, fear and panic, creatively and financially. 2020 just heightened those feelings and made things even harder than they already were, in terms of earning cash or getting those bookings. It was like a massive implosion... Add to that, the fact me and my family had to move swiftly, in a warlike evacuation from Berlin to Brussels literally one day before the first wave total lockdown, intensified the whole year's experience and the feeling of otherness… Trying to get to grips with a new life, city and artistic life in the middle of a catastrophic global panic was truly a mad one—literally ! Trying to navigate being the breadwinner for four in a year when all your bookings have been cancelled pushes you into action and trains of thought you would never normally end up nor have known. And 2020 has unforgettably been an eye opener for me, creatively and personally. Adversity, trouble, and tribulations definitely sharpen an artist's senses.

So with a choice of sink or swim, literally one of the first things I did was build my new studio, as I knew it was a 101% necessary for my sanity and to pay my bills for my fam and rent... Plus, in a year where everyone has a tragedy to tell, or a struggle to fight, it does no good to collapse and moan. For me, it was always gonna be a case of find a vein of positivity and mercilessly drain it... And that's what I did. I mixed seven albums since moving in March. And trust that is a record for me! Roger Robinson (KMS) was laughing with me last week, saying "whats in the water in Brussels ?, you've gone from generally writing one album every six years to writing six albums in 1 year ?!?!" ....lol.

Working on the solo albums was really like deep mediation in these crazy times, to keep constructing a parallel musical world, cause the real one was becoming way too unstable to interact with or predict... And somehow the sense of confinement, alienation and mystery definitely permeated In Blue, I feel... And just as this year felt like we were all collectively living in a dystopian thriller, so the cinematic vision of the album came together, heightened by the external conditions.

But you know as a father of two young children, and a total workaholic, in a way what was even more surprising, was that in many ways it was business as usual times a million. I haven't been a party animal for years, and I have always craved full immersion in my lab, so thankfully the months have made our family tighter and my creative eyes/ears sharper due to enforced conditions… Win win, in bad times, is indeed a big surprise bonus in the eye of this storm.
2020 marks the 25th anniversary of Techno Animal's Re-Entry, one of the most compelling instrumental hip-hop albums in the genre's history. Looking back, what do you feel like you and Justin Broadrick did on that record that still applies to your process and craft today?
Good question, as that album now feels like many many lifetimes ago... And thx for the kindness. The album still remains special to me for many reasons and we are in the process of planning a reissue for it with RELAPSE in 2021.

I guess what strikes me about Re-Entry is to my ears it still sounds futuristic, fresh, and non-aligned. And those traits are what I have held dear since before and after making that album... Just as the first tracks I ever heard by Public Enemy or Steely and Clevie indelibly struck me as the best future shocks, so I have always tried to extend that incessant lust for a forward direction, next thing, and what the fuck factor in my own productions... Tryin to avoid looking back, and trying to develop my own singular voice outside of a comforting genre has always been a gamble and challenge…

If you look at the length, scope, and scale of that record, it was worked on meticulously and at length where we followed no-one stylistically, but only followed our wildest imagination, relentlessly trying to discover combinations that we couldn't hear or find anywhere else, and score movies for the mind's eye that had never been filmed or were in fact unfilmable everywhere else... lol... The obsession with such a psychedelic cinematic vision, and constant craving for intense musical tone/texture has continued for me and Justin to the max... Re-Entry was a hip hop album made by hip hop outsiders in a tiny village in the middle of rural Shropshire. We partly made it cause we never felt any trip hop dropped by Mo' Wax et al, was never tripped or hallucinatory enough... Previously, Meat Beat Manifesto had fucked with instru hip hop beats, and simultaneously Scorn was also disfiguring hip hop blueprints razor sharply. But what made Re-Entry different, I think, was how it intensified filmic, dub and sci-fi ambience simultaneously and minus voice, in our heady melting pot as we stretched those passions into epic experimental proportions. To me, it sounds more immersive than propulsive, more celluloid that club, more dub than b-boy, but importantly as I still absolutely crave today, it balanced beauty and brutality.

And just as the album's mammoth all night mixdown sessions were us both fighting to push ourselves and the fx further into the mixing desk in an absolute dub fashion, so my interest and love of studio as the absolute temple of sonic sorcery still holds entirely true today... Re-Entry was very much about a love affair with musical mutation, morphology, and mashing up the heaviest beats and basslines possible in the elusive quest to personalise electronics. And again that still holds true for me... The album transported us to uncharted outer limits with the tracks as virtual time machines that took us out of this real fuckin world. And, I guess, just as our motto then was how can we take a musical form we love and fuck with it conclusively until we render it preferably unrecognisable, I think that this is still my desired target today... when I get it right...! haha
Purchase or stream In Blue here. Purchase or stream other Kevin Martin music here.
---
See you on Sunday.
Follow me on Twitter at @noyokono and on Instagram at @noyokono too.