Ever since Farruko and Bad Bunny's "Krippy Kush" remix entered the Billboard Hot 100 in 2017, Latin trap became an indelible part of the American hip-hop landscape. Obviously, Latinx rappers, producers, and DJs have been fixtures in the game for as long as there's been one to play. But the moment that two Puerto Rican traperos demonstrated (with the help of Nicki Minaj) that language was no longer a factor in the success of a rap single in the U.S., it changed everything. Scarcely three years later, artists like Anuel AA, J Balvin, Karol G, and Ozuna have multiple Billboard general chart hits to their credit and, in the face of hard data, record labels finally seem to be taking their stateside success seriously.
Yet like so many movements in hip-hop, Latin trap isn't stationary. Drill's migration from Chicago to the U.K. and then back across the Atlantic to New York City wasn't a bug, but rather a feature. The contemporary sonic parallels between Detroit and the Bay come naturally, all part of the ecosystem. Atlanta producers made records with Memphis rappers. You get what I'm saying here. This music moves around. So even though the first commercial waves of Latin trap in the U.S. came primarily from Colombia and Puerto Rico, the influence and popularity means that artists from across the country, as well as from other parts of Latin America, now have an entry point to bigger and bigger markets.
Much like the Caribbean traperos and their New York counterparts, Mexico had rappers like Alemán doing this on an underground level, respected at home but less known outside certain in-the-know circles. But for some time now, the most interesting representatives of trap have close ties to Regional Mexican music and the surrounding culture. As I've written about frequently at Forbes over the past year, the Rancho Humilde label's 19-year-old rising star Natanael Cano has seen considerable and growing success for his corridos tumbados, a style that borrows much of the aesthetic and thematic content of trap music. Others on the same roster including the groups Arsenal Efectivo, Fuerzo Regida, and Legado 7, follow a similar template, building upon the corridos tradition with new lyrical inspiration. The volume of this material is staggering, with new singles, EPs, and albums coming almost weekly.
This, admittedly, is not exactly new, as evidenced by a New York Times explainer from last Fall. What is new now is that some of these Mexican and Mexican-American artists are now taking their chances as Latin trap artists making trap music. Back in May, Cano released "Arriba," his first single in the genre, and garnered nearly 50 million YouTube views in under three months. By indie label English-language trap standards, that's an incredible feat.
Earlier this month, Cano released an entire EP's worth of such songs called Trap Tumbado, bringing along some likeminded labelmates even securing a Lil Tecca feature. But it should be noted that dipped his toe in trap on one of his peers' projects. Ovi first hit it big in Regional Mexican with Cano on their duo cut "Pakas Verdes," but when it came time for him to drop the Amen mini-album this past April, the vibes were decidedly trap ones. Their joint single "Tranki" adds none other than Mexican-American rapper and former Atlantic signee Snow Tha Product.
Lest anyone thing that Cano's so-called crossover is some fluke, consider the case of Bo Bundy. The plus-sized Houston trap artist started out by uploading his music to SoundCloud, with a handful of bilingual projects like 2019's Nino De Oro now available on the usual subscription-based streaming platforms. Though he didn't come from corridos as an artist, he certainly came from it as a culture. Perhaps, then, that's why his recent Spanish-language single "Mi Barrio" seems to be resonating so strongly with listeners. Though its 1.2 million YouTube plays are but a fraction of Cano's, the music video credibly brings in scenes and signifiers from the Regional Mexican world that mirror those of trapcorridos clips. (In true Houston form, there's also a chopped and screwed version, though Bundy's dubs it a "tumbado" remix.) Sure, Houston has had rappers of Mexican heritage before, but, if nothing else, "Mi Barrio" indicates that a way forward exists for those rappers that doesn't involve concealing that aspect of themselves.
---

Rhakim Ali, You Should Be Sorry
Hip-hop scenes like Buffalo and Rochester have compelled New York heads to look beyond the five boro mental block and check the rest of the regional's roster. A thoughtful lyrical contender, Rhakim Ali comes from the state capital Albany with a vibe mature beyond his years. He's improbably raw and smooth on "Traffic," confessionally personal on "Sad2CU," and downright direct on "Immortal." Ali produces half of You Should Be Sorry himself, with highlights including the post-whiplash headnod "Nosferatu." However, Stan The Beatsmith gives the project some heat, particularly "Try III" and the sombre n' woozy "Til' Death."
BA PACE, UNMIXEDRAW Vol3: Food Water Shelter
Raised in The Bronx, BA PACE represents Highbridge a bit differently than the likes of A Boogie and Don Q. Coming on cassette through the revolutionarily-minded PTP imprint, his UNMIXEDRAW VOL3 project showcases a drawling spitter who flows nimbly over wounded beats with a hazy New York state of mind. The collapsing soul textures of "Chase The Sun" and the decaying tape reels of "Block Runner 555" meet their match in his emotive, finger-to-the-dome delivery. Like a post-apocalyptic RZA, he leaves ears on notice amid the wok oil audio splatter of "Egg Drop" and the chrome luxuries of "Black Beamer."
CLBRKS & Morriarchi, Performance Enhancing Diet
Mere months after Microwave Cooking 2000 whet our appetites with its London-Sheffield menu pairing, the boys return with another helping of groggy boom bap. Convenient metaphors aside, this ain't the tender vittles you get out of food rap obsessive Action Bronson, but rather a tightly assembled and thematically tethered set that treats dated infomercial sample sources like precious antiques. A nonchalant yet agile rapper, CLBRKS does deep dish thinking over Morriarchi's rich and tasty production perishables like "Bonito Pt. II" and "Wine List." An almost imperceptible head nod to 50 Cent on "Ski Club" shows just how locked in the duo are.
---

Three questions. Three answers. That's a wrap.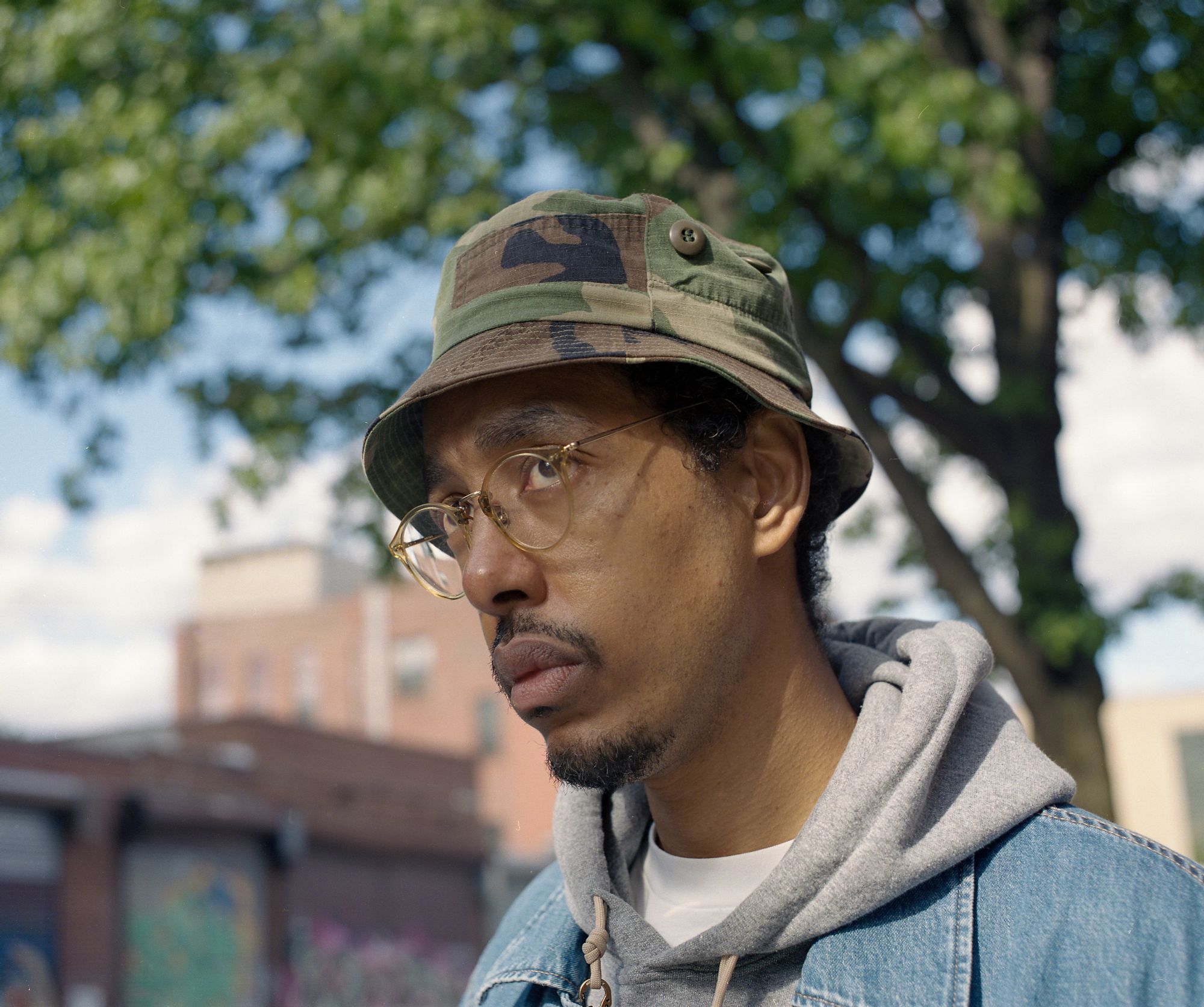 Photo credit: Matthew Yoscary
Having made his name with instrumental and vocal albums for Mello Music Group, rapper/producer Oddisee often seems incapable of disappointing his fans. After more than three years of waiting for new music, those faithful listeners were treated this past Friday by a surprise set of songs called Odd Cure. The Washington D.C.-bred and Brooklyn-based artist made the material while under self-isolation following a trip to Asia right at the start of the pandemic's public health concerns stateside.
Did being quarantined in your Brooklyn studio inspire your creative process or otherwise contribute to the end result of Odd Cure?
My studio is by far my favorite place to be. When I'm home, if I'm not with my wife and child, I'm there. Normally I feel a sense of guilt when I spend too much time working. Self isolation provided me with a unique opportunity to create endlessly with no regret. For me, the circumstances were less about inspiration and more about being able to complete whole thoughts without interruption.
You intersperse the tracklist with these skits which amount to telephone check-ins with people you care about. What prompted you to include these personal moments as part of the project's narrative?
I wanted to capture this moment in history. Everyone on earth was affected by the same thing at the same time. In the two weeks that I was in quarantine, my connection to the outside world was made through phone calls. I'm used to catching up with friends and family on a routine basis. As the pandemic began to unfold, more and more of my relatives and friends were reaching out. While I was writing the EP, many of these conversations were on my mind. Hearing the thoughts, worries, and hopes of so many people started to feel just as important to the writing of the story as the story itself. It no longer felt like a metaphorical approach was enough. The subject matter of this EP was heavy and left me little room for humor. Being African American and Sudanese, both sides of my identity were used to using humor to deal with hardship. I started to record my check-in calls in hopes to capture the resilience disguised in a laugh.
Olivier St. Louis from your live band appears credited on two of the EP's tracks. How were you able to make collaboration work under these circumstances?
My approach to producing records hasn't changed much over the years. I start off with samples & midi instruments. One by one, I work with members of my band, "Good COMPNY," to replay my melodies. Normally I would have them come to the studio or I'd head back to DC to work with them. This time around, we had to work remotely. Using a remote access software called anydesk, I was able to take control of my band members' desktops, customize sounds, control sessions, and dictate composition all in isolation. As our lives become increasingly busier, we're contemplating making this method of collaboration our new norm.
Purchase or stream Odd Cure here.
---

Rapper/comedian/human Open Mike Eagle recently launched a podcast called What Had Happened Was, a weekly series of conversations with the legendary Prince Paul. Each episode covers some aspect of the producer's illustriously ill career, with the first three tackling Gravediggaz, De La Soul's 3 Feet High And Rising, and his own A Prince Among Thieves, in that order. Considering how much of Paul's work went through Tommy Boy Records, these chats often reveal interesting tidbits about his dealings with the label, for better or worse. On the one for A Prince Among Thieves, he talks about Tommy Boy's tendency in the late '90s around the millennium of putting out commercial copycat singles. You don't need to spend much time on those throwaway throwbacks, but rewind things about a decade and you'll be gifted with Phase N' Rhythm's sole 12" for them. While not at the same level of some of the other singles released by the label that year, the 1990 A-side "Swollen Pockets" captures the moment in hip-hop incredibly well.
---
See you next Sunday.
Follow me on Twitter at @noyokono and on Instagram at @noyokono too.