"I might pop up in the random projects / With powder like a can of Comet, two or three runners, and a Pyrex / We supervillains to the music business / I'm gettin' too specific with what I do in kitchens, my shit too offensive / I make coke rap sound like a new invention / Cut an envelope of money open usin' scissors"
Of all the hip-hop subgenres out there in the world, I remain perennially partial to coke rap. Maybe it has something to do with where I was in (night)life when Clipse's Lord Willin' dropped in 2002. Malice and Pusha T made the process and the practice so alluring with their mix of street-level slang and unapologetic bars. It's the same sniff sentiment that drew me into French Montana's Coke Boys mixtapes, that made me subscribe to Rick Ross' aesthetic the minute I copped Port Of Miami, that had me wearing winter coats in summertime to match the energy of Young Jeezy's "Go Crazy." There's something so democratizing and open about the format that separates it from all other types of narco rap. Because anyone can (and will) spit a 16 about their prowess in the trap house, whether or not they've ever stepped foot in one. But with insider knowledge and insular slang, a coke rap poet like Benny The Butcher can elevate those boasts to something downright artful.
This newsletter marks the eighteenth installment of Irregular Vegetables, a weekly series of CABBAGES emails where I share links to recent writings from other hip-hop/rap journos and critics, squeezing in my own work as I see fit. These midweek editions hit inboxes every Thursday. Enjoy this week's reads and keep scrolling to read an interview with genre-smashing artist and righteous revolutionary GAIKA.
---

'She Must've Slept With Label Executives' And Other Lies: Why Women In Hip-Hop Deserve More Respect
There has long been complexities surrounding how women are referred to in rap music. Following hip-hop's breakout in the 70s, the 80s introduced a select few women rappers, but a number of men were comfortable with referring to women as "bitches" and "hoes" on wax. Music videos began to regularly feature women as eye candy, but visuals became more raunchy at the turn of the early-2000s. For many in the US, including myself, the first time we saw misogyny in rap was on BET Uncut—a late-night music video show that aired during the early 2000s. The series featured an array of videos by rappers with heavily explicit content, prompting a "mature audiences only" rating. (Read more at Gal-Dem)
DJ Akademiks: Ringmaster For White Voyeurs Of Black Culture
Neither these kids nor Akademiks seems to care about the survivors of their faves' abuses. 6ix9ine was filmed fondling a 13-year-old Black girl, but fans still spectate his antics. Trippie Redd pistol-whipped a woman in June 2018, but he's still a favorite of Akademiks' fanbase known as "chat n*****" (even if so many of them are non-Black). Kodak Black has an upcoming rape trial, but that's never affected Akademiks' coverage or how his fans view him. To this day, XXXTentacion's stans harass the young woman that he brutally assaulted because she had the "audacity" to hold their hero accountable. Akademiks himself was accused by his ex-girlfriend of abusing her. (Read more at More Fire)
Buffalo's Che Noir Is Unstoppable
Though 'As God Intended' feels like a different beast from Che Noir's many successful collaborations with 38 Spesh, what does not change is Che's ability to bridge the gap between slick talk and introspection. One moment she's putting rappers to rest, as on "Anti-Social," and the next, she's talking about the pain of her relationship with her father as on "Daddy's Girl." The fine details of Che Noir's music—notes on watching Barney, for instance—give the work incredible texture and depth. Each bar is heartfelt. Each movement in the music is a blessing. Che Noir shares her world with us, without being withholding; it is our duty to appreciate her. (Read more at DJ Booth)
Madlib, Janet Jackson, and Will Smith Sampled This Roxanne Shanté and Biz Markie Single from 1986
Big Daddy Kane and Biz Markie's cadance, delivery, unique voices, and Biz's beatboxing skills made their vocals important instruments in the evolution of rap and sample-based production. Both artists' influence on beatmaking is impressive, but they aren't the Juice Crew members who deserve this distinction. Roxanne Shanté is another member of the pioneering lineup of MCs founded by Marley Marl whose distinctive voice made her an ideal sample source. Though several songs from her catalog have been sampled more than 10 times, one single is particularly well-worn—the Marley Marl-produced, 1986 Biz Markie collaboration "The Def Fresh Crew." (Read more at Micro-Chop)
The Reemergence of Tyler, the Rapper
Tyler has always had a fascinating relationship with the concept of rapping. He has long been a stellar rapper, but during the early part of his career, the word had an ugly ring in his ear. It suggested that he rapped over someone else's beats, and that his range was limited to rhyme schemes and cadence. To have called Tyler a rapper was to, from his perspective, eliminate his other accomplishments and skills: he created Odd Future; he directed his own videos; he produced his own songs; he had ideas for television, film, and soundtrack work. Tyler was more than a rapper, so when people praised his skills as an MC, he sometimes viewed it as a willful neglect of his other talents. (Read more at Complex)
How Kendrick Lamar, Marvin Gaye And 'Black Genius' Inspired A Jazz/Hip-Hop Supergroup
Of all the cries of Black fury released during the protests around the police killing of George Floyd in Minneapolis, none arrived as quietly as Dinner Party's single "Freeze Tag." The song, released in late June, is from a new supergroup of bicoastal jazz and hip-hop luminaries: L.A.'s Kamasi Washington and Terrace Martin, New York's Robert Glasper and North Carolina producer 9th Wonder (Patrick Douthit). It barely rises above a whispered falsetto and the daydreaming-on-a-fire-escape vibes of '70s soul. If you wanted, you could definitely put it on as you open a second bottle of wine while chopping vegetables tonight. But the scene it sets in the lyrics is just seconds away from a murder by cop. (Read more at Los Angeles Times)
Juice WRLD's 'Legends Never Die' Solidifies His Legacy
As he emerged in 2018 as one of pop's most vital young voices, he described himself in his music as someone circling the drain, trapped in a spiral of anxiety, depression, heartbreak, and drug addiction. Juice's hypersensitivity bordered on clairvoyance; the way he sensed the nearness of death made his own death, from an accidental oxycodone and codeine overdose last December, less than a week after his 21stbirthday, both tragic and surreal. His new, posthumous album 'Legends Never Die' feels similarly bizarre, as he now speaks on his temporal anguish from the afterlife. (Read more at Rolling Stone)
Kanye West And The Media Are Once Again Playing A Dangerous Game
At some point, there needs to be a reckoning about the toxic relationship between Kanye West and the vox populi, how he pokes at it knowing it'll overcorrect in response, how sometimes he is stirring the pot a little to keep his name warm, and how often it's clear that he doesn't even enjoy it. Last week looked a lot like the old-school tabloid days, where figures like Michael Jackson's eccentricities were blown up and scandalized in service to the inevitable gasps and guffaws from audiences ever hungry for fresh drama. That ended badly, and this one has dark potentiality. (Read more at Vulture)
Since his 2016 breakout song "Pull Up With Ah Stick," SahBabii has noticeably been removed from the Atlanta rap scene: he's only done a handful of features and works mostly with his older brother, T3, and producers he finds online to provide him airy beats that could work in Chrono Trigger. He's become so unpredictable that when he threatened to retire in 2019, people believed him. But instead he put out Barnacles, another Dayglo rundown of his unrelenting horniness and his favorite animals. (Read more at Pitchfork)
Take A Trip Inside The Alchemist's Laboratory
"That's all I wanted to be, like Premier," says Alchemist. "I used to buy albums and if I see Premier's name, I'm going right to that song, and that's gonna be my favorite song on the album. That was what I wanted to be, and that was my goal. I always told Preem that's what I got most from him. I knew I couldn't do his sound, nobody can. But his reputation, and how he was on albums, that's what I always wanted to be. Oh, you see the name? It's definitely gotta be something. May not be the hit, but it's the one that's gonna hit your heart." (Read more at Rock The Bells)
Desus And Mero Have Conquered Comedy
"This election is kind of similar to Newark Airport. You know how, after a certain hour, you don't have choices for food at Newark Airport? You end up eating something you would never eat. You have no choice. Yes, we want a more radical candidate. You don't have to get the pompoms out. But, at this point, voting for Joe is almost the equivalent of wearing a mask. This is what we need to do to get out of this. People say they're having to choose between two evils, but, no: one person has killed a hundred thousand Americans." (Read more at The New Yorker)
---

Three questions. Three answers. That's a wrap.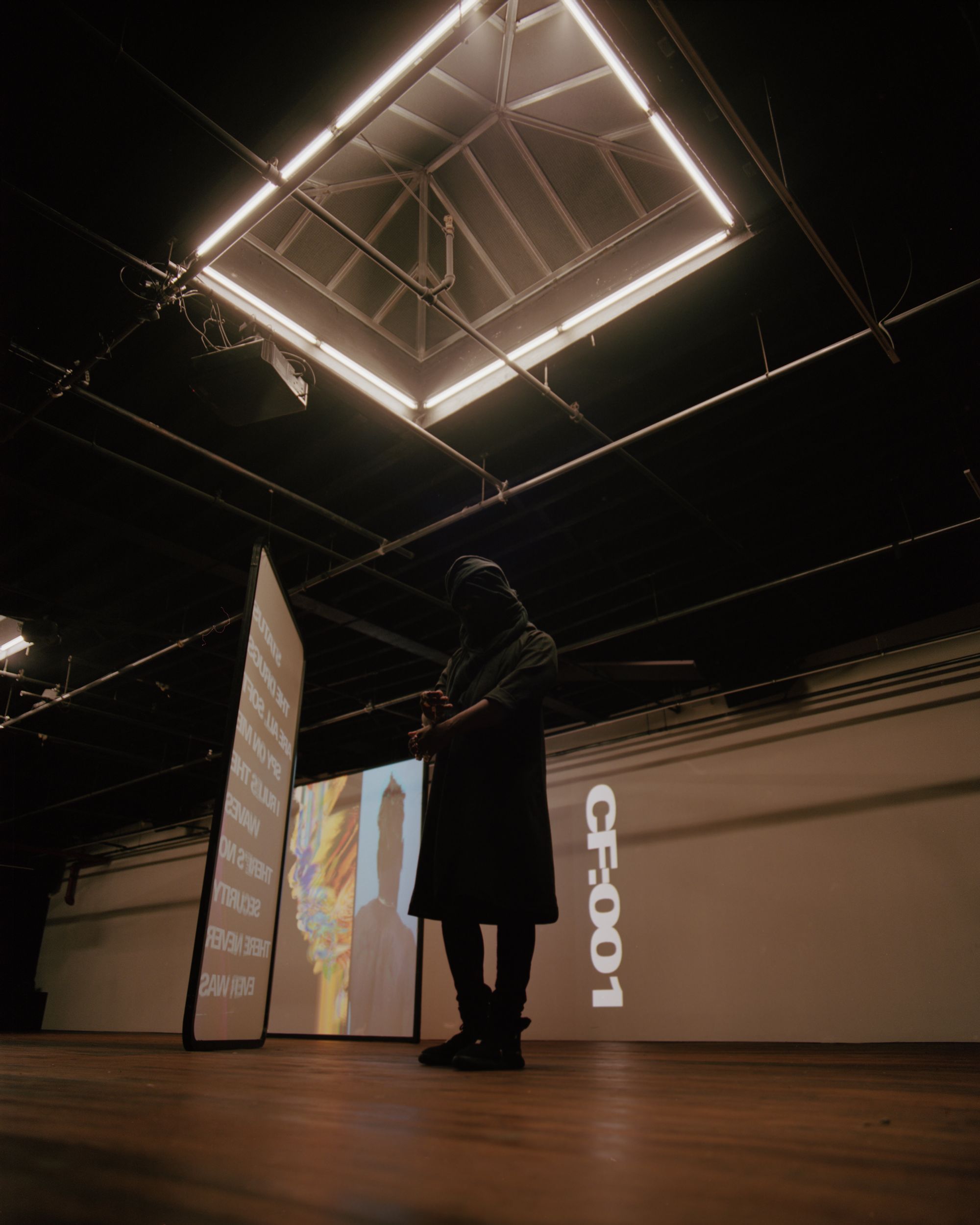 Photo courtesy of the artist
Drawing from, and simultaneously defying, a variety of musical traditions, GAIKA stands as one of the most compelling artists of our time. The London producer / vocalist's projects like 2016's Security for Mixpak and 2018's Basic Volume for Warp Records eradicated boundaries between genres, making politically charged mixes of hip-hop, dancehall, and electronic styles that spoke globally as much as they did locally. His latest effort is Seguridad, a collaborative project for the innovative N.A.A.F.I. imprint with several of the Mexico City label's artists.
What did you find most rewarding about working with these predominantly Mexican / Latin American artists on Seguridad?
I found myself realigning perspective, to be honest. Tomas (Fausto Bahia) said a thing to me—maybe it's not about the old world any more. And it really struck me. I felt a confidence to try new things, or a lack of complacency, and really just a commitment to try and make a work of art. Those producers are so good. It really felt like a knocking away of certain pedestals.
So much of your prior discography addresses the personal intertwined with the political. In what ways do you feel Seguridad continues or furthers this thematic/lyrical approach?
Seguridad picks up where Security left off.  Both records are based on a sudden  shift in perspective that's intoxicating, that might wrong foot the listener but is based in my internal monologue as I moved through clubland. The basic aim with these records is to upset one's sense of certainty in an emotive way. I kind of started with this idea of the war on the war on drugs. Questioning that there is this hierarchy in global club culture that defines who gets paid the most and what the scope of the experience in hand was definitely in my mind when I wrote the lyrics. I was in the USA to mix Basic Volume and I used the opportunity to go and make this—resource transfer in action, I suppose. There's too much one way traffic from the authentic underground scenes towards the hedge funds via this kind of "alt" fakery. So I guess I thought I'd do a little robin hooding for myself and make something I considered legally psychotropic.

Anyway, that club setting I came up in, I think it's analogous to society. Are the bouncer and border walls to lock us in or keep them out? What's everyone so afraid of? It's a simple record about complex things and, above all, I want to stimulate internal investigation so I won't give away much more than to say it's also super personal. I can't have it any other way.
When we last spoke in the summer of 2018, we discussed the need for social justice and system-wide change to be youth-led. Are you encouraged by the protests in the wake of George Floyd and Breonna Taylor's murders and what do you think needs to happen for the movement to be sustainable?
I am encouraged by the protests, but this is tempered by the reaction from those in power. Trump became MORE outwardly racist to double down on his base, that he sees this as a winning strategy speaks volumes to me, that he symbolically ordered the tear gassing of American civilians on TV and remains a free man speaks to the mountainous nature of what's ahead. I see it playing out all around, organisations posting black squares then doing nothing real, the same shit going on like nothing has changed or in fact upping the violence.

For pressure to be sustainable, I think the protestors need to become more politically organised, more physically prepared and more focused on the deep systemic changes. Renaming things and tearing down statues are welcome cosmetics, but it is time to really push from all angles.
Purchase or stream Seguridad.
---
See you on Sunday.
Follow me on Twitter at @noyokono and on Instagram at @noyokono too.