For obvious reasons, I will never forget the Mobb Deep show at Queensbridge Park back in 2014. Witnessing Havoc and Prodigy on home turf was beyond special, especially for the denizens of Queens' largest housing projects and boro-born-and-bred natives like myself. But as the summer evening's festivities drew to a city-mandated curfew close, Papoose felt like squeezing in an impromptu sixteen.
This, mind you, was about 16 months or so after the Bed-Sty rapper's long-delayed album debut The Nacirema Dream, a project on which Mobb Deep had appeared, and just shy of a year after he'd made a surprise appearance at Hot 97's Summer Jam concert. As people trickled out of the park, having accepted that the headliners wouldn't return after ceding the stage to Infamous Mobb, the KaySlay af;filiate started a #FreeRemy call-and-response, which incidentally revealed the Terror Squad queen's imminent release date from incarceration. Then, he dove into a combative freestyle that led with a Jay-Z diss and ended with simian wordplay.
While The Nacirema Dream did make it to No. 97 on the Billboard 200, those familiar with Papoose at the time of that Queensbridge incident undoubtedly had him on their radar for his freestyles. He was the type you'd catch on a Smack DVD you copped at the barbershop or "borrowed" from a friend. A reliable force on the mic and a prodigious mixtape emcee, he let radio show hosts like Funk Flex and Sway test him over beats again and again without breaking a sweat.
Once Remy Ma got out of prison, Papoose would become better known nationwide as a reality show personality than as a gifted rapper, thanks to his appearances alongside his wife and eventually on VH1's Love & Hip Hop: New York and its various spin-offs and specials. It's hard to fault him for taking the TV payday, especially considering how the popular program effectively boosted the career prospects for Cardi B and Joe Budden. It's a shame that the same didn't happen with last year's Underrated LP, which true to its title failed to chart at Billboard.
But measuring the success of a rapper like Papoose by the conventional metrics of charts and sales figures feels fallacious from the jump. Freestyle fiends and doctoral students of the mixtape game like him and the recently departed Fred The Godson don't typically make the transition from credible to commercial. Largely, that's because that move often requires a level of compromise that undermines the craft. We talk about the greatness of emceeing, but technical proficiency and battle-hardened bars rarely translate to hit making.
With the industry's conformist norms aligned against him, Papoose had damn good reason to muscle his way onto thosee stages at Summer Jam and Queensbridge Park to disrupt in the name of rap. There's a culture here in NYC that rewards that kind of behavior, not so much with dollars but with respect. If you can break through the bullshit and bribery and politics, you're halfway there. But if your impropriety has something to back it up, the proverbial skills to pay those overdue bills, then you can end up a legend—maybe not King of New York, but royalty nonetheless.
---

Eto, The Beauty Of It
Musically speaking, the past couple of years have been good to Rochester, NY's own Eto. After years on the grind, his DJ Muggs produced Hell's Roof brought a lot of new folks onboard his wave. For The Beauty Of It, he pushes that envelope further with streetwise ease, recruiting locals like 38 Spesh and DJ Green Lantern to help convey his city's bleakness. Griselda geeks will go for his grimy verses over beats by the likes of Alchemist ("The Pot") and Statik Selektah ("Rusty Stainless"), while Heavy Metal Kings fans will get satisfaction from Ill Bill and Vinnie Paz's characteristic contributions to "Metal Lords."
Illa Ghee, Jesus & Better Drugs
Mobb Deep devotees know. Sean Price superfans know. And after one listen to Jesus & Better Drugs, you'd better get to know Illa Ghee. The Brooklyn emcee first caught my ear on Alchemist's 2004 effort 1st Infantry, where his "Hold You Down" verse dropped third. A decade and a half later, he's still as real as ever on the mic, dropping raw murderousness from opener "Ladder 99" on. His guile as a lyricist and, by credible extension, in life makes the rhymes of "Come Outside" and "High Blood Pressure" ring true. Furthermore, he's only gotten better with age and experience, proven by that effervescent flow over "Real One."
Ray West & Prince Julius, The Third Coming
A producer and studio dude who's had his hands in records as iconic as Roc Marci's Marcberg and as unsung as Kool Keith's A Couple Of Slices, Ray West perseveres in the underground. His latest effort is a collab with Prince Julius, a South Bronx spitter coming respectfully from the boro's D.I.T.C. tradition. The Third Coming nudges boom bap forward towards a bright future rather than recline back into its hazy past, as made clear by "Establish" and the gratifying AG team-up "Eclectic." Vaguely messianic vibes on the project's samples clash with the far less ecclesiastical bars of "Bring Up His Name."
---

Three questions. Three answers. That's a wrap.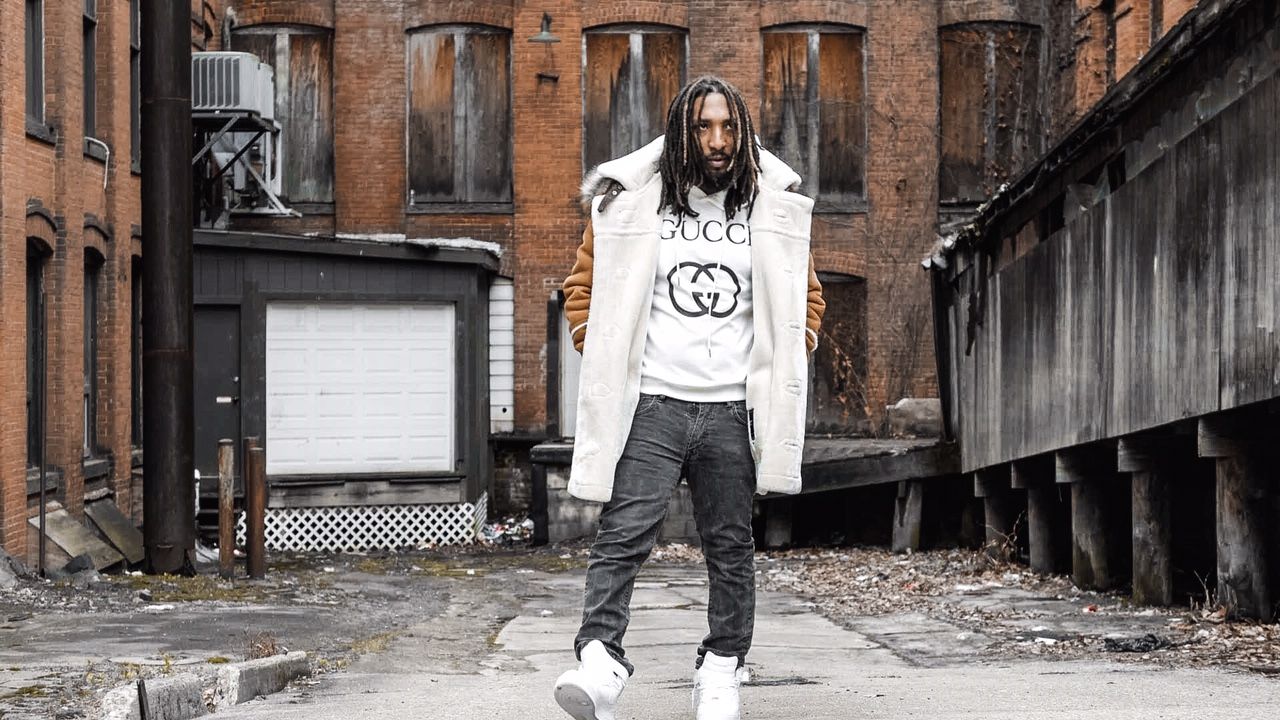 Photo credit: Tai Collie
Harlem has produced some of the best hip-hop artists in the genre's history. Let me humbly submit the name 100GrandRoyce to that uptown canon. With battle rap energy and street experience, his latest project Prodigal Sun comes produced entirely by 183rd, who brings a soul-jazz edge to these complex bars.
How has living in Harlem shaped you as an artist?
To be honest, it made me fearless and a perfectionist, to a certain extent. Harlem in general is extremely competitive. Shit is like a sprint, where being a millisecond behind will cost you the race. Prodigal Sun is based on those days especially, from the music to the content, to some of my experiences coming up.

How I came up, really before social media, I used to go by Dutch New York. It wasn't uncommon to run into literally any Harlem rapper. I mean, it might be a battle with T Rex or Charlie Clips one day and a cipher with Smoke Dza the next, Jim Jones is chillin right there on Lenox, Cam is outside uptown, you might run into Dame Grease and them Vacant Lot, Wave Gang or Harlem World boys on the East. These were actual days I had just running around rapping trying to get my name known, you know? That's how I got to work with them. It's really small, so what am I gonna do order to stand out? I decided to try to get heard any and everywhere. I never felt like I didn't belong so I had to show I did. Aside from that, I was one of the first people I knew with my own home studio, so it put me at an advantage with recording and getting to work with great lyricists like Mickey Factz and Smoke Dza early on.
Harlem obviously has a storied jazz tradition, and 183rd's production on Prodigal Sun often builds off of the genre foundationally. What does rhyming over beats like these bring out in you as an emcee?
"Prodigal Sun" was the first beat I heard getting started. That saxophone in [the] beat took me somewhere. It reminded me of high school, when the Bloods first hit the streets. It was a certain feeling in the streets, a certain fear or excitement in those days and I think that beat captured it perfectly.

It's one thing I know about 183rd, which is one of the main reasons I wanted to work with him, is that I know he knows music. I've been embedded in music since 4-5 years old, so the answer is two-fold, that music took me to places, that after all this time, I can only remember from the sounds and samples and energy it gave me. Like "Angel." That was all 183rd, but I ask myself how'd he know to give me that on this project? There's been some times where I should've lost my life. And without talking to 3rd about it, one of my ways of justifying those times was to say I have an angel. I feel like I do sometimes. With that being said, you can't walk around Harlem and not feel a certain history that remains, no matter what it looks like now, the history remains and you really feel it. It brings out the stories, emotions, memories, feelings more so than just rap. This project was really easy to make because it's life, shit was rough. Anything could and did happen on any given day, but almost like Harlem, I survived. I'm revived and I feel like I'm only getting better.

That's the emotion I tried to send on "Pain 2 Pleasure." Talking with you is the outcome but this whole project was the journey out of a dark place. My first line on the project was a feeling coming outside as freshman and the last song is the last steps out of that turbulent time.
You've previously been co-signed by the great Jay Electronica, with whom you graced the Webster Hall stage back in 2010. What was that experience like for you and in what ways did it impact your career over the past decade?
It's crazy because if I recall, I don't even think I was supposed to be there that day. I was just there as fan, Exhibit C was SCORCHING at the time and I was loving it. With Jay being a gracious host, he invited me on stage to rap. Now like I said before, I rapped amongst the elite where I'm from so I wasn't nervous but it was by the far the biggest crowd I ever seen in my life. Anyway, he gives me the mic and I rap like 8 bars, totally forget my rap, and freestyle the rest, lol. Now if anyone sees the photos he's losing his shit on stage wit me and I'm just trying not to embarrass myself. Apparently I was killing it. I ended the freestyle with "Ima put the mic down nigga stop fronting" I slammed the mic on the stage and opened my arms as wide as I could and that packed crowd went BALLISTIC!!! Jay picks up the mic and yells to the crowd give it up for me and they go crazy again!!! I go to walk off the stage Jay dap-hugs me and says, you killed this, your future gone be bright in my ear and I just say thank you and walk off.

Every so often, he'll shoot me a DM and show love and it still shocks me to this day. I always felt like if I died I had my moment. People can go their whole lives and not experience something like that. It's made me extremely humble, but it also made me confident enough to know I can be on the same stage as anyone.  That's where "No Pressure" comes from. I know I belong. I watch my peers and I know some might see me as competition, and although that's exciting, I only see my previous work as competition. That experience forever changed how I make music. Now I drop music that can give you as much of me as I can in front of a crowd like that. So at my shows you get the full experience; there's no separation. You'll never leave my show without remembering my name.
Buy or stream Prodigal Sun here. Follow 100GrandRoyce on Instagram.
---

This past Thursday, El-P broke the indie rap Internet by announcing that his 2002 solo debut Fantastic Damage had been made available on streaming platforms for the first time ever. For those who know the Brooklyn boy mainly from Run The Jewels, the album offers a glimpse into his post-Company Flow solo rise. The single "Deep Space 9mm" also received a digital reissue of sorts, with its music video now made officially available through El-P's YouTube page. El-P's lyrics pop up in red over the visual narrative of a post-9/11 NYC where nearly everyone is essentially armed. But setting aside the agitprop, what really makes the track so special is the line: Sign to Rawkus? / I'd rather get mouthfucked by Nazis unconscious.
---
See you next Sunday.
Follow me on Twitter at @noyokono and on Instagram at @noyokono too.