REAL QUICK: Some of you have asked how you can support #CABBAGES or otherwise pay me money for writing it. Starting in March, I will begin offering a paid subscription "tip jar" option for those who want to throw a few bucks my way and, in return, receive a couple of extra posts each month. Weekly Sunday posts will remain free, don't worry. More soon…
A few years ago, I received a voicemail from Lou Ferrigno. Much to my surprise, the retired professional bodybuilder and actor, perhaps best known for playing the titular green badass on The Incredible Hulk (from 1977 to 1982), had called to wish me a happy birthday.
Now, as a freelance music critic who writes a weekly hip-hop newsletter on his couch, I have the pleasure of speaking with figures from the entertainment world regularly. But this was the first time one had congratulated me on staying alive in spite of my sedentary lifestyle. Yes, I'll admit, Ferrigno had been hired to call me, through a phone service that did this sort of thing. But still it was really cool, as someone with a family history of deafness, to get a call from one of the very few openly hard-of-hearing celebrities.
Today, of course, there's Cameo, the social media enabled successor to the business model that almost got me a few minutes on the line with the Hulk. This time, however, it's all about video, and with a $50 million Series B last year, it's being taken pretty seriously.  Stacked with famous people, a term I use with the understanding that fame refers to a broad spectrum that now includes reality TV types and even some (*shudder*) YouTubers, the platform promises and delivers personalized messages from celebs—Lou Ferrigno included—with prices ranging mostly between $40 and $200. For marketing purposes, select clips are available for anyone to view, so you can marvel at the man who played Robocop in Robocop 2 or discover what the voice behind Rugrats' Tommy Pickles looks like. Pretty cool, huh?
Yet there's something profoundly sad about Cameo compared to what I'd experienced previously from its audio-only predecessor. Far be it from me, a grown man currently wearing a sweater with cream cheese on it, to judge how anyone in this economy chooses to make a living or otherwise supplement their income. But gazing into the eyes of actors deprived of the benefit of Hollywood make-up artists and subject to the cruelties of front-facing smartphone cameras does a number on you—not just in the realization that some of your favorite Kids In The Hall comics have aged, but that by extension you have as well.
Personally, the brutality of Cameo hits hardest in the hip-hop category, where you can pay legendary DJ/producer Pete Rock $30 for about 15 seconds of his time. For a grand total of $125 right now, you can get custom clips from each of the three members of The LOX or half of Slaughterhouse. Cameo investor Snoop Dogg ($750) may be temporarily unavailable to send your friend in the hospital some love, but for that same price you could get 10 shout outs from Three 6 Mafia's Gangsta Boo ($75) or 15 from Mobb Deep's Havoc ($50). None of this makes me feel good as a fan. Cameo promises proximity to hip-hop greatness, but the format better represents a traveling sideshow, something you gawk at rather than admire.
Now I'm not at all surprised to see someone like Flavor Flav ($250) doing this, his Public Enemy legacy overshadowed by his outlandish VH1 dating show of yesteryear. Same goes for personalities like Don "Magic" Juan ($100) or viral novelties like Slim Jesus ($60) and Stitches ($110). But when it comes to hip-hop, Cameo is a harsh reminder that careers can be fleeting, that artists who were hot in the streets and burning up the charts at one point in time—Chingy ($60), Desiigner ($100), Mystikal ($65)—could be selling virtual greeting cards in 2020.
Sure, it's easy money for Academy Award winner Juicy J ($200) to spend half a minute smoking weed on camera and saying a few words of encouragement topped off with a catchphrase like shuthafukkup. But on the flipside, some users are shrewdly using Cameo as a marketing tool to secure celebrity endorsements (read: ads) for their businesses at low low prices. Statik Selektah ($250) did a brief spot through the service for Minneapolis record store Flashlight Vinyl, which apparently closed in 2018. Wise to the game, a number of rappers, including former N.O.R.E. cohort Capone ($40), explicitly offer drops as one of their custom content offerings, an option that would likely appeal to mixtape DJs or podcasters looking to procure a little clout on the cheap.
So much of hip-hop revolves around the idea of success and wealth as a key indicator of said success. There's nothing about Cameo that evokes commercial rap's paper-stacking principles or the lucrative risks of the street hustle. It's worse than all the pre-show VIP-meet-and-greet packages that fans get duped into again and again, where at least you're walking away from a real-life situation with a handshake or a pound to go with the commemorative photo. The exploitative underpinnings of the service make me feel bad enough for all involved, almost enough to give Count Bass D $69 as a thank you for his verse on MF Doom's "Potholderz."
Almost.
---
Treacherous Trio
Knxwledge, MEEK​.​VOL5_ (buy it)
Nobody, but nobody, stans for Meek Mill quite like Knxwledge. The Stones Throw affiliate / better half of NxWorries with Anderson Paak has dedicated an ongoing series of Bandcamp-only digital releases where he fuses the Philadelphia dream chaser's shouted rhymes to his L.A. beat scene dreamscapes. On this fifth installment, he continues to demonstrate his devotion, ripping audio from the rapper's youthfully brash freestyles ("elliospizza") as well as his more recent studio efforts (the Nav-infused "tap") to make something beautifully lo-fi.
Glockstar Dimi, Loadin (G) (buy it / stream it)
Much of what's happening in Brooklyn's vibrant drill scene has more to do sonically with the UK's take on the sound rather than the Chicagoan one. But after a long, long drive away from the borough, you'll find Albany's Glockstar Dimi making something that skews closer to Chief Keef. His Loadin (G) bears many of the hallmarks of that cult artist's post-Interscope work, a style evident on bleepy tracks like "Kirby" and "Stepstep." For bold opener "(G) Elly," Dimi makes a strong case for broadening the New York conversation beyond the Big Apple.
Two solid Queens representatives, rapper Rome Streetz and producer The Artivist have worked together before. Still, Joyeria succeeds by bringing the pair together for an entire cohesive project, in which seedy street tales and a marked disgust for the fiends find a soundtrack steeped in soul. There's a defensiveness inherent to Streetz's speech, his guard perennially up on cuts like "Alpha Beat" and "Run Da Jewelz." A highlight, "Snow Beach" references a few Golden Era greats, while "Heat Economics" tells a sadly familiar story with the help of Rigz and Chyna Streetz.
---
Lettuce Wraps with... Homeboy Sandman
Three questions. Three answers. That's it. Time for another edition of Lettuce Wraps.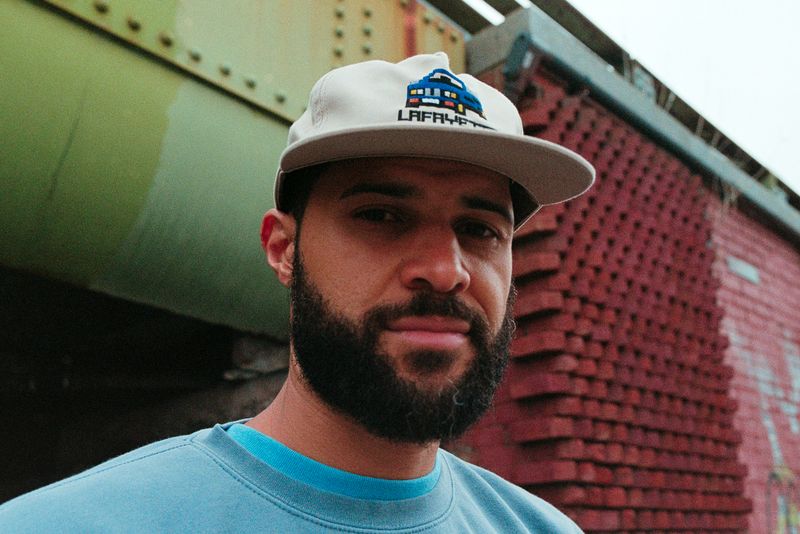 Photo credit: Johnny Navarro
My Queens bias is undeniable and I remain unapologetic in my love for our homegrown hip-hop talents. So when I got the chance to ask the one and only Homeboy Sandman a few things, I jumped at the opportunity. Formerly of Stones Throw and currently signed with Mello Music Group, he just kicked off a West Coast U.S. tour in support of his latest album Dusty (buy it).
Back in the day, I remember seeing these homemade-looking subway ads for you, stuffed behind the plexiglass where the official ads typically go. How crucial was that guerrilla D.I.Y. style promotion to you back before you were a signed artist?
Very crucial. Opened up a lot of doors and a lot of ears.
As a lyricist, how important or inspirational has the boro of Queens been to you?
I've never been from anyplace besides Queens so I can only assume it played a big role in my artistic development. I've been a huge fan of lots of Queens bred artists, particularly Main Source, Kool G Rap, The Beatnuts, LL Cool J, and Nas. [B]ut to keep it real, I also got into artists from other places and Queens is cool but I'm not the most nationalistic dude in the world like lots of cats are about their boroughs.
Dusty marks your Mello Music Group debut and your ninth album to date. What's the biggest thing you've learned from the process of making albums that you could impart to those currently at an earlier stage of their careers?
Don't lose faith. Don't lower your standards. Humble yourself before God humbles you.
Homeboy Sandman West Coast U.S. Tour Dates
2/2 - Portland, OR - Mississippi Studios
2/4 - Sacramento, CA - Starlet Room
2/5 - San Francisco, CA - Bottom of the Hill
2/6 - Los Angeles, CA - The York Manor
2/7 - San Diego, CA - Soda Bar
2/8 - Tucson, AZ - Thunder Canyon Brewery
2/9 - Las Vegas, NV - Bunkhouse Saloon
2/11 - Salt Lake City, UT - Urban Lounge
2/12 - Denver, CO - The Marquis Theater
2/13 - Colorado Springs, CO - Black Sheep
2/14 - Fort Collins, CO - Hodi's Half Note
---
We Out
King Push + Yes Malice + Killa Cam + Skateboard P… I mean, what else do you need?
---
See you next Sunday.
Follow me on Twitter at @noyokono and on Instagram at @noyokono too.