REAL QUICK: Some of you have asked how you can support #CABBAGES or otherwise pay me money for writing it. Starting in March, I will begin offering a paid subscription "tip jar" option for those who want to throw a few bucks my way and, in return, receive a couple of extra posts each month. Weekly Sunday posts will remain free, don't worry. More soon…
In the news this week was pop phenom Billie Eilish. Forgive the poor Jay Leno impersonation, but—have you seen this, have you heard about this? So, during a cover story for Vogue, the multi-Grammy winner remarked on "lying" and "posturing" by rappers. Needless to say, that made some people mad. I even got off a good tweet about it.
Keeping in mind that, with the benefit of the profile's context, Eilish's actual comments miiiight be more about some artists she knows personally rather than an indictment of the genre at large. Still, there's something familiar and foul about making distinctions between the character-driven songwriting that she and her brother/collaborator Finneas O'Connell did on When We All Fall Asleep, Where Do We Go? from rap music songwriting. The coded message, unintended though it may have been, was that white-perceived genres like pop and rock are socially acceptable for storytelling, and that those of black and brown artists, by default, weren't. (Anyway, rather than waste any more e-ink on Eilish, peep the esteemed Vulture music critic Craig Jenkins breaking it down better than I ever could.)
Eilish's casually dismissive words about all those pesky rap fibbers came to light roughly around the same time as Brooklyn District Attorney Eric Gonzalez announced the arrest of 34 individuals purportedly associated with two rival groups, as per AM New York:
The gangs, known as the Wooo (We on Our Own) and the Choo, were part of a major investigation, dubbed "Operation Boxed In," by the Brooklyn North Gang Squad and the DA's office Violent Criminal Enterprises Bureau. The two groups main purpose was allegedly "to fight each other," Gonzalez said. Gonzalez pointed out that not only did they shoot at each other, but several innocent bystanders were hit too.
Now if you've been paying attention to Brooklyn drill, you probably wondered if Pop Smoke was caught up in these arrests. Though recently charged by the feds for allegedly transporting a stolen Rolls-Royce Wraith over state lines, the "Welcome To The Party" rapper wasn't part of the round-up. But if you listen to the tracks off of last year's Meet The Woo mixtape, you definitely get a sense of the world in which he operates, a world that might seem unreal or even fake to, say, a homeschooled white teenager who grew up in a part of Los Angeles where only 2.4% of the population is black.
This isn't the first time the NYPD has interfered with the world of Brooklyn drill in a high profile way. Ahead of last year's inaugural Rolling Loud New York festival, law enforcement reached out to the festival organizers to "request" that five scheduled performers—three being 22Gz, Pop Smoke, and Sheff G—be removed from the bill over fears of potential violence connected with those artists' presence. Under pressure, they grudgingly obliged, apparently even paying the appearance fees for the five as a good faith gesture.
Scarcely two days after Eilish's Vogue comments and the DA's press conference, Meet The Woo 2 dropped. Preceded by singles like "Christopher Walking," the project leans on London-based drill producers 808Melo and Axl Beats who give Pop Smoke the bleak atmospheres his voice thrives on. Having scored his first Billboard Hot 100 hit weeks prior for the Travis Scott collab "GATTI," he's got all the cachet necessary for his upcoming national headlining tour. And with festival season on deck, the likelihood of Eilish actually meeting the Woo's most known representative seems within the realm of possibility. Oh to be a fly on that wall…
---
Treacherous Trio
Boldy James, The Price Of Tea In China (buy it / stream it)
The Alchemist and his Detroit rap connect recorded My 1st Chemistry Set together in 2013. Thanks in part to the producer's history with Prodigy, some critics at that time fell into a lazy comparison trap. Their new project should put that noise to rest, with Boldy proving a distinctive artist on the complex and melancholy "Pinto" and "Speed Demon Freestyle." His city roughly the same driving distance from Buffalo, NY and Gary, IN, features from Benny The Butcher and Freddie Gibbs are cocaine chef's kiss worthy contributions to the grind narrative.
The Professionals, The Professionals (buy it / stream it)
How, after a second straight critically acclaimed full-length with Freddie Gibbs, could a new Madlib project fly under the radar? Save for the Rappcats faithful, a lot of folks missed this one last month. A brotherly brouhaha between the beat maestro and his Gangrene-ous sibling Oh No, The Professionals finds these Oxnard forty-somethings doing hip-hop their way as usual. Even with age, they remain agile actors on the warped "Timeless Treasure" and the organ bap of "Buggin," supported too by fellow rap adults Elzhi and Chino XL on the sheer lyrical madness of "Superhumans."
For the past three years, this Harlem beatsmith has been on a roll, dropping joint projects with solid rap talents as well as multi-spitter showcases. Black Mass falls into the latter category, but it counts among his preexisting heights. Few producers this side of Havoc capture the aesthetics of hip-hop's coexisting beauty and horror quite like V Don, who brings incredible verses and energy out of his collaborators here. Local gods Dave East and Smoke DZA do right over "Get Back" and "Boomerang," while Philadelphia's Dark Lo makes a manifesto out of the filth of "Forefathers."
---
Lettuce Wraps with... Sleep Sinatra
Three questions. Three answers. That's it. Time for another edition of Lettuce Wraps.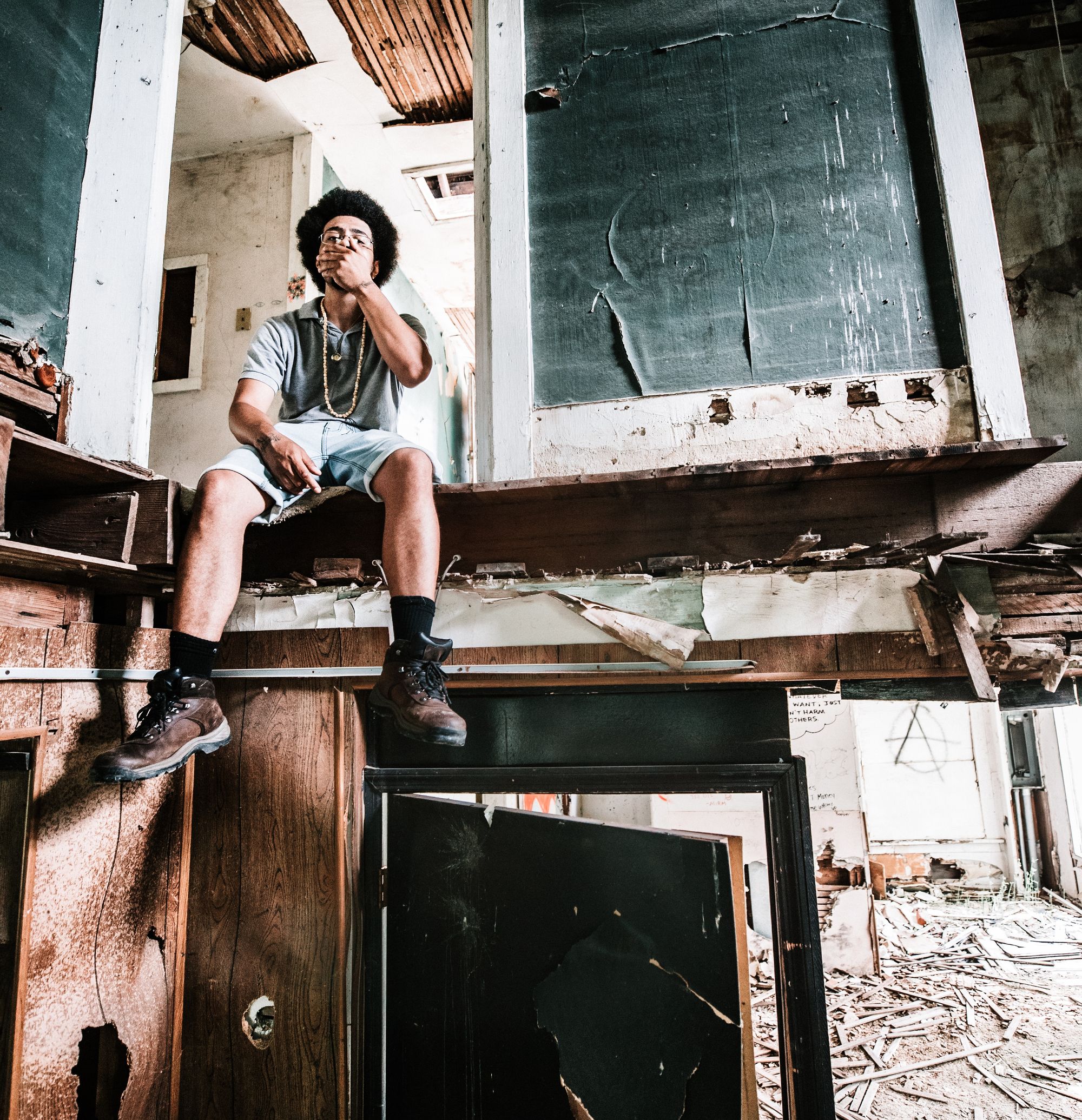 I first stumbled onto Sleep Sinatra a few years back, immediately impressed by the Lincoln, Nebraska emcee. I credited him with one of 2017's best mixtapes over at Mass Appeal, mere weeks before the site shifted editorial strategies and stopped publishing written content. Like any indie rapper worthy of the craft, Sleep perseveres and regularly drops new projects. So I figured I'd check in and turn you on to him.
Most people don't think about Nebraska when they think of hip-hop. What's it like operating as a rap artist outside of more conventionally-established genre cities like Atlanta or Chicago or New York?
It definitely gives you more of an underdog mentality. Nebraska was considered a fly over state for a lot of touring Hip Hop acts until just recently, within the past few years even. A lot of peoples' perspective of Nebraska as far as Hip Hop or even Black Culture came from the scenes in Belly. If you remember Rico's weak ass then you know that's not something you wanna be perceived as hahaha. I dont feel I have more to prove essentially, just that I'll have to work harder to be heard and taken seriously.
Your latest project ANIMAL///GOD is dedicated "in loving memory" to Phillip Demascus Madlock and Rueben Fernandez. In what ways did these respective losses influence or impact the album?
R.I.P Philly B and Rueben Forever. Those are two very formative people in my life.

My cousin Philly was the only head around me I'd ever consider as an "OG". He gave me great advice that he inevitably didn't take himself. Real Hustler though. He learned Spanish fluently and lived in the Dominican Republic for a minute. Was the only cat out here on 28's at one point in time. Larger than Life. He inspired me to Harness the Greatness inside myself and to always reach for my worth despite the odds. The song "1 For Philly B" was a part of my mourning process after he was murdered.

Rueben was my uncle's Godson and we were close growing up in early adolescence. Rueben was one of the first people i started experimenting with drugs with. Weed, Hash, Opium etc. We were super young. Shit used to have me out my body. Eventually everybody started moving on to harder drugs and that's when I moved back to Lincoln, where I reside now. I had a lot of my very first Mystical and Psychedelic experiences with Rueben though. The imagery visually/aesthetically and the sound of a lot of my production choices will always be inspired by that time period of my life.
If you could pluck any specific beat in hip-hop history to rap over, what beat would that be and why?
Honestly, probably one of the joints off that Prodigy & Alchemist Return of the Mac album. That whole album had this soulful mournful vibe that captured me when I listened. Alchemist is an Alien with the production man.
Order ANIMAL///GOD on CD or digitally via Bandcamp.
---
We Out
This past Friday marked the 20th anniversary of Big Pun's passing. About a week earlier than that, I attended (and wrote about) a concert event at Radio City Music Hall called The Loud Experience, during which various Loud Records alumni performed. Fat Joe and Remy Ma put together a set largely organized as a tribute to Pun, whose debut full-length Capital Punishment was released through the notable hip-hop label. Yet other than Tony Sunshine, most of the Terror Squad lineup were notably absent from the stage, partially the result of nearly two decades worth of infighting. Reconciliation remains highly unlikely, which is a shame, because it would've been nice to see Cuban Link come out and play this lost classic for his fallen brother.
---
See you next Sunday.
Follow me on Twitter at @noyokono and on Instagram at @noyokono too.