Personally, I quite enjoyed 2015's Mr. Wonderful, the first Action Bronson project to be called an album. Its ambitious weirdness impressed me on effort alone, especially when compared to the reliability of his gourmand kayfabe found throughout the popular preceding mixtapes. 2017's Blue Chips 7000 hewed closer to the aesthetics of Blue Chips 2 and Rare Chandeliers, but the following year's White Bronco raised the question among certain critics of whether the Queens emcee was repeating himself. Reading reviews at Pitchfork and elsewhere, it did seem as though he'd become less quotable, less dextrous on the mic, and some cited his growing presence as a media personality for diverting his focus.
Much like with the superficial comparisons with Ghostface Killah that bedeviled his come-up, I can't quite say I concur with this soft-pedaled narrative of his demise as a rapper. With White Bronco beats by Daringer, Knxwledge, and Harry Fraud, if Action Bronson was falling off, he sounded great on the way down. Starting with the introduction of Dr. Lecter, he embodied the excesses of hip-hop literally and thematically, a heavy smoker and voracious eater with overweight lover tendencies. While that could have turned to self-parody over time and with age, last year's Alchemist-helmed Lamb Over Rice revealed room for growth and change. For instance, he let slip his doctor's grim prognosis on the EP highlight "Descendant Of The Stars," a likely catalyst for the pandemic flip to physical fitness that has shed 110 pounds from his ample frame.
The transition from a live-to-eat mode to an eat-to-live one isn't fully formed on the just-released Only For Dolphins. With deliberately dated references to '90s action flicks like Cliffhanger and Hard Target, the nostalgic nature of Bronson's lyrical signature makes it somewhat difficult to determine when exactly this material came together. Case in point, he wraps up his second "Capoiera" verse with a gonzo couplet that turns Sesame Street's Ernie and Bert into veritable bang bros. before shouting out R&B legend Gerald Levert and igniting an extended saxophone solo. With its psychotropic tale surrounding The Irishman's Lincoln Center premiere screening "C12H16N2" makes it safe to say these songs were written within the last year.
Nobody expects Bronson to have a G.O.A.T. trajectory like Jay-Z or even his "1Train" cohort Kendrick Lamar, and nothing about his discography makes a strong case for contention. Neither neighborhood kingpin nor street poet, his unconventional style of layering food raps atop wrestling raps atop weed raps without pretense is precisely what endeared him to fans in the first place. So when he likens himself to Delroy Lindo on the opening "Vega" bars, the reference is a surface-level one—which is fine. When he advertises a proprietary fragrance called Splash on the song of the same name, he's literally advertising his own cologne, not making some veiled comment about imaginary drug dealer prowess. While no radical rebirth of his cool, Only For Dolphins makes it hard not to see Bronson as anything other than himself, an assessment that more rappers really ought to consider.
---

Googie & Henry Canyons, Hijinx
Earlier this year, back when live rap music still existed, these two New York rappers took the stage at Brooklyn dive Gold Sounds together. Their interplay surely struck the few dozen in attendance, so much so that this surprise release Hijinx simply had to happen. On "Galvanize Pride," Henry Canyons' ascending/descending delivery recalls an enlightenment-dazed Busta Rhymes, while Googie drops a dazzling stream of ideas and references on the back half. From the electrified bap of "Pay Day" through the subway soul jazz of closer "Sphinx," the production never misses either. With a beat reminiscent of Talib x Kanye circa Quality, "Hijinx Hallelujah" takes the collab to another level.
Bloo & Spanish Ran, Danger Bloo
After knocking it outta Yankee Stadium with the DOOM homage MF Bloo some months back, the dastardly duo returns with more Bronx-based villainy. Less a sequel than a second act, Danger Bloo solidifies them as much more than some metal faced novelty. On the impeccable "Stephanie Tanner," Bloo spits a string of homegrown honorifics, nodding to boro institutions from Big Pun and Mysonne to the long-gone nightclub Jimmy's Bronx Café. He lyrically sprints like it's a superpower through the stuttered grooves of "Never A Time" and closer "Half Moon / Caeser." One of the city's best beatmakers right now, Ran conjures instrumentals that recall midnight soul sessions and doo-wop sung under streetlights, reconfigured in his lab.
Namir Blade, Aphelion's Traveling Circus
Pulling off a concept album is hard enough, right? Try making a hip-hop space opera that stays riveting from beginning to end. That's the feat Nashville's Namir Blade pulls off with Aphelion's Traveling Circus, a time-warped Afrofuturist odyssey that employs sci-fi framing to showcase his unmistakably present-day vision. A solo album packed with blockbuster musical ideas, it treats genre norms like Post-It note reminders as we cruise through the interstellar polyrhythms of "Patlabor" and the stasis bass of "Space Ghost." Its skits portray offworld carnivals, malfunctioning droids, and black market wearable tech, but sonic surprises like the rueful balladry of "Science" and the grounded "Stay" make the listening experience a meaningful one.
---

Three questions. Three answers. That's a wrap.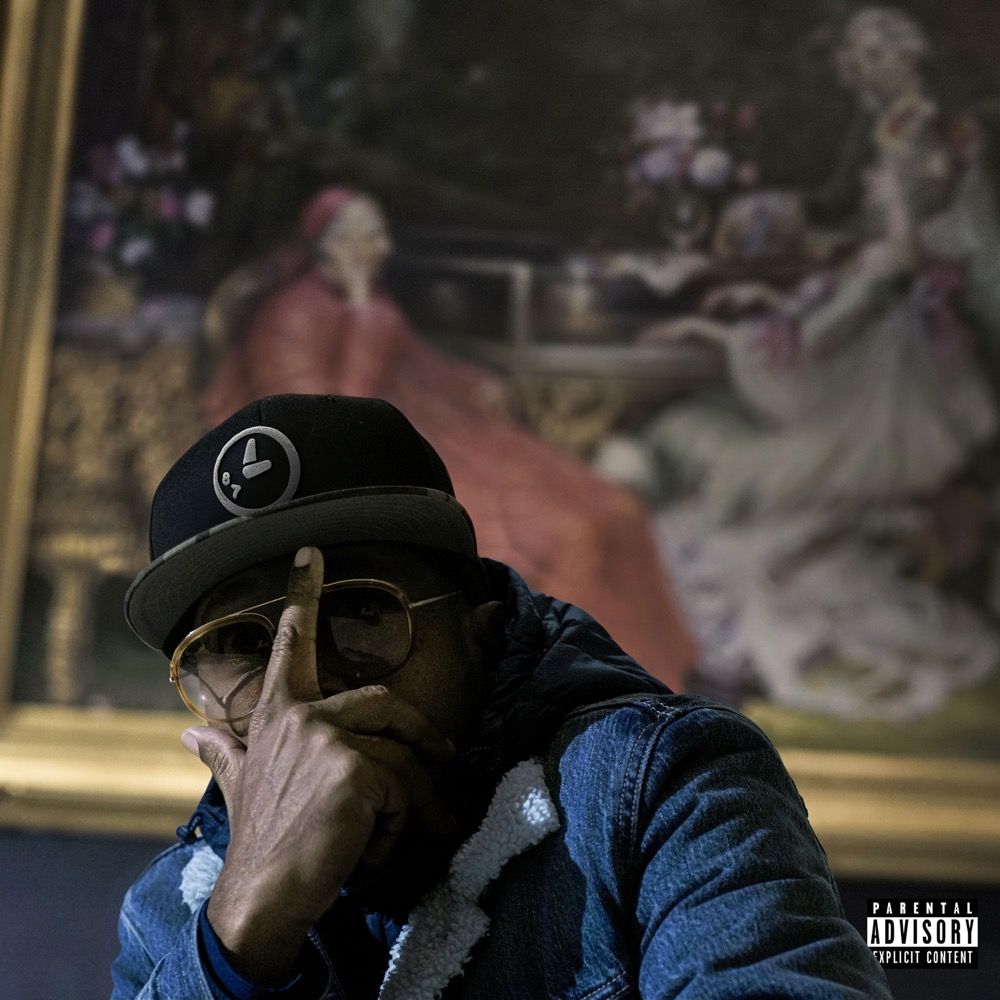 A Detroit native and fixture within the city's rich hip-hop history, Elzhi has one hell of a resume. From his tenure in the esteemed Slum Village onwards, the emcee kept it pushing for some two decades, and continues to do so. Drake devotees may know him from his Comeback Season feature, while Dilla trainspotters cite him for Welcome 2 Detroit. Either way, his solo career continues to flourish this week with the release of Seven Times Down Eight Times Up.
Seven Times Down Eight Times Up marks your first truly solo project since 2016's Lead Poison, a personal record that dealt publicly with depression. How did that prior experience inform your approach to this new album (and particularly songs like "Light One Write One")?
Well, Lead Poison was an album that I wrote when I was going through my depression. It was pretty much like therapy for me to be able to get what was bottled up inside of me out of me through writing. That was really the first step for me going on my journey to heal myself.

With Seven Times Down Eight Times Up, it's really a continuation because Lead Poison was written in a space when I was trying to get a lot of poison that was inside of me out of me through my artwork and my craft, my outlet. The thoughts, the feelings, the ideas and the perception; the way that I saw things in that moment in time is all capsuled and bottled up in that record. As you mentioned, that came out in 2016 and now that we're in 2020, a lot that has happened in between that time. A lot that I've learned and that I've experienced and by me starting my journey with Lead Poison I've been walking that path ever since. What you're getting on this album is pretty much an update. The title of the album is Seven Times Down Eight Times Up so you're witnessing me at a time when I'm up right now, and the most important thing is to always get back up when you get knocked down. That's gonna probably happen on any level that you choose to venture off in.

What you're getting on this album is me at a healthier mind state, a healthier perception and instead of walking hunch backed, my poked chest out. You know what I mean? That's what it is. "Light One Write One" is really a reflection, how the songs were on Lead Poison. It's a reflection of this moment in time. I'm reflecting on myself, I'm reflecting on the rap game and what's happening on in the world while I'm in my zone, lighting one up and writing what I'm feeling and what I'm seeing.
You worked exclusively with producer JR Swiftz out of Virginia Beach for this project. What drew you to his sound in the first place and how did that manifest for you when you were rapping over his beats here?
Me and JR Swiftz linked up through IG. One minute I'm on IG posting a pic and the next minute I'm in my DM and I see that my man's sent me a beat that I thought it was ill. So I reached back out to him and said, "Yo man, you think you can send me a pack?" and he was like, "Yea, no doubt." So, he sent the pack through and to my amazement every beat was fire.  A lot of the times when people send you packs they might have one beat out of fifty, so it was dope that he had something that I thought was fly and that he was able to come with more of it when he sent the email. So I got into it and what's really a dope part about the whole thing is that I got to know JR and realized he's a cool brother. I dig his energy and I want to see him win. He's doing his thing with them Griselda cats and Rome Streetz and a bunch of other dudes, so I wanted to participate in getting him a look because dude is talented and has a dope spirit.
You're now some two decades deep into your rap career, a tenure that relatively few rappers reach. To what do you attribute your longevity and, from here, what's your plan for continuity?
What I attribute my longevity to is just still being a student. I consider myself as a scientist and I study. The first album that I ever studied was [Eric B. & Rakim's] Paid in Full.  It wasn't me purposefully trying to study, I was just so in engaged that I would lean on my boom box and the speakers would be on each side of my ears and I would just listen for hours and hours. It's like I'm listening to Rakim and I'm like, "Yo, what is he doing that I like so much, man?" Through Rakim is when I first fell in love with patterns and rhyme schemes. From there, I started dibbling and dabbling into it myself and I was hearing other artists doing it good if not better, and I'm like, "I wanna get good at that." So then it went from that to like, "styles" and then it went from "styles" to like "swaggin." So I really learned from everybody. If it's something dope, I'm gonna either study it on purpose or it's gonna be a subconscious thing.

I'm a student and as music evolves, Imma be right there with it. I live this even til' this day and for me to continue on, it's pretty much just doing what I do and knowing that I'm a student so I don't cut anything off or not be open minded to what's new out there. Because I think that's how a lot of people fall off. They're not open minded or their stubborn in their ways or in their era and that's just not me. I think it's dope cats in this era like there was dope cats in the '90s. So yeah, that's where I'm at with it and stay tuned for more music from me because it's coming.
Purchase or stream Seven Times Down Eight Times Up here.
---

Look, I couldn't name this week's newsletter what I named it without closing out with some Redman. Recruited into EPMD's Hit Squad and subsequently signed to Def Jam, New Jersey's own Reggie Noble made some noise with this Erick Sermon produced single off his 1992 full-length debut Whut? Thee Album and topped Billboard's rap songs chart. If you haven't heard it in a minute, it's well worth a revisit.
---
See you next Sunday.
Follow me on Twitter at @noyokono and on Instagram at @noyokono too.