This newsletter marks the twenty-eighth installment of Irregular Vegetables, a weekly series of CABBAGES emails where I share links to recent writings from other hip-hop/rap journos and critics, squeezing in my own work as I see fit. These midweek editions hit inboxes every Thursday. Enjoy this week's reads and keep scrolling for an interview with hip-hop legend Schoolly D. After that, make sure to check out the latest Crudites, the recurring feature where I recommend three new singles/videos from hip-hop artists you may not be familiar with yet.
---

Some Artists Get Screwed By Their Labels, But Kanye Isn't One Of Them
Much has been made of this tweet referencing the contract, which claims to show that Jay Z sold Kanye's masters to Universal in exchange for control of his own. But that's not what these two documents actually reveal. In reality, they just outline Universal's option periods, which are "completely standard," according to Sammataro. The provision states that after Kanye delivers one album, Universal has the right to extend his contract for a second; after he delivers the second, they can extend his contract for a third; and so on and so forth, until Kanye has made six albums. That might sound like a trap, used to keep Kanye stuck with the terms of this original contract over several years—but ultimately, the option periods didn't really matter. Kanye's contracts show he renegotiated his deal at least nine times, always to his advantage. (Read more at Vice)
Ivorian Doll Is the Rising Queen of Drill
Ivorian Doll has a 360-degree view of her next steps, which includes many shifts in sound. She reveals her upcoming EP, 'Drill Print,' will feature two songs—which are currently placed as the penultimate and final songs on the tracklisting—teasing her departure from the UK drill genre. "Nicki, Cardi, Megan Thee Stallion—that's the type of sound I'm heading into now," Ivorian Doll says. She has been strategically waiting for a moment to experiment with wider genres. "I didn't want to just change straight away. I want more, a variety of sounds, different inspiration." (Read more at Audiomack)
The Most Ingenious, Innovative Independent Rap Release Models
There are few artists doing physicals better than enigmatic New Jersey rapper Mach Hommy. He piggybacked off of the Nipsey Hussle model with several releases, including his latest 'Mach's Hard Lemonade' album. The project is available on Tidal, but he also created a website where fans could purchase a limited supply of physicals at above-average prices: $77.77 for a cassette, $99.99 for a Digipak CD, $111.11 for a Jewel case CD, $222.22 for a standard vinyl, and $444.44 for a deluxe vinyl that comes with a wooden case as well as a Mach's Hard Lemonade slipmat, stress ball, and air freshener. (Read more at Uproxx)
Foundations & Migrations, Joy & Resistance
Hip-hop's founding trio shares these Afro-Caribbean diasporic roots. Jamaican-born Kool Herc pioneered DJing percussion breaks. Influenced by Herc, Jamaican and Barbadian Afrika Bambaataa contributed to the culture as one of the originators of breakbeat DJing and drum loops. Barbadian Grandmaster Flash further evolved DJing with revolutionary cutting, scratching and mixing techniques. Contributing as dancers, DJs and more — among the most important early graffiti artists is Lady Pink (a.k.a. Sandra Fabara), an Ecuadorian-American — the Latinx presence existed throughout hip-hop's formative years and beyond. (Read more at Tidal)
As Covid Set In, Hudson Mohawke Headed For The Vaults
"The vast majority of what I make doesn't get released, but it weighs me down when it's music that people are aware of," HudMo explains. Releasing these projects was cathartic—he satisfied fans who have spent the last several years making unofficial compilations of unreleased HudMo songs. It also helped lift the weight of the past. "I was trying to get out of my own way [and ask myself], 'Why would you want to hold on to all of this material when it's affecting you negatively?' [I realized] I need to just set this free." (Read more at Bandcamp Daily)
Will (Yet Another) Category Rethink Change Urbano's Fate At The Grammys?
"Sure, people can say urban is the new pop," says Grammy- and Latin Grammy-winning songwriter-producer Edgar Barrera. "But Latin urban became pop because it's popular, not because it shares the same rhythms as traditional pop. There are major differences, including lyrics, melody and structure." Recording artist and Grammy-nominated producer Maffio insists, "It makes no sense, and it doesn't look good. Urban should have its moment. We've worked hard to make sure it gets played on the radio, to globalize it." (Read more at Billboard)
"I Would Spend Four Days Trying To Get The Perfect Drum Sound": A J-Zone Discussion
To get him started RJD2 provided some helpful information about specific mics best used for self-recorded drums. J also put carpeting on the floor to absorb sound and bought an old, cost-effective Tascam mixer from the 1980s. When he decided to upgrade the kit his father had gifted him and invest in vintage drums, he had to shed another part of his producer past. "I'm odd jobbing and caregiving and playing drums, so money's not growing on trees," J says of his financial state at the time. "So what I wound up doing is I sold about 70% of my record collection. All the records I used to buy for like samples, rare hip-hop records, and CDs." (Read more at Micro-Chop)
Roy Hammond, Soul Singer Who Birthed A Hip-Hop Heartbeat, Dies At 81
Mr. Hammond wrote and produced the Honey Drippers' "Impeach the President," a political funk barnstormer released in 1973 as the Watergate scandal unfolded around President Richard M. Nixon. It was resuscitated just over a decade later by the Queens hip-hop producer Marley Marl, who sampled its crisp drum intro for MC Shan's "The Bridge." Released in 1986, that track caused a tectonic shift in the sound of New York rap. "That snare? Crack," Marley Marl said in a phone interview. "Any song that used it, that was a hit." (Read more at New York Times)
Did The $2 Million Hip-Hop Auction At Sotheby's Do The Culture Justice?
Yet if you look at the "provenance" (i.e. recent ownership history) of each item in the collection, there are a lot more photographers, designers, record-label executives and unnamed private collectors than there are actual rappers or musical artists. This underscores an important distinction between provenance and representation: In the majority of cases, the rappers you see represented in the collection on the surface aren't the ones selling the artifacts or directly receiving proceeds from the sale. This raises questions about whom an auction like this, hosted by one of the world's largest art brokers, ultimately benefits. (Read more at Forbes)
Armani may not share the blood ties of Griselda's founding trio, but her biography overlaps. She's from Buffalo, and she was discovered by Griselda's late producer DJ Shay, who signed her in 2009, so like Conway and company, she logged plenty of time in obscurity before finding her break. And since she's on Griselda, it goes without saying that she's got bars. "Hundred grand flow, chillin' in the Lambo/Eight bands for the bag, two more on the sandals," she spits on "Gucci Casket," with a precision that recalls early Nicki Minaj, without the cartoonish embellishments that eventually turned Minaj's pressure-cooker flow into shtick. (Read more at Pitchfork)
Ye Combinator Already Exists (Sort Of)
West is, in multiple senses, the elephant in the room: A problematic celebrity figure whom many of us are reluctant to talk about, and an ultra-wealthy entertainment magnate who is the exception, not the rule, in the vast ecosystem of artist success. Arguing for artists' freedom and rights without acknowledging the sheer diversity of career paths in the industry runs the risk of feeling like Tidal's 2015 press conference — shiny, but tone-deaf. (Read more at Water & Music)
---

Three questions. Three answers. That's a wrap.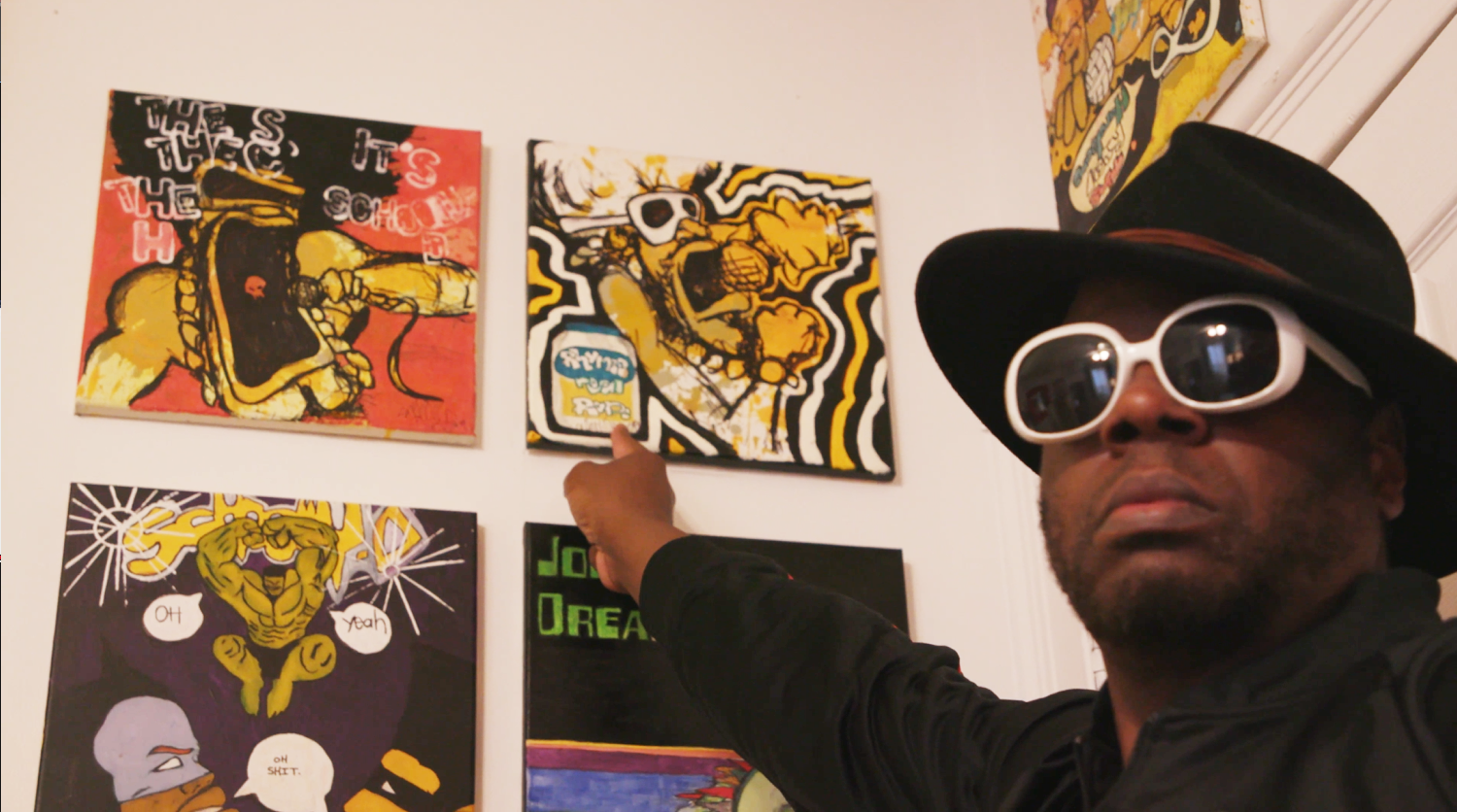 Photo courtesy of the artist / Score Press
With his self-produced 1985 single "P.S.K. What Does It Mean?" and corresponding eponymous solo album, Philadelphia's Schoolly D provided the template that many emcees would follow. Widely considered the first gangsta rapper, his explicit approach foreshadowed where hip-hop was headed, and where it stands today. He worked frequently with director Abel Ferrara, providing original songs and scoring for films including 1998's New Rose Hotel and 2001's 'R Xmas. Adult Swim fans also know him for the Aqua Teen Hunger Force theme song. Earlier this month, he released the first track from his forthcoming full-length Cuz Schoolly D Is Crazy.
Your new single "Real Rhymes & Real Raps" was recorded on the same equipment as some of your seminal '80s records. What drew you back to recording this way, in this classic analog mode, at a time when digital has become the industry norm?
A few things brought me back to analog recording "cuz Schoolly D's crazy that's why." First, Code Money and I didn't get to make that "we've reached the top of the mountain" album as some of my contemporaries did, like LL Cool J, Public Enemy, Beastie Boys, Ice Cube and Ice-T. (This is when I started making music for and with Abel Ferrara and films.) So I needed the music to be recorded in the same way, because I wanted that boom bap from the late '80s yah mean.

Second, no matter how hard you try to get that phat swing beat from a computer, computers sound like computers yo. So what I did though was I got me a Macbook (old but not too old, 2009), no bells and whistles, and let my skills lead the way. If you listen closely, you can hear doors closing as I go into my home recording booth to lay down congas.
Your forthcoming album Cuz Schoolly D Is Crazy reunites you with DJ Code Money and Phil Nicolo of the Butcher Bros. What was it like working on this new material with people/collaborators who you've known for so many decades?
Well, in the beginning stages everybody thought I was nuts because we have all of this new "Technology" at our fingertips, so why not use it. I knew then it would take years to get this done, I have at least ten versions of each song, and all the songs that made the album I performed live in front of an audience, so's I knows they bangers. And to get the scratches and cuts from Code, I would ask him to stop and add some scratches to some beats (not telling him till I got close to mixing what they were for ). So when it came down to mixing I went to more than a few studios in Philly and waaaay too many chumps was using Pro Tools!

On a phone call from [Ruffhouse Records CEO] Chris Schwartz. I was complaining about my situation and he says, "yo dude why don't you just go back to where you made them albums in the '80s??!!" We hit Phil on a conference call and he said the same thing, so yeah I grabbed my Macbook (old school style) and headed to Studio 4. Some things were different, like nobody was weeded out, no Kool Mule or 8 Ball but the things that was the same, that mixing board that big room and the easiness of working with Phil because he knows exactly how I want them kick drums to sound like. Oh yeah, Chris stops in every now and then with an inappropriate joke.
This month marks 30 years since the release of Abel Ferrara's 'King Of New York,' a film which owes no small amount of its character to the use of your music. Looking back, how do you feel now about the way your songs soundtracked some of its pivotal scenes?
I didn't know it then, but Abel did. He knew I was a film composer. I turned the gig down a few times because I was recording Am I Black Enough For You but Abel insisted that I hear him out. So [he] brought me up to New York, played my music for me in a edit of some parts of the film, and I was convinced like he was convinced that it would be the next phase of my career. We still work together today. I always felt at home in New York, and New York has treated me well so it's a huge medal on my chest.
Purchase or stream "Real Rhymes And Real Raps" here.
---

Three new tracks for you to snack on...
Bo Bundy "Colorados": Fresh off his signing with the booming Rancho Humilde label, the rising Houston rapper drops a supremely trippy trapcorrido to follow his comparable sounding viral hit "Mi Barrio."
DNH, "Angels Of God": Pairing New York State emcee Space with UK-based producer Howard Stevens, this grown folks duo offers a preview of their forthcoming album for Nature Sounds with this lyrically dense boom bap single.
Swamp Harbour, "Francs": A well-assembled configuration of Blah Records familiars, this trio featuring producer Sam Zircon and rappers Stinkin Slumrok and Bisk introduce themselves as a unit on this discomfiting yet magnetic cut.
---
See you on Sunday.
Follow me on Twitter at @noyokono and on Instagram at @noyokono too.