For better or worse, social media grants us extraordinary access to the hip-hop artists we love. Sure, sometimes it's tedious to see the same narrative push of apparent wealth, such predictable displays of luxury and status repeated to the point where they seem performative and suspect. Other times you come across some real messy problematic shit that either makes you feel sorry for or repulsed by someone you maybe once looked up to. But occasionally, there's something on Instagram worth more than a passive scroll-through on your couch or toilet. And this week, Vast Aire gave us that.
A co-founder of the heralded underground duo Cannibal Ox, noted member of The Weathermen, and an all-around dope emcee, the New York native shared an evasive yet telling video on IG, describing a meeting with his legal team that had him heated. Word to Q-Tip: Rule 4080 is still in full effect—apparently somebody owes Vast some money. In the clip, he states that "there's a couple of albums in my past that we're gonna have to do some huge investigations on." Without naming names, the veteran rapper charges that "somebody's lying" and that some sizable checks will need to be cut to keep things from heading to civil court.
Nobody should be surprised to hear that an artist is owed—or believes that he or she is owed—money for their work. Music industry history contains countless examples of creative accounting, chicanery, and outright thievery that fucked people out of royalties or other such deserved monetary enrichment for the fruits of their labor. In some cases, particularly for major label acts, it took considerable legal wrangling and protracted court proceedings for these disputes to reach resolution, a financially taxing route that relatively few artists have the means to pursue. Things get perhaps even more complicated when it involves independent labels and their current or former artists, the latter demanding transparency and satisfaction from the former.
What follows is a purely speculative look at who might owe Vast Aire some cabbage.
Definitive Jux
Since founder and artistic director El-P put this seminal record label on hiatus in 2010, he's gone on to do incredibly successful things as an artist, not the least of which being Run The Jewels. But even as his present day profile dwarfs his Def Jux past, his role as producer of Cannibal Ox's classic debut The Cold Vein stays part of his story—and sometimes comes back to bite him in the ass.
Longtime fans likely know there's been some acrimony between the two parties, their beef going back to the Myspace days. In 2009, Vast unloaded on his former label boss on the now-dormant social media platform, claiming he'd left Def Jux not long after The Cold Vein's 2001 release after having allegedly sold over 100,000 copies of that album and another 30,000 copies of The F-Word maxi-single, all apparently without a contract in place. From there, he laid out accusations, occasionally delivered in ALL CAPS, about lack of timely payment to himself and Cannibal Ox's Vordul Mega as well as other purported wrongdoings involving El-P and his business partner Amaechi Uzoigwe. (El-P subsequently refuted it all in a soon-deleted MySpace post of his own.) Later, in a 2011 interview with AllHipHop, he charged Def Jux more generally with conducting "bad business" and threw in some shots at the expense of El-P's artistry, garnering a lyrically terse comment from the producer in response.
Expanded to including 2002's ancillary Oxtrumentals beats collection, 2013's deluxe reissue of The Cold Vein via I.G.C. Records and iHipHopDistribution indicates that Cannibal Ox obtained some or all rights to their Def Jux catalog one way or another. Presumably, that means royalties from the album now go to Vast and Vordul. So while precedent certainly exists, and El-P's contemporary standing in the industry makes him a potential target for renewed litigation, I'm not entirely convinced that Vast's current grievance is with his old foe.
Chocolate Industries / Fat Beats / Below System
Spotify launched in the U.S. in July of 2011, ushering in a streaming revolution that launched competition from tech giants like Amazon and Apple and would forever change artist compensation. One benefit of this now-dominant music consumption channel is relatively greater transparency through digital analytics. Mere days prior to sharing his front-facing "cut the checks" video, he posted a series of Spotify screenshots with global streaming totals to his Instagram grid, representing three of his solo projects.
The first of these pics came from Vast's 2004 album Look Mom… No Hands for the "Miami born, Chicago based" imprint Chocolate Industries, specifically for the MF DOOM produced/featured cut "Da Supafriendz." According to the screenshot, that song alone boasts some 1.2 million global streams on Spotify. Though long defunct, Chocolate Industries was a crucial label responsible for important hip-hop releases in the late 1990s and early 2000s by Diverse, East Flatbush Project, and Ko-Wreck Technique. Push Button Objects went public with his financial accusations against label head Marvin "Seven" Bedard (also of Isophlux Records) back in 2003, so it's certainly possible that Vast could have similar concerns there.
But the inclusion in the Instagram post of OX 2010: A Street Odyssey, released by Fat Beats, and Best Of The Best Vol. 1, released by Below System, would suggest that Vast has his eye on these labels in addition to Chocolate Industries. Given that, his legal counsel could be seeking multiple royalty audits or, in lieu of that, financial settlements with all three of these entities, and possibly more. Then again, he might simply have used these screenshots to serve as examples of the kind of numbers he pulls on streaming platforms, not intending to implicate these labels specifically.
Streaming Platforms (Apple Music, Spotify, Tidal, etc.)
Of the theoretical targets of Vast's potential litigious actions, the big streaming platforms seems the least likely. The literal and figurative cost of taking on these international corporations is daunting, especially for an indie rapper. Even presumed billionaire Kanye West, who freely engages in online saber rattling against the industry, has largely and prudently shied away from threatening the likes of Apple and Spotify in the process.
Still, journalists at media outlets focused on the business of entertainment have raised the issue of fraud before, on both sides of the streaming payout transaction. So there's always a chance that Vast might be going after the platforms directly, perhaps with the aim of getting data from the source for what's owed for the I.G.C. releases (including 2015's Cannibal Ox reunion LP Blade Of The Ronin) or otherwise to compare with his own royalty statements with any label he's previously worked with. It's a stretch, to be sure, but not altogether impossible.
Nobody
Lastly, we have to consider the possibility that, maybe, ummm, nobody owes Vast Aire any money here, or at least not a substantial amount. As I've made clear above but should be otherwise obvious, I have no knowledge of who is advising him in a legal capacity or what specifically they're looking at. I'm going off of the two publicly-shared Instagram posts, my outsider's understanding of his discography, and research done in the service of this newsletter. So there's really no telling whether he's getting good advice or bad advice here.
I'm not a lawyer. I write about hip-hop on the Internet. But as a fan of Vast Aire and of Cannibal Ox, I sincerely hope he's not getting himself into an exploitative situation, or one that will otherwise put him in a bad financial spot for having pursued it. Forensic accounting can prove enlightening and revelatory, and the chance of finding significant irregularities or impropriety obviously exists in any royalty audit. I just have to trust that whatever information has prompted this campaign will ultimately lead him to reparatory renumeration rather than ruin.
---

TriState Gates, Streets Held Me Back
This Jamaica, Queens spitter secured my undivided attention with "NY Native," a standout single featuring Benny The Butcher on the back half. Though not from Buffalo, Tristate Gates brings a Griselda type energy to much of this solidly executed effort. Streets Held Me Back delivers shivers and shudders with cold as ice metaphors and allegorical storytelling. There's a doleful quality to much of the material, his verses on "Raid" and the Wu-esque "Why Talk" burdened by his experiences. He pulls from the underrated Spike Lee joint Clockers on the track of the same name and makes his own movie on the Penny Diamond production "4 Minutes."
Duncecap, Resting Dunce Face
Now three projects deep into an 11 month winning streak, Brooklyn-based rapper Duncecap arguably deserves the title of 2020's most underrated. Where Miserable Then and the similarly solemn companion Genuinely Sad Songs careened around the darker corners of his psyche, the self-produced Resting Dunce Face tempers his weighty existential unease with innate wit of his earlier work. The good-humored, sometimes self-deprecating bars behind tracks like "Crazy Mike" and "Face Palm" speak to the complexity of his lexicon and his humanity alike. The beat switch midway through "No Time For Love" is downright life-affirming, even if the lyrics take a decidedly different course.
H31R, Ve·Loc·i·Ty
New York and New Jersey come together, as they often do, for this incredible interstate collab between rapper maassai and producer JWords. The former's  provocatively poetic rhymes affix themselves to the latter's elegantly askew beats throughout Ve·Loc·i·Ty, evident on cuts like "Take A Hold" and "WhatWeLeftWith." The cutting barbs of "Breathe Thru It" and "Sumshit" come relentlessly, couched in deceptively warm instrumentals. Though "Big Luv" raises the tempo towards techno, the BPMs otherwise generally stroll rather than sprint, leaving maassai lots of room to elucidate. The project's sole guest, Nappy Nina reliably brings her A-game to "Accountability."
---

Three questions. Three answers. That's a wrap.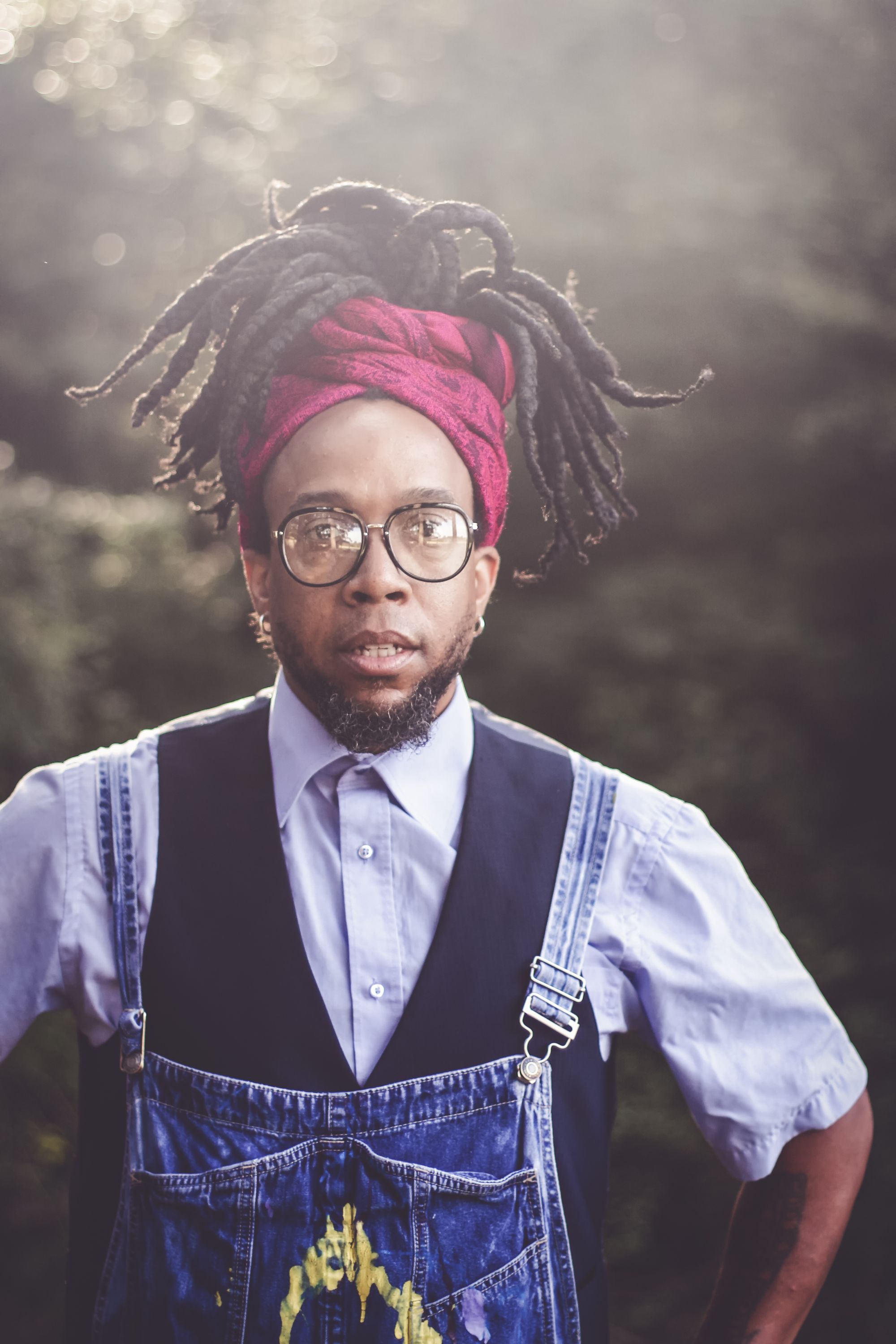 Photo credit: Todd McPhetridge
Arrested Development really needs no introduction. The Atlanta group's 1992 major label debut 3 Years, 5 Months and 2 Days in the Life Of... went multi-platinum in the U.S., also earning them Grammy wins for Best New Artist and for Best Rap Performance by a Duo or Group for the Hot 100 top ten hit single "Tennessee." In the years that followed, their conscious sound would be heard in the work of countless artists in the underground and otherwise. Founding member and enduring frontman Speech continues their mission with the new album Don't Fight Your Demons, recently released via his own Vagabond imprint.
Logistically and creatively, what was the process behind the making of this new album?
This was a COVID-19 project in a sense. I had heard a friend of mine, Jahi's album Forward Future (by: Jahi & Configa) and I loved the production value. It was hip hop with a sophisticated sensibility and lush sound scape. I had met Configa the music producer online and asked if we could try working on something together. He was just as excited as I was and started communicating via email about direction and music. He started sending me indeas and I (as a producer as well) did the same. We would comment on what could be better about each song idea and a collaboration was born. We emailed or "Wetransfered" tracks, lyrics, and various versions while he quarantined in London and I, in Atlanta. Lyrically, I wanted to bring extreme honesty to this record.
No small amount of the album deals with racism, the myriad issues it has had and continues to have on America. As an artist, do you find addressing and discussing these topics in your work to be in any way therapeutic or even cathartic?
Writing for me has always been therapeutic and cathartic. Even our debut album, 3 Years, 5 months and 2 days in the Life of..., was so personal for me. The world is filled with so many people and our relationships with each other are so varied, including race relations. I miss hearing about the depths of these realities in hip hop music. For me, by and large real life was being ignored in rap and replaced with this fantasy life of women, clubs, drugs and riches. Not that those things don't exist but it became extremely cliche and rarely were people talking about the blaring elephants in the room in American life, particularly RACE. This album is also about demons that I had been fighting for decades, and how I learned to invite these demons to sit and teach me why I subconsciously needed them in my life instead of constantly fighting them and then REPLACE those demons with constructive and meaningful substitutes. I knew I wasn't alone in this type of journey, I thought others could relate.
For the past two decades, Arrested Development has been an independent group, releasing primarily through your Vagabond Productions. What did you learn from your major label experience that informed or aided this indie stage of your career?
I didn't learn much from the label itself, but I did learn that the music industry had done a 180 degree turn in almost every way. There was a huge void in Arrested Development reaching fans. When we initially came out, there was no social media nor internet, there were no streaming services and digital home studios etc. We had to get out and touch hands, do shows to win a fanbase. After that major label experience, I had to start over in learning how to make music, connect with fans, market the group and brand the group for a whole new era and generation. Not to mention hip hop is (by nature) a very trendy, ageism, disposable music genre, so there were a lot of mountains to climb, but as I say in our new song, "THE FORSAKEN" I knew we had a stake in a lot of hearts out there, having sold millions of albums, we knew we had a fan base, I just had to find them. This album has done the best job so far in doing that, Don't Fight Your Demons is really resonating with the listeners.
Purchase or stream Don't Fight Your Demons here.
---

After the NYC-based Antipop Consortium called it quits in 2002, founding member Beans stayed with Warp Records to continue as a solo artist. Many of the label's best known artists drew influence from classic New York hip-hop, and thematically it made sense for the avant-garde emcee's 2003 set Tomorrow Right Now to draw from the genre's past as he sought out his future. One of the album's best examples of this in practice, its single "Mutescreamer" bursts with proto-bap brilliance and compelling lyricism.
---
See you next Sunday.
Follow me on Twitter at @noyokono and on Instagram at @noyokono too.