This newsletter marks the thirtieth installment of Irregular Vegetables, a weekly series of CABBAGES emails where I share links to recent writings from other hip-hop/rap journos and critics, squeezing in my own work as I see fit. These midweek editions hit inboxes every Thursday. Enjoy this week's reads and keep scrolling for an interview with Alaska of Atoms Family and Cargo Cults. After that, make sure to check out the latest Crudites, the recurring feature where I recommend three new singles/videos from hip-hop artists you may not be familiar with yet.
---

The (Mostly) True Story Of Vanilla Ice, Hip-Hop, And The American Dream
When you talk to Vanilla Ice, you quickly realize that it was more than just privilege and luck that led him to stardom. He's a master storyteller: charismatic, generous, and perceptive. The work ethic, self-belief, and sense of humor that allowed him to survive the withering backlash were there from the start. There is also the endearing charm of a lifelong hip-hop and funk obsessive. His eyes light up at the mention of onetime labelmate Willie D of the Geto Boys, and he starts reflexively rapping the hook to the flagrantly obscene "Bald Headed Hoes." Ice rhapsodizes about the genius of L.A. electro-rap pharaoh the Egyptian Lover and describes his first concert, Roger Troutman at City Lights, with apostolic fervor. (Read more at The Ringer)
Jay Electronica, The Tale Of Two Debuts & Which One Is Better
With both albums now officially out, the looming question among fans is: which is a better debut? One has to examine them as separate bodies of work and recorded under different conditions, all while representing the same artist. Electronica recorded A Written Testimony over 40 days and 40 nights with Jay as his co-conspirator, appearing on eight of the album's 10 tracks. Although the living Roc-A-Fella legend appears on two of Act II's 15 records, the more prominent Roc-A-Fella alum on the album is Just Blaze, credited as its sole producer. (Read more at Okayplayer)
The World According To Bad Bunny
"Si Veo a Tu Mamá" is about the abject aftermath of a breakup. In the world of the song, Bad Bunny never left the old neighborhood, so there's always the risk he might run into his ex's mother and find himself asking after the girl who got away: Has she found someone new? Someone who makes her happy? The forced intimacy of island life means no street corner is anonymous. The sounds of others saturate the mind. Behind the beat, urban roosters crow at dawn while Bad Bunny stumbles home from a night of hard drinking. The fireworks I remember from Santurce hiss and pop in the break, but they can't drown out the deep moan of our collective tropical depression: "Maldito Año Nuevo," he curses. Damn New Year. (Read more at The New York Times)
The Future Belongs To Westside Gunn
"The mentality of somebody from Buffalo, they don't even think about making it out. They just want to be the biggest dope boy or the biggest killer or the flyest dude there," Gunn says. "There's people in Buffalo who haven't even seen Niagara Falls once, and it's 15 minutes away. They're stuck." That type of environment had a massive impact on Gunn, who was born in the city and lived with his grandmother as a child. He often visited his mother in Atlanta, which gave him more exposure to a world outside his hometown. But life in Buffalo forced him to grow up fast. (Read more at Entertainment Weekly)
Protect Megan Thee Stallion From Tory Lanez
This interplay between celebrity worship, patriarchy and capitalism is not limited to hip-hop. But in hip-hop, Tory Lanez is no pariah; he is the standard. Pioneering hip-hop journalist Dee Barnes detailed how Dr. Dre beat her so badly in 1991 that she still suffers with medical issues to this day. She says the industry blackballed her and after a series of misfortunes, she became homeless. In 2015, Dr. Dre admitted to the abuse; this year, the Grammys honored him with the lifetime achievement award. (Read more at GQ)
He needed an additional jolt to reach Flockavelis signature sound. That came in the form of Lex Luger, a Virginia-based producer who cold-emailed Waka then started sending him beats via Myspace. When Flocka rapped, "Lex Luger on the track, that's good for my health," on his April 2010 mixtape 'LeBron Flocka James 2,' they already had a slew of collaborations on the books, but he can't have known just how true those words would prove. One month later, he released a properly mastered version of Luger-produced mixtape track "Hard In Da Paint" as his second single, and the Earth promptly exploded. (Read more at Stereogum)
Donald Trump, Hip-Hop, And The United States Of Victimhood
6ix9ine was attempting to get on any media platform he could during his recent media cycle, including Gillie The King and Joe Budden's popular podcasts. There's much to be said about Budden, but he was 100% right when he deduced that 6ix9ine was merely looking "for a co-sign" to employ his victim narrative. He wanted Budden and Gillie to be his Fox News and Breitbart, blindly supporting his spin. His victimhood tour hasn't worked out well for him though, which is more of a statement about snitching than mistreating women. (Read more at More Fire)
Deb Never: ​"No One Can Be Me"
In LA she met her manager at a party. After hearing her homemade demos he introduced her to Shlohmo, the renowned producer/​remixer, who eventually put out House on Wheels via his Wedidit label. Now, more than ever, Never is embracing her genre-bending bent. In March she released 'Stone Cold,' a collab with rising rap producer Kenny Beats, and her next project includes production from Jim‑E Stack and Jam City. (Read more at The Face)
Fya Man Is Ready To Step Back Into The Chicago Rap Spotlight
Fya Man, born Orlando Wilder, has been in the music game for 12 years. His production in the first half of the '10s, on his own music and for artists like Lil Durk and Vic Mensa, was influential in broadening Chicago rap's sonic palette. In recent years, he's been operating behind the scenes. Though he has been uncredited thus far for much of his recent work, he has continued representing the city in writing and producing sessions, working with legends like Pharrell on Vic Mensa's album 'The Autobiography,' Jay-Z on a Budweiser commercial, and Kanye West on "Wouldn't Leave" from 2018's 'Ye' album. (Read more at The TRiiBE)
Is Fat Joe The "Forrest Gump Of This Rap Shit?"
When Lord Finesse started getting played by DJ Red Alert, Joe saw a path for himself as a professional emcee. He ran through the Apollo competition and started putting himself in positions to be noticed. Still, he was rejected by 5 different labels before Chris Lighty helped him get a deal with Relativity Records. Diamond D recounts that experience as a slight, not just to Joe, but to the crew as well. "I kept going because I believed in him. He had won live at the Apollo 3 times. And as my artist, I had invested time and produced the tracks. So, him being rejected felt like WE were getting rejected." (Read more at Rock The Bells)
'Savage Mode II' Doesn't Need To Lean On Legacy
It's neither repeat nor reboot, but a full-on expansion that's reeling in each member's comfort zone while updating the duo's potential in unexpected ways. No matter how quietly Metro lingers under the radar, he's always sure to reemerge with the shit that'll rattle any available speaker, and never in the same way he's done before. The pulse of Memphis rap beats underneath the soul of this record, lending a relentless knock that knows when to scale itself back; Metro's works are teeming with nostalgia and suspense, going reckless whenever necessary. He remains a prized asset to 21's vicious candor, and 21 grows even further into his leading role by adding color in all the right places. (Read more at Vinyl Me Please)
The Futility Of Rolling Stone's Best-Albums List
The list-maker's focus on naming accepted classics also doesn't leave much space for thinking about albums that don't fit neatly into narratives, such as those of undervalued or misunderstood musicians like Patrice Rushen or Mtume, whose canonical doom was sealed by lukewarm contemporary reviews. There isn't a way to recognize marginal or ephemeral albums that don't take myth-making so seriously: DJ Drama tapes, DJ Screw mixes, footwork and noise albums, drone metal like Sunn O))), with epic ten-minute songs. A ranked list rewards order and penalizes disruption. As a result, the most heard albums still get upheld for simply being the most heard. (Read more at The New Yorker)
---

Three questions. Three answers. That's a wrap.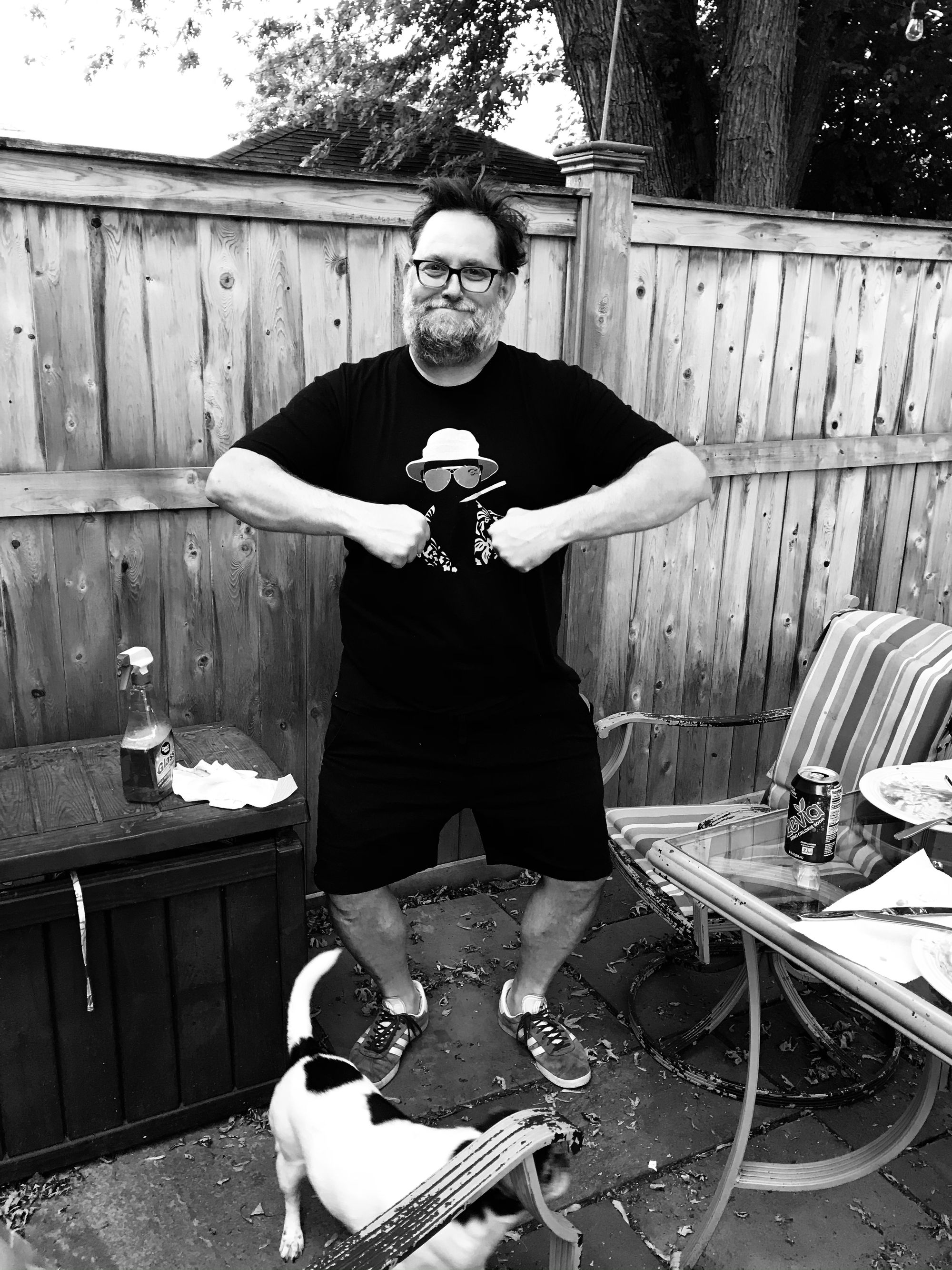 Photo courtesy of the artist
An early member of the illustrious New York City hip-hop crew Atoms Family, Alaska reached a lot of ears when he appeared on Cannibal Ox's debut The Cold Vein. Before long, the rapper would end up their Def Jux labelmate as part of the trio Hangar 18, which also featured Windnbreeze and DJ Pawl. In recent years, he's become a talking head on the hip-hop intensive Call Out Culture podcast and, with the show's co-host Zilla Rocca, formed the rap duo Cargo Cults, who just released their debut album Nihilist Millennial.
The writing and recording for Nihilist Millennial dates back to 2018. In hindsight, do you feel like its lyrical content was particularly prescient given what's been happening in 2020?
I do not know if it is prescient so much as it was predictable. A lot of what I was writing was in the aftermath of 2016 and prior to the start of the societal collapse in 2020 was dealing with the fact that I had come to a realization, which I do not think was a unique one, that Trump was a result of the failures in our society, not the cause. At that time it became somewhat clear to me that we were still fighting these battles that should have been ended in the early 2000s, but 9/11 derailed them. These are the battles that should have been fought at the end of the 20th century. Unfortunately we all got locked into these binary visions of what America was supposed to be, in a way becoming servants to this bipartisan ideological worldview that should have already died. The 2016 election was the thing that woke me up. I had always been cynical of power, but I was fine with it as long as it was the people I supported in power. What I never took into account was the idea of precedent. I had never really paid attention to how power was moving into one branch over the past 40 or so years. How much we as a country fetishized it. So much of what is wrong with this time is the fetishization of executive power. I think subconsciously we know that this is a problem, because we freak the fuck out when we are considering the prospect of someone that we disagree with holding that power, and rightfully so. The problem is we should be freaking the fuck out that anyone can hold that power.

If you look at what this asshole Trump is doing, all of it is based on precedent, precedent laid out by previous administrations. He is the most powerful president of all time, and the president after him will be even more powerful because of the fucked up precedents that this shitbag created. Sadly this is not an accident, this is a willful abdication of responsibility from all of us. Once I realized this, I had a bit of an awakening in the way that I think of power, especially state power and our complicity in transferring that power upward. Many of these songs were my wrestling with this realization and addressing the lies that we tell ourselves so that we do not actually have to change anything. I have always written about the hypocrisy of Americans, but in the past it was a one way street. Now when I write about it, a lot of times I am looking at myself as having been just as guilty in the past because of this fealty I had to power as long as it was temporarily in the hands of someone that I was able to justify as being good. I think once you realize we are all hypocrites on this level, it becomes very easy to see how this is going to end poorly. Once you see it, it is impossible to unsee it.
What was the creative dynamic like between you and Zilla Rocca in making this album?
Working with Zilla was refreshing because there was absolutely no ego involved. I am not sure if this is because we are both older and more established or if it was just one of those rare partnerships that work stress free. The great thing about working with Zilla is how open he is to just trying things to see if it works. There are like four or five beats that he provided me, that are actually my favorite beats, that I was just unable to make anything happen with. I recorded four or five different versions of these songs and none of them worked. Zilla was fine with it everytime, he never got frustrated by it or complained. He was as honest with me as I was with myself. A lot of times when working with someone, especially someone that you are newly working with, there is this dance where you try not to step on each other's toes or offend the other person. This is how you end up with meh tracks on an album. If I recorded something that wasn't right, Zilla would tell me, or even if he thought it was dope and I didn't, he would respect me enough to say, "yeah do it again." It was the same with beats. We had some songs that had weird mixes or sounds that weren't the way I saw them in my head, and I would tell Zilla and he would make that adjustment. The coolest thing was that we were both focused on serving the project rather than our egos. We wanted to get this right.

A perfect example is the song "Woke is the New Mixtape." I must have recorded six versions of that song, each time asking Zilla to make a different beat and it never really worked out. I was ready to scrap it, and literally the night before we were going to send it off to be mastered, I found the beat we ended up using for the song in an old folder of beats that Z sent me like two years ago. I took what was a three verse song, got rid of the filler and hook and made it one verse. Zilla got it mixed that night and we sent it out. I was that openness to the process that made creating with Zilla such a total joy.
This month marks 13 years since the release of the second Hangar 18 album Sweep The Leg. What did you learn from your experience releasing music via Definitive Jux?
The biggest thing I learned while working with Jux was how much the music industry ruins everything. When I started making music, I never really expected to have any sort of career. I just loved rap music and I loved rapping with my friends. To me just being able to do this, to meet folks from all over the city/country, make music and travel back and forth to each other's cities to trade shows was the best thing that I had ever done in my young life. It was really all that I ever wanted out of making music, but the more we did, the more opportunities came our way. I never expected to put out records that were available world wide. I would have been happy having a single on the wall in Fat Beats, to me that would have been success. However, as our scene grew, and people started writing about us and paying attention, more opportunities were made available. When we were signed to Jux it was like the best thing that could possibly happen. It opened up a lot of doors for us. It got our music out all over the world, it allowed us to tour non-stop for five years. It was during these five years that I was learning the tough lessons that I didn't really understand until well after Sweep the Leg came out.

What started off as something that was pure joyous expression and fun, was slowly losing its importance and joy. By the time Sweep the Leg came out, we had lost all purpose as to why we were making music. This is not something that I put on Jux. I think Jux may well have been suffering this same fate that we were, I place it solely on myself and Wind. We allowed ourselves to become vapid idiots who were only concerned with playing to an audience and trying to sell t-shirts. I think you can see it when you look at the Sweep the Leg record. It is the ultimate "meh" album. We had a really good version of that record ready to go in late 2005, but we sat on it, and tinkered, and tinkered based off of our experiences playing things like the Vans Warped tour and opening for non-hip hop acts. We started focusing on making music for other people and compromising ourselves. When that album came out and bombed, it was soul crushing. It changed the way I would look at making music forever. If we poured our hearts into making that album as an ultimate expression of who we were and what we wanted to say, it would have hurt when it bombed, but to not even stay true to your vision AND have it bomb, that was the end. That record killed us. After that, I made a promise to myself that I would never make music for anyone other than myself again. An audience of one. I hope that people like the stuff I make, and even that they support, but if they do not, fuck it, at least I made the music that I wanted to make and that I wanted to hear.

Getting back to what I was originally saying when I said that the music industry ruins everything, the worst part of the music industry is how nefarious it is, how it slowly changes you into something that you do not recognize anymore. Commerce and art is already tough to manage, when you incorporate an industry that is parasitic to the artist it creates a shitty dynamic. Some people can navigate it, I can't. Well I can't if I want to feel good about what I am doing. I remember reading an interview with KRS-ONE back in the '90s and he said (and I am paraphrasing) that if you are an artist, you need to have another way to make money, because once your art becomes your sole source of livelihood it is forever compromised. Truer words have never been uttered.
Purchase or stream Cargo Cults' Nihilist Millennial here.
---

Three new tracks for you to snack on...
Aadanis, "Experience": Espousing a live more fear less philosophy, this New York rapper takes to the corner and spits introspective rhymes over an angelic yet ominous boom bap beat.
Small Bills, "ET Diamond (feat. Koncept Jack$on)": With this heady single full of swirling drones and profound verses, ELUCID and The Lasso offer a third eye sneak peak at their forthcoming Mello Music Group album.
Tristate Gates, "NY Native (feat. Benny The Butcher)": As you might expect from the Griselda co-sign, this cut off the Queens rapper's recently released project unspools with a series of weight-y bars and not infrequent nods to local signifiers.
---
See you on Sunday.
Follow me on Twitter at @noyokono and on Instagram at @noyokono too.