30 years ago this week, a cinematic classic saw its big screen U.S. debut. A sordid gangster epic populated by some of the finest actors of their generation and set in the greatest city in the world, it redefined the crime movie genre and played no small role in influencing hip-hop—lyrically as well as thematically—in the years that followed. I'm talking, of course, about King Of New York.
With all due respect to wise guys Nick Pileggi and Marty Scorsese, director Abel Ferrara's 1990 flick comes second to Goodfellas only in chronology, the two films hitting theaters in select cities mere days apart. Copacabana backdoor access notwithstanding, Ray Liotta's Henry Hill was nowhere near as cool as Christopher Walken's fictional kingpin Frank White. Released from Rikers and ready to reclaim the city as his own, the latter carried himself throughout with menacing unpredictability, a bloodthirsty current always flowing under the surface during bouts of lust with his moll and camaraderie with his goons. And what a goon squad, right? Laurence Fishburne! Giancarlo Esposito! Paul Calderón! Steve Buscemi!
Given the number of Black and brown faces onscreen, the liberal use of Schoolly D's music, and unvarnished portrayals of organized crime's factionalized racism, King Of New York trumps Goodfellas for getting with the times rather than dwelling on the past. By 1990, the idea of "gangsta" rap was so prevalent in the national conversation that it demanded representation in movie form. Though John Singleton would iconically capture this through the geographic lens of South Central the following year with Boyz N The Hood, the Bronx-born Ferrara did it the New York way, graffiti-tagged subway cars and all.
Between the backroom pissing contests and brutal gangland murders, White's mayoral ambitions—enabled by his privileged ability to exist in white spaces like the then-Trump owned Plaza Hotel—may be what made him such an enviable figure to one of rap's greatest lyricists. The Notorious B.I.G. had an infamous penchant for using the alias in his rhymes, most famously on the Life After Death hit "Hypnotize" but also on cuts like "I Love The Dough" and "Long Kiss Goodnight." Jay-Z day-ones (and those who wish they were) caught the reference when Biggie featured on Reasonable Doubt's auspicious two-hander "Brooklyn's Finest." In a truly meta moment, Diddy called his departed friend by White's name on "I Need A Girl (Pt. 2)" while aggressively pitching woo.
More important than B.I.G.'s monikered adoption of the movie's protagonist is the lasting impact of the title itself. Though there were artists before him that utilized royal imagery to declare their rap supremacy, not the least of which being Run-DMC ("King Of Rock") and Big Daddy Kane (King Asiatic Nobody's Equal), King Of New York brought the concept of a citywide sovereign to the fore. After a decade of b-boys and battlers arguing about who was nicest on the mic, being the best in your squad or even your boro wasn't good enough. There was now a crown to be had.
Since then, the number of times a rapper claimed King of New York over a beat counts somewhere in the gajillions, the overwhelming majority of those instances falling somewhere between implausible and laughable. There's a shared absurdity to Kendrick Lamar and 6ix9ine respectively awarding themselves the title, though for entirely different reasons. As this past week's Vulture package about New York hip-hop demonstrated, there's no possible consensus to be made when you have some four decades worth of recorded music to consider.
In actuality, it's easier to get people to agree on a G.O.A.T. than the K.O.N.Y. because, by their very nature, the former is cumulative and the latter is fluid. As a devotee of the film, Biggie obviously knew this to be true from its insurgent third act. Nas assuredly held the throne for a bit, though some would question whether he still did circa his "Made You Look" boast. Big Pun claimed it, and, after his passing, Fat Joe saw himself as the rightful heir. (Joe technically claimed it before Pun, on the Jealous Ones Envy cut "King NY" which sampled a Walken monologue from the movie.) 50 Cent had it at one point too, but, well, he doesn't anymore. Some would give it to Nicki Minaj right now; others to Cardi B. Could it be Jay-Z, or is the billionaire disqualified now that he spends such little time in the five boros? As such, New York hip-hop remains a somewhat odd paradox of our understanding of monarchy—the kingdom remains the same, but the ruler never does.
---

Capriisun, A Fleeting Now
Regular readers of this newsletter may recognize this Oregon artist from my full-throated endorsements of his placements on CLBRKS and Morriarchi's recent collaborative LPs. With the mic exclusively his to wield here, Capriisun seizes the moment with each and every track, weaving unfettered and breathless bars across "Brittany" and the Dilla-esque "Fortune." For the magical "Celeste," he slows down without showing his hand, a referential complexity outwitting the sluggish tempo. Primary beatsmith Omar Bmar gives the emcee loads to work with, evidenced on the breezy jazz fusions of "Aperol Spritz" and "Swirl." Despite its sitcom length, A Fleeting Now ain't no joke.
Armani Caesar, The Liz
Delayed out of respect for the sudden, tragic passing of Demetrius "DJ Shay" Robinson, The Liz formally welcomes Buffalo rapper Armani Caesar to Griselda's new wave with twin titular nods to WWE manager Miss Elizabeth and the iconic Elizabeth Taylor. Its refrain a Redman homage, "Countdown" does maximum damage as her bars land like annihilating blasts. The illuminating "Mac 10s For Everybody" provides context for those unfamiliar with her road to this spotlit moment, while the 808 Mafia trap stylings of "Drill A Rama" indicate an unwillingness to conform to anyone else's template. Whether riding Animoss' "Palm Angels" groove, STLNDRMS' "Ginger Rothstein" bap, or DJ Premier's "Simply Done" flex, she kills.
Crimeapple, If I Don't See You In Paradise
Mere months after the high bar of his Jaguar On Palisade, the New Jersey rapper returns with more grimy game to spit. Committed to speaking his truth without compromising his craft, Crimeapple stays in the underground's upper echelon of the artistically underrated. Over the burbling murk and Madvillainous accordion drone of "Honey," he reveals a little soul in his flow. His Colombian heritage manifests in bilingual bouts, as dexterous in Spanish as he is in English on "Pistachios." As usual, his production choices are just exquisite, from the jazz kitted bap of Sadhugold's "Reclinin' On Leather" beat to the ethereal warbling gloom of "Mickey & Mallory" via Buck Dudley.
---

Three questions. Three answers. That's a wrap.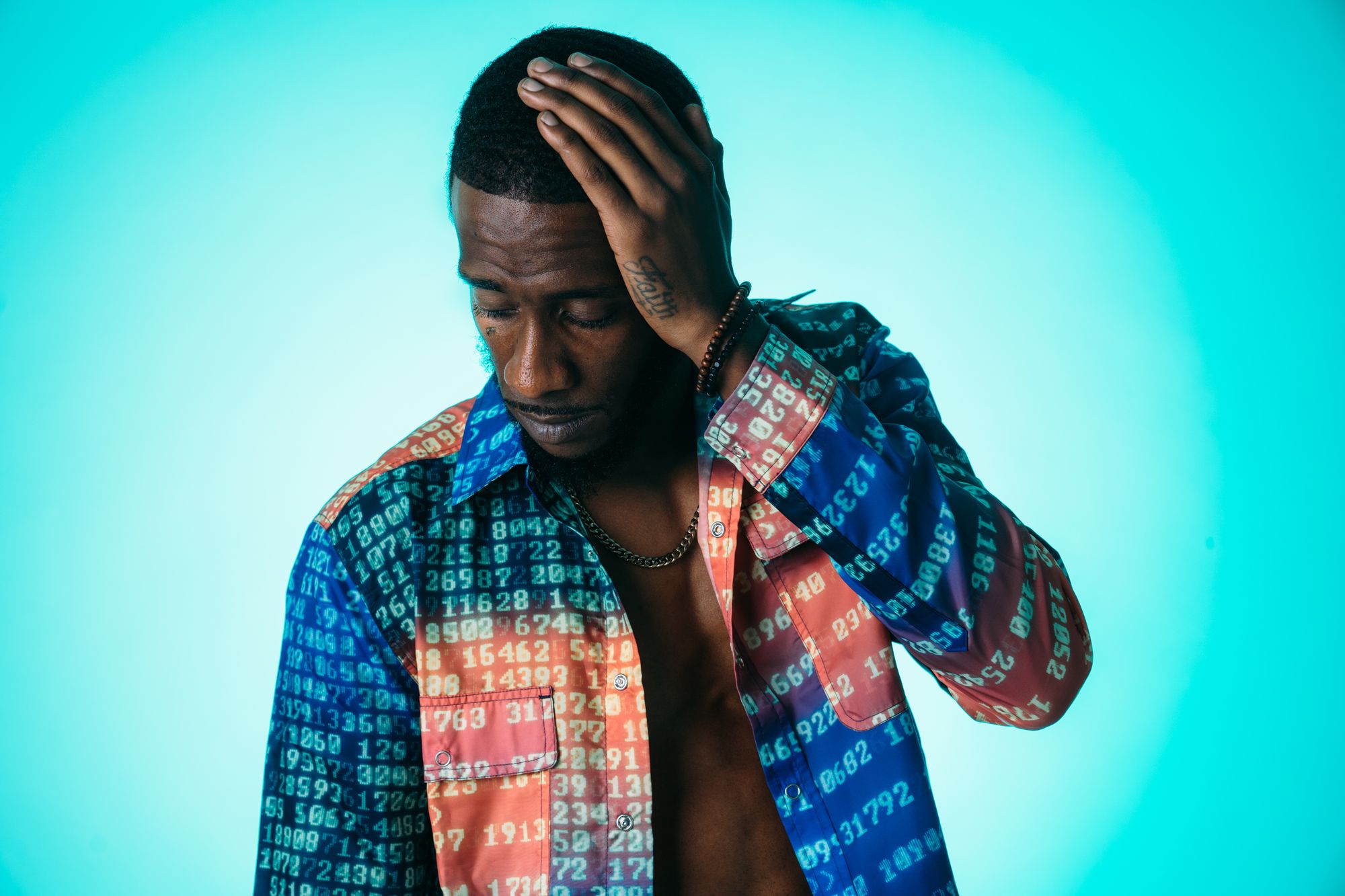 Photo credit: Chris Charles
Producer 9th Wonder's imprimatur remains one of the most respected in rap circles. As such, his longstanding endorsement and mentorship of Oakland rapper GQ carries considerable weight. The pair's latest effort is A Midsummer's Nightmare, released via Jamla Records.
Back in 2013, you were billed by some as a "basketball player turned rapper." Now that you've been doing it for this long, how do you feel you've grown or otherwise changed as an artist since Death Threats & Love Notes?
It's been an interesting road, but one I can honestly say I needed. These past years have been a journey as an artist but really the music was never a question. I just feel God was preparing me for beyond the 16s. I call it character Boot Camp. I've always known what talent I possess. I've always been confident with myself. These last seven years alone have helped me grow as not only an artist, but just as a man. The scary part is it's turned me into a machine. And I can feel the change happening. It's like Eddie Brock learning how to control Venom. And I'm loving every bit of it.
You have a long history of working with 9th Wonder, a decade really. How has your relationship and the way in which you create together evolved over time?
Yea I've known 9th since 2008 actually, but been a part of Jamla since it started in 2010. It's been a blessing and a great learning experience. 9th and I have a unique relationship. It's beyond just a producer and artist relationship. I really get game and wisdom from him, someone who's been around and seen everything I'm headed to. I call him "big homie" for a reason. He's like a big brother or your favorite older cousin. That's what makes the music what it is. Even how we create the music. It's usually effortless. But it's always been that way. I think over time it's just become stronger. From songs like "The Town," "Take Care," "E14th," "Big Lutha," and a lot of others, it just keeps evolving. 9th is a mad scientist, so if you're around him enough and aware enough to soak up game from him, you don't really have a choice but to turn into a musical monster.
While so many artists are putting out projects with 20+ songs, your new A Midsummer's Nightmare comes as a six-song EP. From your perspective, what do you like about presenting your work in this short-form format?
I like it because it's just a tease. Not a lot but enough to make people crave for more when it's done right. An appetizer before the main dish. I have a LOT of music, which is always a good problem to have. But I'm confident the music will always do what it's supposed to do. Looking forward to it being out and thankful for the opportunity to do an EP with the big homie.
Purchase or stream A Midsummer's Nightmare here.
---

The loss of Big Pun forever changed the face of Terror Squad. The ensuing falling out between Fat Joe and longtime members Cuban Link and Triple Seis could have put the crew out of commission for good. But instead, Joey Crack reintroduced the group on his late 2001 solo effort Jealous Ones Still Envy. A commercial breakthrough for the plus-sized Bronx native, thanks largely to the pop rap smash "What's Luv," the RIAA platinum-certified album included several features from Remy Ma, a Pun protégé first heard by many on his posthumous Yeeeah Baby LP. Though nobody could ever replace the legendary emcee, she brought authenticity, vibrance, and a unique energy to the Squad in the subsequent years, best exemplified by her role on the Billboard Hot 100 chart-topping "Lean Back." She sounded incredible over that Scott Storch beat, and when they reunited for her 2006 solo single "Conceited," she rightfully returned to the Hot 100 once again.
---
See you next Sunday.
Follow me on Twitter at @noyokono and on Instagram at @noyokono too.