REAL QUICK: Some of you have asked how you can support #CABBAGES or otherwise pay me money for writing it. Starting in March, I will begin offering a paid subscription "tip jar" option for those who want to throw a few bucks my way and, in return, receive a couple of extra posts each month. Weekly Sunday posts will remain free, don't worry. More soon…
This past Friday, Migos dropped "Give No Fxk," one of the most aptly titled songs of the Atlanta trap trio's career. Produced by Murda Beatz and DJ Durel, the phoned-in single arrived with features from top tier rappers Travis Scott and Young Thug, both of whom also appear to have put in minimal effort. By the standards these three respectively hit-making acts have set—together and apart—this one feels immediately underwhelming, a shoddy facsimile of their better, prior team-ups.
Memories in this time of hip-hop gluttony may be short, but let's not forget that Thugger and La Flame made two of 2019's biggest rap singles, "The London" with J. Cole (No. 12 peak on the Billboard Hot 100) and the Gunna-inclusive "Hot" (No. 11 peak). Hell, just a month and a half ago, that pair logged another Hot 100 hit with the JACKBOYS compilation cut "Out West." As part of Kodak Black's "Zeze," Offset and Scott had a 2018 smash together, reuniting months later for "Legacy" off of Offset's Father Of 4 album. Furthermore, Quavo dropped an entire album with Scott as the duo Huncho Jack in late 2017, guested alongside Takeoff on Scott's 2018 ASTROWORLD LP ("Who? What!"), and appeared on Thug's 2019 album So Much Fun ("Circle Of Bosses").
Clearly, we're not suffering from a dearth of collaborations between and amongst these particular artists, all of whom are rightly credited as key players in trap's 2010s mainstream success. Back in the day, a posse cut with five of the most popular emcees in the business would have started a joyous riot. Now it's just another serotonin droplet, the likes of which we receive more or less every Friday like rations.
We live in a golden age of such high profile hip-hop alliances. "Life Is Good," the re-teaming of Drake and Future, got a lot of listeners hyped even though the track was inferior to the thrills of 2015's What A Time To Be Alive or 2016's "Grammys" / "Used To This" or even 2018's "Blue Tint." Unless you're a Stan blinded by fandom, you can probably spot the diminishing returns here.
Throwaway tracks like "Give No Fxk" that coast atop prime streaming service playlists, into rap radio station rotation, and up the charts all on brand recognition alone make this beautiful future we're living in seem so utterly unremarkable and, pardon my Matrix, a little dystopian. Sure, it's gonna make it onto the Hot 100 with ease… but so what? Unless there's a viral TikTok dance craze in the near future, this isn't Migos' next "Bad & Boujee," their only group single to reach No. 1 on that chart. Nor, given the above list of related Scott/Thug collabs, is it an event record like "MotorSport" with Cardi B and Nicki Minaj.
And it sure as hell isn't going to be the one to topple Roddy Ricch's "The Box." Dropping the same week as a whole Justin Bieber album probably doesn't help either. If Migos want people to care about Culture III after the bloat of Culture II, two needlessly plus-sized Control The Streets volumes, and a trio of solo albums that haven't even earned RIAA gold certification, they might need to do more to demonstrate that they, ummm, give a fuck.
---
Treacherous Trio
I never watched Rhythm + Flow, but perhaps I should've. Straight outta Inglewood, D Smoke is a top tier talent, a Cali contemporary of TDE's noble thirty-somethings. Authentic, lyrical, and Afro-centric, Black Habits hits all the right notes via his conversationally conscious flow on tracks like "Fly" and "No Commas." Reflecting his local demographic, he segues between English and Spanish effortlessly, singing like a pained soul man on "Seasons Pass" and rapping like a romantic poet on "Fallin." Need more? Ari Lennox and Jill Scott grace these proceedings too.
Fly Anakin, At The End Of The Day (buy it / stream it)
Unless you're from Richmond, VA or otherwise plugged into the goings-on there, you probably won't understand why this project spends any amount of time talking about a mural. The backstory behind Fly Anakin's immortalization in his city isn't essential to appreciating the spitter's latest solo set, yet it serves as a nice parallel to his hard-fought success narrative. He flows aggressively on notable cuts like "Hood Rockstars" and the clattering boom bap of "Chess Pieces." His Mutant Academy familiar and frequent rhyme partner Big Kahuna OG joins for the woozy "Cartoons."
languid.oceans, languid.oceans (buy it / stream it)
Much of the talk stateside about U.K. rap of late has centered drill, grime, and Afrobeats at the expense of most other forms. So some of you from my side of the pond might be surprised to hear what this well-matched duo of Obijuan and Looms (also of Alpha Pup) do over dylantheinfamous' lo-fi beats here. "Dap" and "Sway In The Morn" find the two verbose emcees delivering the goods over their producer's warbling tones. By comparison, "Glass Elevator" just glistens in the light, its Willy Wonka wonderment countered by the rappers' disillusionment.
---
Lettuce Wraps with... Spectacular Diagnostics
Three questions. Three answers. That's it. Time for another edition of Lettuce Wraps.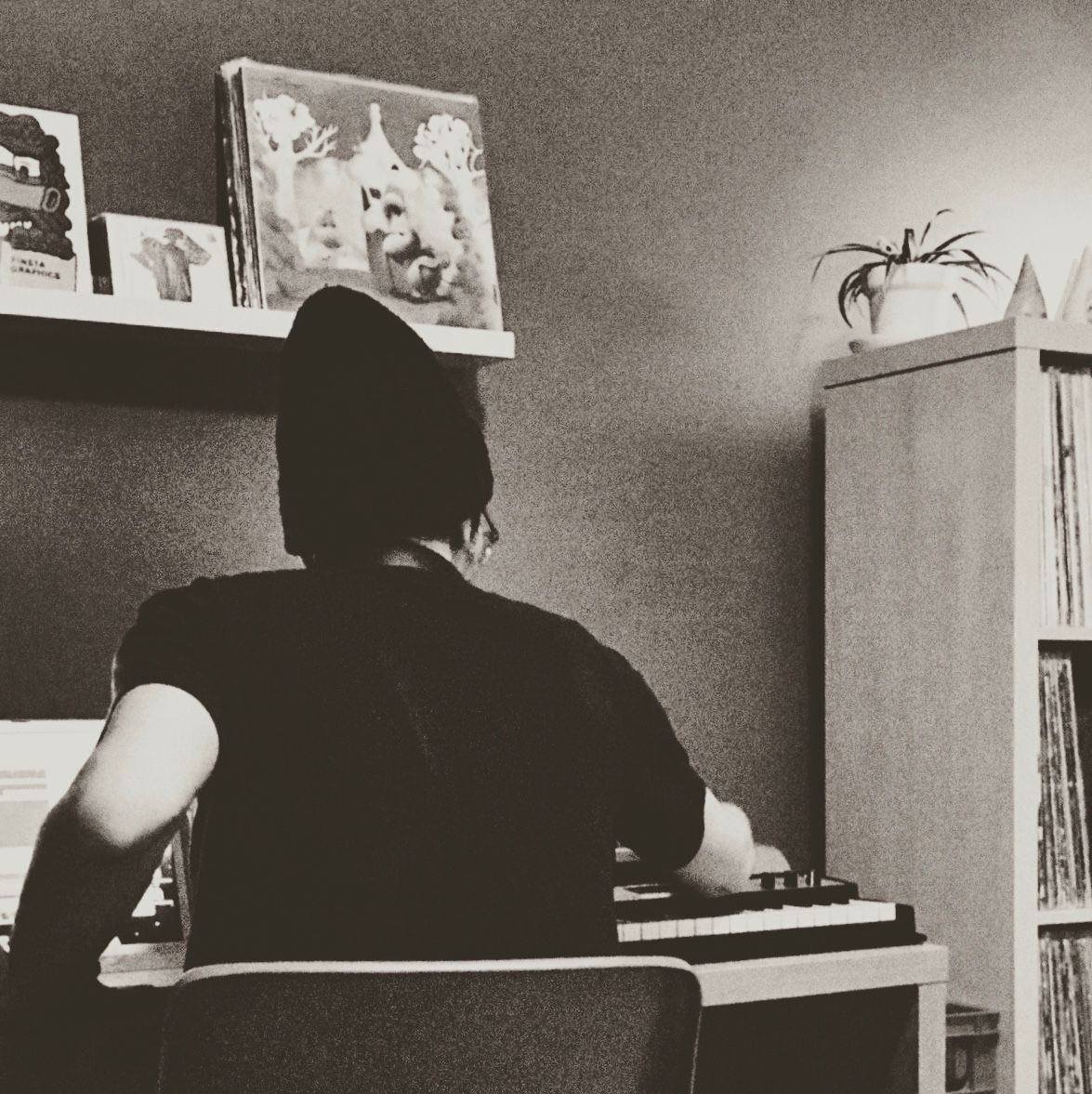 Photo credit: Kaitlin Kostus
Over the years, Chicago-based producer Spectacular Diagnostics has worked with some of my favorite rappers. His latest album, RAW UNKNOWN (buy it), is no different, with features by Billy Woods, Quelle Chris, and Rome Streetz, among other dextrous indie spitters. Here's what he had to say about some of his many collaborations.
Some readers might remember your previous moniker Earmint and your work under that name with artists like Diverse, Murs, and Psalm One, among others. What prompted your name change to Spectacular Diagnostics?
After an eight year hiatus, I needed a fresh start. I was trying to see if I could get something going from nothing, without using any previous contacts, and solely handling the business side. I dropped my first record Raw Game like that. I eventually put in my bio the previous "earmint" handle because it felt like more work NOT to mention it. I didn't want to have to write a bogus "origin story" or omit the past.
You produced a whole album for U.K.-based rapper Kid Acne last year on Lex Records called Have A Word. How did you first connect with him and how did that record manifest?
I'd always been a big fan of Kid Acne's artwork. When I was working on my Avant Raw record, I wanted to include a lot of different artists' drawings, doodles, and tags collaged with my own art. Kid was happy to participate, liked my beats and we kept in touch. We talked about maybe recording a song and I sent him some beats almost a year after the art collab. That spiraled into Have A Word and the next LPs we're in the middle of recording.
Your latest project RAW UNKNOWN features a number of different rappers, including Quelle Chris and Billy Woods. What is it about a producer showcase like this that appeals to you, creatively?
I like producer showcases because you get to put a disparate group of MCs together under one umbrella. It's challenging to bridge the gaps in style sometimes, but if you get the blend right I think it's a memorable listen. Peanut Butter Wolf, Handsome Boy Modeling School, DJ Krush, DJ Honda, and Pete Rock come to mind as artists where I loved their MC-featuring compilations. There's so many more producer compilations I'm leaving out, but I don't want this to turn into a LP insert shout out / thank you list.
Purchase Spectacular Diagnostics' RAW UNKNOWN digitally via Bandcamp.
---
We Out
Earlier this week, Rage Against The Machine's inevitable reunion tour was finally announced, with Run The Jewels in the opening slot. I've never been much of a fan of this pairing of El-P and Killer Mike, two otherwise excellent emcees. To this day, I'd rather reach for the respective solo records that directly preceded the first RTJ project, Cancer 4 Cure and R.A.P. Music. But that's just me. I'm sure the tour will do just fine in terms of (pricey!) ticket sales without my endorsement.
At the start of that first decade of the 2000s, I took an illogically strident stance against all things "backpack" or "conscious," bristling at indie/alt hip-hop labels like Anticon, Rhymesayers, and, yes, even El-P's Def Jux. Thankfully, I grew the hell up and got over that immature stance after a few short years when I came to realize I was willfully missing out on so much truly dope music. I respect and admire what El-P did on Fantastic Damage, as well as on Cannibal Ox's The Cold Vein and Mr Lif's I Phantom. And I'll stan him forever for putting out Murs and 9th Wonder's Murs 3:16: The 9th Edition, one of my favorite rap albums, a key turning point album in my accepting the types of rap records I once shunned, and the source of today's parting song.
---
See you next Sunday.
Follow me on Twitter at @noyokono and on Instagram at @noyokono too.