Blockhead Made The Rap Album Of His Dreams
The producer discusses his new album 'The Aux' for Backwoodz Studioz. +Reviews of H31R, The Hidden Character & Grubby Pawz, and RU$H & Mike Shabb.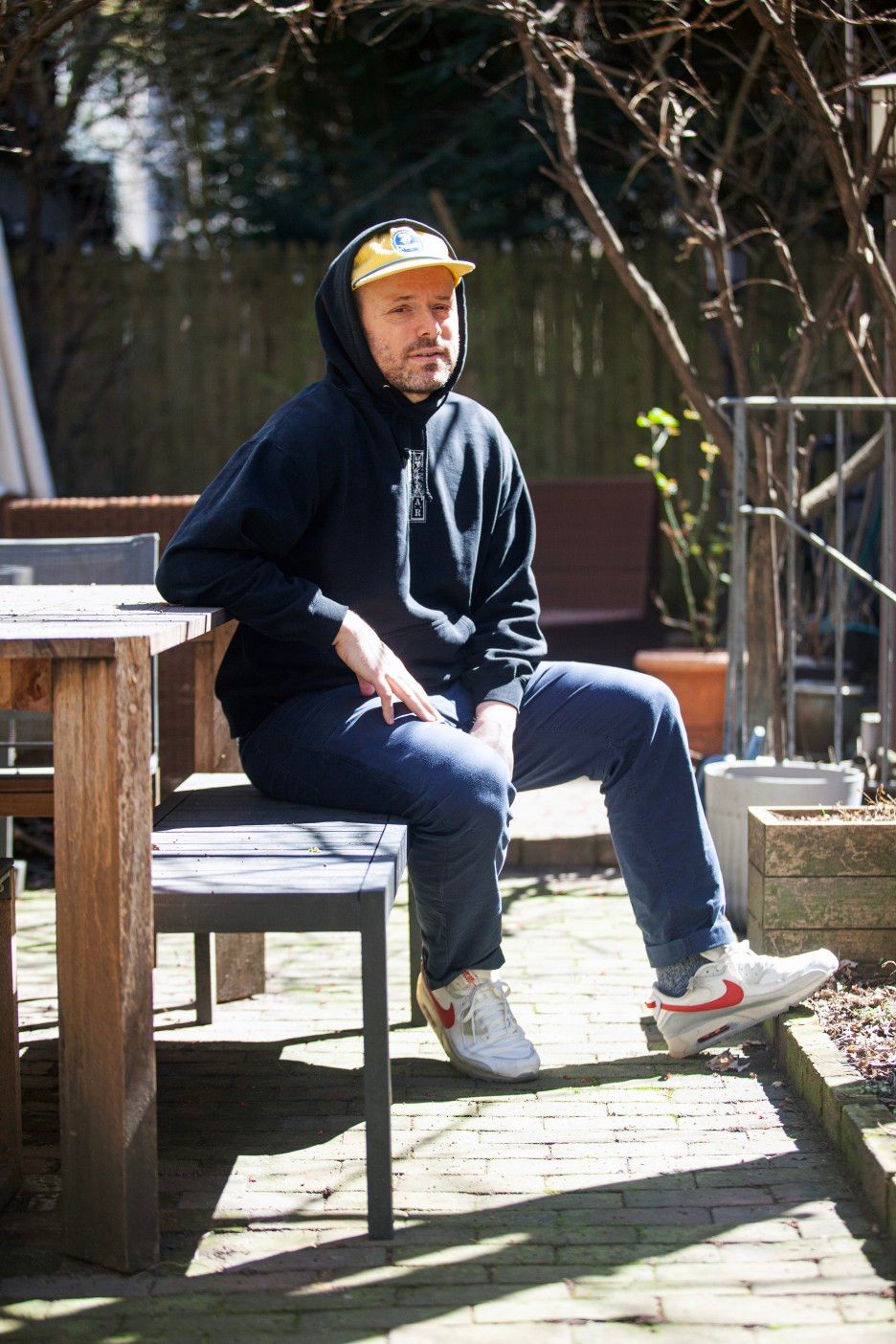 It's a strange time to be an independent producer in hip-hop right now. The trend-adverse likes of The Alchemist, Hit-Boy, and Nicholas Craven seize attention and amass fandom for their full-length rapper collaborations, rarely if ever touching the Billboard Hot 100. Meanwhile, those toiling behind the boards for major label chart hits largely lack name recognition among rap fans, even as their beats achieve momentary ubiquity. Case in point: when Drake recruited Conductor Williams for his For All The Dogs cut "8AM in Charlotte" back in October, the frequent Griselda beatsmith's presence caused a considerable stir among hip-hop heads online, more so than any other producer on it. This past Friday, the pair doubled down on their international partnership with the deluxe edition's "Stories About My Brother," while The Alchemist made his own mark on it with the track "Wick Man." It's a far cry from the days where The Neptunes and Timbaland reigned.
Though not necessarily as mainstream-visible as some of the producers mentioned above, Blockhead is an undeniable O.G. in the indie hip-hop ecosystem. Spanning more than two decades, his sprawling body of work exists both within and beyond the genre's borders, a reflection of both his creative endurance and ongoing impact. A fixture of the now-lionized Def Jux, the New York native once made memorable beats for beloved projects by Aesop Rock, Cage, and Murs, while separately putting out largely instrumental solo efforts for Mush, Ninja Tune, and Future Archive Recordings, among others. The size and timeline of his discography, however, means that listeners tend to know him for all sorts of different records, thrilled by some projects while completely unaware of the existence of others.
"I know that a large swath of my instrumental fans don't give a shit about my rap work–and vice versa," Blockhead says. "I think people are pretty indifferent until they hear something." While he sees some crossover among fans of his full-length collaborations with Aesop Rock and Armand Hammer's billy woods, respectively, he knows those folks likely aren't following his electronica experiments with Eliot Lipp as the duo Lipphead, or even the recent work under his core moniker like 2021's madcap Space Werewolves Will Be The End Of Us All. Though his name recognition might be stronger now than ever before, he's still extremely self-aware that a great deal of what he does can often fly under the radar. "People who I've known for 20 years are like, oh, you still making music? No, I'm homeless."
Given this odd set of circumstances on both the macro- and micro-level, now seems like the perfect time for Blockhead to reintroduce himself. In a way, The Aux, his brand-new solo album released via Backwoodz Studioz, seeks to do just that. Formatted like a production showcase and overseen by label owner billy woods, the 15-track effort features his sturdy and sometimes whimsical beats behind an impressive set of rappers of varying profiles. Among those included within are Navy Blue, Brian Ennals, and Quelle Chris alongside several of the label's own talents like AKAI SOLO and the duo ShrapKnel.
"The helping hand was that woods was like, I will executive produce it, meaning I will help you wrangle rappers," he says. "I wrangled a good amount myself, but he has a pretty high cachet these days, so it could only help."
The Aux isn't the first time Blockhead has attempted something like this. Back in 2019, he released Free Sweatpants, a Backwoodz Studioz project that was half-vocal, half-instrumental. In retrospect, though, he sees that album as only a partial execution of his true vision, chalking that up to his reluctance to coerce and convince other people into participating. "My sheepishness about that stuff definitely held me back," he says, recalling that he didn't exactly follow-up with those he'd initially contacted. "Had I done more outreach and more footwork, maybe I would've got more rappers to be on it."
That said, a number of guests from that project such as Breezly Brewin and Open Mike Eagle reappear for The Aux, something he attributes to existing and ongoing relationships with those artists. "These are dudes that I have genuine friendships with, that I'm cool with, so they weren't hard," he says. In the cases of Hieroglyphics co-founder Casual and New York rap raconteur RXK Nephew, he credits himself for mustering the will to pursue them for features. But beyond those few transactional situations, Blockhead is quick to remind that much of the process involved asking people for favors, and that even a longstanding personal connection can only go so far.
"Despot, being one of my oldest friends, was probably one of the hardest guys to get on the album," he says with a light chuckle about the former Def Jukie. "It's not that he didn't want to do it, but because he's Despot and that's how he exists. But he did it!"
To hear Blockhead tell it, The Aux probably wouldn't have happened without woods, whom he first teamed up with some ten years ago for Dour Candy. Their 2013 album together marked the beginning of Blockhead's relationship with the record label, which continued with 2017's Funeral Balloons and the aforementioned Free Sweatpants. He'd first caught wind of the one-time Vordul Mega associate via the Philaflava online message boards, though he didn't immediately engage. "There was so much underground hip-hop that I kind of stopped trying to find new artists," he says. "I was that kind of over digging in the crates at that point." Then one day someone posted the Cowardly Threats & Hideous Cruelty to the online forum, which soon sent him running to a mutual friend, former Def Jux engineer Uncommon Nasa, for the contact info. "I wrote woods and immediately we started talking; then I sent him beats."
For Blockhead, the mid-2010s marked an interesting point in his career. His final Ninja Tune solo album, Interludes After Midnight, dropped in 2012, and he began putting out joint projects with Illogic and Marq Spekt, respectively. "I was in a mode where I was really trying to work with a lot of rappers," he says of this fertile creative period. "It wasn't a moneymaking thing." He liked what woods was doing, and for him that was enough to justify them making a record. 2012's History Will Absolve Me was the first album where the rapper started getting more eyes on him, including in the press. And with Aesop Rock shifting towards self-production with that year's Skelethon, it made sense for Blockhead to selectively expand his circle. Thus begat Dour Candy and the start of something deeper than the music.
"We became friends in a real way outside of just collaborators," Blockhead says of woods. "We'd end up talking on the phone, and music conversation would stop and we drift into basketball and dating."
Their bond only strengthened over the years, and woods' subsequent rise to indie rap prominence both as a soloist and alongside ELUCID in Armand Hammer translated to an enlargement of his own circle. So when it came time to make The Aux, the pool of possible guests had widened considerably. One of those ended up being Danny Brown, someone Blockhead has been courting for ages.
"I was on tour and he was like, yo, I'm going to be in New York. Can we record?" he says of dealing with Brown. "And woods pretty much handled that while I was out of town. He showed up at Steel Tipped Dove's studio at two-in-the-morning, did two verses, and that was it." One of those verses ended up on album closer "Now That's What I Call A Posse Cut Vol. 56," while the other went to woods' own 2023 album Maps with producer Kenny Segal. (That Brown dropped his latest album Quaranta via Warp Records on the same day as The Aux is mere coincidence.)
"That happened such a lucky strike-while-the-iron-is-hot way," Blockhead says with genuine gratitude in his voice. "He's a guy that I've been trying to get on a song literally since MySpace. So felt that one felt really good.
Blockhead's The Aux is out now via Backwoodz Studioz. Purchase or stream it here.
---

H31R, HeadSpace
H31R pairs New York rapper maassai with New Jersey composer JWords, but their second full-length effort is far more dynamic and synergistic than the typical duo set. Following their underground ve·Loc·i·Ty tape from 2020, their first album for recently reinvigorated Ninja Tune offshoot Big Dada provides a deservedly bigger platform for their utterly unique union. Not since the days of Antipop Consortium has the tri-state area experienced such a singular fusion of boundary-pushing poetry and avant-garde electronics of this caliber. HeadSpace's highlights compound over its 25 minute duration, from the glitchy bleeps and lyrical provocations of "Backwards" to the disruptive percussion patterns of the deep diary entry "Static." On "Right Here," maassai shows off her R&B bonafides, swapping between singing and rapping as the beat crackles and deteriorates around her. Prior JWords collaborator SemiraTruth makes the best of her "Glass Ceiling" spotlight, while Quelle Chris steps in time to the surrealistic dance of "Down Down Bb."
The Hidden Character (often stylized on record as ???) represents the same Lynn, Massachusetts base as Estee Nack. So it tracks that he'd tap one of his neighbor's frequent collaborators for his latest project. Producer Grubby Pawz brings no shortage of sonic fortitude to their joint record HOOD ALCHEMY, his obsidian beatscapes an optimal fit for these slightly upper register raps. Bejeweled and enigmatic in a way that recalls pre-Ironman Ghostface, the emcee steps to the mic with extraordinary energy from the jump, each bar emanating hard-fought street smarts on "BOUTABAG" and "STOVETOPWORK." The guest selection runs predominantly local, with BoriRock and Shaykh Hanif adding further depth to "PTT" and the aforementioned Nack delivering yet another one of the year's coldest verses on "WINTERWONDERLAND." New York's own Bub Styles breaks the insular trend on "MONEYGETTA," spitting fearless and flagrant over the absolutely eerie, Carpenter-esque beat.
RU$H & Mike Shabb, MONCLER BOYZ
Over the past few years, Delaware rapper RU$H operated just barely under the radar. His catalog brimming with sleek collabs opposite Roc Marciano, Willie The Kid, and Tha God Fahim, each new release makes that tenuous position harder and harder to maintain. While MONCLER BOYZ won't fully break him into wider underground ubiquity, it's really only a matter of time. Working here with Quebecois producer Mike Shabb, the self-proclaimed Fendi Don offers listeners a glimpse into the lap of luxury. Designer labels, international locales, and market-priced delicacies abound on tracks with declaratively extravagant names like "Four Seasons Brunch In Montreal" and "Spilled Ace On The White Mink." The Atlanta-based Dump Gawd accompanies him once again for the title track, alongside formidable familiars Big Cheeko and Jay NiCE. The mellow outro "Moncler FENDI" contains better brags than your typical rapper flexes—and it's really just RU$H ad libbing. A spitter himself, Shabb gets a few off on the back half of the woozy, soul slapped "OFFWHITE DUNKS."
---

---