Cappadonna's Cannabis: A 'Cappachino' You Can't Get In NY
+ reviews of the latest by Height Keech & Darko The Super, NAPPYNAPPA, and 1990Morgue. This is CABBAGES #093.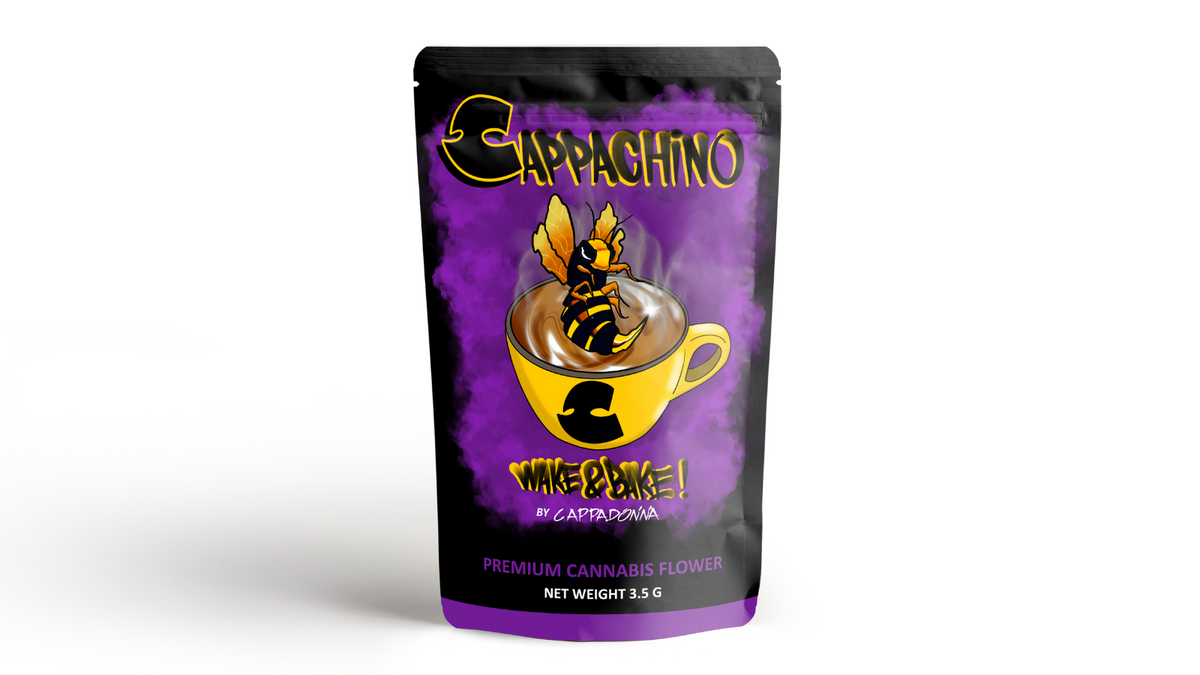 This weekend, Massachusetts-based cannabis company Resinate hosted a daylong event at their Worcester dispensary for their recently launched Cappachino strain. As that particularly esoteric spelling suggests, this self-described "wake-and-bake" product comes in collaboration with none other than the Wu-Tang Clan's own Cappadonna, replete with killer bee branded packaging.
Resinate explains:
Available in flower and PRJ [pre-rolled joint], Cappachino is a complex indica-leaning hybrid that delivers a delicious fruity aroma and flavor, and can provide a creative, uplifting feeling reflecting Cappadonna's own musical creative artistry. Cappachino's aroma is earthy and herbal with a citrus overtone and a spicier taste as you start to burn. Lighten your mood with a light of Cappachino.
The Cappadonna meet-and-greet also served as a release party of sorts for Slow Motion, the latest rapper's solo album. Though the financial details behind his arrangement with Resinate are not public, chances are that he stands to make more money off of the Cappachino strain team-up than from his independent new music project, his fellow Clansmen seemingly absent from those proceedings. Perhaps that's why this past Saturday's listening party in Indian Orchard, MA offered an "official taste test" of Cappachino to its attendees as part of the $50 admission price, a promotional approach common in cannabis event marketing.
For now, the only place you'll be able to find Cappadonna's Cappachino for sale is at Resinate's adult use and medical locations in Northampton and Worcester, though conceivably other Massachusetts dispensaries could carry it as well. This localized siloing of cannabis products–hip-hop celebrity endorsed or otherwise–is all-too common in our fragmented American weed marketplace. Take fellow Wu-Tang member Method Man's TICAL. His proprietary multi-product brand is sold in California, Colorado, and Nevada, though notably each of the three states offers a different selection. (For example, those seeking the How High 20th anniversary commemorative C.R.E.A.M. El Blunto will only be able to cop it in the Golden State.)
This likely will continue in emerging legalization states like New York (which legalized marijuana one year ago this month) as they seek to build tax revenue opportunities from seed to sale built into their recreational frameworks. To that end, NYS Governor Kathy Hochul recently signed a bill authorizing local hemp cultivators to grow cannabis in advance of an approved system and model for retail sales. In effect, the move ensures that New York State gets its cut when those farmers ultimately sell their harvest. So even when the Big Apple finally gets through its lengthy process of recreational licensing, we're unlikely to see the Massachusetts-grown Cappachino on the shelves in Shaolin or, for that matter, in any of the five boros.
Nonetheless, the latest cannabis news out of New York bodes well for would-be recreational operators. On Thursday, Hochul and the Office Of Cannabis Management shared that the state's first retail licenses–at least 100 and as many as 200–will go to those who have been previously convicted of a marijuana-related offense. This social equity initiative extends to the parents, spouses, children, and dependents of those individuals, in recognition of the disproportionate policing and incarceration of Black and brown New Yorkers around the now-legal plant.
Whether or not corporate cannabis companies, including current medical dispensary operators like Curaleaf, will challenge the policy remains to be seen. But based on the current timeline, these first recreational dispensaries from equity applicants could conceivably begin opening by the end of 2022 or the start of 2023. Thus, the possibilities for New York hip-hop artists to cash in on the opportunity seem fairly wide, whether as financial partners to retail applicants or as applicants themselves. (Method Man has already expressed an interest in offering TICAL products here.) At the very least, we could see a surplus of rapper-branded or otherwise endorsed strains in the city and state emerge as these new businesses seek to differentiate themselves in advance of comparatively larger competitors getting in the game.
---

---

NAPPYNAPPA, ONDAMICUNDERDACOZMICLYTZ (buy it / stream it)
Washington, DC's own NAPPYNAPPA reached new audiences when his leftfield hip-hop duo Model Home scored critical acclaim for the D.I.Y. pandemic-era album pair One Year and both feet en th infinite. The freespirited rapper keeps that same experimental energy on his universe-expanding solo projects as well, the latest being this set for the UK-based Bad Taste imprint. A studious lyricist, he expounds on topics great and small, artfully conveying cosmic connections and minor meanings alike on "Long Talks & Fast Drives" and "Project Heroes." Motorik posse cut "Oysteric Glob" opens the floor to others, letting his familiars freefall. Funky yet febrile production comes via longtime collaborator Black Moses and Model homie Pat Cain, among others who pick up what he's putting down too.
1990Morgue & Wojavelli, Gold Plated Coffins (buy it / stream it)
A member of Philadelphia's Five Finger Posse, rapper 1990Morgue previously featured on tracks with WifiGawd and TrippJones. For the solo effort Gold Plated Coffins, he walks the darker side of hip-hop's Golden Age pavements to deliver his modern day street raps. From the limbic lyricism of "Dotted Line" to the red flagged threats of "Dangerous Sound," he shoots straight from the proverbial hip. These grimly grimy beats come courtesy of Wojavelli, also of Wilkes-Barre hardcore band / erstwhile Kool G Rap & Sean Price collaborators Cold World. His style is isolationist bap, immediately reminscent of mid-90s Queensbridge on "Epiphany" and the piano dirge "Summertime." Still, he switches it up as needed, as on the airy yet ominous "Social Constructs," on which 1990Morgue simply slays.
Height Keech & Darko The Super, You Gotta Have Friends (buy it / stream it)
Even if you aren't familiar with these two alt emcees, the grinning visages of Baltimore's Height Keech and Philly's Darko The Super on the cover speak volumes to what's inside. Perhaps the most fun rap album I've heard all pandemic long, You Gotta Have Friends succeeds from front to back. As a duo, they're not unlike a socially awkward Beastie Boys, a patent-pending descriptor that feels most right when the beat slaps like some old timey Rick Rubin or Dust Brothers on "Buzzy Linhart," "30 Inch Zenith," and "Lost In Space." (On "Donnie Darko," The Super practically begs for such a comparison!) There's a Twin Peaks twist to "My Arms Bend Back" and a tasty Tarantino twang to "Milkshakes," over which both fellas liberally mix rap tropes, nerdy references, and twisted fantasies with aplomb.
---

---