A 'Chillin Island' Chat
+ reviews of the latest by Bloodmoney Perez, Che' Noir, and Tony Shhnow. This is CABBAGES #088.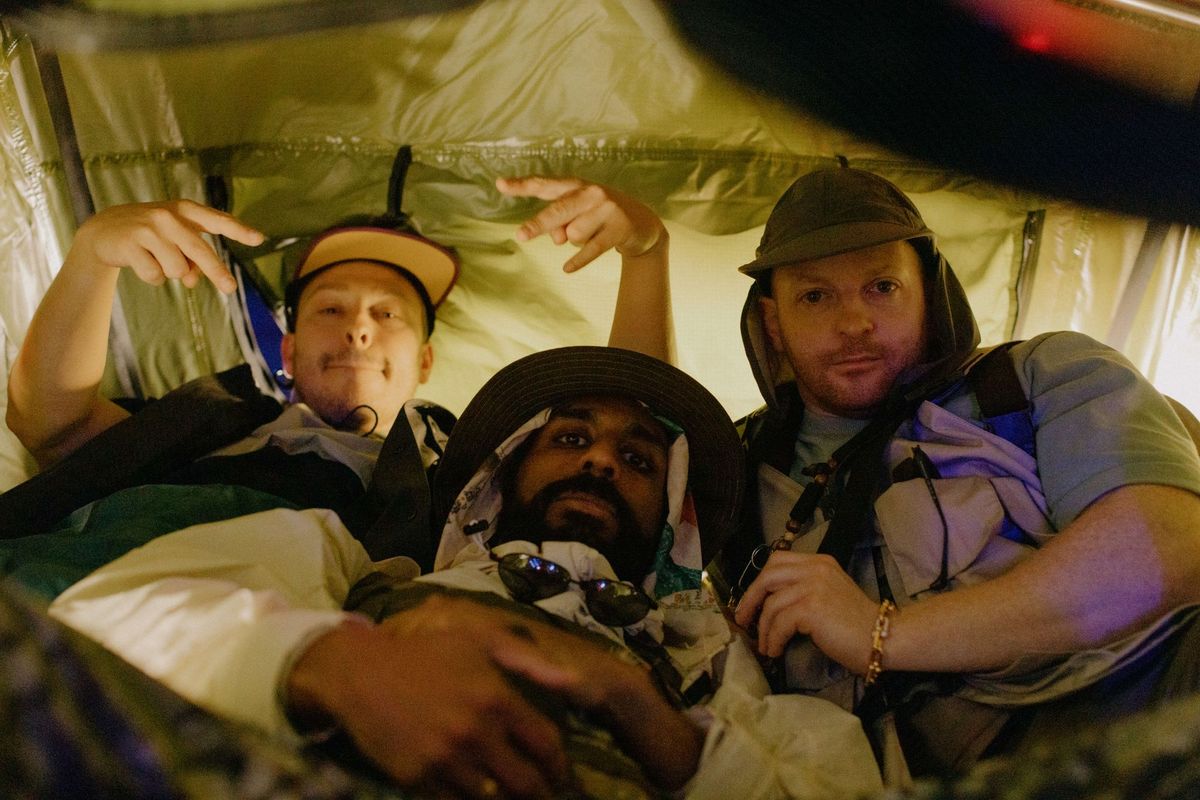 "You know you gotta wash those sheets before you use them," Aleksey Weintraub says. "They add extra chemicals to make them so they don't crease when they're in the packaging." Also known by the rap name Lakutis, he offers this knowledge drop while lounging comfortably and confidently in his own bed donning a full sweatsuit.
After six episodes of Chillin Island, the surreal nature show he co-hosts on HBO Max with pals Ashok "Dapwell" Kondabolu and Alec "Despot" Reinstein, one might reasonably take all three men as authorities on any number of subjects, up to and including home bedding. Yet despite having braved various unpredictable locales in the proverbial Great Outdoors over the course of the season, these three New York natives and indie rappers are the first to admit they're not exactly expert survivalists.
Zooming out of any one of these odd and engrossing episodes, you realize that these are grown up city kids who, by that fact alone, had relatively limited childhood experiences outside the five boros. "I was not allowed to participate in nature," Dapwell says of his upbringing. "My dad's a farmer from a South Indian village, so the idea that his son would go back into the wild kind of annoyed him."
"I'm definitely not much of an outdoorsy type," Despot says. "It's cool that we're out of our element in the same way that our guests are."
Those who have spent time with the Chillin Island trio include Atlanta hip-hop fixture Killer Mike, Vampire Weekend frontman Ezra Koenig, and neo-flamenco upstart Rosalía. Dropped into wholly unfamiliar territory to go on unscripted travel adventures with this tight-knit group of friends, the resulting interactions vary wildly. Young Thug took visible joy while snake-handling out in the desert, while teenage rap star Lil Tecca got seasick on a modest fishing expedition and opted against spending the night on the boat.
Out in the relative wild, the insular nature of Dapwell, Despot, and Lakutis' friendship can prove almost as much of a challenge to their guests as the nature itself. They guys are prone to freewheeling tangents and side conversations, evident from our own group chat over Zoom where talk of bee stings sharply turned to referencing Buffy The Vampire Slayer and Star Trek: Deep Space Nine, two 1990s pop culture touchpoints that nod to their shared mid-30s age range.
That tight-knit quality is how their friend E.VAX ended up scoring Chillin Island. "That was actually a little bit of a battle," Despot says, detailing his insistance during development that his longtime producer (and Ratatat member) provide the soundtrack music for the HBO show. More famous or popular names than the DONDA contributor were thrown around by unnamed others, but Despot stuck to his guns to make it happen for their friend.
"He really truly appreciates the Chillin Island dynamic that the three of us have," Dapwell says of E.VAX. "He's a fan and it made sense for him to score it."

"I fucking love that guy," Lakutis adds. "We're gonna go do tai chi with him on Thursday."
Though Chillin Island originates from the trio's digital radio program of the same name, the TV show has more to do with John Lurie's short-lived Fishing with John. The basic cable program from 1991 found the writer/musician out of his New York element in spots around the globe, catching red snapper with Tom Waits in Jamaica, hunting giant squid with Dennis Hopper in Thailand, and icefishing with Willem Dafoe in Maine. Despot recalls watching the cult favorite with his father when he was younger, which planted the seed in his mind that eventually became the HBO show.
"Our interview style on the radio show is kind of similar to John's interview style on Fishing With John," he says. "It's just like, 'okay, you're here, you're basically like my friend or not. I'm just gonna talk to you about whatever.'"
Below are edited excerpts from our conversation.
---
You're taking these rappers and musicians out of their comfort zones and then not doing straightforward interviews. What do you feel you get from your guests with that approach?

Lakutis: We always instinctively lean that way. Doing the radio show for so long, the fun shit is the stuff that's exactly the opposite of that, getting people to drop their media training and realize that we're some dickheads that are talking. We're not gonna ask you what your influences are or whatever the fuck.

Dapwell: I think it allows the audience to feel like they're hanging out with us, rather than they're watching something where they're not part of what's going on on screen.

Despot: It gets them to drop their guard, generally. Sometimes on the radio show it was our friends, but sometimes it was just people who were rappers. It was like you walk in on a conversation between friends and you can choose whether or not you want join. And if you don't, that's cool, but you look like an asshole.

Dapwell: Considering how many guests we've had, we've had pretty high success rate of not having the guests completely disconnect and shut down. That's kind of why we decided that this is something worth pursuing on a bigger platform, because it worked so well over the decade of radio.

Despot: Tecca is a good example to bring up. I don't think it was a bad episode or a bad interview. We still were able to introduce an aspect of Tecca that maybe his fans haven't seen that is still humanizing. If you read the tweets, it's funny because these people who are giant Lil Tecca fans are like, this is the coolest guy in the world. And then they see him acting that way and they're just like, oh, well now I feel this way about him. That's funny. And that's also his choice. I'm sure he didn't realize exactly what he was getting into. It's slightly unfair, like an ambush sort of, but it's also like that's who he is. He's the guy who doesn't wanna go fishing.

That trio dynamic that you have, as people who've been doing this show in one capacity or another for a decade, it either draws somebody in or repels them.

Lakutis: Two people can get bored of each other and stop talking. But when there's three people around, everyone's always saying something. So you're not necessarily compelled in the same way to participate as a fourth person in that. You could just as well watch. We are a complete dynamic and we've been friends for so long. We have our own style of banter–but you could also be in there too. I think that takes some of the pressure off. If you're uncomfortable, we're uncomfortable. We're on some tiny boat, and it's hot, and there's not enough water, and there's nowhere to piss.

Well, you found a place to piss.

Lakutis: It turns out, on a boat, you could piss anywhere.

Dapwell: Not just on the boat. In life, in general, you can kinda pee wherever you want.
Despot: Also, with the guests, you can kind of see them very quickly deciding who's-who, what role they think each one of the three of us plays, in their opinion, and who do they like. It's interesting to see–
Dapwell: –who they gravitate towards.
Despot: Who are they more responsive to? Who do they feel like they need to listen to? Who do they feel like they wanna make fun of? And it's different every time.

Dap, I could've watched you and Lil Yachty scatter beans and talk for hours. Clearly you guys developed a rapport in that moment.
Dapwell: I felt safe to him. He could let down his guard.

Despot: A lot of that was because you also were being very vulnerable. You were like, I've had my heart broken, I did drugs try to fix it. And he was like, well, I like to read [about] porn on Reddit.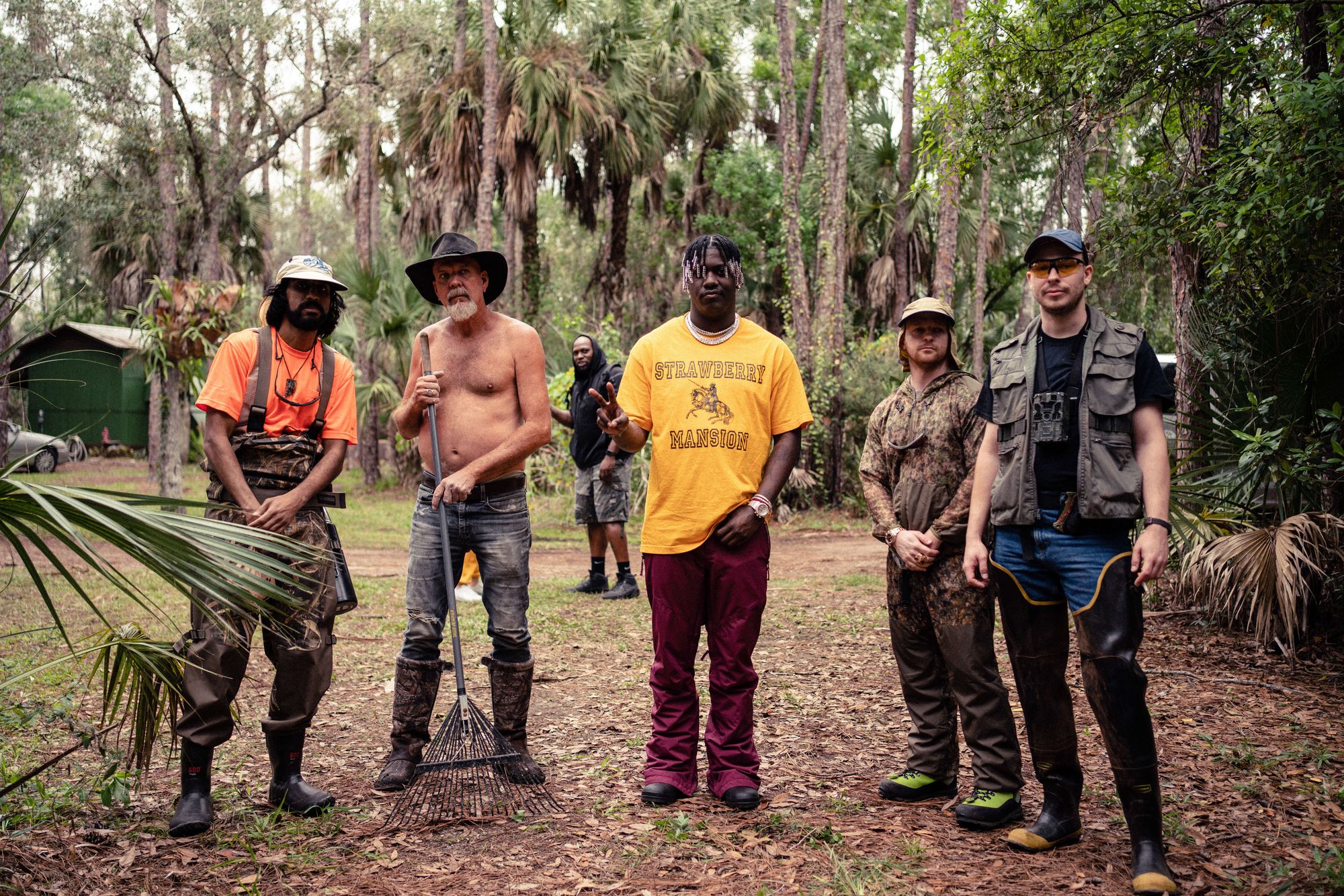 As a kid who grew up watching a lot of HBO comedy specials, hearing Steven Wright's voice was a pleasant surprise to me in that first episode. How did he get involved in this?

Despot: Very early on, before we even shot anything, I was like, the narrator should be Steven Wright. Everyone was kind of like, who the fuck knows Steven Wright? Well, not even who knows him, but how to get in touch with him or if he would wanna do this. We had initially wanted a female voice to narrate the show, which I think would've been great, but we never really found one that was willing to do it.
I was the narrator up until two, three months ago, which I wasn't really happy with. None of the three of us were happy with it. And I just brought it up again: what about Steven Wright? We were, you know, down to the wire and I think Josh [Safdie] reached out or Oscar [Boyson], one of our producers, reached out. We were surprised that he immediately said, yeah, I'll do this. We did it all over Zoom. He read the stuff that we wrote and was super complimentary about the writing, which was amazing for me 'cause I've been a fan of him for a really long time.
Lakutis: Yeah, he's the man. You know what's surprising, though, is a lot of people think it's Michael Shannon. I would've never put that together, but they do sound very similar.

Despot: I still don't know who Michael Shannon is.

Lakutis: You watch Boardwalk Empire, right?

Despot: Not really. I saw like two episodes.

Lakutis: Oh, okay. Nevermind.

It seems like Wright's narration is undermining you guys throughout the show. But now, understanding that you've written the script for him, there's a self-deprecation there that I didn't expect.

Despot: Yeah. It's definitely us making fun of ourselves. He ad libs here and there, but I'd say maybe 90% of what he's saying is us and 10% and his ad libs.

What do you feel like you've learned about yourselves, respectively, from the experience of doing this TV show?
Despot: I mostly learned that it's maybe not that fun to make a TV show.

Dapwell: I learned there's no way to predict how audiences will react to things. Your favorite, or scenes that you like, might not reverberate. Things that you didn't really think much of might be the thing that sticks out. So there's no knowing what happens when you release a project into the wild.
Lakutis: It really showed us how important a singularity of vision is. We're all guys that have pretty particular tastes. We argue about some stuff, but I think we kind of instinctively agree on a lot of stuff, artistically and aesthetically. There's so many people involved in this thing creatively that, if we didn't have such a clear vision of what it should be like and feel like, there'd be no chance of it being even remotely like what we wanted.

Despot: I'm impressed that we got relatively close to the vision. I'd say it's not exactly what it was in my head, but it's very close and that's cool.
Are you guys thinking about Season Two?
Despot: I'd like to do it, I think, but it's not really up to us.
Lakutis: We have some insane prospects flying around for season two that would be cool. One big thing I would like to do is be covered in bees. I'm just gonna keep saying this in every interview so that I can manifest it. I want a thing where I'm covered in bees, and then the bees disperse and I'm gone. We were also floating the idea of–the entire episode–I'm covered in bees. I like that because (A) that's sick, and (B) it would be extremely uncomfortable and I like that.

Despot: Uncomfortable for everyone, 'cause there'd be bees.

If there's bees, they're not just on you. They are around you and thus anyone who is in your vicinity is potentially exposed to bees.

Lakutis: I have a system with the bees worked out, all right?
Despot: Are you in a beekeeper suit? What are you wearing?

Dapwell: He's nude. He's buck naked.

Lakutis: I guess I should get a blood test or whatever to see if I'm allergic. But other than that–

Despot: Get stung and see what happens. It's not that bad. You've never been stung by a bee?

Dapwell: It'd be like that movie. Uh, what is it called? My Girl.

Lakutis: Yeah, where he dies!

Despot: But he dies 'cause he gets stung by an entire hive of a bees. If you take one bee and get stung for an allergy test, you're good. When I got stung in the foot, my foot blew up and then I was fine.

Lakutis: Okay, man.

Despot: Don't be a pussy about bees if you're planning on being covered in them.

Lakutis: I'm telling you I'm trying to be covered in bees and you're calling me a pussy?
Despot: You wanna be covered in bees, but you won't let one bee sting you.
Lakutis: I'll let all of them fuckin' sting me. You know that.

Dapwell: A test bee.
Lakutis: Dap's right. Don't test me.

Despot: That's not what he said.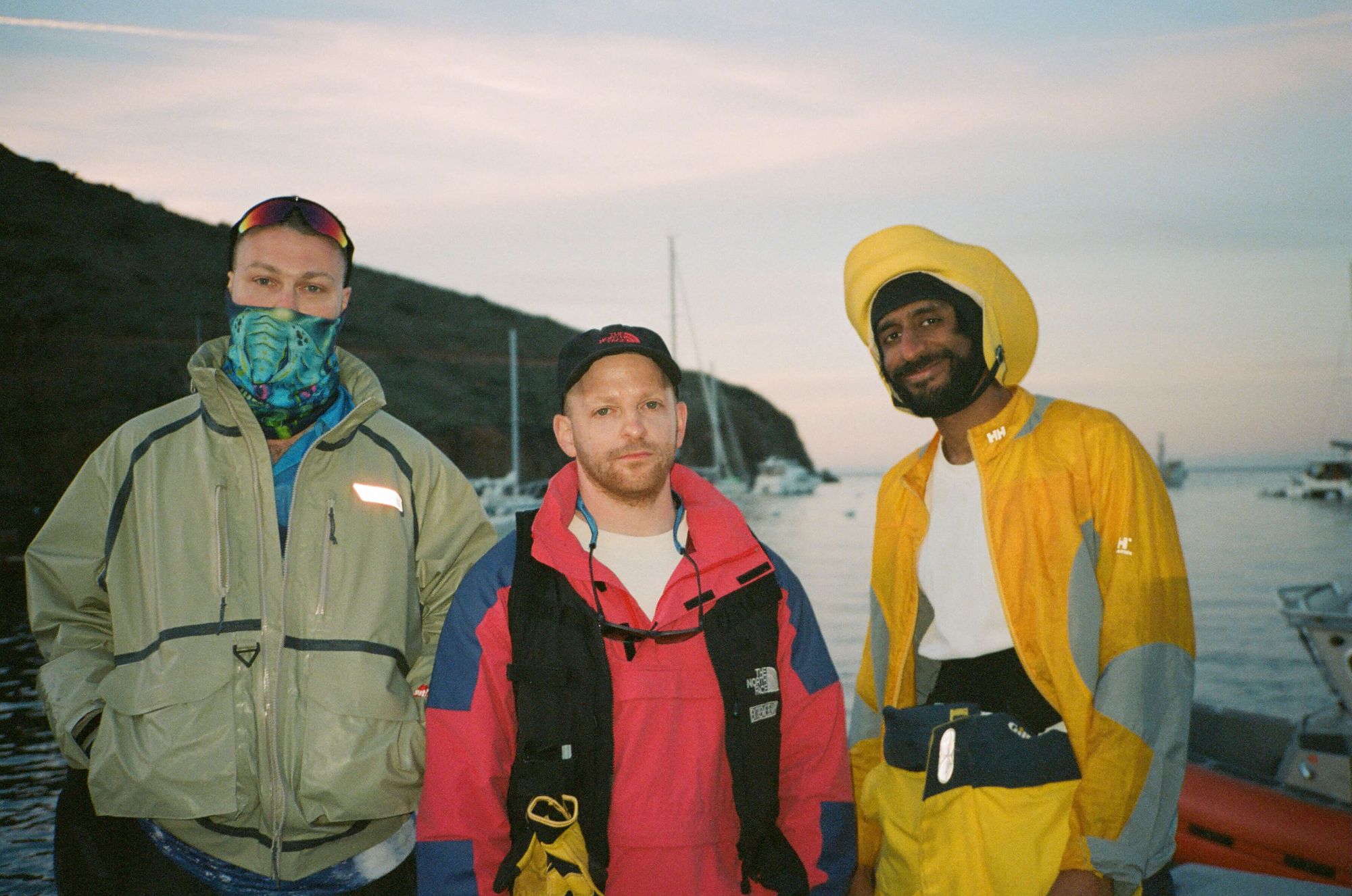 ---

After her breakout moment opposite Apollo Brown on 2020's As God Intended, Che' Noir had hip-hop heads buzzing in anticipation of her next moves. While the self-produced After 12 EP showed further promise from the Buffalo artist, her new full-length surpasses expectations while upholding her independence. Whether coping with loss on "Communion" or sermonizing survival on "Eat Or Starve," Food For Thought showcases the emcee's sustained depth as much as her demonstrable mic skills and production prowess. For "Split The Bread," she stacks metaphor-laden bars atop one another with precision and tact. The guests don't disappoint either, with Rome Streetz spitting game on "Gold Cutlery" and 7xvethegenius and Armani Caesar going for G.O.A.T. jugular on "Ladies Brunch."
Bloodmoney Perez & Messiah Musik, Second Hand Accounts (buy it / stream it)
Last we heard from Bloodmoney Perez, he was producing for Mimz The Magnificent to shine over. But for years he's been rocking with Messiah Musik, the Backwoodz Studioz mainstay behind several dope Armand Hammer cuts. Yielding on the beats, the Alaska-based Puerto Rican gets to focus instead on self-reflective yet down-to-earth rhyming on tracks like "True Blood" and "Price On My Head." While operating from the hinterland, the spitter's direct approach feels NYC brick cold, a world weary winter warrior slogging his way through life. He expounds on the sickness of the American dream on the disorientingly muted "Hades" and grapples with guilt and complicity on the jazzy bap of "Ghost In The Lobby."
Tony Shhnow, Kill Streak 2 (Deluxe) (buy it / stream it)
Being prolific doesn't necessarily mean being good. Flooding the already crowded hip-hop market can prove a dicey release strategy if the music doesn't hit. But for Atlanta rapper Tony Shhnow, his diverse six project run in 2021 (and the year before that) ultimately served him well, helping to grow his underground following and set the stage for a potential glo up in 2022. A contrast with the trap he thrives over, Kill Streak 2 revisits the NYC-meets-Jet-Life beats of the series' initial installment. Credit is due to New Jersey's GRiMM Doza, whose hazy productions buoy Shhnow's gripping flows on "Slow Crash" and the R&B-laced "Sometimes." The downright hilarious DJ-style drops throughout let listeners know it's a fun ride, but gravely serious themes prove common via cold cuts like "Snake Bites."
---

---